What happened when the Dáil urged its supporters to ostracise the R.I.C. and their families? Dr Brian Hughes on a controversial policy
On 23 April 1919, Dáil Éireann secretary Diarmuid O'Hegarty wrote out a detailed description of the policy of 'social ostracisation' of the Royal Irish Constabulary (RIC), which had been authorized by the Dáil earlier that month. The police, he wrote, were to 
receive no social recognition from the people; that no intercourse, except such as is absolutely necessary for business is permitted with them; they should not be saluted nor spoken to in the streets nor their salutes returned; that they should not be invited to nor received in private houses as friends or guests; that they be debarred from participation in games, sports, dances and all social functions conducted by the people, that intermarriage with them be discouraged … 
Members of the RIC were, in essence, to be 'treated as persons, who having been adjudged guilty of treason to their country, are regarded unworthy to enjoy any of the privileges or comforts which arise from cordial relations with the public.'
The aim was to completely separate the Irish constabulary from the general public, make it impossible for the force to carry out daily functions, and therefore render it incapable of doing its job. The policy, however, merely formalized a process that had been taking place in some communities as early as 1917. 
Signs of a police boycott were first reported in June 1917 when officers in Clare, Galway, and Tipperary noted a hostile reception from 'Sinn Feiners'. In July, Eamon de Valera won an East Clare by-election and the county inspector there noted that
'The attitude of the Sinn Feiners towards the police has also undergone a change. They will now scarcely salute them and especially if two or three of them are together.'
By October it seemed that 'the people … regard the police as their enemies and have ceased all friendly intercourse with them.' De Valera himself had 'reproached the Royal Irish Constabulary for "doing the dirty work of the enemy"'.
Gunshots and coffins
This accusation extended to those who supplied the police with goods and services. Michael Lyons offered two policemen a lift to mass in Kinvara, County Galway in November 1917. The following Sunday shots were fired through his window and a note was found which read: 'If you drive the peelers in your car you'll get the same as went through your window last night.' In 1918, attempts were made to cut off the police supply of food, turf, and transport in some rural communities in Clare, Galway, and Cork.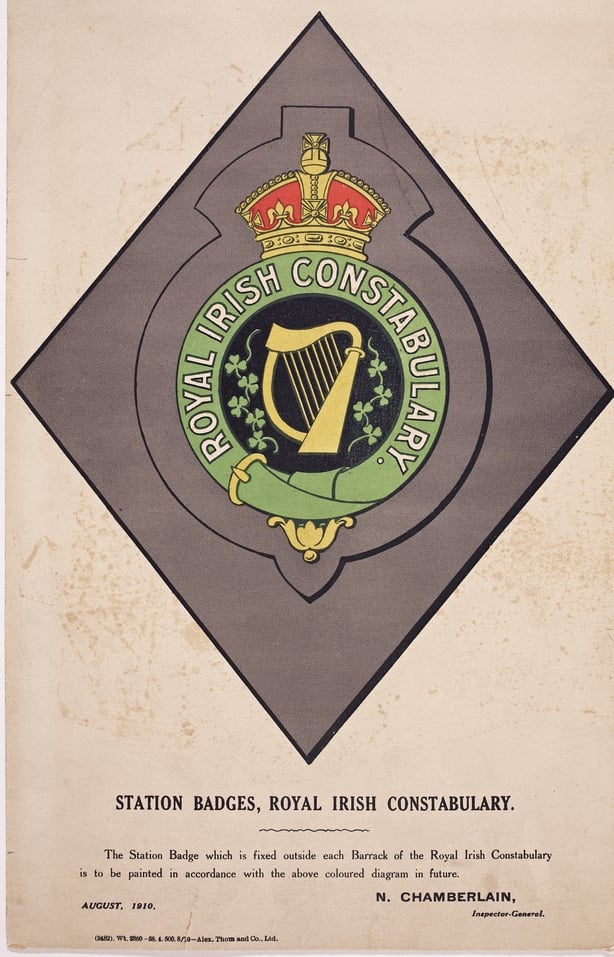 The most affected counties had a long tradition of agrarian agitation. Old methods – threatening letters, damage to property, and boycotting – were simply applied to a new cause. Scribbled notes featuring crudely drawn revolvers or coffins and the use of pseudonyms like 'Captain Rock' or 'Rory of the Hill' closely mirrored the letters sent by agrarian agitators to landlords, agents, and bailiffs in the second half of the nineteenth century. 
Just after Constables McDonnell and O'Connell were killed in Soloheadbeg on 21 January 1919, the RIC inspector general reported that 'There was no improvement in the attitude of the people towards the R.I.C. who, in the disaffected counties, are treated with bitter hostility and are boycotted in various ways.'
"Spies and traitors"
By this time, the force was being denounced in public speeches as 'enemies' of Ireland, 'spies', 'traitors', and the last great obstacle in the way of Irish freedom. Unlike metropolitan police forces in Britain, the RIC was an armed gendarmerie, though before 1916 arms were rarely needed and most police work was routine and mundane.
A boycott was deemed necessary by 1917 because the intimate local knowledge accumulated by the Irish policeman made them, as far as republicans were concerned, the 'eyes and ears of the enemy'. Moreover, British Prime Minister David Lloyd George's refusal to declare 'war on rebels' from 1919 meant that – even if they were totally unprepared for it – the RIC remained at the front line of British attempts to suppress Sinn Féin and the Irish Republican Army (IRA).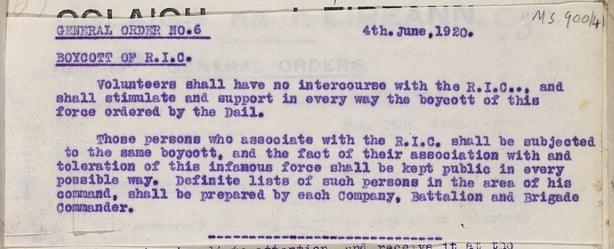 The boycott of the RIC was, however, sporadic and varied in its application. An official order from IRA headquarters was not produced until 4 June 1920, and offered little in the way of practical instruction. It remained down to individual IRA companies to obey the boycott and ensure others did likewise, by whatever means they deemed necessary.
In some places police were forced to commandeer supplies, and even resorted to pulling their own pints and leaving the money on the counter. In others, the boycott was ignored altogether. In Mayo, Tom Carney remembered 'there was no boycott of the R.I.C. ... The Tans walked out with the best looking girls from the village of Kiltimagh'.
Miserable wives and suffering children
The terms of the boycott could extend to police families, but this was also unevenly applied. The county inspector for Galway West Riding described in August 1920 how 'wives are miserable, and their children suffer in schools, and nobody cares', but a boycott notice in Roscommon requested that merchants 'supply all policeman's wives and children.' 
O'Hegarty's suggestion that contact with the police might be permissible if 'absolutely necessary' for business highlights the pragmatism and practicality that often surrounded the boycott. Where the IRA was unable to maintain pressure on suppliers, many were willing to keep serving the police.
Complex loyalties
This was also at least partly down to the personal popularity of individual members who were often respected members of their communities before revolution got in the way. Many had nationalist sympathies and decided to resign rather than act against Irish self-determination (a small number of these were instead encouraged to stay in the force and assist the IRA from the inside). 
As violence and shooting increased, others feared for their personal safety or that of their families. Isolated, rural RIC barracks were abandoned, with men concentrated in larger barracks that were easier to defend from attack. This left large parts of the country without a police presence and many of the unoccupied barracks were burned by the IRA at Easter 1920 or later that year.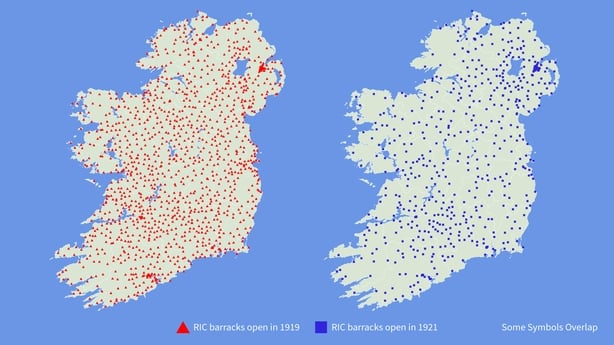 A raid on the barracks in Arva, County Cavan prompted the withdrawal of the police from the town in September 1920. Ballyconnell barracks had also been abandoned and by January 1921 the county inspector was complaining that 'the Sinn Feiners have a free hand in the localities'. 
As the police themselves became less accessible, threats to parents could be particularly effective as members could not serve in their parents' home counties and were thus unable to protect them. The cumulative result was ever growing numbers of resignations and fewer recruits.
Replaced with Black and Tans
There were 9,500 men in the RIC at the start of 1920, but numbers declined by almost 1,300 between July and September 1920 alone. The gaps were filled by recruits from Britain, soon nicknamed the 'Black and Tans', and an Auxiliary Division of former army officers was also created.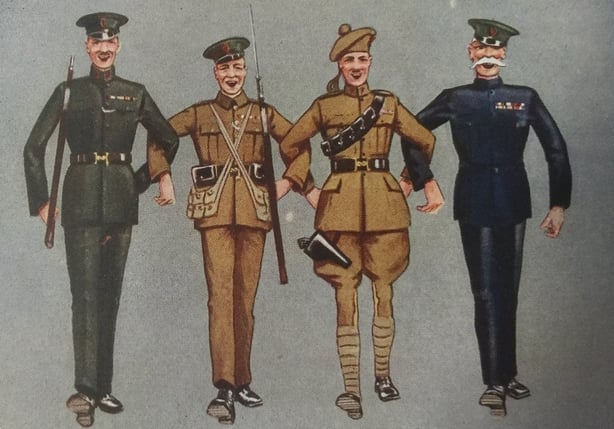 Nevertheless, many of the 'old RIC' remained in their jobs. Untrained or unsuitable for other work, it often made sense to stay put, to keep the head down and avoid trouble as far as possible and wait for retirement and a full pension.
Patrick Shea speculated that his father's decision to stay in the force was influenced as much by the 'practical problems of a middle-aged, kindly man with a young family and no occupation' as any 'ideological considerations'. 
Others had their resolve hardened by violence and intimidation inflicted on colleagues. IRA veteran Martin Fallon later reflected that boycotting the RIC may have been 'a doubtful gain'. 'I am afraid we antagonised some of them who would be good friends of ours. We forgot they were Irishmen, and there is an old saying that you can lead an Irishman, but you can't drive him.'
Isolated, angry, frustrated, frightened
But historian David Leeson has suggested that Irish-born policemen were just as likely as their British counterparts to become involved in the sort of violence that made the reputation of the 'Black and Tans'. 
Regardless of their response to revolution, these were all men – isolated, angry, frustrated, or frightened – responding, sometimes unjustifiably or counterproductively, to the kind of guerrilla war with which they were faced. The boycott could not work without the shooting war that accompanied it, but, in many respects, it did its job. 
Dr Brian Hughes is a lecturer in History at Mary Immaculate College, Limerick