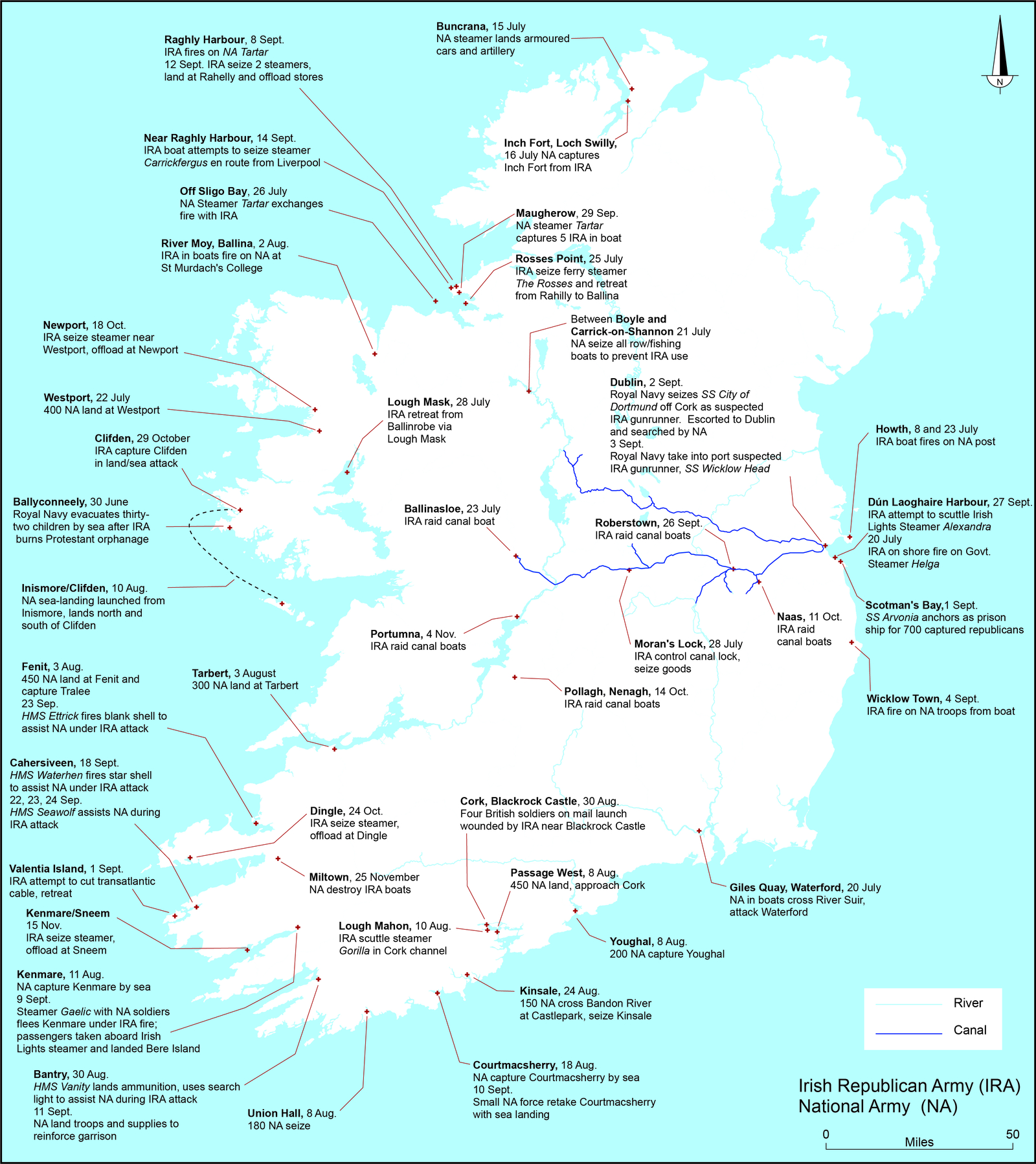 Zoom in on this map to see just how the Irish Civil War battle lines extended beyond offshore. The map surveys a number of key maritime events during the first six months of the conflict. It traces some of the activities of three different sea-borne combatants: the Royal Navy, the National Army and the IRA. The Royal Navy maintained a small fleet in Irish waters, with bases at Cobh, Berehaven in County Cork, and Lough Swilly, as well as Belfast.

The British government helped Free State forces throughout the conflict, though this was done covertly for political reasons. Royal Navy warships searched inbound commercial vessels to prevent IRA gunrunning, and assisted National Army operations by sharing intelligence, passing radio messages, and occasionally (in night battles) using flare shells or search lights to illuminate republican troops ashore. IRA units periodically fired on Royal Navy vessels, though such efforts were usually ineffective and brief owing to the republican's inadequate firepower.

IRA Volunteers in coastal communities deployed fishing vessels to attack National Army posts, and occasionally seized and pillaged passing cargo steamers. Along the canals and rivers, IRA units interfered with boat traffic, confiscating cargo to supply their forces. They also frequently evaded their Free State enemies in small boats, or hid their supplies and personnel on islands off the coast or within river estuaries.

The National Army only operated a few vessels (there was no Irish Navy at this time), though it frequently moved troops in cross-channel passenger steamers commandeered from the City of Dublin Steam Packet Company. The National Army repeatedly surprised the IRA in amphibious landings at Westport, Fenit, Clifden, Passage West, Youghal, and Union Hall amongst other locales in late July and early August 1922. Later, steamers reinforced besieged Free State garrisons and landed troops at various trouble spots along the Irish coast. For civil war participants in river, canal, and coastal communities, the ocean and inland waterways could be used for movement, communications, supplies, and refuge as local circumstances dictated.
This article is part of the Civil War project coordinated by UCC and based on The Atlas of the Irish Revolution edited by John Crowley, Donal Ó Drisceoil, Mike Murphy and John Borgonovo. Its contents do not represent or reflect the views of RTÉ.