William David (W. D.) Hogan (1885 -1956) was born in Quartertown, Mallow, County Cork, where his father was Master Sergeant in the British Army. W.D. joined the British Army in 1901 and served in his father's regiment of the North Cork Militia (King's Royal Rifle Corps). After fighting in the Boer War in 1901, he was stationed in Nottingham and served in the Army Pay Corps.

Unusually, Hogan lived in lodgings rather than barracks, which facilitated his new interest in portrait photography as he had space to develop his photographs. In 1920, W.D. was released from the British army on three pensions and went to live in Dublin. The Hogan family had moved to Fairview in Dublin in 1911.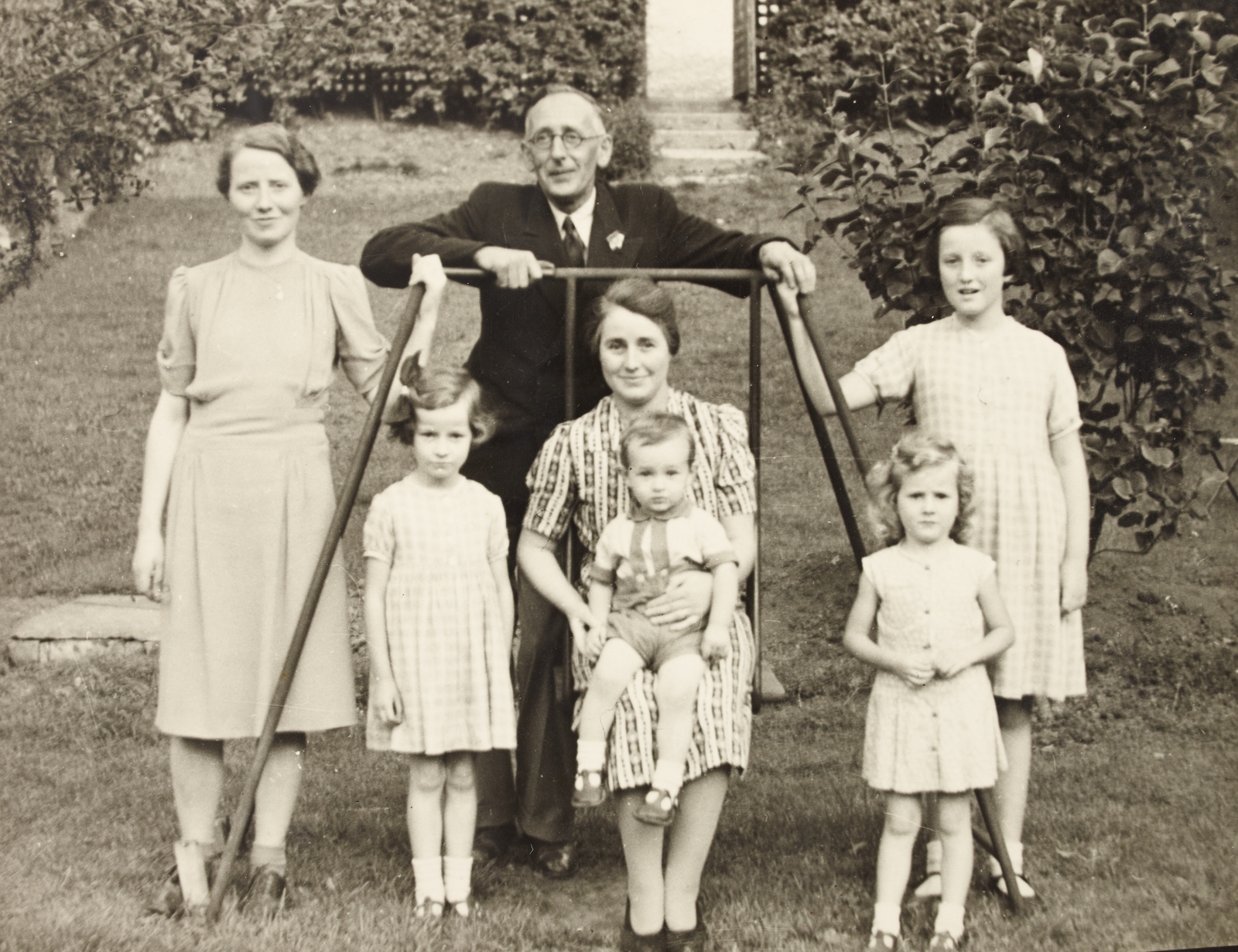 Working as a freelance photographer in Dublin between 1920 and 1923 meant that Hogan was 'on the spot' for many nationally significant events, and his photographs, published in the Freeman's Journal and the Cork Examiner, are among the most iconic of this turbulent period in Irish history. Hogan's photography was sanctioned by Sinn Féin during the War of Independence and by the National Army during the Civil War when newspapers were heavily censored by the Provisional/ Free State governments.

The National Library of Ireland's (NLI) Hogan Photographic Collection consists of 240 gelatin silver prints taken by W.D. Hogan between 1920 and1924. The collection is free to view online at www.nli.ie. The NLI's Hogan Collection is largely made up of two collections: prints purchased at auction in 1995, and prints purchased from the Wilson family in Cork in 2007. Most of the Hogan Collection (1919-1923) was compiled by Captain Rev. Denis J. Wilson, Chaplain to the National Army.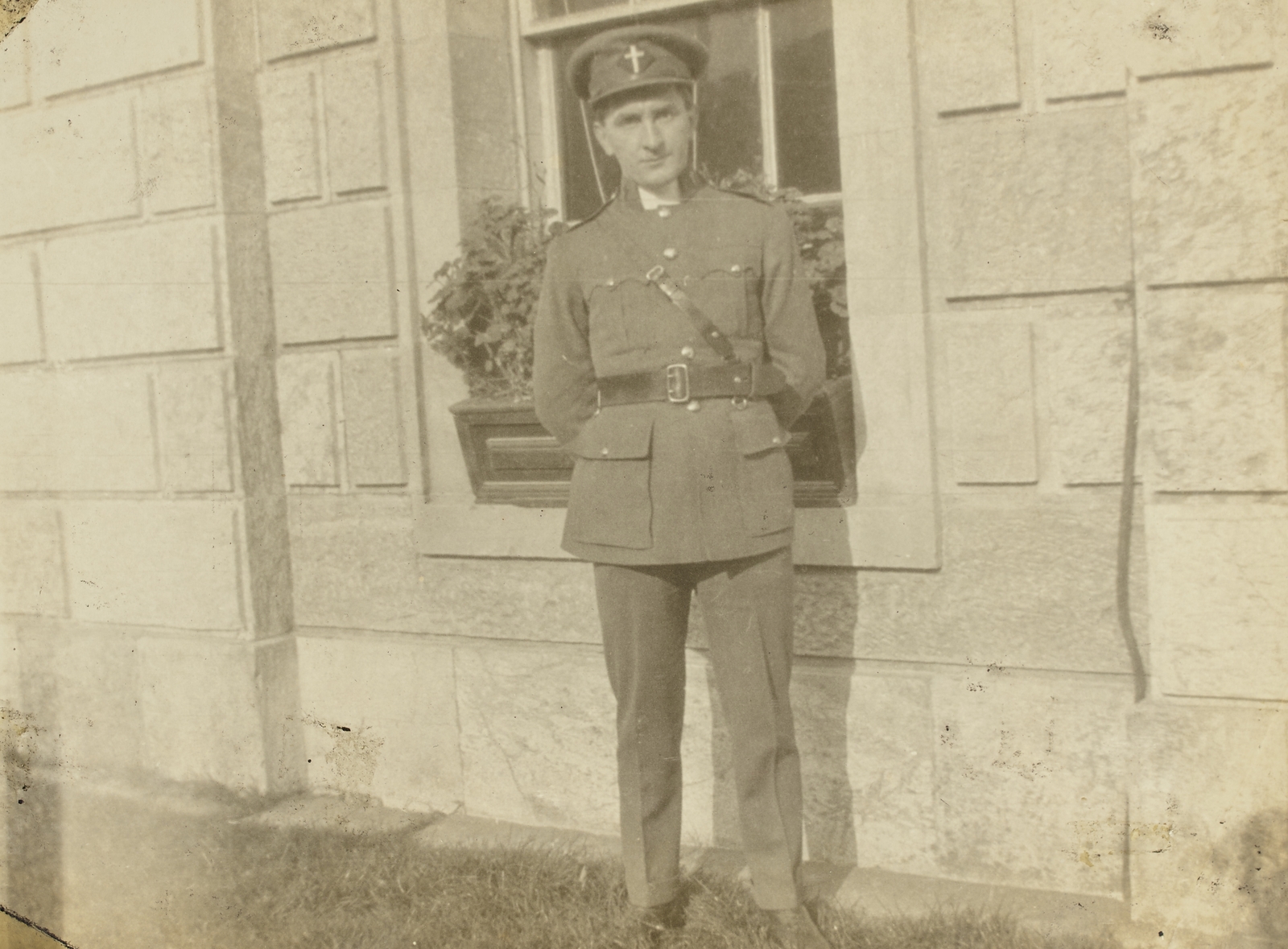 The Collection also includes a number of Hogan photographs transferred from the NLI's manuscripts collections, including the Piaras Béaslaí papers, and photographs of Arthur Griffith's funeral on 16 August 1922 transferred from the Arthur Griffith papers. Eason and Son published Hogan's photographs of the military operations in Dublin, June-July 1922 individually as postcards and collectively in the pamphlet Pictures of Dublin – After the Fighting June-July 1922. These photographic postcards come from the papers of Kathleen McKenna Napoli (1897-1958), Piaras Béaslaí (1895-1965), and the Ceannt-O'Brennan (1851-1953) collection of Éamonn Ceannt (1881-1916) and his wife Áine (1880-1954) and Áine's sisters Elizabeth/Lily (1878-1948) and Kathleen O'Brennan (1876-1948).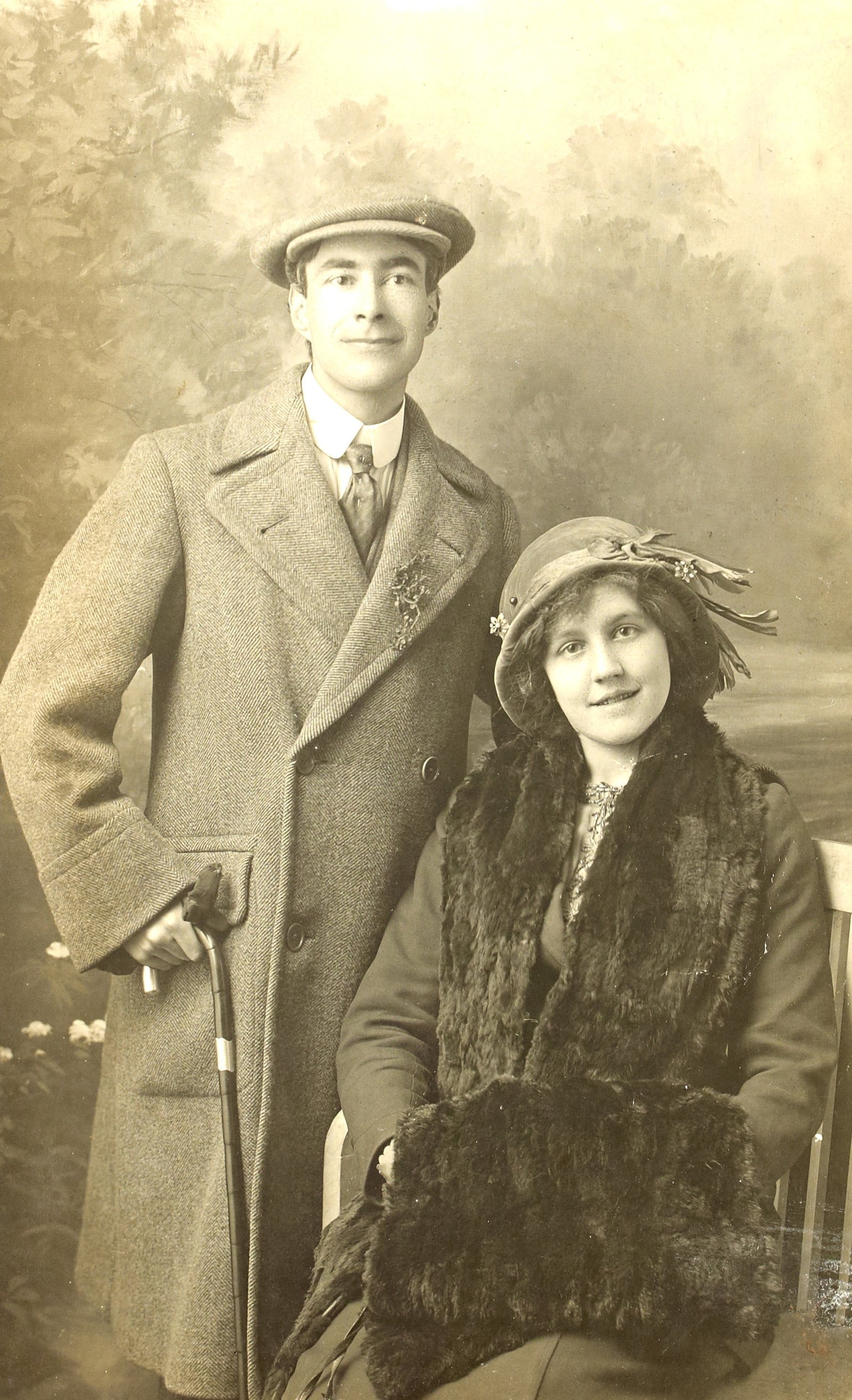 The Hogan-Wilson photographic prints were captioned by National Army chaplain Denis Wilson, who also features in the photographs, and they clearly indicate his political affiliation. Though it is uncertain what W.D. Hogan's own political affiliations were, or the nature and full extent of his commercial photographic contracts and commissions during the Civil War, the fifty-eight prints from June-July 1922 in the NLI's Hogan Collection show the activities of the National Army rather than the those of the anti-Treaty IRA.

Photographs of children and of crowds of men and boys also vividly capture the economic deprivation in Ireland in the summer of 1922. It is unknown what the relationship between Denis Wilson and W.D. Hogan was or how Hogan successfully negotiated a photojournalistic opportunity with the National Army, but the photographer did accompany the National Army troops to his native Cork, when they travelled by ship from Dublin to Passage West in County Cork on 7 August 1922 with 450 men and officers from the 1st Battalion, Dublin Brigade.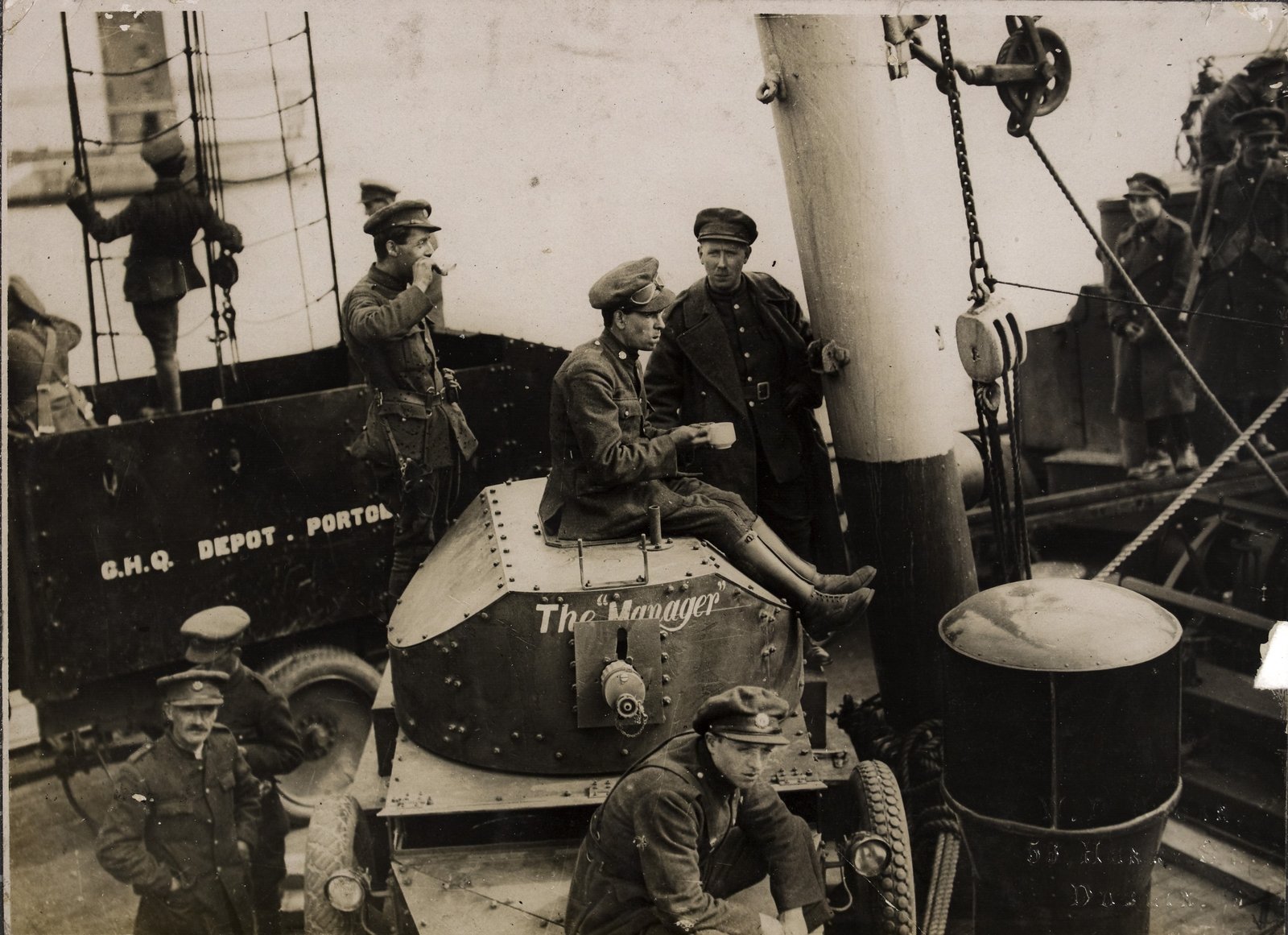 His itinerary and any further photojournalistic output around the National Army's southern seaborne landings remains a mystery. The August 1922 photographs in Cork were taken from positions of unique and privileged access, and often from an elevated position, giving bird's-eye views that indicate National Army support and probable direction.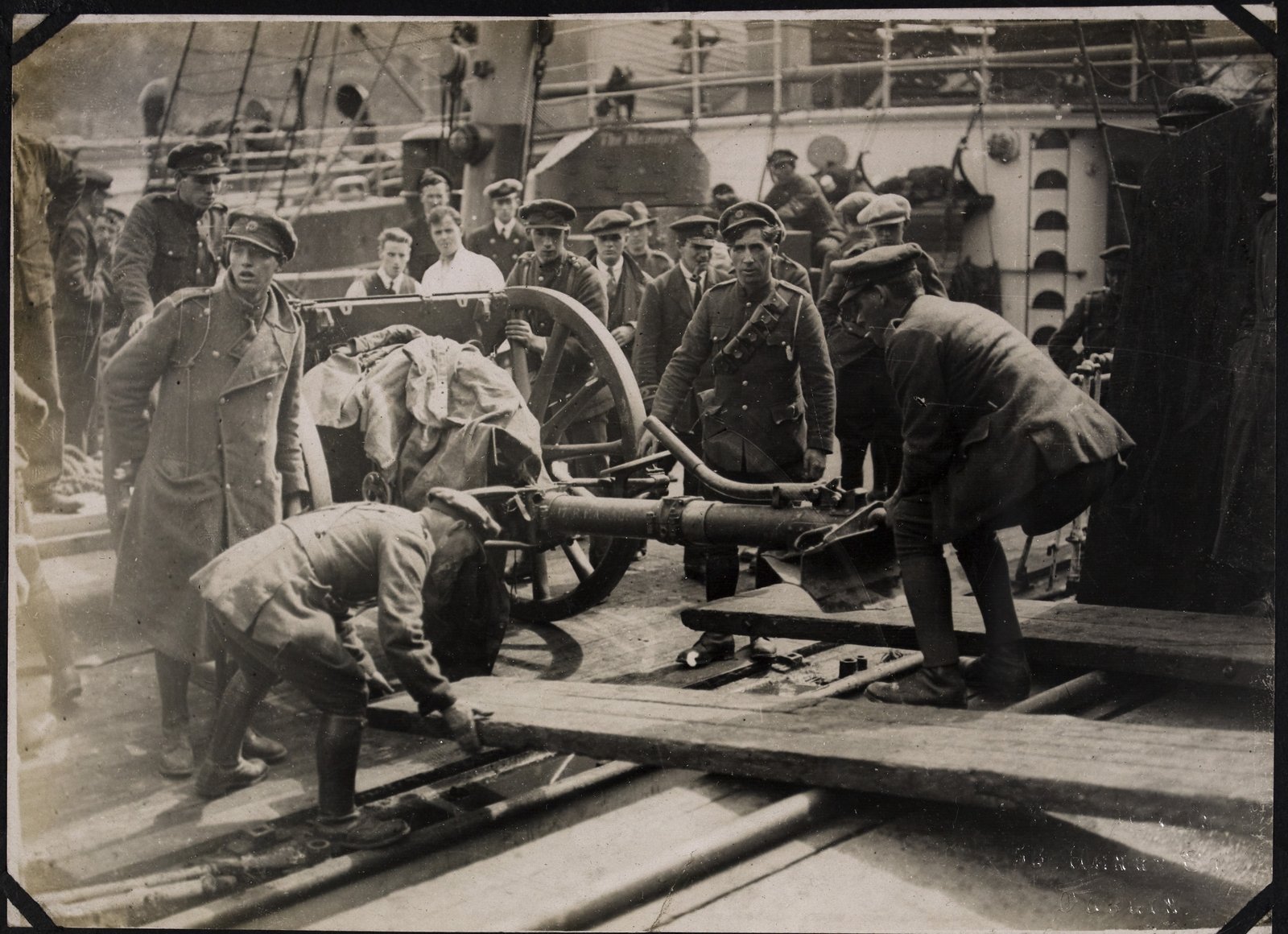 Collins in Cork
W.D. Hogan travelled to Cork on other occasions in 1922. On 13 March he photographed Michael Collins addressing a mass meeting on the Grand Parade, sharing a platform with Seán Mac Eoin. A British Pathé film of the mass meeting in Cork was shot from an almost identical vantage point, but it has yet to be established whether Hogan also used moving film to capture this event.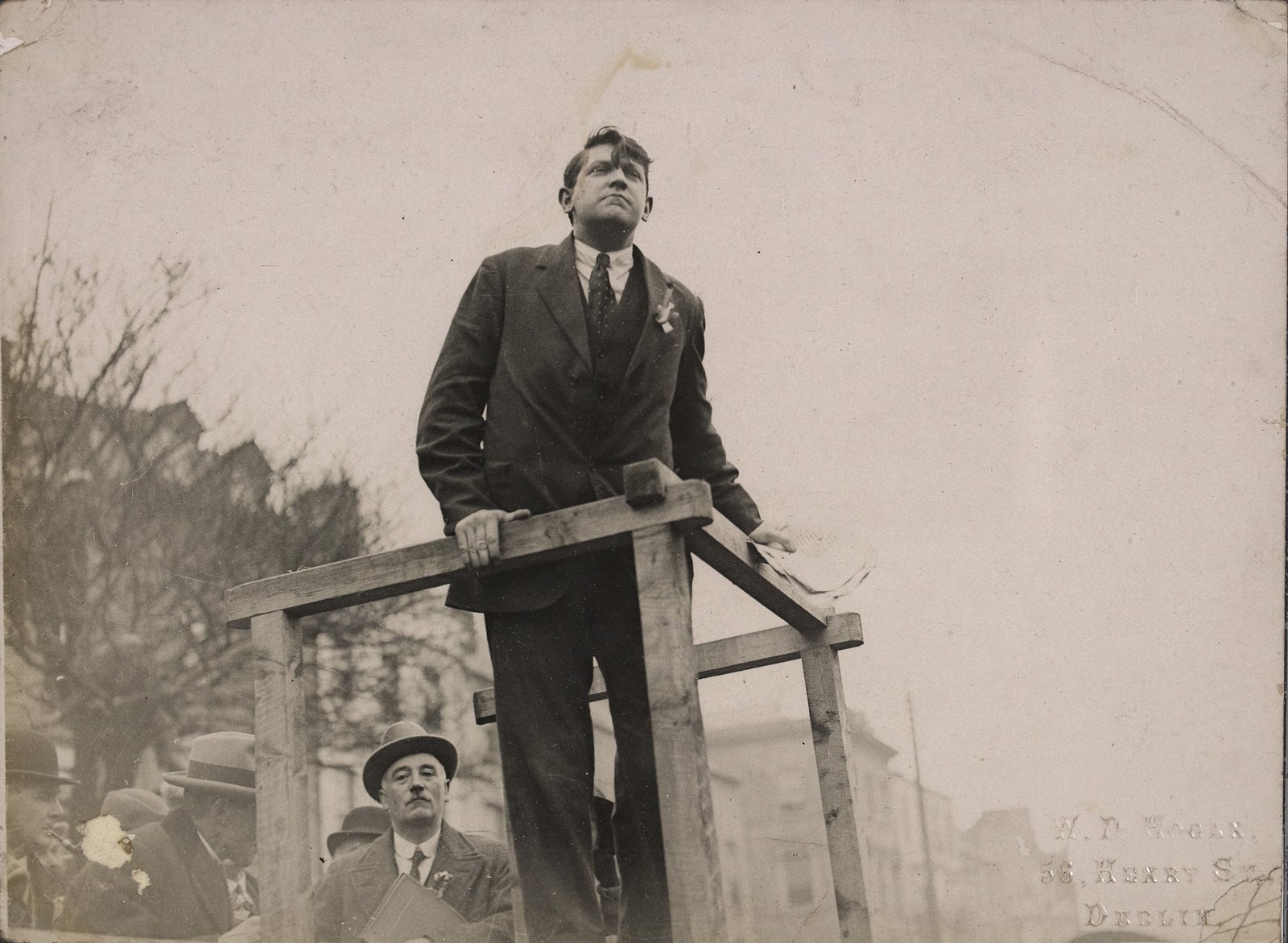 After August 1922, W.D. travelled to Béal na Blá, County Cork to photograph members of the Collins family and National Army soldiers at the spot of Michael Collins' death. In October, Hogan photographed the wedding of Emmet Dalton and Alice Shannon in the Imperial Hotel in Cork.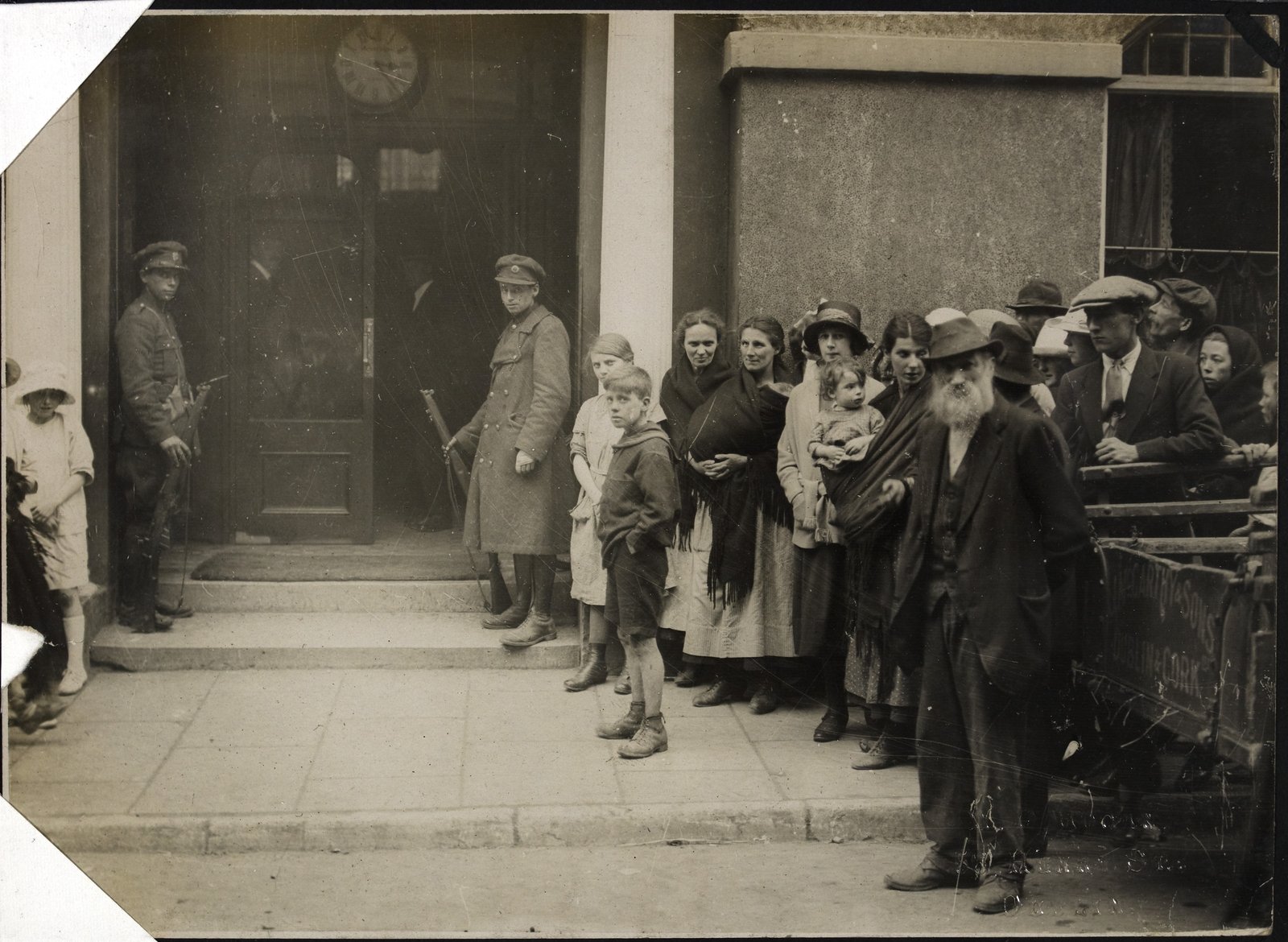 The Hogan Collection also includes portrait photographs of Arthur Griffith and Erskine Childers. W.D. took the only known portrait photograph of Michael Collins in full uniform and piping, shortly before his death on 22 August 1922. Within weeks, Hogan was on to spot to photograph Collins's funeral from the top of Nelson's Pillar in Sackville (now O'Connell) Street.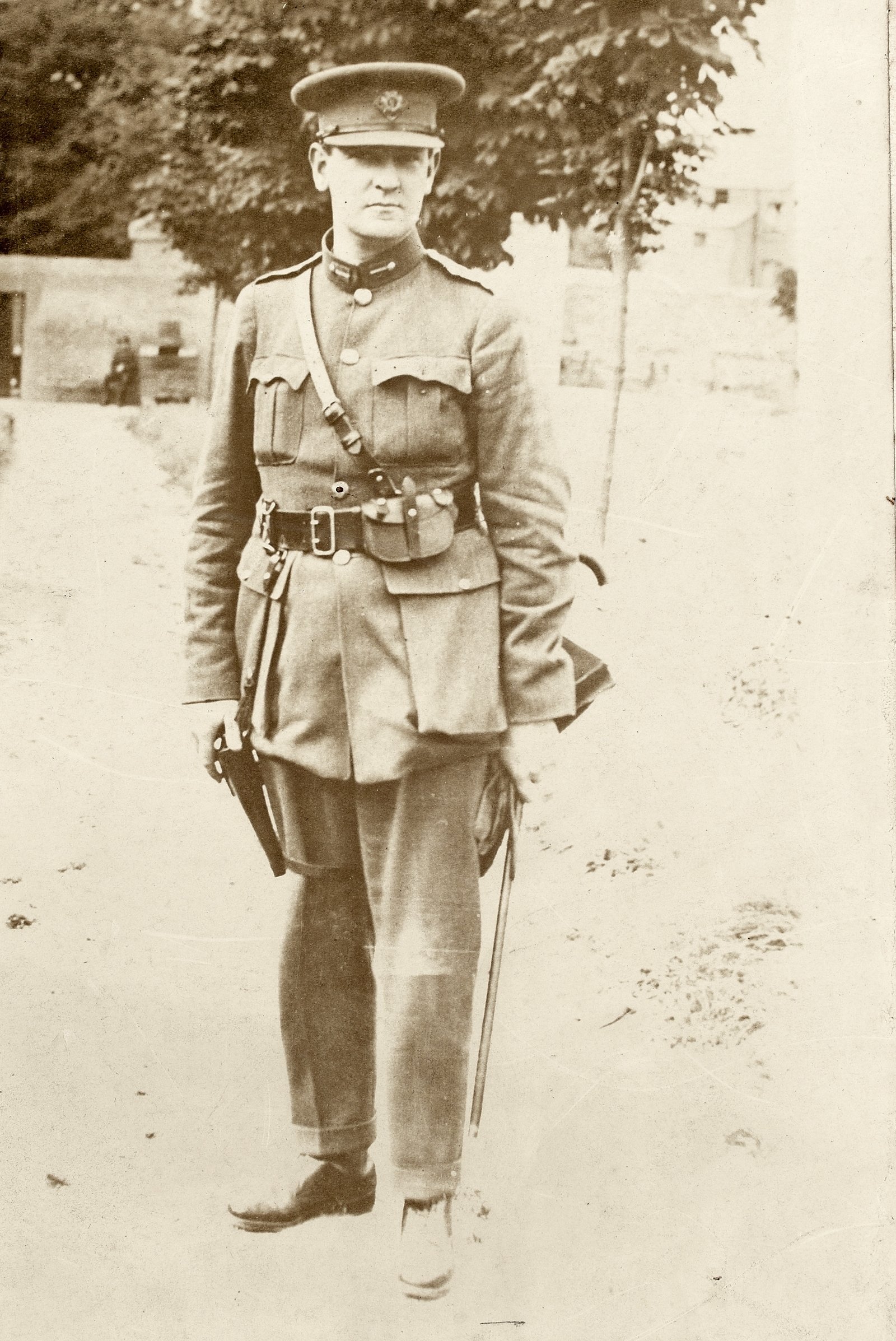 In addition to photographing the taking of Cork by National Army in August, the Hogan Collection for 1922 includes photographs of attendees at the Treaty debates in Dublin in January, the handover of Athlone Barracks by the British Army in February, the bombardment of the Four Courts in June, and the capture of Maryborough barracks by National Army troops in July.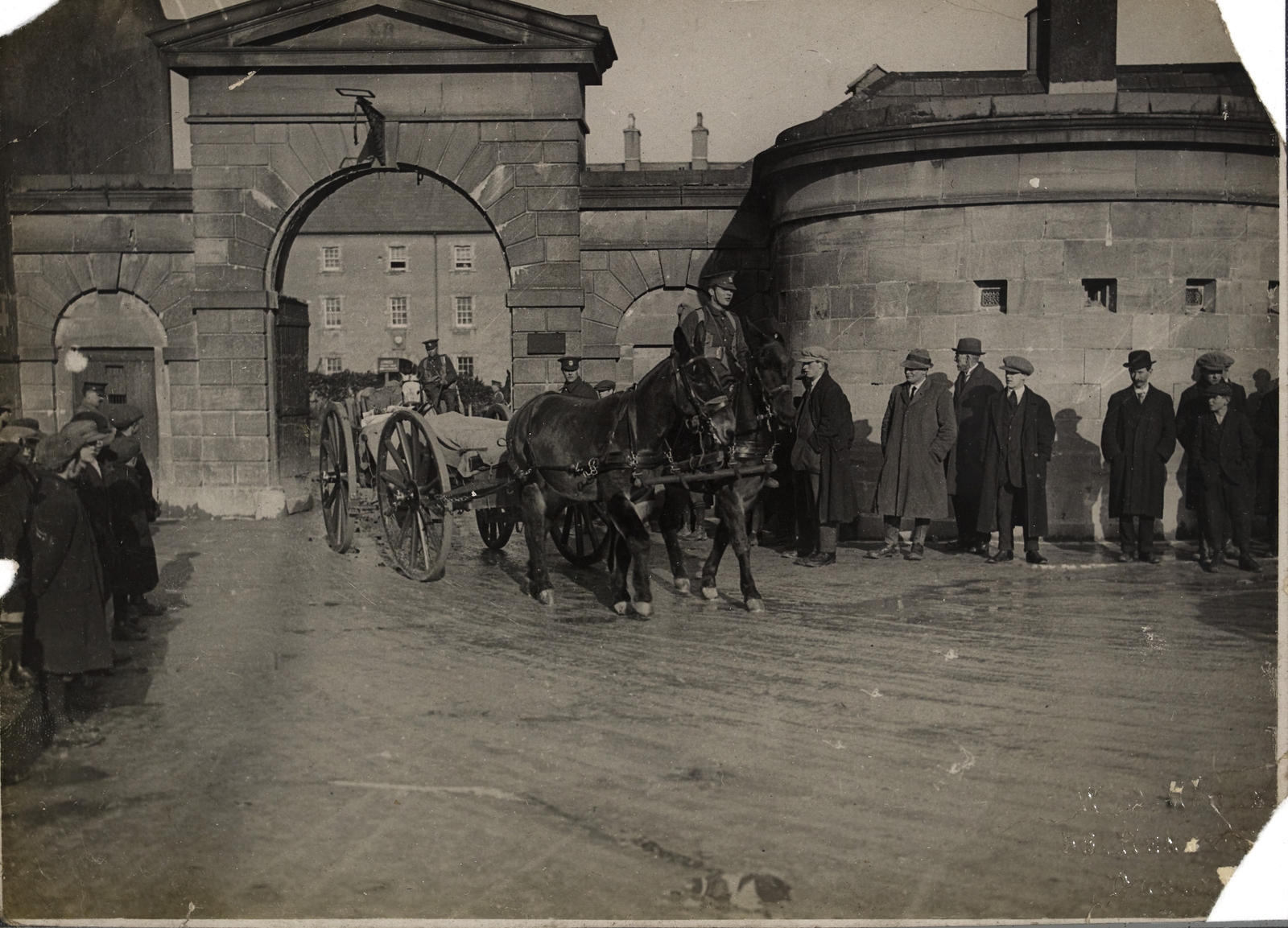 This collection also includes anti-Treaty Sinn Féin group portraits, and photographs of the funeral of Rory O'Connor in December.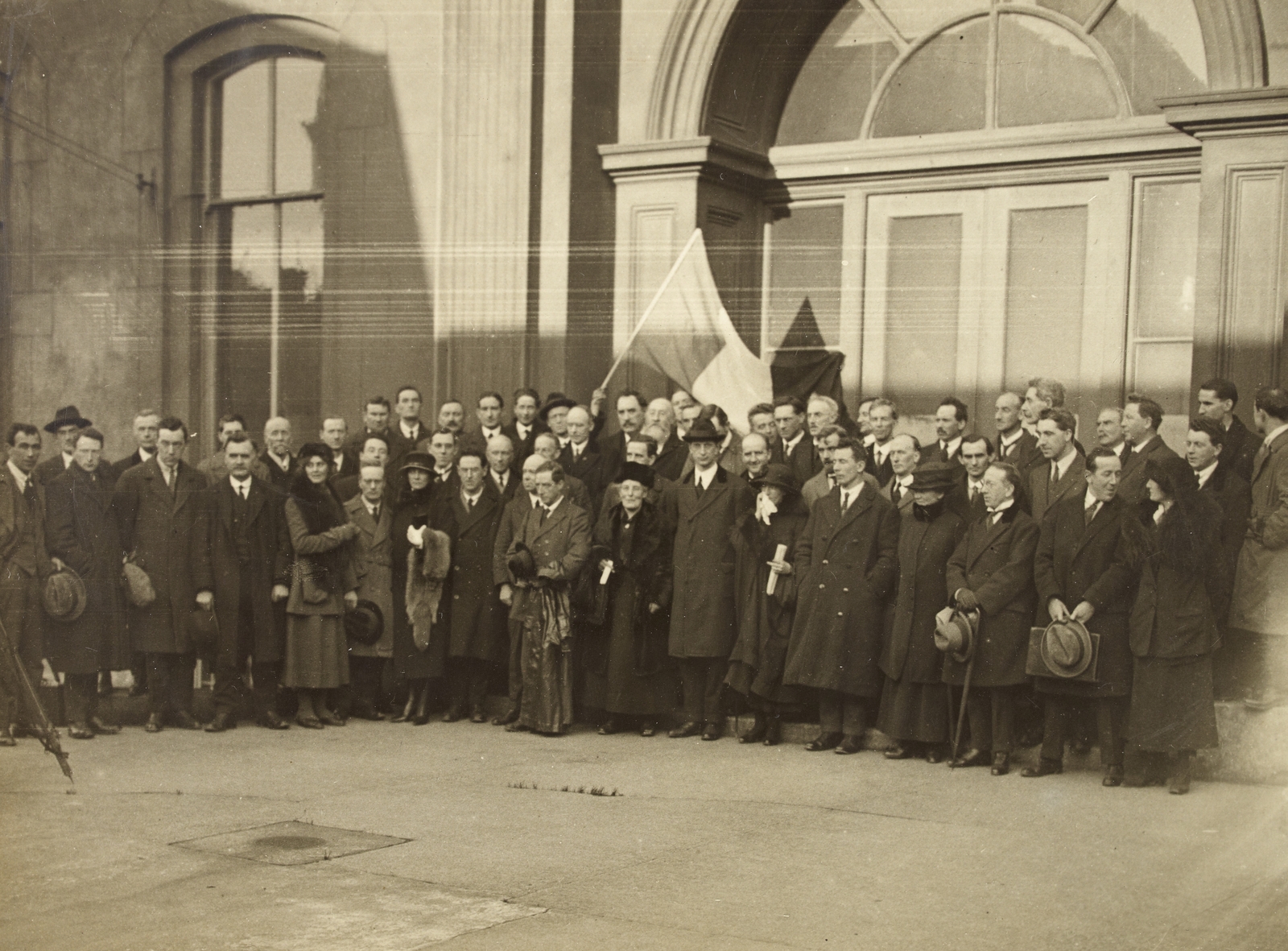 After the Civil War
After the Civil War, W. D. Hogan became one of the best-known pioneers of wireless (including television) in Ireland. In 1926, he produced the first live wireless show on a train in the country. At Heuston (then Kingsbridge) Station, Dublin, he installed radio receiving equipment and loudspeakers on a Great Southern Railways Cork-bound train and tuned into programmes from the newly opened Dublin Broadcasting Station, 2RN (which later became Radio Éireann), and from BBC Daventry. In 1927, 2RN expanded to Cork, and Station 6CK was established.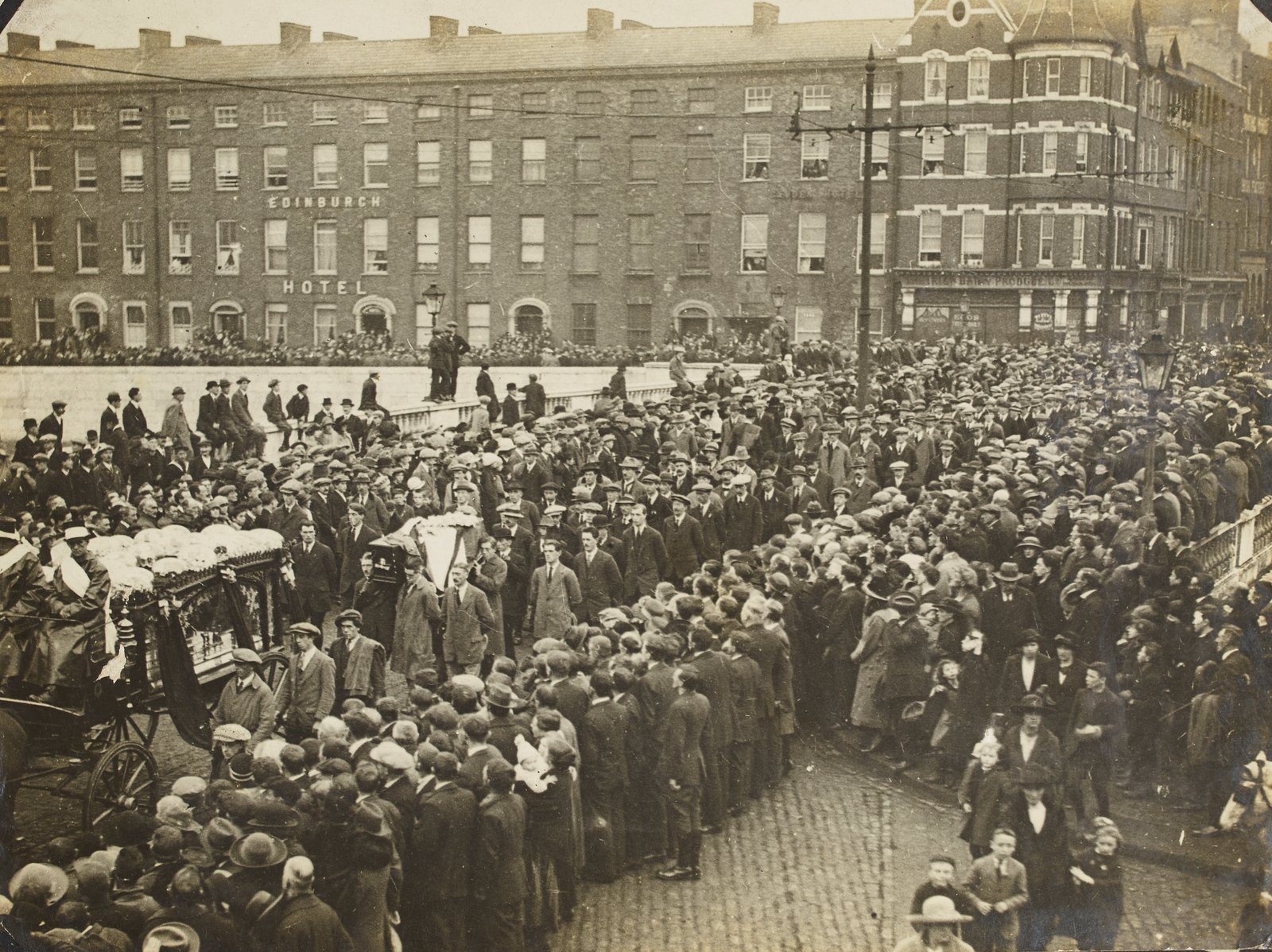 Station 6CK was subsumed into the new national broadcasting network, which became Radio Athlone, in 1933, and Radio Éireann in 1938. It is currently unknown whether W.D. Hogan was involved with establishing 6CK, but he did live in Cork for a number of years before moving to England in 1933. There, he established the London Daily Wedding Photo Service on Fulham Palace Road, specialising in photographing weddings of military personnel, and made movies and sold film and film projectors. He died in London in 1956, survived by his wife Annie (Nancy), children, grandchildren, and his sisters and a brother.
This article is part of the Civil War project coordinated by UCC and based on The Atlas of the Irish Revolution edited by John Crowley, Donal Ó Drisceoil, Mike Murphy and John Borgonovo. Its contents do not represent or reflect the views of RTÉ.