Exhibiting the Great Famine involves many challenges, as Jason King of the Irish Heritage Trust and National Famine Museum, Strokestown, explains.
The National Famine Museum at Strokestown Park strives to make sense of the Great Hunger's devastating impact at a local and national level. It is in the process of being transformed with a €5.1m investment from Fáilte Ireland and the owners of Strokestown Park House, Westward Holding Ltd, in partnership with the Irish Heritage Trust, into a state-of-the-art facility.
The new museum will use cutting edge technology to showcase its unique collection of artefacts and archival records and immerse visitors in the story of the Great Famine catastrophe.
One of the museum's most evocative artefacts is a maquette of the Murray Clachan, a rundale settlement of communal fields and single room sod and stone cabins clustered in Gurtoose on the Strokestown estate. These were the dwellings of the vast majority of its 11,958 inhabitants who left little trace after they were cleared from the land through emigration and eviction in the late 1840s.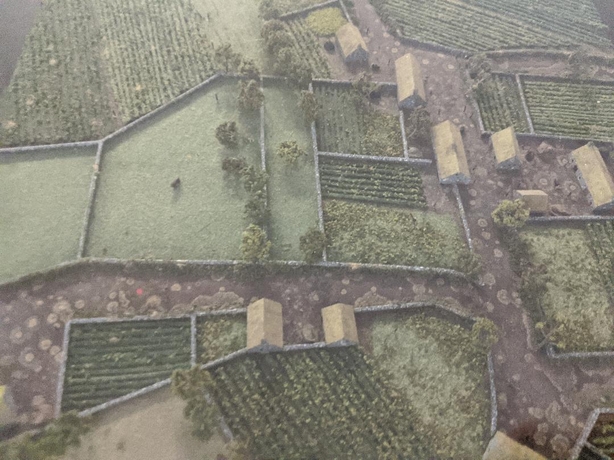 Charles Orser's archaeological excavations of mud cabins in Gurtoose found only hearth shaped lose stones and pottery shards to mark their occupiers' existence. Yet these scant remains attest to Strokestown's most destitute who were suddenly and violently uprooted in 1847.
Voices of the dispossessed
The recovery of their voices and stories is one of the greatest challenges for the National Famine Museum. The assassination of the evicting landlord, Major Denis Mahon, on 2 November, 1847, is recalled by the display of the ostensible murder weapon.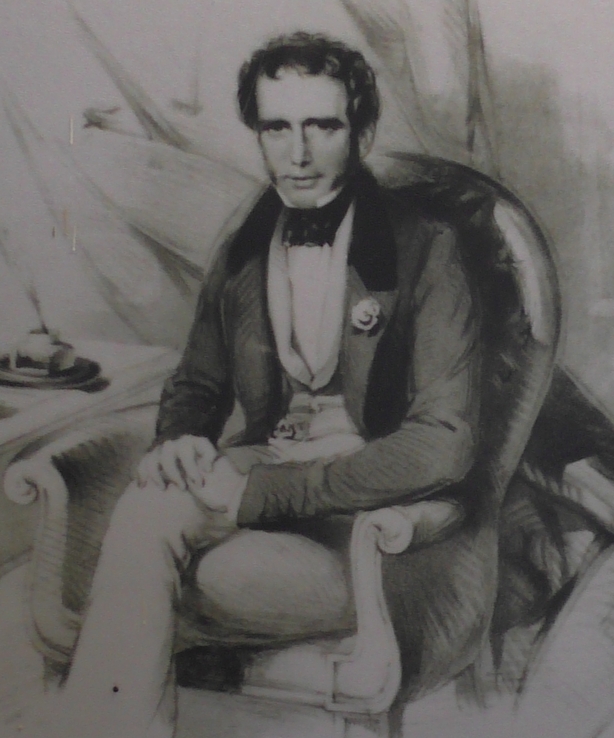 The violence of mass eviction is more difficult to convey. A letter in the Strokestown Park Archive, dated 12 October 1847, records that a large detachment of soldiers and police had been stationed in Strokestown House, including men of the 13th Light Dragoons under Cornet Goad.
Seven years later, Captain Goad and much of his cavalry were slaughtered during the Crimean War. They were memorialised by Great Britain's Poet Laureate, Alfred Tennyson, in 'The Charge of the Light Brigade' (1854).
Less momentous was their role in clearing Mahon's estate. 'I saw no necessity for the idle display of such a large force of military and police,' claimed Father Michael McDermott in the Evening Freeman  on 9 December 1847:
… carrying outside so many rounds of ball and cartridge … surrounding the poor man's cabin, setting fire to the roof while the half-starved, half-naked children were hastening away from the flames with yells of despair, while the mother lay prostrate on the threshold writhing in agony, and the heartbroken father remained supplicating on his knees … leaving the wretched outcasts no alternative but to perish in a ditch'.
Father McDermott had been accused of inciting Mahon's murder from the pulpit, calling him 'worse than Cromwell and yet he lives,' which he strenuously denied. The estate's 'wretched outcasts' had no poet laureate to mourn their fate.
Their voices are captured, however, in the Strokestown Park Archive. It contains thousands of records related to the Great Hunger, including numerous petitions from impoverished tenants and cottiers facing eviction and starvation. 
Poignant petition
One of the most poignant is the Cloonahee petition, dated 22 August, 1846. 'Our families are really and truly suffering in our present,' it pleads, 'and we cannot much longer withstand their cries for food. We have no food for them, our potatoes are rotten and we have no grain. And gentlemen, you know but very little of the condition of the suffering poor'. In a more threatening tone, the petitioners ask,
'Are we to resort to outrage? We are not for joining in anything illegal or contrary to the laws of God or the land, unless pressed by Hunger'.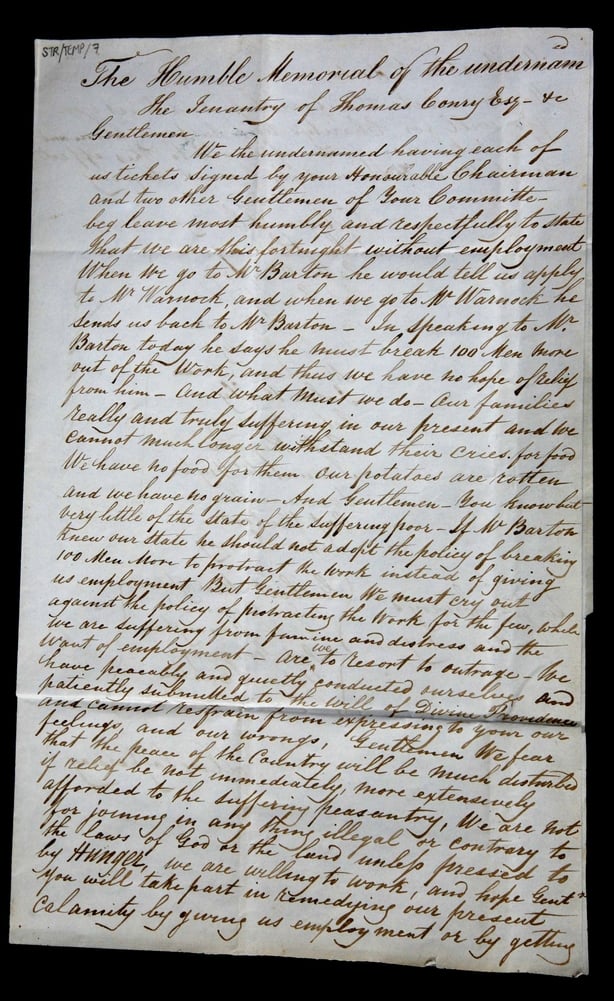 It was the discovery of this petition by James Callery after purchasing Strokestown Park House that inspired him to create the National Famine Museum.
The language of the petition is stilted and stylised, often written in a collective mode of address that mimics the formal idioms of perceived superiors whom the 'suffering poor' struggle to emulate. Their very formality attests to their discomfiture and social distance from the 'gentlemen' they beseech. Yet no other genre comes closer to capturing their voices pleading to forestall hunger and eviction.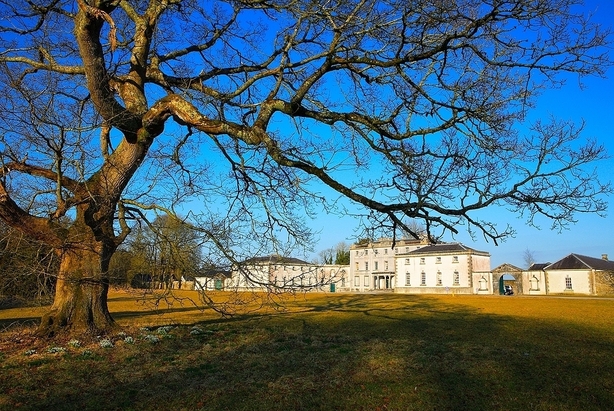 Rivalries
These petitions also attest to familial and social rivalries. The intonations of desperate tenants can be heard in Michael Farrell's entreaty from Gurtoose. He writes that he 'has nine in family' and his wife has been 'ill for the last two years'. He fears that removing her 'out of the House into a new one would, in all probability, be the cause of her death'.
Orphans John, Catherine and Thomas McGuire request one or two acres, 'that will keep them from wandering this Temporary world'.  Peter Noonan asks permission to 'end his latter days where generations before me, for nearly a century and a half,' have dwelled. The Widow Steward of Tully notes that she paid her rent and her neighbours threatened 'to burn her in the house for so doing'.
The Widow Kilmartin laments losing her husband and two children in the past month, even while her father-in-law and sister-in-law took her goat for an unpaid debt. Patrick Kilmartin expresses his plight in verse:
In the year of '50 I lost my wife,

By a cruel Fever in that strife.

In that Infection my children lay,

Which delay'd my payment to this day.
Whether in prose or verse, the Strokestown Park Archive contains a rich repository of Great Famine stories in the voices of those most afflicted.
Yet these archival records do not,  in and of themselves,  bring history to life. The new National Famine Museum will augment and enhance them through projections and soundscapes that engage visitors with more than static documents. It will strike a balance between providing information, instilling insight, and eliciting feeling using innovative curatorial strategies.
The museum has also developed outreach programmes such as the National Famine Way  and Great Famine Voices Roadshow to help bring these stories and voices beyond the archive to a wide audience in Ireland and abroad.
The purpose of the Great Famine Voices Roadshow, funded by the Emigrant Support Programme, is to collect family memories and stories from the descendants of Irish emigrants in Canada, the United States, and Great Britain.  During the Covid-19 pandemic, it launched a 'Famine Heroes' short film series based on these memories and stories about coping with epidemic that paid tribute to Great Hunger caregivers.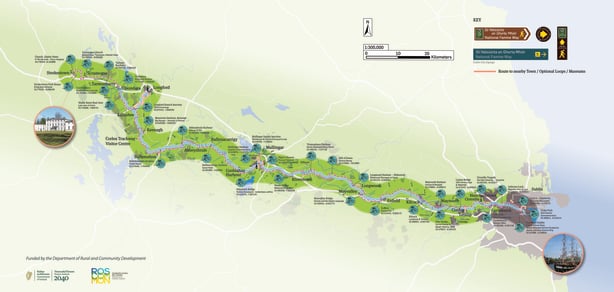 National Famine Way
The National Famine Way was recently launched as an accredited 167km walking trail between Strokestown and Dublin along the banks of the Royal Canal. It marks the sorrowful journey of the 1,490 assisted emigrants from the estate in 1847 with a set of bronze shoe sculptures along the route.
Over a third of them perished on the transatlantic voyage in some of the most notorious coffin ships, such as the Virginius and Naomi, and in the fever sheds on Grosse Isle quarantine station and in Montreal in Quebec. Professor Mark McGowan of the University of Toronto has been tracing these Strokestown migrant settlement patterns in Canada, especially in the Niagara region.
His own trek in their footsteps to Niagara Falls was made into a 'Famine Heroes' film. Amongst the 1,490 were two orphaned children, Daniel (12) and Catherine (6) Tighe, who were taken in by a French-Canadian family.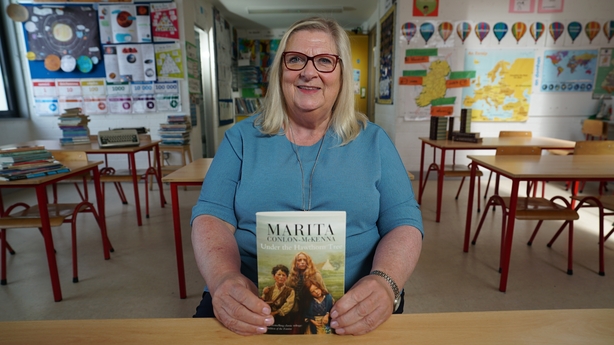 Renowned author Marita Conlon-McKenna has written a fictional account of Daniel Tighe's journey entitled Shoe Stories, based on meticulous research. Her work attests to the role of the artist in finding creative material from archival records for a wider audience.
The only figure from Strokestown's 1,490 emigrants who left a written account of his experience was another orphan named Thomas Quinn (aged 5). Decades after leaving Ireland, he delivered a lecture in Quebec City in which he recalled being summoned to his father's death bed, on Grosse Isle, to hear his dying utterance: 'remember your soul and your liberty'.  It is a fitting testament for recovery of other Great Famine voices and stories.
Dr Jason King is Academic Coordinator of the Irish Heritage Trust and National Famine Museum, Strokestown Park, and a member of the Government of Ireland National Famine Commemoration Committee.
This piece is part of the Great Irish Famine project coordinated by UCC and based on the Atlas of the Great Irish Famine. Its contents do not represent or reflect the views of RTÉ.