Thousands of single female "orphans" emigrated to Australia from Famine-ravaged Ireland in the late 1840s. But who were those women, and what were their lives like when they got there? Perry McIntyre explains 
On 3 June 1848, the emigrant ship Earl Grey sailed from Plymouth with 185 girls and young women on board. Named after the Secretary of State for the Colonies, this was the first of twenty such ships to take 4,114 single female 'orphan' selected from the workhouses of Ireland to the Australian colonies in the following twenty-two months under a scheme which in recent years has come to be known as the Earl Grey Scheme.
The Tippoo Saib which sailed on 8 April 1850 was the last ship: eleven ships conveyed 2,253 orphans to Sydney, six ships carried 1,255 to Port Phillip (then part of New South Wales) and three ships took the remaining 606 to Adelaide, South Australia.
In the months preceding June 1848, William Stanley, Secretary of the Poor Law Commission in Dublin, wrote to each of the 130 Union workhouses then in existence asking the Guardians to 'properly apprise' young women of the 'prospects which await them in the event of their availing themselves of the free passage to Australia'.
His letter also asked if the workhouses were willing to bear the cost of the outfits required by the Colonial Land and Emigration Commissioners who ran emigration. Each workhouse was also required to pay the expenses involved in sending them to Dublin and thence by steamer to Plymouth where they boarded the emigrant ships.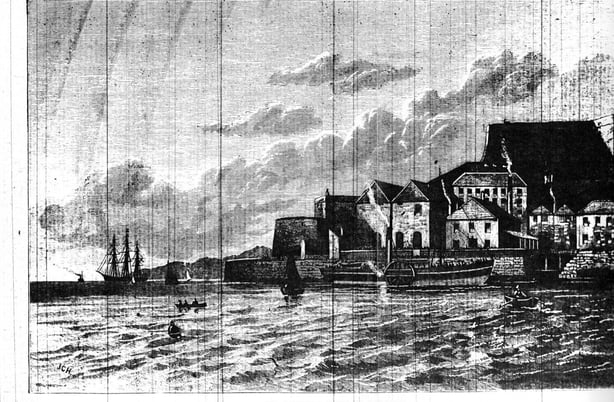 Girls of good character
The Emigration Commissioners had their Depot at Plymouth [see image above] where they completed a final inspection of the girls whose ages, under the regulations, were to be between fourteen and eighteen. They had to be willing to emigrate and all had to be of unquestionable good health and character.
Thus, none were to be the sweepings of the streets or prostitutes, as was subsequently claimed by some reports, particularly in the press, following their arrival in the colonies.
Lieutenant John Henry R.N., the Emigration Agent in Dublin, inspected almost all the emigrant young women initially pre-selected by the workhouse. A few unions in northern counties were inspected by Edward Senior, the local Poor Law Union Inspector in Belfast, or Mr Bailey, Government Emigration Officer who inspected those in Letterkenny, Donegal in September 1849.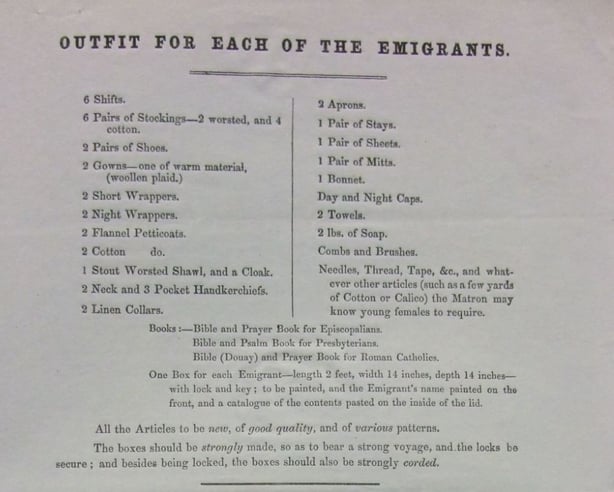 A group gathered from surrounding unions at Belfast went by steamer to Dublin in May 1848, but most went by road and/or rail to Dublin. For example, those from Westport went by Bianconi car to Mullingar and then by train to Dublin.
All girls were given an extensive outfit for the journey, which was either made in the workhouse or sourced locally (see above) These essential items were stipulated by the Emigration Commissioners who also gave the specific size of the box which was to contain the items. The list of items was pasted inside the lid and each sea chest had the emigrant's name clearly painted on the outside and each orphan was given the key to her 'box'.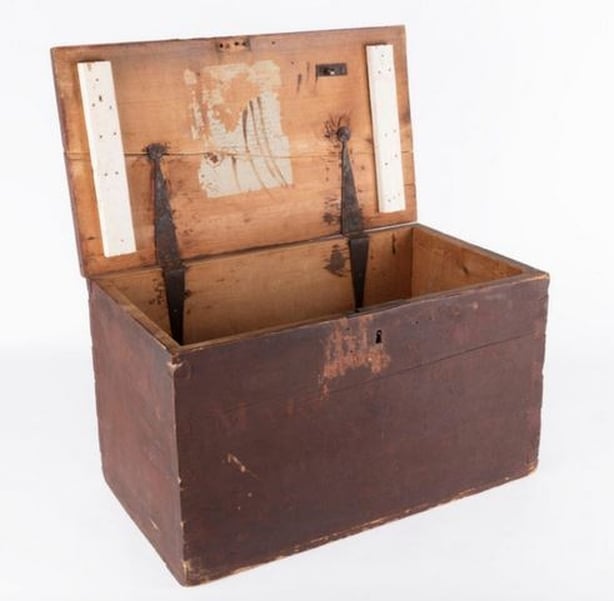 The voyage
After their voyage by steamer from Dublin to Plymouth, and a period of time at the Immigration Barracks where they were finally inspected, the girls boarded the ships which sailed directly to Sydney, Port Phillip and Adelaide not stopping at any port along the way.
Their care during the voyage was entrusted to the Surgeon Superintendent who with assistance from a matron had full responsibility for them. On arrival the ships and girls were inspected by the Immigration Agent who sent a report to London on the state of the ship and its immigrants, recommending a course of action for any inadequacies during the voyage including possible mistreatment of the girls.
Historian Richard Reid noted that at times the Irish orphans may have been treated more harshly by English Matrons but that may also have been a result of their 'quick tongues'. For example, the schoolmaster on the John Knox had complained about their impertinence but it was dismissed as 'Irish readiness of repartee'.
The reputation of the commissioners as well as that of these young women was of great importance to all concerned if these girls were to secure positions in middle- and upper-class families in the colonies. The voyage itself was a period of transition from crowded rural cabins and workhouses in Ireland to family homes in Australia.
Schooling, sewing, knitting and other skills undertaken on board ship would have helped not only occupy time during the three to four-month voyage but provided some useful skills for future employment prospects. 
Death rates on the commissioners' ships in general was extremely low and only seven workhouse orphans have been identified as dying during the voyage or immediately after arrival, all from complications of tuberculosis which was obviously not recognised as they left Ireland and would have been exacerbated by the voyage, particularly the final weeks as the ships crossed the cold and rough seas of the southern oceans.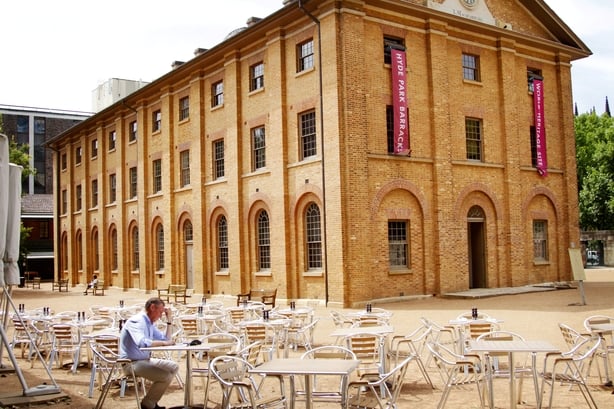 On arrival in Sydney, the orphans spent three to five days on board, opening their boxes and taking the opportunity to wash and change before disembarking. They then walked up Macquarie Street to the Hyde Park Barracks, which had been prepared as an Immigration Barrack for the arrival of unprotected females.
Between 1848 and 1850 when over 2,000 of these Irish orphans arrived in Sydney, the Barracks was essentially an Irish institution. This process was strictly supervised and regulated. The cleaned dormitories, sewed, read etc until early afternoon when they presented themselves in the Hiring Room. In January 1849 'an establishment for orphans from Ireland' was set up on the corner of William and Collins Streets, Melbourne and, in Adelaide, the 'Native School' was appropriated as a depot.
Employment
Apart from a small number who may have been received by relatives noted on the shipping list, the orphans were hired as indentured servants by respectable colonists who were obliged to teach them a skill and protect them as they were, in essence, wards of the state until they were over eighteen.
Each colony had an orphan committee which oversaw the process and had powers relating to wages, discipline and moral guardianship. The orphan committees had representatives of each religious denomination, prominent politicians and officials such as Charles Nicholson, Speaker of the Legislative Council.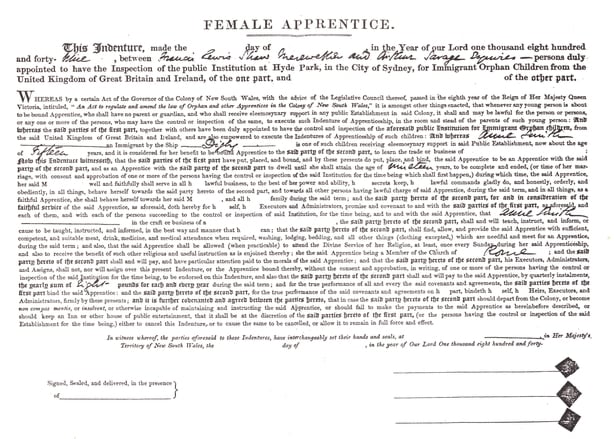 The girls and young women were not to be hired by publicans or single men and each employer signed a legal indenture with the committee. [Indentures could be cancelled and the girl remained legally under the guardianship and care of the committee which held their wages in trust until their conduct was deemed acceptable.]
Far afield
From the major port of arrival, some girls went to other rural depots and were hired from there. These depots were scattered throughout country areas and the young women went in groups out of the main cities to be hired out in places like Yass, Goulburn and Bathurst in New South Wales; Gawler, Mount Barker and Clare in South Australia and Moreton Bay and Ipswich in what is now Queensland.
Some initially went to places not far from Sydney, such as Parramatta (now part of western Sydney) and hired from there or sent further afield. A June 1849 report in the Sydney Morning Herald noted that fifteen Digby girls remained in the depot at Parramatta and all
'appear to have given general satisfaction where they have gone to service in the town and district; the statement from their employers being to the effect that they are teachable, honest, and respectful; yet it is remarkable that the other immigrants are preferred in the selection of servants'.
In early 1850, over one hundred were chaperoned and supervised by Surgeon Strutt of the Thomas Arbuthnot to Goulburn, Yass and Gundagai, places of employment over one hundred miles south of Sydney. Others were escorted by carefully selected chaperones, such as ex-Sergeant Nolan of the 53rd regiment and his wife, who took several groups to Bathurst where in such country centres they were under the supervision of the local Bench of Magistrates.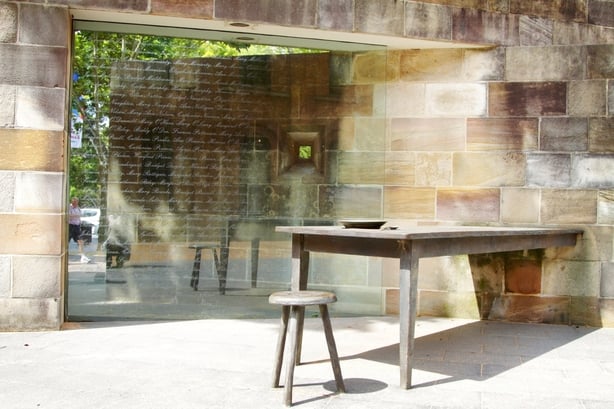 How did they fare?
Some of the girls and young women were charged by their masters with offences such as larceny, leaving their residence without permission, bad language or violent behaviour but they also had agency and there are many instances where they took their masters to court for a range of offences from refusing to give them their wages to various forms of assault including verbal abuse and rape.
It is difficult to give an overview of the lives of over 4,000 women. Some married good men, others had a terrible violent marriage; some had several marriages or relationships and a few remained single; some died in accidents such as drowning or household fires such as Mary McGeery who died a year after her arrival 'enveloped by flames' while removing a pot from the fire.
A few died in childbirth, some with their first child and others like Mary Morgan with her eight or Margaret King with her eleventh. Quite a number lived well into the twentieth century: both Margaret Plunkett from Newry who died in Gympie, Queensland aged ninety-nine and Bridget O'Brien from Cashel who lived until 1933.
Many struggled with various forms of mental illness manifesting as drunkenness, violence, inability to settle into a routine life and mania. One woman killed her violent husband, but we do not know precisely what drove her to do that, but the judge took pity and she only served a few years in prison.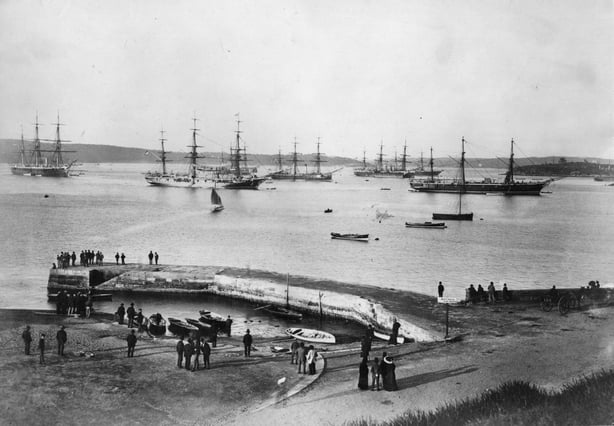 An Additional note on Literacy and Parentage
The ships to Sydney and Port Phillip noted the literacy of the immigrants and the Sydney ships recorded the names of the parents, their residence and whether they were still alive or not. Of the over 2,000 orphans who landed in Sydney, 26% could both read and write, 32% could read only while the remaining 42% were illiterate. Thus, over half had some level of literacy.
The term 'orphan' in the nineteenth century indicated at least one parent had died and 2% (35) of the Sydney girls had both parents recorded as alive, 18% had a mother alive, 6% had a father alive, leaving 73% as orphans in the modern sense of the word.
Research on the lives of the orphans in Australia indicates that more than the stated 26% had a parent alive who had often been transported to Australia prior to the emigration of their daughter. For example, evidence of families utilising available assisted immigration schemes to reunite is provided by the Rathdrum Workhouse Stephens' sisters from County Wicklow who emigrated on the Thomas Arbuthnot to Sydney.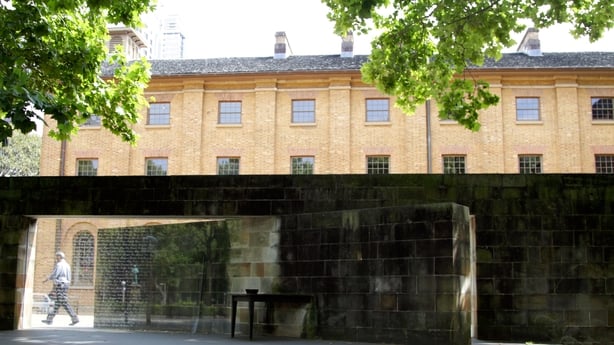 Their mother was in the workhouse with them and she managed to secure the position as matron on another of the ships carrying orphans, thus receiving not only a free passage but a gratuity for working on the ship. By mid-1850 they were reunited in Tasmania with their father who had been transported for ten years. The couple had another four children in that colony.
All the descendants who have been in contact over the years are enormously proud of the contribution these young destitute famine emigrants made to Australia and thousands of people today are descended from these young workhouse women who bravely said yes to a free passage from the workhouses.
 This piece is part of the Great Irish Famine project coordinated by UCC and based on the Atlas of the Great Irish Famine. Its contents do not represent or reflect the views of RTÉ.