While war raged in the southern counties between the IRA and British security forces, in the north east the victims of violence were mostly civilians. On July 10th 1921, tensions reached fever pitch with devastating results, as Alan Francis Parkinson explains.
As the Anglo-Irish War approached its conclusion during the early summer of 1921, another, contrasting 'war' was escalating in the north of Ireland. This conflict was, of course, fundamentally different in nature to the war raging in the south, which mainly involved the IRA and British security forces.
In the north, the victims of violence were primarily ordinary civilians, frequently chosen at random on account of being in the wrong place at the wrong time. As political tension mounted at Westminster - over the Better Government of Ireland legislation which would establish partition by Christmas 1920 - sectarian disturbances erupted in the Belfast shipyards.
Snipers and bombers in both nationalist and unionist districts targeted people living in areas which were clearly defined in terms of their religious composition. There were short periods when heavy bouts of violence subsided - including the spring and early summer of 1921 when the elections for Northern Ireland's first Parliament and its official opening by King George V took place in relative calm.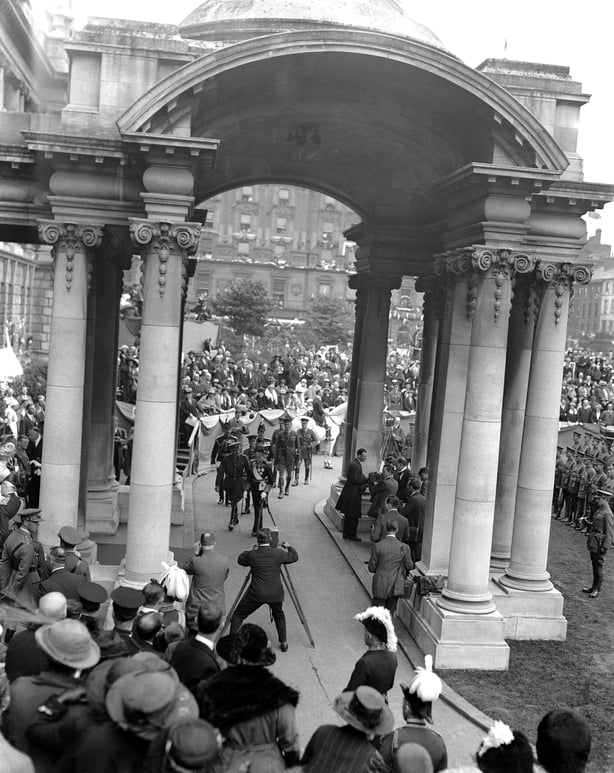 Tension soon built up again before the traditional marching season started in July, a situation which was exacerbated by the announcement of an IRA truce on 9 July. This cessation of violence was regarded as a cruel irony by many northerners, who observed not only the immediate de-escalation in the levels of violence elsewhere in Ireland but would soon witness first-hand its ushering in of a particularly vicious phase of disturbances in Belfast.
Others had been initially comforted by the promise of 'peace', and the city's authorities had relaxed the curfew restrictions (these would be restored on 11 July).
The 'Wild West'
While sectarian disturbances prior to July 1921 [including the evictions of many Catholics from both homes and workplaces] had occurred in various parts of the city, virtually all of the violence which would take place in the North's metropolis on its 'Bloody Sunday', was confined to its western quarter.
This followed the pattern of previous disturbances in the nineteenth century when west Belfast - especially the side-streets which formed the interface areas between the densely populated Falls and Shankill arterial roads - had proved to be the cockpit of sectarian violence.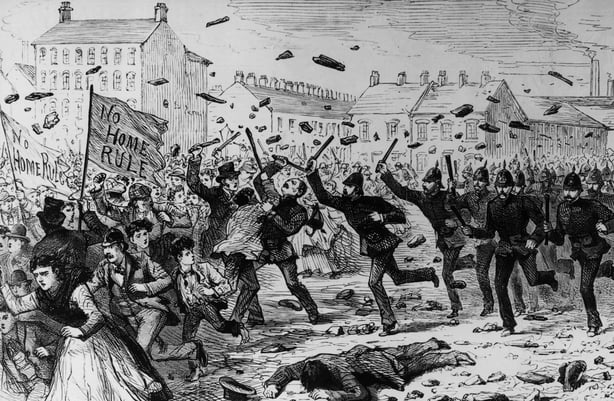 The shooting of a RIC police officer, Constable Jim Galvin, to the west of the city centre on 6 July, had provoked an hour-long gun battle between men of the IRA's 3rd Northern Division and British security forces on 8 July.
Fatal wounding
It was another fatal wounding of a policeman on the evening of Saturday 9 July which sparked off the violence in the west of the city the following day. The 'D' company of the IRA probably wanted to exhibit its paramilitary muscle before the Truce was implemented, and certainly a large group of volunteers were prepared for action that evening in Raglan Street in the Falls district.
In a prolonged attack on a RIC/Special Constabulary convoy, Constable Thomas Conlon from Roscommon was shot dead and two other officers were seriously hurt. An armoured police vehicle was also destroyed in the prolonged attack, which involved the use of rifles and hand grenades. The incident soon made its entry into republican folklore. Part of a ballad dedicated to the Raglan Street ambush went:
'Oh, I'll tell you a tale of a row in the town

When a lorry went up and never came down

It was the neatest oul sweetest row you'd ever meet

When the boys caught the Specials down Raglan Street!'
Loyalist retribution for Raglan Street was to manifest itself the next day. Although Belfast would sadly witness even greater bloodshed across a longer period - over thirty people lost their lives in a four-day spell in November 1921, and over seventy died in sectarian clashes the following May - the largest number of people to lose their lives on a single day [16] occurred in west Belfast on 10 July.
From the early afternoon, crowds started to gather beside the myriad of tiny streets surrounding the nationalist Falls and loyalist Shankill roads. Unionists were gathering on the Shankill Road to welcome Orangemen returning from a church service at the Ulster Hall in central Belfast.
Gun battles
Shooting was reported shortly after their return, and as the evening wore on, gun battles between the IRA, police and members of the Ulster Protestant Association [UPA] increased in intensity. Machine-guns, rifles and pistols were fired, and hand grenades lobbed into opposing districts.
Activists had taken up advantageous positions on street corners and were also firing from the rooftops and upstairs windows of many terraced houses. One report described how 'a several thousands' strong loyalist crowd had made 'a sudden and terrifying rush' into side-streets off the Falls Road.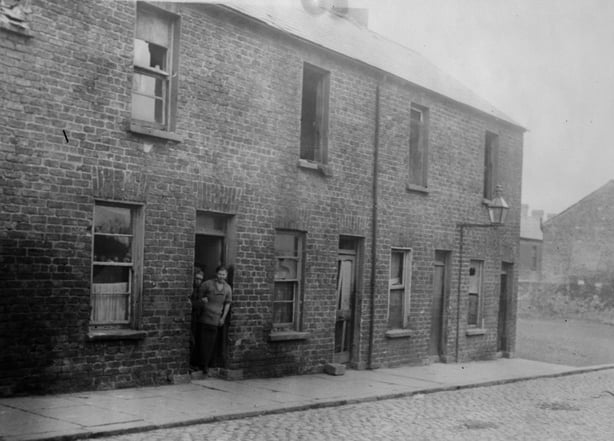 Many in this irate mob were purported to have been carrying 'petrol, paraffin, rags and even small bundles of wood' in their determination to set fire to Catholic-owned properties. They had considerable success in this mission, with over 160 houses in Catholic districts being seriously damaged or destroyed in arson attacks. This strategy was adopted by loyalists in attacks on hundreds of other Catholic homes across Belfast between 1920 and 1922.
Deadly trams
At least fourteen fire engines were needed to extinguish the flames. In another incident, a tramcar was hit by several bullets from snipers and the city's Tramways Department discontinued the services. Tram passengers were frequently singled out for attack by miscreants during this conflict.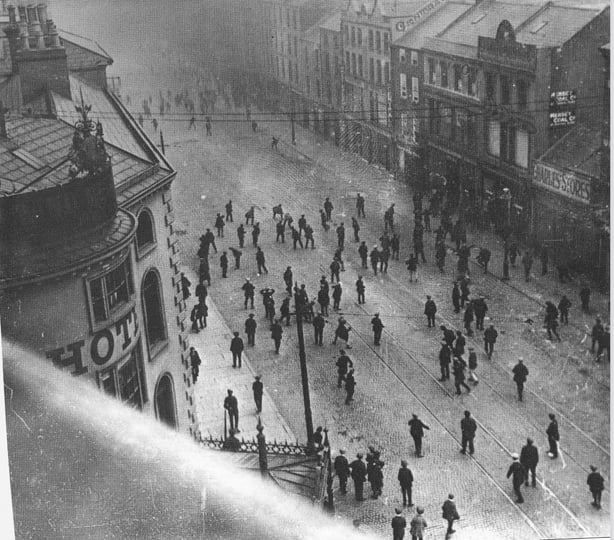 Several Catholics were shot dead travelling on city trams, and the IRA killed seven Protestant workers and seriously injured dozens of others in two tram bombings a few months later.
Although constituting a distinct minority of Belfast's population at that time, Catholics suffered disproportionately high numbers of serious injury, and 'Bloody Sunday' reflected this trend. Eleven Catholics, all living on or near the Falls Road, were shot dead that day.
Unusually, all the victims were men, ranging in age from about twenty to seventy. Five of them were referred to in press reports as former soldiers. Indeed, it is likely that between thirty and forty men in this category lost their lives over the course of the two-year conflict. Alexander Hamilton and Frederick Craig had fought in World War 1, and the other casualties with military backgrounds included James Lenaghan, Henry Mulholland and Daniel Joseph Hughes.
Sniper attacks
Loyalist snipers were most likely culpable for claiming the lives of Bernard Monaghan and William Tierney, who were reported to have been killed standing outside their front door and sitting in their living-room respectively.
Other Catholics to perish that day had been intercepted while accompanying their children safely home. Two fathers in this category were James McGuinness and Daniel Hughes. The marauding loyalist gangs also claimed the lives of Patrick Hickland, who was badly beaten before being shot, and Patrick Devlin, who succumbed to his injuries in hospital the following year.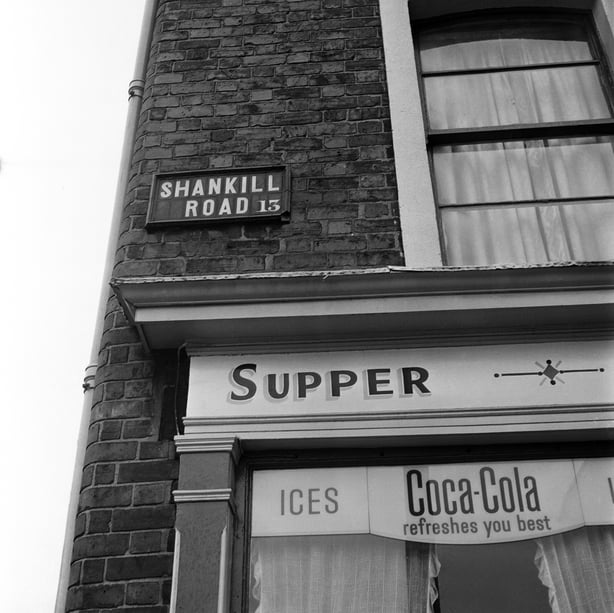 Several Protestants were also killed or seriously injured by nationalist snipers operating from the nearby Falls Road. Three Protestant men aged between nineteen and sixty-five, were shot in the Shankill area. They were Daniel McMullan, William Mullan and Francis Robinson, the latter was fatally wounded in his bed during an exchange of gunfire between the IRA and police.
Child victims
The other two Protestant victims were children who got caught up in the disturbances. William Baxter had been walking to Sunday School near the Shankill Road when he was shot. The same sniper probably targeted another youngster, Ernest Park, who had been trying to carry a petrified kitten back to his neighbour's house when he was struck.
Children were often the unfortunate victims of cold-blooded assassins, and it is likely that nearly fifty of them were killed during this conflict in Belfast. The worst single outrage was in February 1922 when a loyalist bomber threw grenades into a crowd of children playing in north Belfast's Weaver Street. Four children were killed and several more were badly injured. Two women also died in this attack.
Around twenty years ago the author interviewed several people who had been children growing up in the battle-scarred city. Jimmy Kelly, who later became one of Ireland's most distinguished journalists, talked about the sense of danger he felt as he travelled by tram into the city centre. He particularly recalled that, on hearing the crack of gunfire, the driver and passengers would 'huddle down on the floor which the Tramways Department thoughtfully provided with a carpet of straw.'
For others, the violence had a dramatic effect on shaping their young lives. John Parkinson, my father, had to leave school and start work when the IRA fire-bombed his school in Divis Street in west Belfast, and Sam Jamison, whose father was a senior fire officer, lived on Fire Brigade premises, watching fire engines speeding off to deal with fires started by the IRA and also ambulances unloading the bodies of people killed in violence.
Belfast deaths per square kilometre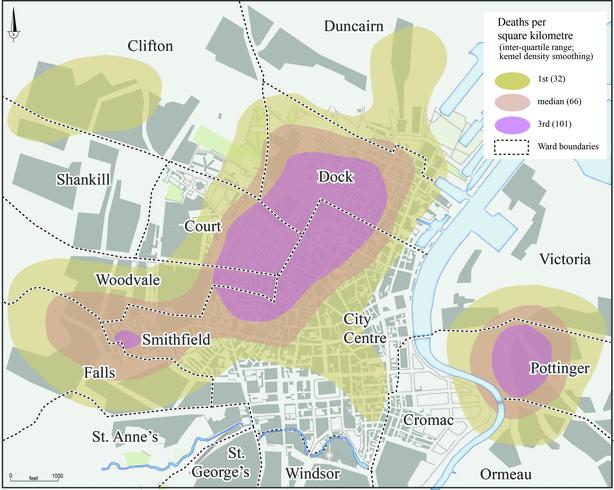 When we consider Belfast alone as a zone of conflict, the period between July 1920 and June 1922 represents by far the most intense period of sectarian killing in its history, a significance which is generally understated.

Nearly 500 people were killed. Even within this relatively short period of conflict, however, the distribution of deaths was heavily skewed in both spatial and temporal terms.

This map shows the heavy concentration of fatalities in the central districts of Dock, Old Lodge and Smithfield, immediately to the north and west of the city centre, and the Short Strand, just to the east across the River Lagan.

Key to this concentration was the fact that both Catholics and Protestants died in virtually the same places, which acted as battlegrounds or spatial lightning rods for the wider conflict that was consuming the city.

These tended to be places where highly segregated Catholic and Protestant populations lived in very close proximity to each other. They were areas where the cityscape consisted of rows of heavily populated and contested terraced streets that changed in chequerboard fashion from being almost completely Catholic to virtually entirely Protestant in complexion.

Alternatively, these urban battlegrounds tended to be sites of transit and mobility immediately adjacent to the city centre, where Catholics and Protestants passed through areas dominated by members of the other group and where the religion of the victim was assumed on the basis largely of where they were coming from or heading to.

Map data and caption supplied by Niall Cunningham
That blood-soaked Sabbath
The re-introduction of curfew restrictions the next day and an increased security force presence on the eve of the loyalist celebrations, prevented a recurrence of serious violence. Yet three more people died, again in the west of the city, the next day, including a Catholic teenage girl who was struck by gunfire directed from a Special Constabulary vehicle.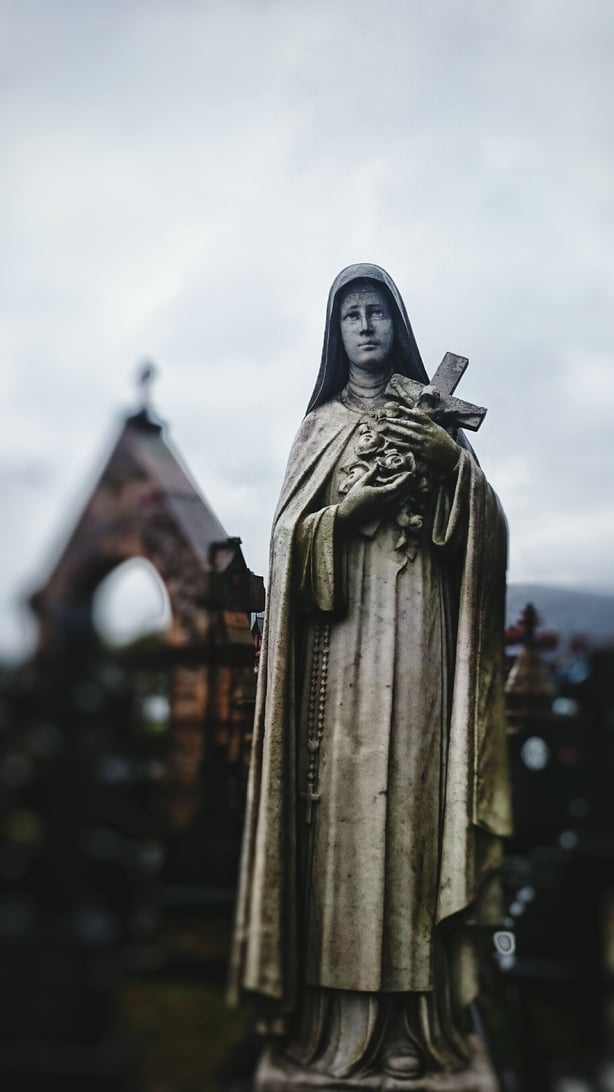 A few days later, 'a tremendous crowd of sympathisers' lined the route to Milltown Cemetery, off the Falls Road for the funerals of many of the victims of the disturbances. The Belfast Telegraph reported that 'blinds were drawn in all private dwelling-houses and places of business, and all work was suspended until after all the funerals'.
Although low level violence persisted in the west of the city, major disturbances were avoided for another six or seven weeks. However, the worst of the violence in the North [and the majority of fatal incidents] actually occurred during the first half of 1922.
Yet for many of those most deeply affected by the senseless slaughter of sixteen innocent people and the eviction of over 1,000 Catholics from their homes in west Belfast, it would be the nightmare of that blood-soaked Sabbath which would linger longest in their memories.