As the Civil War dragged on, both neutral parties and combatants on both sides made moves to end the conflict. Eve Morrison explains how that played out
Negotiations between the two sides of the nationalist split over the terms of the Anglo-Irish Treaty were initiated during the Truce, and periodic efforts were made by neutral bodies and combatants throughout the Civil War to bring it to an end. In April 1922, not long after anti-Treaty forces occupied the Four Courts in Dublin, Irish trade unions called a one day general strike against militarism. They reported afterwards that the stoppage was on a grander scale than even the April 1918 general strike in response to British government attempts to impose conscription in Ireland.
The results of the general election in June made the gulf between the priorities of the IRA leadership and those of most of the population clear. Despite Éamon de Valera's and Michael Collins's election pact and considerable intimidation by the local IRA in some areas, Labour, the Farmers' Party and independents (who were all in favour of accepting the settlement) stood candidates. Described by Labour historian Emmet O'Connor as the 'only alternative to continued Sinn Fein dictatorship', they collectively garnered forty percent of the vote. Almost the same percentage of the remainder supported pro-Treaty Sinn Féin. The majority of the Irish population, however unenamoured they were with the settlement with Britain, preferred it to war.

Working for peace
Although neither warring side paid much heed to their efforts, county, urban, district and rural councils from around the country as well as various workers' organisations called on both the Provisional Government and anti-Treaty forces to restore peace, as did the Women's International League, the Cork People's Rights Association and the Irish Farmers' Union.
The Neutral IRA Association, established in December 1922 by Cork IRA officers Seán O'Hegarty and Florrie O'Donoghue, was composed entirely of pre-Truce IRA men and made continuous efforts to broker a truce, without success, until it was effectively dissolved in March 1923.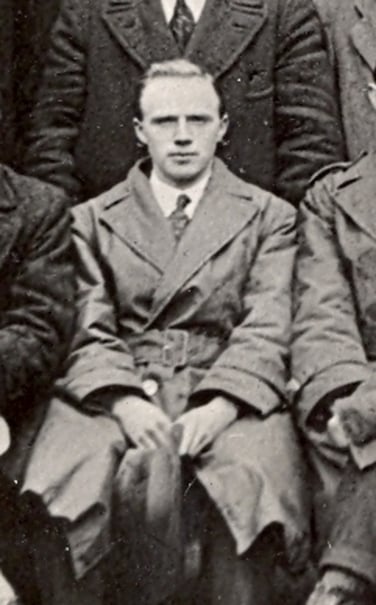 In September 1922, Liam Lynch, Chief of Staff of the IRA, complained to Ernie O'Malley, his second in command, about the number of 'private and unauthorised individuals' who were approaching individual IRA officers 'endeavouring to bring about peace on various terms'. On the pro-Treaty side, Richard Mulcahy, then Commander in Chief of the National Army, was upbraided by his colleagues in the Cabinet for meeting with Éamon de Valera to discuss possible peace terms in September 1922.
National Army officers Emmet Dalton, Charles Russell, Liam Tobin, Sean Hales and Tom Ennis were also involved in extending 'peace feelers'. Tom Maguire, the staunch irredentist republican from Mayo, recalled that early on, Michael Collins had hoped that the 'three Toms' (Tom Barry, Tom Hales and Tom Maguire) would join forces to end the conflict.
Unauthorised negotiations
The danger posed by unauthorised peace negotiations between individual IRA men and pro-Treaty officers, clergy, non-aligned IRA, politicians and local representatives was a re-occurring theme in anti-Treatyite correspondence. Nevertheless, stern warnings and formal orders against it proved impossible to enforce.
Clandestine meetings between pro- and anti-Treaty officers, often brokered by priests, occurred throughout the conflict. Although none succeeded, unsanctioned 'peace moves' weakened the anti-Treatyite bargaining position. They were so vigorously pursued in Cork by Fr Thomas Duggan, O'Hegarty and O'Donoghue that Liam Lynch forbade further communications with any of the three in March 1923.
'Things began to go to hell': the arrest of Liam Deasy
A major turning point in the conflict followed the arrest of Liam Deasy in January 1923. He had already been discussing ways to end the conflict when he was captured near Fermoy. Offered a stark choice between unconditional surrender or a martyr's death, he chose the former as the only realistic means of securing the Republic in the longer term. He wrote to Liam Lynch. 'I am prepared to bear any and all the "shame" that will follow.' The government allowed him to issue an appeal to his comrades to surrender. 'From then on,' remembered Bill Quirke, O/C of the IRA's 2nd Southern Division, things 'began to go to hell'.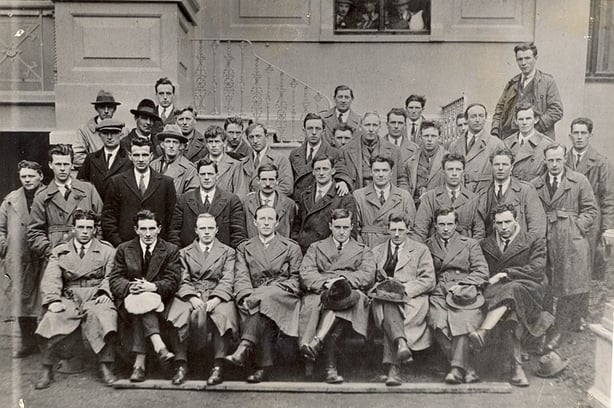 While some hated Deasy for surrendering, his actions had an unsettling effect and garnered considerable sympathy from some quarters, even among those who did not agree with what he had done. Frank Barrett, O/C of the Mid-Clare Brigade, rejected Deasy's terms but expressed 'profound respect' for his moral courage. Several groups of IRA prisoners under threat of execution in Tyrone, Limerick, Clonmel, Tralee and Cork also supported him. A prisoners' delegation from Cork Gaol told their commanding officers that they had an overwhelming mandate from the other prisoners to follow Deasy's lead.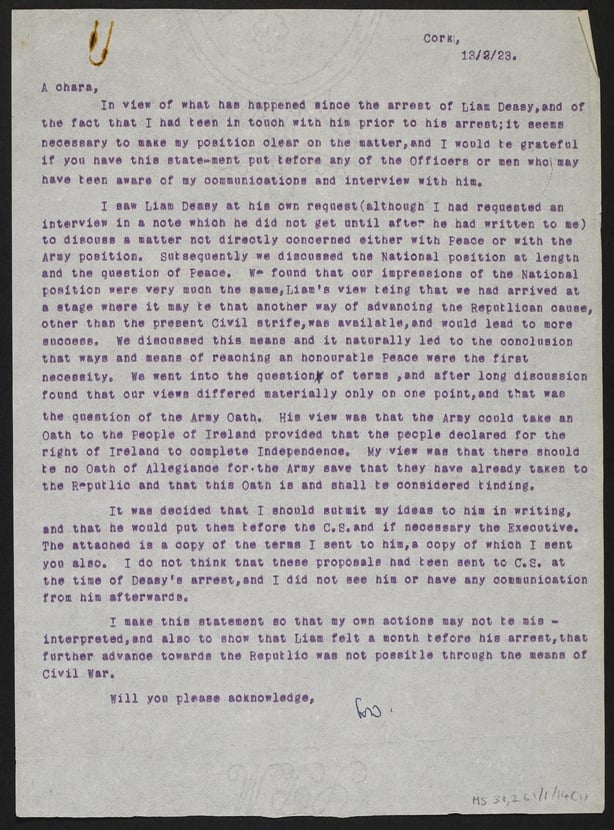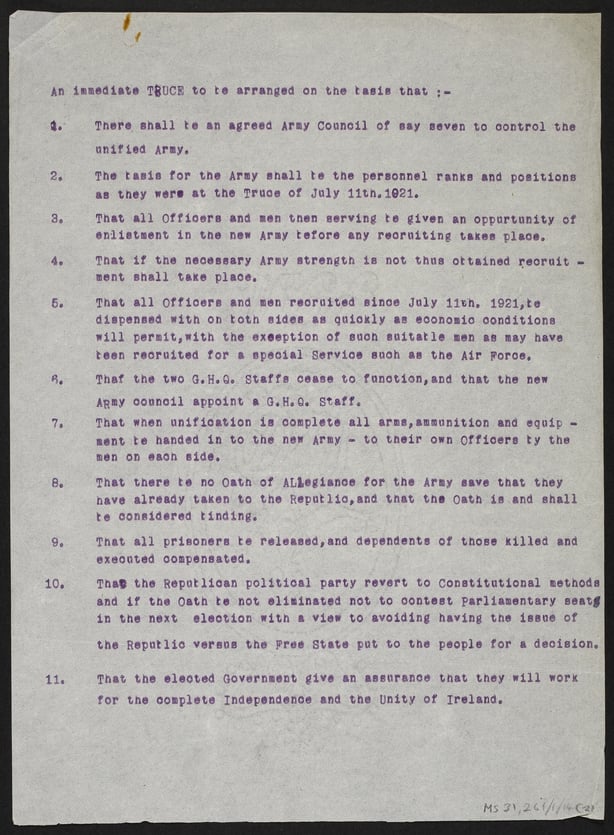 Tom Barry, the famous flying column commander, was one of the 1st Southern Division officers who met the delegation in February. He seems to have embarked on his own initiative to discuss how the conflict could be ended as early as August 1922. His efforts gathered pace after Deasy's capture and subsequent appeal. He and his wife, Leslie, worked closely with Fr Duggan in the spring and early summer of 1923.
Rejected appeal
Deasy's appeal was rejected by the anti-Treaty leadership. On 24 February, a Special Bulletin issued by the anti-Treaty GHQ insisted that:
''The Army has unanimously, and contemptuously rejected the terms sought to be imposed on it by the enemy, realising that it is a winning, not a beaten army.'
At a meeting between Division officers and commanders from the Southern IRA units and Lynch two days later, Barry urged that prisoners be heard. The IRA's position was hopeless, he said, and there was no value to be had in their best men being executed. In April, a newspaper published captured IRA minutes from the meeting, which documented Barry's remarks in relation to the weakness of the IRA's position and his proposal to end 'further armed resistance'. When put to the Executive, this was defeated by one vote.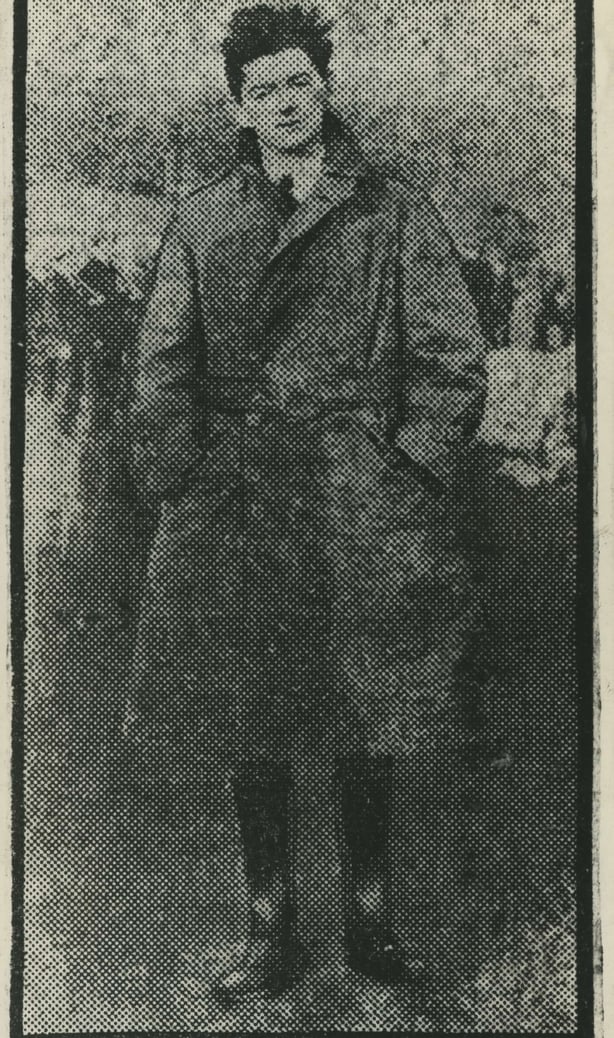 In the 1950s, Moss Twomey told Ernie O'Malley that Barry and Tom Crofts (another Cork IRA officer) had convinced most of the 1st Southern Division officers to support a surrender because the IRA in the south was 'going to bits'. Lynch, however, continued to insist that victory was at hand. Prisoners looking to discuss peace terms were warned to desist or be treated as traitors.
Attitudes towards a negotiated peace on both sides hardened as time went on. Anti-Treatyites insisted that dismantling the Treaty was a precondition for peace talks. The government would accept nothing less than complete surrender by the 'irregulars.' Almost to the end, and unlike the overwhelming majority of the anti-Treaty leadership, Lynch maintained an unshakable conviction that victory was still possible. The IRA dumped arms and admitted defeat (but did not surrender) within weeks of his death in the Knockmealdon Mountains on 10 April 1923. The conflict was over, although both the IRA and demobilised Irish Army soldiers made parts of Leitrim, Cork, Tipperary, Mayo, Clare and Sligo largely ungovernable for most of 1924.
This article is part of the Civil War project coordinated by UCC and based on The Atlas of the Irish Revolution edited by John Crowley, Donal Ó Drisceoil, Mike Murphy and John Borgonovo. Its contents do not represent or reflect the views of RTÉ.