Posters, newspaper ads, canvassing and even a short film starring Michael Collins - the first T.D.s came up with ingenious ways to encourage the people of Ireland to buy bonds to fund the new counter-state.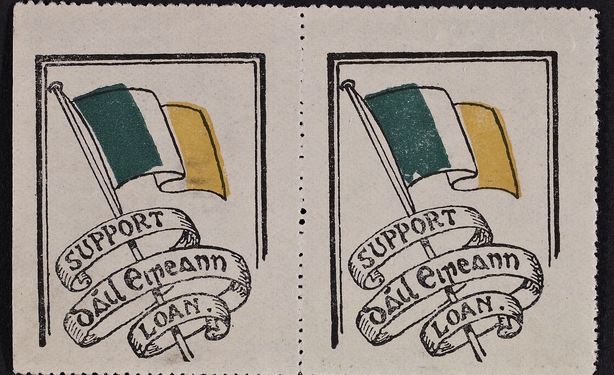 How do you fund an alternative independent government? This was the tough question faced by the T. D.s in the first Dáil. Struggling to function on loans from private individuals, Dáil Éireann decided to raise a national loan, whereby citizens could purchase bonds payable to be redeemed later by the newly-declared Irish Republic. Organised by Minister for Finance Michael Collins, the Dáil Loan sought to raise both badly-needed funds and public consciousness on behalf of the independence movement.
Republicans launched a modern media campaign, incorporating slick newspaper advertisements, imaginative public events, door-to-door canvases, and even a short film covertly shown in Dublin cinemas. Demonstrating a mastery of propaganda, it featured Michael Collins seated before the entrance to St Enda's College issuing bonds from a table that was actually the block on which patriot Robert Emmet was beheaded in 1803.
We need your consent to load this rte-player contentWe use rte-player to manage extra content that can set cookies on your device and collect data about your activity. Please review their details and accept them to load the content.Manage Preferences
This episode of The History Show includes a discussion of the funding of the First Dáil
Effective fundraising usually required sympathetic public opinion and sound organisation from the constituency TDs and Sinn Féin branches. Striking success was achieved in constituencies such as East Limerick, Donegal South and Clare East.
The Dáil Loan campaign was a resounding success, raising £371,000 in Ireland to finance the republican counter-state. Advertisements for the loan led to the suppression of dozens of Irish newspapers in late 1919. RIC officer and magistrate Alan Bell was tasked by British intelligence to confiscate the Dáil funds in an effort to cripple the revolutionary government. He was assassinated by Michael Collins' Squad on 26 March 1920. 
This article is based on The Atlas of the Irish Revolution edited by John Crowley, Donal Ó Drisceoil, Mike Murphy and John Borgonovo, and its contents do not represent or reflect the views of RTÉ