Little is known about daily life in the workhouses during the Great Famine except from official sources and the administrators who oversaw and implemented the rules and regulations.  This is surprising given the number of people forced to enter when the potato failed: in 1849, 923,000 were admitted to the workhouses and while the majority stayed for a short period, children were more likely to remain for longer spells, some indefinitely. 
Prior to the commencement of the Famine in 1845, children comprised one-third of the inmate population.  When the South Dublin workhouse opened in 1840, one quarter of its paupers were children.  The number of children forced to avail of the workhouses increased after 1845 and by February 1847, 63,000 were under fifteen-years-old.
Children in the workhouse
This increased to 91,000 by mid-1851, with children accounting for forty-five per cent of the workhouse population.  Up to the mid-1850s children comprised forty per cent of the inmates.  In a number of unions, they were over sixty per cent of the pauper population: the number under 15-year-olds in the Cork workhouse increased from 3,337 in 1847 to 6,568 in 1850.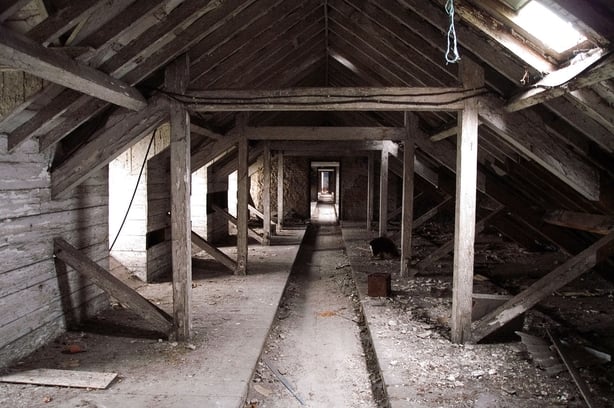 Children who entered the workhouses can be divided into four groups reflecting the crisis that hit the country in the late 1840s and early 1850s.  There were those who came with their families, were orphans, abandoned or deserted and illegitimate children. 
Those entering with their families usually had no choice when the potato failed or when their parents were evicted from their farms, in particular after 1847.  Orphans included children who had lost one parent.  Of the 300 children in Ballyvaughan workhouse in October 1852, many were orphans, but the main group were classified as 'deserted', their fathers having left for England in search of work leaving their families to be cared for by the Poor Law union.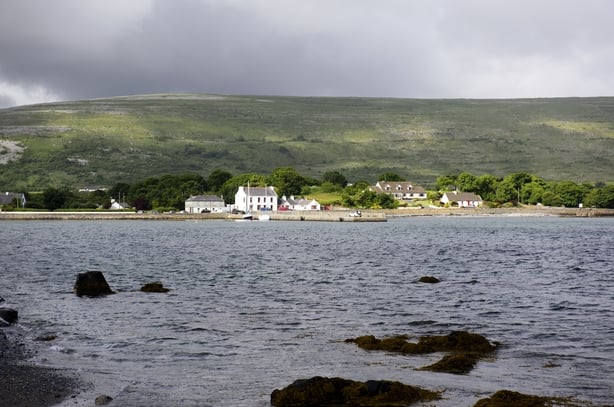 Casualties of emigration
Others were temporarily 'abandoned' when their parents left for North America hoping to earn the travel fares so their children could join them.  These tended to be the poorest families, the adults being barely able to afford their own passage let along those of their children.  For this group, the workhouse was their only hope of survival and became 'a safety net.' 
There were cases where the children were never united because the parent had died on the voyage across the Atlantic or after arriving in North America. 
Illegitimate children were born or arrived in the workhouse after their mothers were disowned by their families.  In the last six months of 1853, 671 illegitimate children were born in workhouses.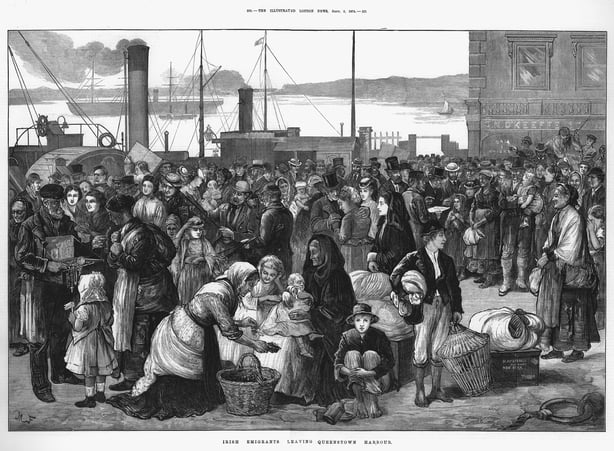 Children were separated from their parents when they entered the workhouse, only those under two years remained with their mothers. Those between two and nine years were sent to nursery wards; children from ten to fifteen years were segregated into separate wards for boys and girls. 
The authorities argued that the enforced separation of children from their parents reduced the likelihood of them becoming paupers in the future.  Parents accepted the breakup of the family to give their children the chance to survive.
'Permanent deadweight'
The authorities regarded children as 'a permanent deadweight' as most would become a continuing financial burden on the institution. Jane Murray entered Ballinasloe workhouse when she was eight and by 1852 had been an inmate for seven years. 
Jane and other inmates endured strict rules and harsh discipline, and severe sanctions were imposed for those who broke the regulations.  The attitude and approach of many workhouse officials left a lasting impression and impact on many children. 
Severe beatings and periods of confinement were imposed for those who transgressed as when two boys were flogged in public by the schoolmaster in Limerick workhouse for having marked a desk.  Boys who stole bread were brought before the courts and 'the refractory ward', a place of solitary confinement, was used for young girls who broke the rules.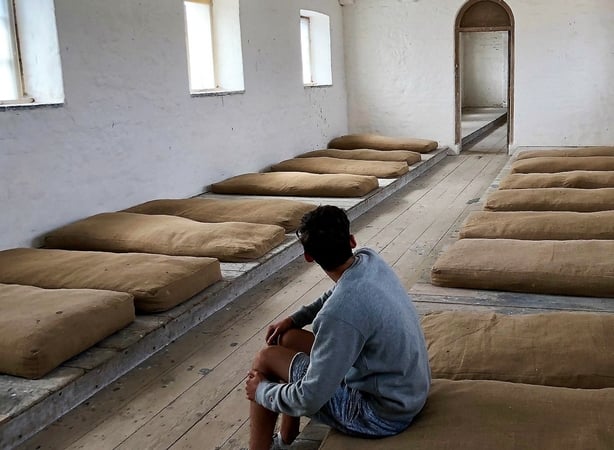 Inadequate diets
As the number of inmates increased, the authorities came under financial pressures and it often led to the quantity and quality of food being reduced, having serious implications for young people.  While the approach differed within each union, the diet that children received was inadequate for their development. 
The quality of milk provided was a recurring issue with allegations that none was provided for weeks, chalk was added, gruel substituted and officials using the children's allocation to make butter for themselves.  The provision of clothing was also an issue with children often remaining in rags.  A visitor to the Kilrush workhouse observed that the children were mere skeletons with 'no flesh on their bones'.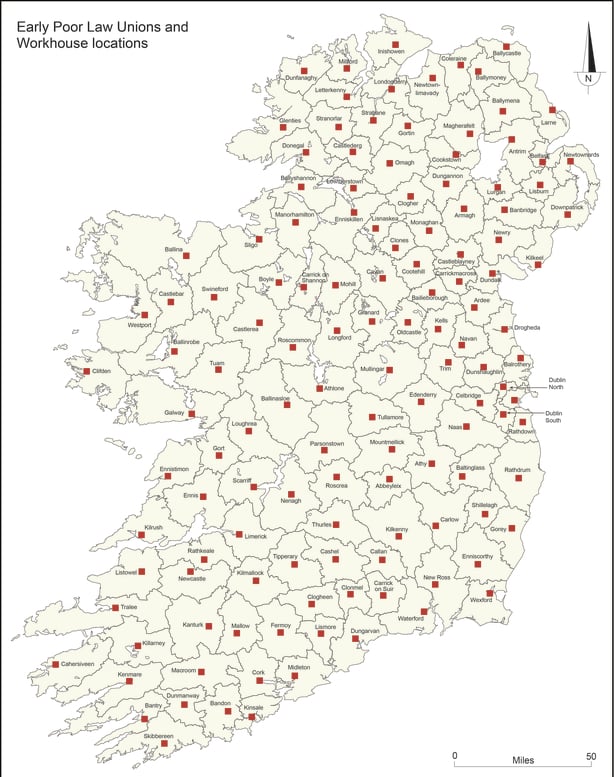 Disease and mortality
Many arrived in a poor and emaciated state, but their stay in the workhouse did not improve their condition.  Diseases such as typhus, cholera, dysentery, diarrhoea and in particular ophthalmia were widespread and often had fatal consequences. 
There were 95,000 cases of ophthalmia, which is highly contagious and linked to poverty, overcrowding diet and poor nutrition, among workhouse children between 1849 and 1853. Mortality rates among children were high, especially among those under two years.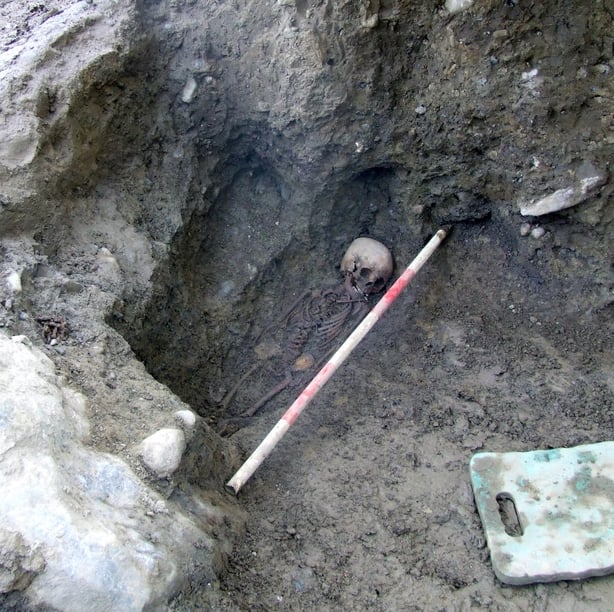 The Poor Law Inspector reported eleven children dying from dysentery in Listowel workhouse in January 1850.  Death rates among children increased during the cholera outbreak in 1849 and 1850.  A mother sent her seven children to Castlebar workhouse so they would be safe, but within days four had become fatally ill.
Children's mental and physical health was not helped when they were transferred to auxiliary workhouses; acquired for convenience and cheap rent but lacking proper ventilation and adequate space.  The Sligo auxiliary workhouse housed orphans and deserted children under twelve years. 
They seldom had access to the outdoors, but confined to bedrooms and classrooms, resulting in diseases spreading more easily.  Officials argued the auxiliary workhouses helped maintain discipline as children were more easily managed than adults.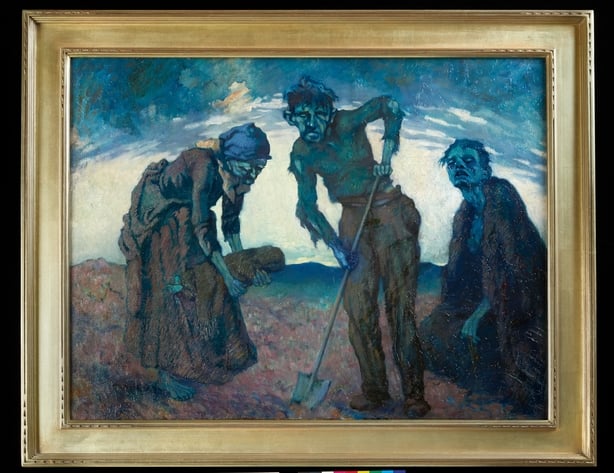 A lost generation
Children received a basic education up to the age of twelve as workhouses employed teachers, although many were untrained.  Afterwards, boys were trained in occupations such as shoemaking, tailoring, weaving, baking, carpentry, etc., while girls received instruction in sewing, knitting, washing baking etc. 
One observer complained girls received no practical experience in housework and the longer they stayed in the workhouse the more useless they became.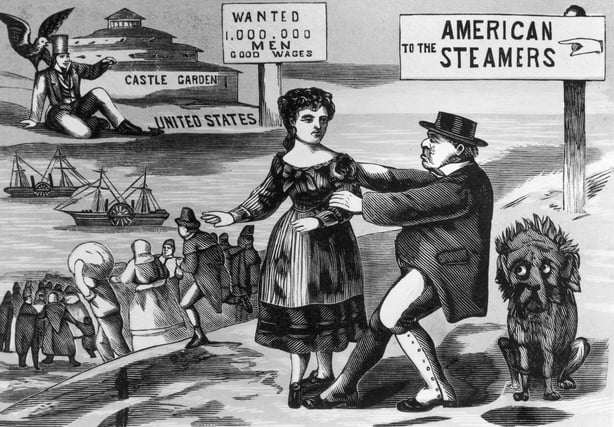 The greatest concern was what to do with children once they reached a certain age as it was feared they could become institutionalised, ill-disciplined and insubordinate.  Attempts were made to place young males in the army and navy, but the position of girls was a greater worry. 
Between 1848 and 1849, over 20,000 females classified as 'orphans' and aged between fourteen and eighteen years, had their passage paid to the colonies, mainly Australia and Canada, where there were employment opportunities and a shortage of women for marriage.
Children who had to avail of the workhouses during the Great Famine were a lost generation, deprived of their childhood and ill-prepared for their future role in society.  As one contemporary noted, 'for the young children, admission to the workhouse was an entrance to the grave.'
This piece is part of the Great Irish Famine project coordinated by UCC and based on the Atlas of the Great Irish Famine. Its contents do not represent or reflect the views of RTÉ.