She was an American Quaker who would write one of the most powerful first hand accounts of the Famine. Maureen Murphy tells how Asenath Nicholson bore witness, offered help and challenged the status quo.
Asenath Nicholson, teacher, reformer, abolitionist, vegetarian reformer, left New York aboard the Brooklyn in May 1844 for what would be a fifteen-month trip to Ireland to 'personally investigate the condition of the Irish poor'.
It was a courageous adventure for an arthritic widow of fifty-two, but she had been told by her father that
'…the Irish are a suffering people and when they come to your door never send them empty away'.
She spent six months exploring rural Ireland before beginning her self-appointed mission to bring the Bible to the Irish poor. She filled two bags with Bibles supplied by the Hibernian Bible Society, attached the bags to a stout cord twisted under her polka coat and set off in her Indian-rubber boots to distribute the Bible to those who could read and to read the Bible to those who could not.
Her mission was not as uncomplicated as it appears. Catholics were suspicious of Bible-reading strangers who were actively proselytizing in the countryside and who suspected her broad tolerance and her democratic ideas.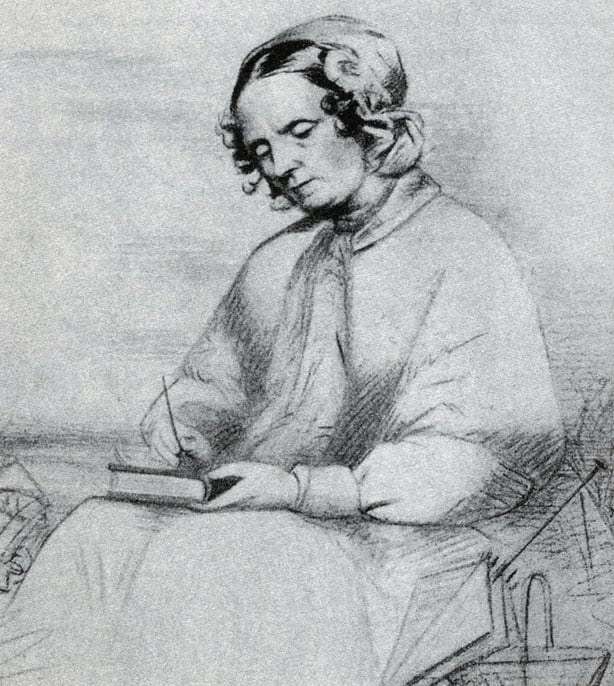 Pre-Famine conditions
Her account of her 1844-1845 travels, Ireland's Welcome to the Stranger (1847) is valuable to the social historian. Sean O'Faolain and Frank O'Connor praised it for its panorama of Irish life on the eve of the Great Irish Famine: the people, the social movements, the calendar customs and the ordinary life of the cottier class who were decimated during the Famine.
She made her reader aware of the social and economic conditions that prevailed in Ireland: the lack of employment, the working conditions of the poor (particularly rural women), the over reliance on a single food source, poor housing and housing insecurity.
Nicholson's concern for the Irish was informed by her genuine charity and her efforts to help those among whom she travelled. When she returned to Ireland in December 1846, she did not return as a Bible reader but as a relief worker.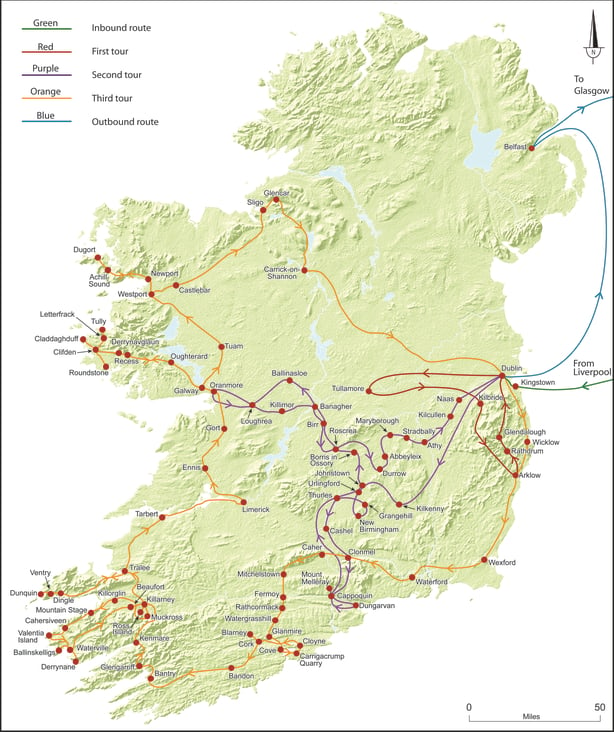 Divine mission
She also felt that it was a divinely appointed mission. She paraphrased St. Luke (22:42) when she wrote, 'Father, if you are willing, remove this cup from me, nevertheless, not my will but Yours be done'.
Nicholson was unique in that she was the only woman who travelled to the afflicted areas of the west of Ireland. She spent the terrible winter of 1847-1848 in Mayo. She left her readers an account of famine suffering in her Annals of the Famine (1851) and of her work among the Irish poor.
Hers is the lone voice that addressed famine relief programs, the lack of employment and failure of government officials to discharge their duties to the poor. She challenged the system of absentee landlords, the land system and the government and the Established Church's stewardship of resources entrusted to their care for the poor. Her own relief efforts were marked equally by practical and sensible practice and by a spirit of Christian charity.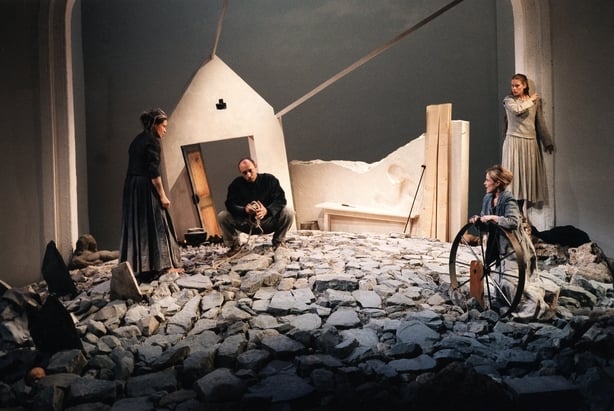 Bearing witness
She also bore witness to famine suffering. Her Annals of the Famine differs from the compassionate accounts of her male Quaker contemporaries in that she combined documentary discourse with parables, and dramatic scenes and dialogues written in the cadences of the Old Testament.
While the men focused on the logistic problems of famine relief, Nicholson focused on the human face of suffering. On November 28, 1847, she described a scene that anticipated John Millington Synge's Riders to the Sea. A fisherman's widow travelled twenty miles to 'prove' her husband who had been washed ashore and buried without a coffin.
She brought white coffin boards, 'proved' him by a leather button she had sewn on his clothing and dug his grave with her own hands.
Failing the people
In recording such scenes, Nicholson made it clear that she believed that the Famine was not a Divine judgment but the failure of man to use God's gifts responsibly. She considered herself 'acting entirely as a passive instrument; moving because moved upon'.
But there was nothing passive about her indictment of the British government and the Established Church for failing in their stewardship of relief resources and in their attitude toward the poor for whom they were responsible.
She distinguished between hired relief officials whom she dismissed as bureaucratic, hierarchical and self-serving and local volunteer relief workers whom she lauded as compassionate, egalitarian and selfless.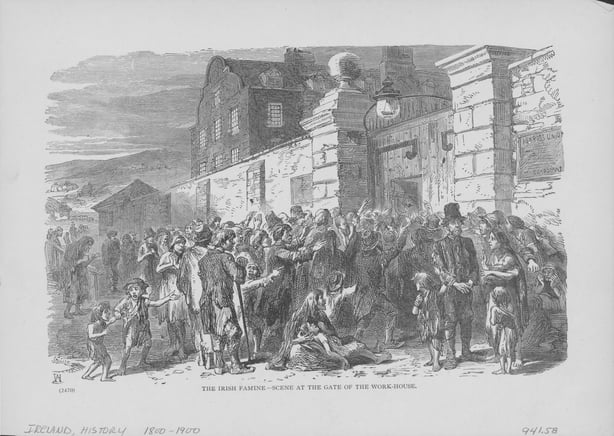 She constantly asked herself whether she was doing enough to economise, and she was critical of official relief officers who lived well while those they were changed with to care for went hungry.
Nicholson criticised government relief officers for putting record keeping before the hungry and described the dying poor turned away and told to return another day so that they could be entered properly on the roster. Critical as she was about government relief officers, Nicholson was quick to praise the generosity of coast guard men and curates and their families.
Ahead of her time
Many of her views have been validated by the work of later historians. For example, she anticipated the twentieth-century historian Mary Daly's argument that relief work subject as it was to the variables of local lobbying efforts, administrative abilities to propose projects and to apply for funds for the projects meant that the number and power of local resident landlords accounted for the great differences in the expenditures on public works.
For example, between April 1846 and January 1847, £4.00-£4.99 was the average spent on local families while in North Clare it was £10 per family. Nicholson made her own case for local employment and as was her way, she took a special interest in work for women.
While Nicholson's witness to suffering and challenges to the authorities on behalf of the Irish poor are, in themselves, of interest, it is her own determination to offer aid and comfort that command the reader's attention.
She visited the distressed with food and clothes and brought away their stories to British and American readers of her letters and books. She helped relief workers she admired and left a record of their names and services.
It is Nicholson who tells her reader about remarkable women like Mrs. Stock who ran a soup kitchen from her Belmullet rectory and who organized a women's clothing industry, the charitable Mrs. Arthur of Newport, and Mrs. Garvey who forgave her suffering tenants their rent.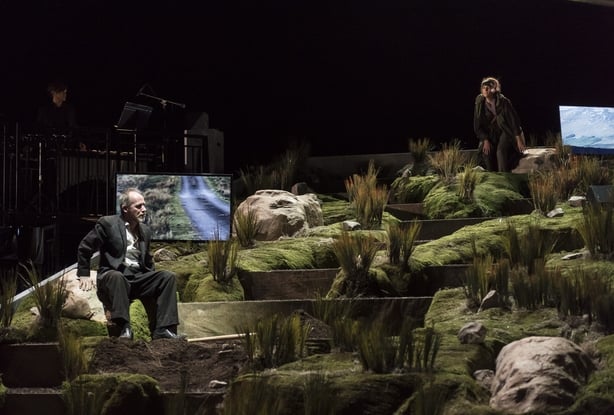 Kindness of the suffering
Above all, Nicholson was moved by the generosity and kindness of the suffering Irish to one another and to strangers. The hospitality of the Irish countryside is the leitmotif of Ireland's Welcome to the Stranger. The generosity of the Irish to one another during the Great Irish Famine was a demonstration of the proverb 'We live in one another's shadow'.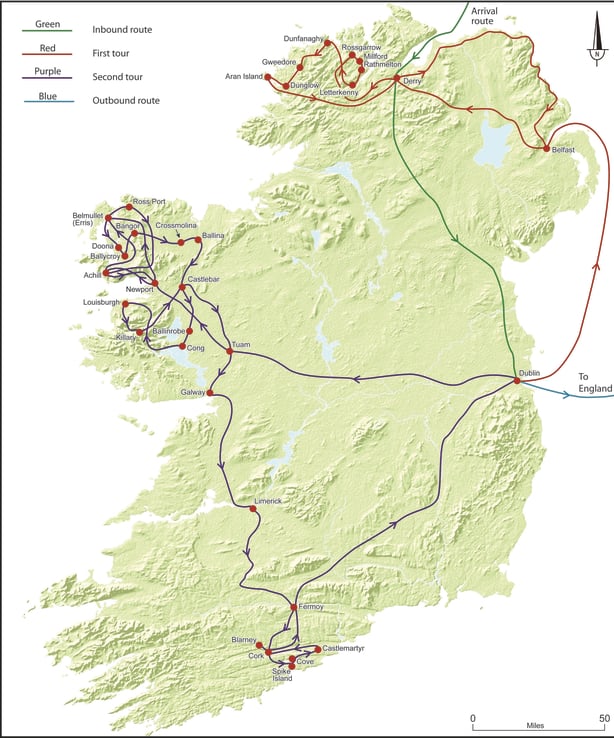 Irish oral tradition down to the present has stories of the charitable woman who gives her last measure of meal to a starving mother and child and is rewarded with an inexhaustible supply of food.
Nicholson left Ireland in the fall of 1848. She felt that her work was complete, and she could not face another famine winter. She returned to the United States in 1852 and died of typhoid fever in Jersey City, New Jersey on May 15, 1855 and is buried in Greenwood Cemetery where Cemetery officials have raised a memorial in her memory.
During her first stay in Ireland, while travelling the road from Oranmore to Loughrea, Nicholson rested to ease her blistered feet and thought of her prudent friends who had cautioned her against her reckless adventure. Did she wish to be in her own parlour in New York? She did not.
Should I sleep the sleep of death, with my head pillowed against this wall, no matter. Let the passerby inscribe my epitaph upon this stone, fantastic? Who then? It shall only be a memento to that one in a foreign land who loved and pitied Ireland and did what she could to seek out its condition (Welcome 174)
This piece is part of the Great Irish Famine project coordinated by UCC and based on the Atlas of the Great Irish Famine. Its contents do not represent or reflect the views of RTÉ.