By early 1920 Michael Collins, the Irish Volunteers Director of Intelligence, politically dominated the Irish capital. In Crow Street – a few hundred yards from Dublin Castle – his secret intelligence department collated information about the enemy from multiple sources, including policemen, clerks, typists, waiters, hotel porters, bar staff, postal officials, dockers, railway workers and journalists.
As outlined in my own book on the intelligence war, Collins also had three prize assets in detectives David Neligan, Ned Broy and James McNamara, double-agents inside the Dublin Metropolitan Police's legendary G Division, who reported on politicians, government officials, military commanders, British spies – and fellow G-men. 
When Collins wanted someone eliminated, he used his Squad – an elite unit of Dublin Volunteers who masqueraded as employees of a fictitious central Dublin building firm. During late 1919 the Squad had decimated G Division and forced its remnants to retreat inside Dublin Castle.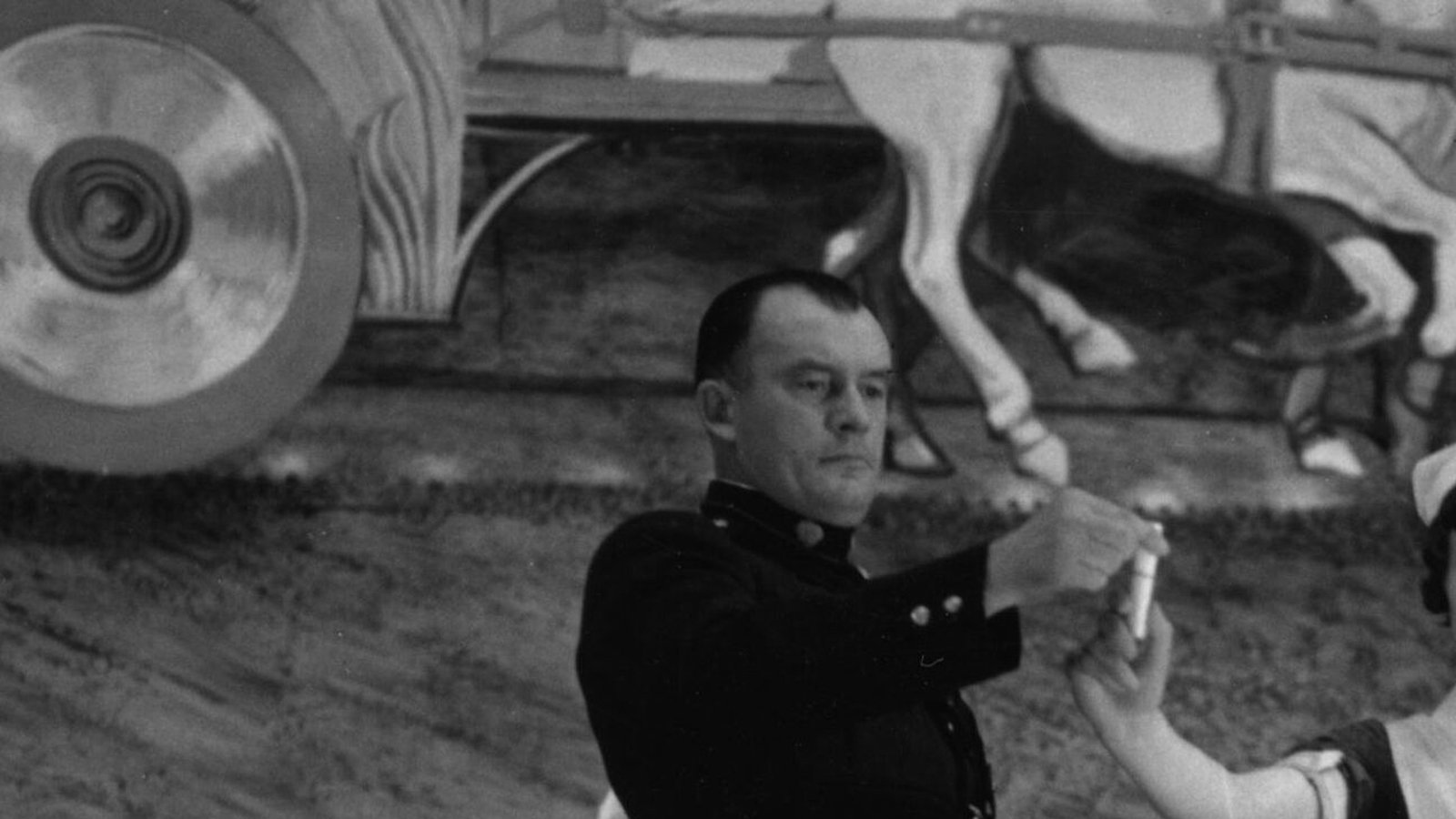 On 21 January 1920, for the first time, the Squad killed a high-level British official, the newly-appointed DMP Assistant Commissioner, William Redmond, outside his hotel in Harcourt Street. The Squad's seeming ability to strike at will instigated a climate of fear that intensified when in broad daylight it assassinated a senior British intelligence officer, Alan Bell. Tracing money that Collins had salted away in secret bank accounts he was extremely dangerous: Bell had to go. 
Decades later in the Sunday Press, Joe Dolan, a Crow Street intelligence officer described the chilling events of 26 March after the Squad's leader Mick McDonnell and Collins's Assistant Director of Intelligence Liam Tobin boarded Bell's tram.
'Mick McDonnell leaned over and asked in a very courteous way 'Are you Mr Bell?' 'I am,' he said. 'But…,' He did not get time to say anymore before McDonnell and Tobin grabbed him. People turned round startled as the scuffle started. Just at the corner of Simmonscourt Road we stopped the tram. 

'Your time has come' said Mick McDonnell, as they hustled Bell of the tram. There was a frightened look on his now pale face. I pulled my gun and told the tram passengers, 'Sit there quietly and everything will be all right.' I jumped off and watched in case anyone should interfere. Bell was hustled to the pavement. He was released for a moment, the last of his life. Tobin's gun blazed. So did McDonnell's. And Bell crashed down onto the roadway,'
Under siege
Bell's death rocked an Irish administration that felt increasingly under siege in Dublin Castle where a surreal, claustrophobic atmosphere prevailed. Ashen-faced senior civil servants wore bullet-proof vests, alcoholism was rife and heart attacks common. 
Rampant paranoia had convinced many that Collin had double-agents among them, facilitating assassinations. Heads of the DMP and RIC only ventured outside in armoured cars and single gunshots regularly punctuated the silence as yet another government employee committed suicide. 
With control of Dublin seemingly slipping away, prime minister Lloyd George reconstructed the Irish government in mid-1920. He appointed Hamar Greenwood Chief Secretary, General Hugh Tudor Chief of Police and Colonel Ormonde Winer Director of Intelligence, three hawks who intended defeating the Irish Volunteers. Winter also made it his special mission to capture Collins.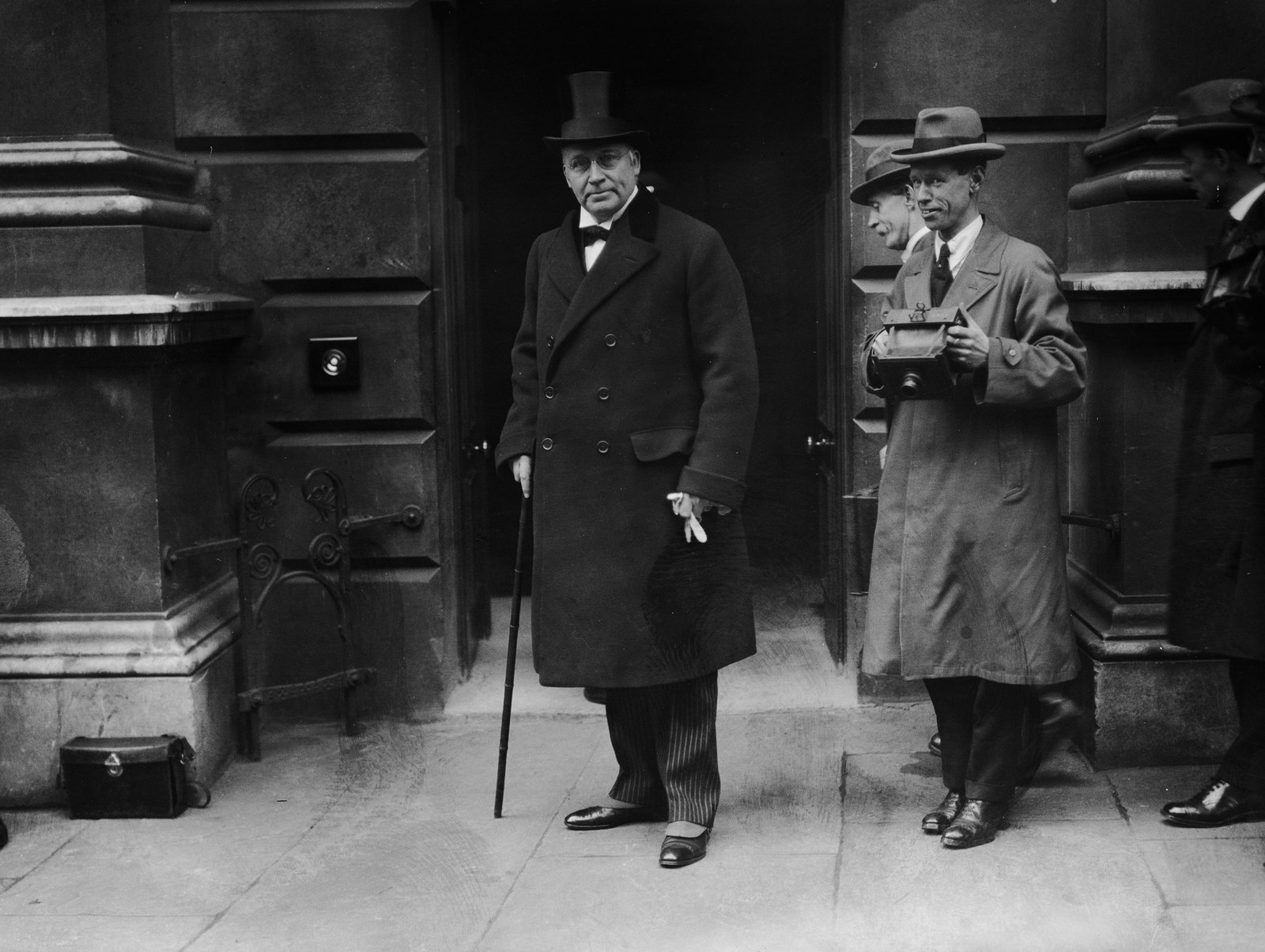 Enter the Black and Tans and Auxies
The trio filled the RIC's depleted ranks with British recruits – Black and Tans - and recruited former British Army officers for an Auxiliary Division of the RIC whose distinctive khaki uniforms and Glengarry caps first appeared on Dublin streets in July 1920. 
Courageous, reckless, indifferent to legal niceties and swaggering devotees of western films, they acted like new sheriffs determined to clean up the town. 
The 'Auxies' immediately precipitated a deadly cycle of assassination and instant retaliation that by autumn 1920 had them gaining the upper hand over a considerably weakened Dublin Brigade. Optimism surged through Dublin Castle and on 9 November 1920 Lloyd George boasted that he had 'murder by the throat'' in Ireland. 
A dangerous gamble
To halt this downward spiral Collins planned massive and dramatic retaliation, a single operation that would eliminate dozens of British intelligence agents at many different locations across the capital. For Collins this was the gamble of all gambles. 
While success would shock and awe public opinion in Ireland and Britain, failure might destroy the Dublin Brigade, provoke Auxiliary rampages and cause the execution of captured Volunteers. 
Effectively, Collins was staking everything on one spin of the wheel. However, by November 1920, Collins felt he had no choice but to take huge calculated risks.   
British agents, mainly military intelligence officers, lived undercover in Dublin hotels, boarding houses and private houses. At the same time many British Army officers lived openly in the capital since attacking them off-duty was generally deemed a violation of the rules of war. 
But sometimes, their residences also provided excellent cover for intelligence officers. Colonel Woodcock, Commanding officer of 1st Lancashire Fusiliers and his adjutant Captain Keenlyside shared 28 Upper Pembroke Street with an undercover unit whom Mrs Woodcock called the 'Hush Hush Men.' A maid 'Maudie' also knew about their secret life and she told Crow Street.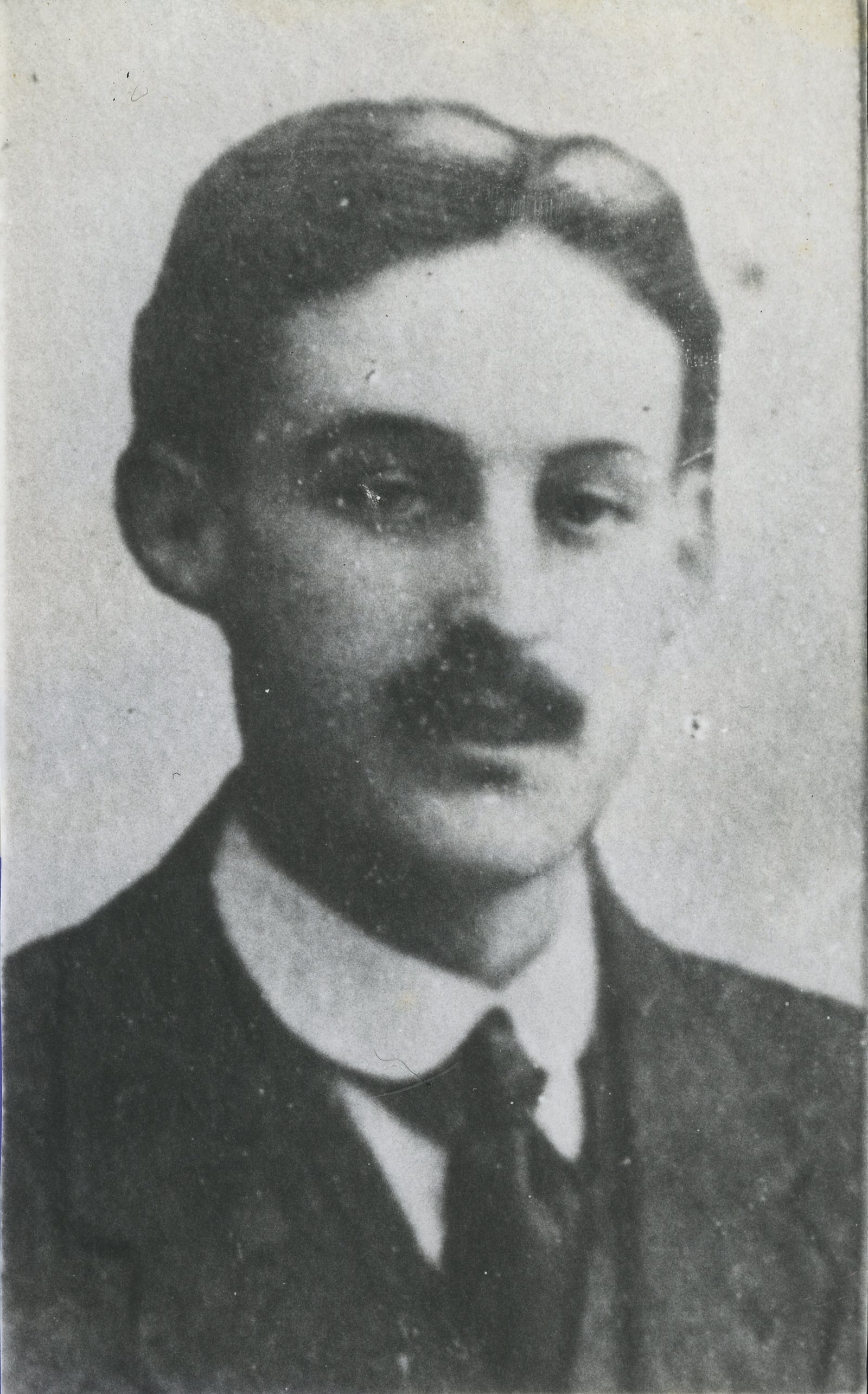 To organise an operation that depended on meticulous planning and complete secrecy Collins selected Dick McKee, the Dublin Brigadier and Sean Russell, a fanatically anti-British battalion commandant. They began by exploiting every available intelligence source.
Letters were intercepted, informers shadowed, waiters, maids and porters interrogated. 'Maudie' emptied wastepaper baskets containing photographs of wanted Volunteers and documents recording their movements. Even an Auxiliary sold information. 
Believing British spies were most vulnerable on Sunday mornings when execution units would literally catch them napping, Russell chose 21 November for a commando-style operation of simultaneous lightning attacks. Moreover, a GAA match at Croke Park would have Dublin in festive mood and lower the enemy's guard. 
Needing well over one hundred men, McKee and Russell called on many inexperienced Volunteers whose appetite for close-up killings was in doubt. On Saturday night, 20 November, many were visibly nervous and McKee had to warn them that it was vital 'to exterminate enemy intelligence officers who had become a terrible menace to our organisation.' 
Soon afterwards an Auxiliary raiding party arrested McKee and his best friend Peadar Clancy at a supposedly safe house and brought them to Dublin Castle.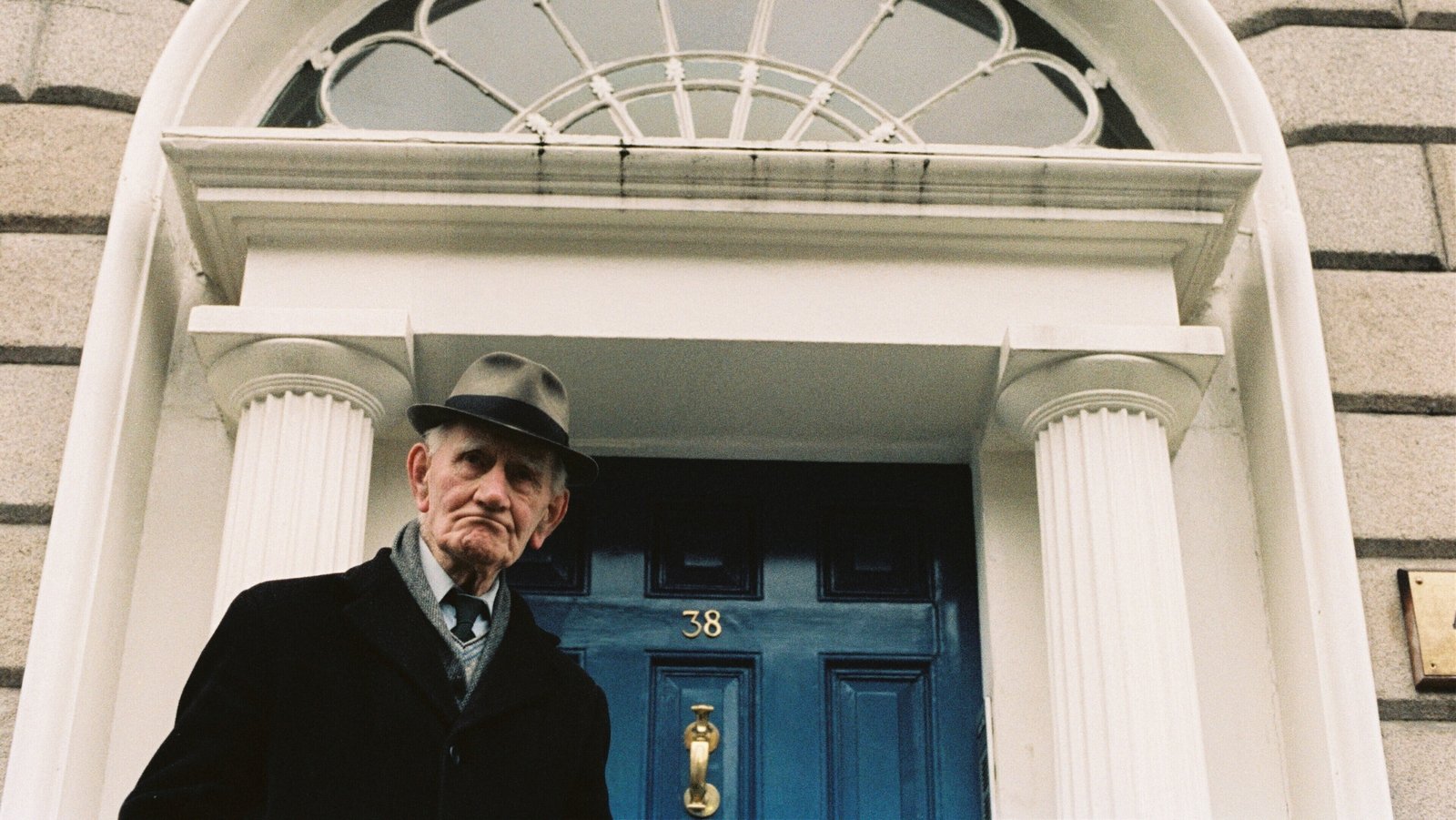 McKee and Russell had chosen over fifty targets at twenty different locations and on Sunday morning, 21 November their assassination units struck. At 92 Lower Baggot Street, Volunteers burst in on Captain Newbury and his pregnant wife. 
Still in pyjamas, Newbury tried escaping through a window but was shot dead. As the killers fled, a hysterical Mrs Newbury threw a blanket over her husband's corpse. Days later she gave birth to a stillborn baby and soon afterwards died herself. 
At 38 Upper Mount Street, the Squad's Vinnie Byrne forced Lieutenants Bennett and Aimes at gunpoint to stand on a bed, facing the wall. 
Long afterwards Byrne vividly recalled to the Bureau of Military History that, 'When the two of them were together, I said to myself "the Lord have mercy on your souls." I then fired with my Peter. They both fell dead.'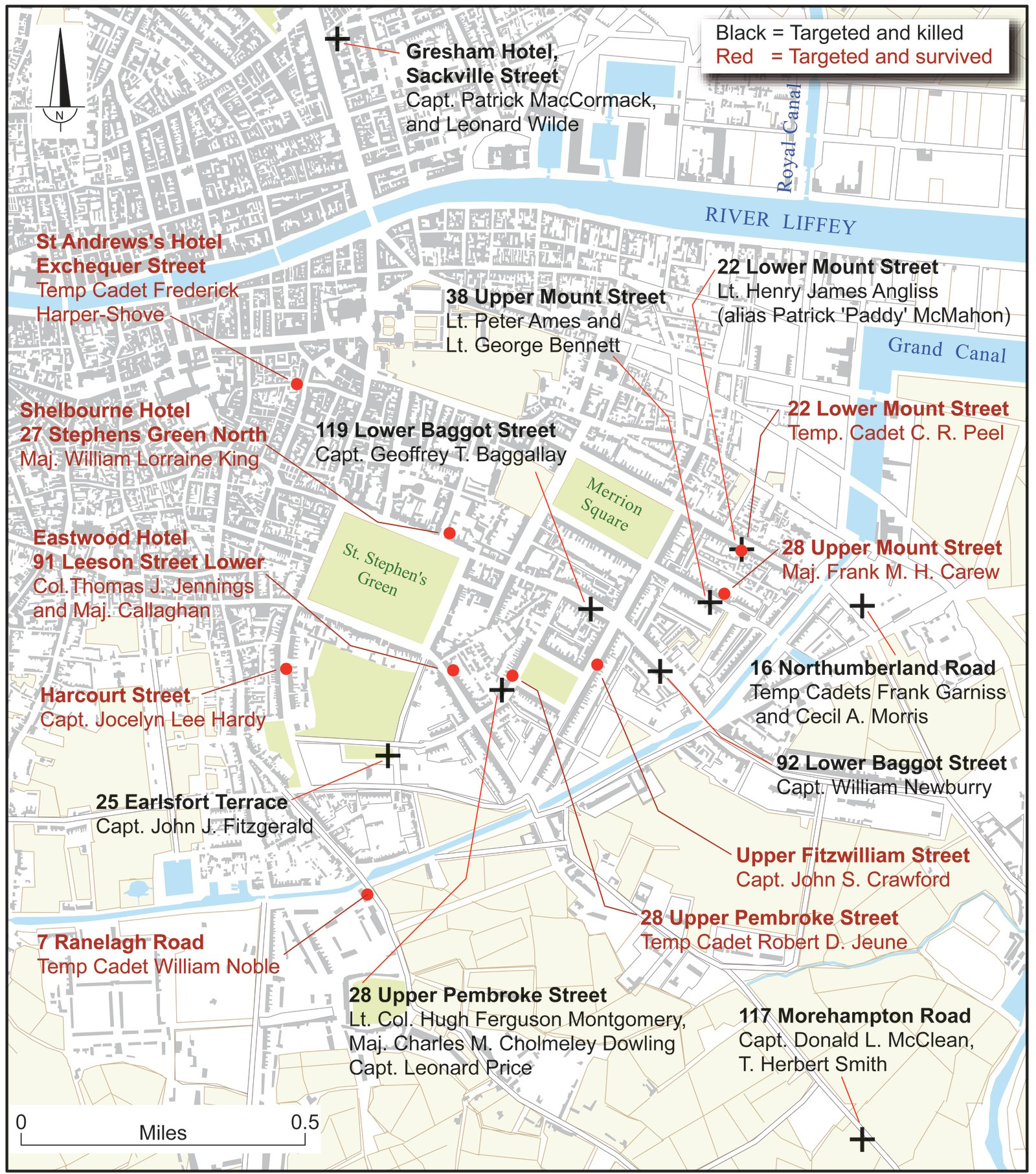 At 119 Lower Baggot Street a unit that included a future Irish Taoiseach, Sean Lemass, entered the bedroom of Captain Baggallay, a British officer who had lost a leg during the First World War. Assuming the intruders were after weapons, Baggallay began handing over his revolver but was shot twice in the heart. 
At 28 Upper Pembroke Street Paddy Flanagan, a ruthless psychopath, arrived with twenty-two men and turned the building into a slaughterhouse. Colonel Woodcock was shot in the chest and Captain Keenlyside in the jaw but both survived. Flanagan then killed three British intelligence officers.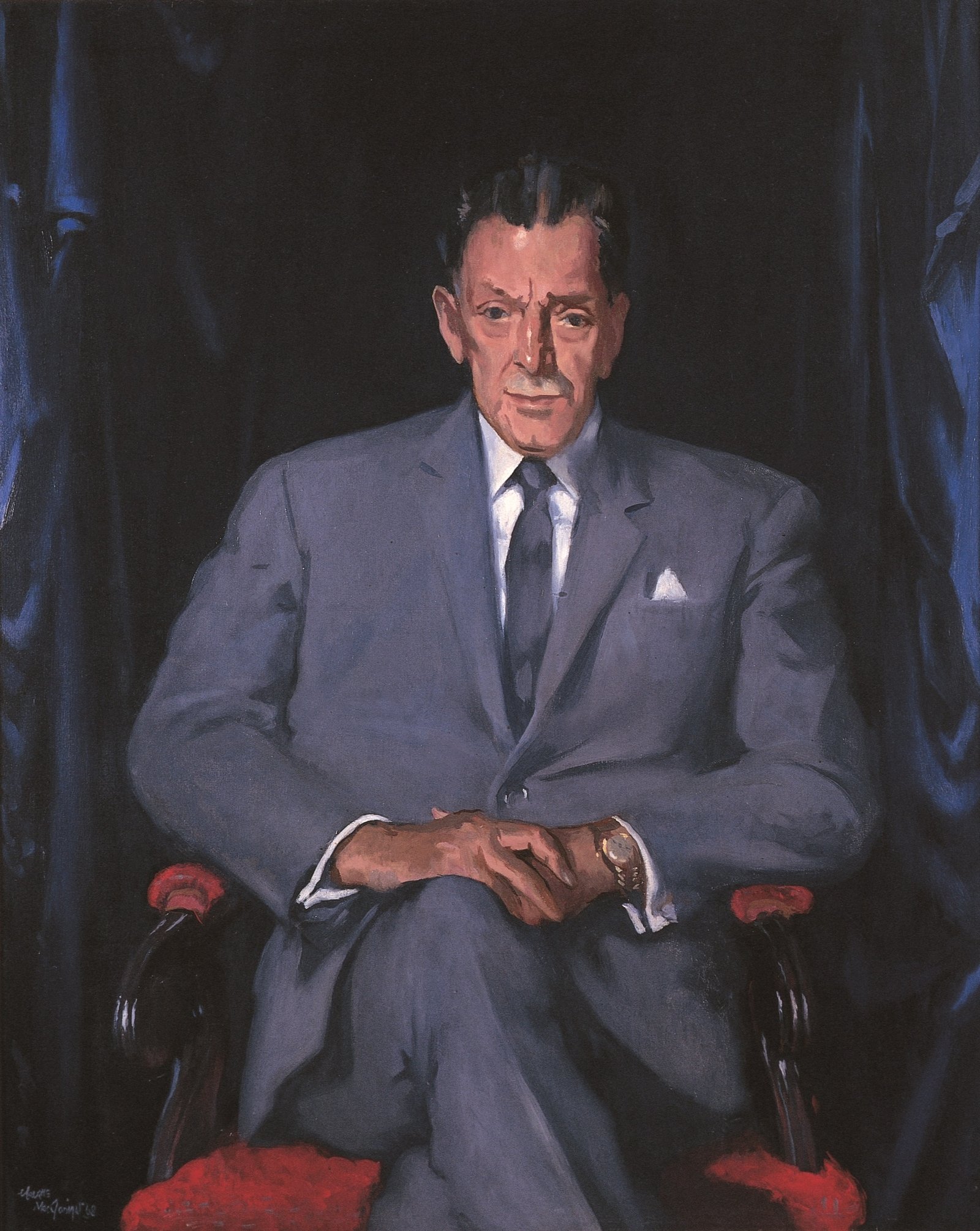 In her book on these events Mrs Woodcock said that after the shooters fled saw in the hallway 'great splashes of blood on the walls, floor, and stairs, bits of plaster were lying about, and on the walls were the marks of innumerable bullets.' 
Retaliation
There were other killings but some targets were unexpectedly absent or had shifted accommodation. Many planned actions simply did not materialise, either through incompetence or some Volunteers' reluctance to carry out executions. Fourth Battalion failed to attack many places on the North Circular Road. Sometimes civilians sabotaged operations. 
 At an Exchequer Street hotel, the porter refused to reveal the room numbers of suspected British agents. As news of the killings spread, Auxiliaries reacted furiously to rumours that Mrs Newbury had gone mad and some victims had been hammered to death.
When Russell learned Auxiliaries were driving to Croke Park he tried desperately but unsuccessfully to get the match called off and spectators evacuated. During the game police shooting erupted inside the ground that left 14 civilians dead. 
Nationalist Ireland believed the deaths were a direct reprisal for that morning's assassinations though more probably they resulted from a complete breakdown of discipline in an RIC unit that thought it was under attack and began firing indiscriminately. Later, Auxiliaries killed McKee and Clancy, allegedly while attempting to escape.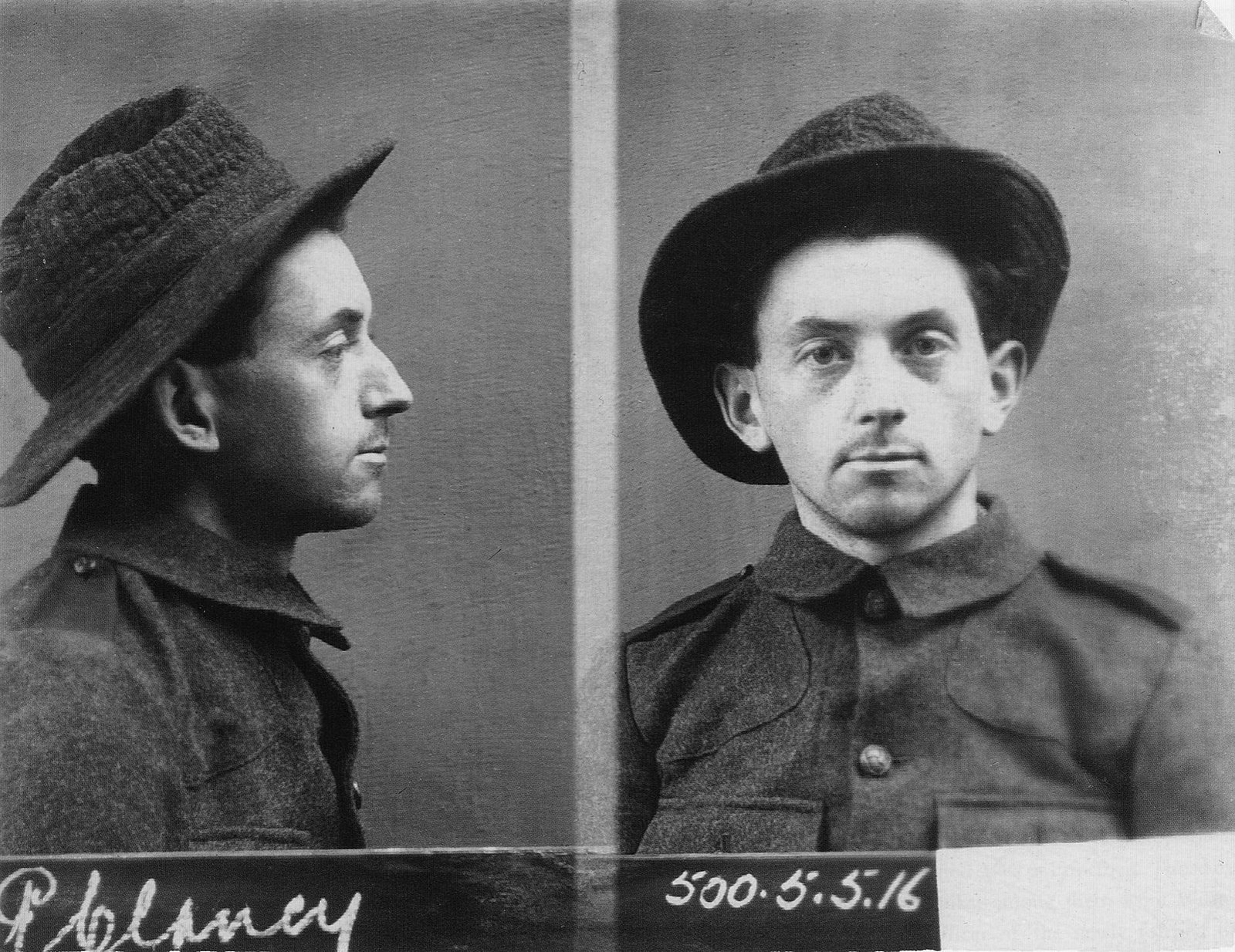 David Neligan's book The Spy in the Castle strikingly recalled Dublin on Monday 22 November. 'The atmosphere was electric with tension and fear. Death stalked the streets.' Troops and Auxiliaries searched for the killers, occupied bridges and stretched barbed wire across main roads. 
Civilians were not allowed to congregate, armoured cars patrolled the city, no phone calls reached the outside world while many cinemas and theatre performances were cancelled. That morning's Freeman's Journal called the previous day. 'Ireland's Bloody Sunday.'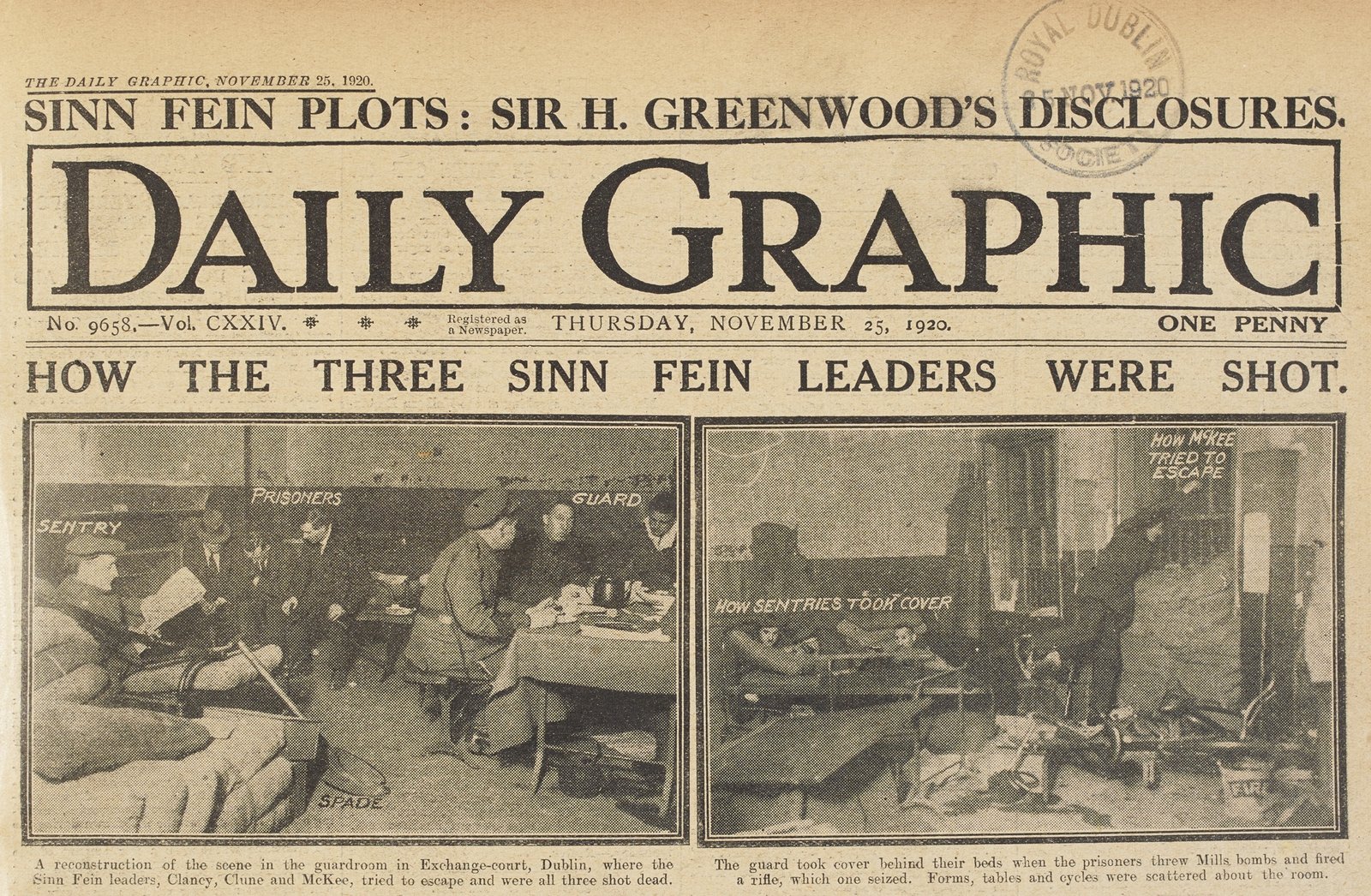 The tipping point of the War
Collins was very disappointed at the final tally of fifteen dead. Furthermore, only eight were definitely British agents, some were not and the status of others remains uncertain. Two Auxiliaries shot dead on the streets had simply been in way of by escaping Volunteers. 
Moreover, Bloody Sunday did not decisively affect the overall course of the war. Indeed, many British intelligence agents who had escaped death were now on their guard, making another Bloody Sunday impossible. Furthermore, massive British searches and arrests were soon grinding down the Dublin Brigade.
Still, Bloody Sunday remains a remarkable achievement by Collins. It sent a seismic wave through the British political system and shook public faith in the government's Irish policy. After 21 November 1920 Lloyd George could no longer claim he had murder by the throat. 
The British government began reassessing its policy goals in Ireland and shortly afterwards the first peace feelers went out to Sinn Fein. In that sense, Bloody Sunday was indeed the tipping point of the war.
This article is based on The Atlas of the Irish Revolution edited by John Crowley, Donal Ó Drisceoil, Mike Murphy and John Borgonovo and its contents do not represent or reflect the views of RTÉ.