When a Cork village postmistress retired in 1919, her daughter Lizzie, who had been her apprentice, was the obvious choice of successor. But the authorities were dubious - because of Lizzie's husband's revolutionary activities.... In this installment in our Family Histories series, her grandson Timothy Twomey tells their story
Late in November of 1919, Sub-Postmistress Mrs Mary Scriven decided it was time to retire from her position at the Post Office in Ballingeary village in the county of Cork. By now aged in her seventies, in her letter to the Post Master in Cork she wrote "owing to my old age and failing health, I can't do duty any longer". In those days the contractual hours of work for a sub-postmaster were 9 until 7 on weekdays and 8:30 until 10 on Sunday mornings…little wonder she was feeling tired after more than 25 years.
1919 was a tumultuous year in Irish history, in the century that was to bring about independence. Mary, then Mary Ellen Shorten, was born in 1849, grew up in her father's public house and married James Scriven, from the farmhouse next door, following the untimely death of James' first wife Nora while still in her thirties. She went on to have eleven more children with James. The Scriven house still stands, next door to Seartan's (Shorten's) pub, at the eastern end of Ballingeary Village. The Post Office was located within the Scriven house. James, as well as being a farmer was Ballingeary's first sub-postmaster, the post office having opened around 1883. Eliza (Lizzie) was the youngest of James and Mary's five daughters.
By 1919 Mary had never known any other employment, having taken over the position in January 1893 after her husband's death in the previous October. In her letter of resignation, she recommended Lizzie for the position, who "has been assistant to me since she was 16 years."
Lizzie and Tadgh
Lizzie had married Tadgh Twomey in the church in the village in February 1918, while the outside world was still at war. Tadhg, eight years Lizzie's junior, sold and repaired bicycles from his shop in the centre of the village. He and Lizzie lived "over the shop" with their three-year-old son, Sean. Tadhg had grown up on his father's farm in the townland of Tauirín Dubh, just west of the village, with his four brothers and a sister. His mother's family the Walsh's lived on the adjoining farm.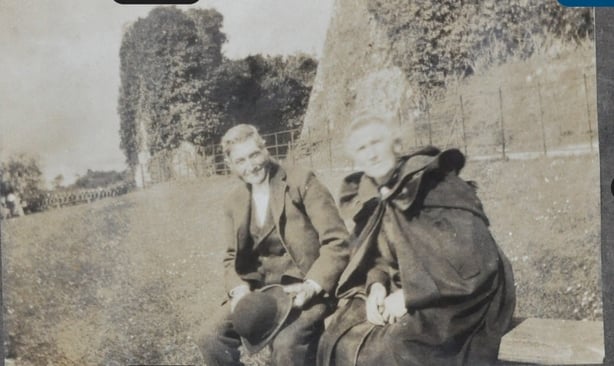 The Twomey brothers came from revolutionary roots; their maternal great-great-grandfather James Walsh was "Seamus Mor Breathnach", Captain of the "Rockites" at the Battle of Keimaneigh in 1822, a protest against the tithe system, high rents, eviction at will, and the other abuses inflicted on tenant farmers by the landlords at that time. Three local men were killed and one was later hanged. A member of the yeomanry, Captain Smith, had also perished. Tadhg's father Johnnie Twomey had been involved with his Walsh in-laws in a case of "moonlighting" (resisting evictions) in 1894 for which he had served a year in Jail with hard labour.
The age of revolution
Their home in Tauirín Dubh was frequently visited by leading republican figures of the time, especially during the period of the troubles, including Terence McSwiney, and Éamon De Valera. Tadhg and his brother Liam were both members of the local Irish Volunteers, and Tadhg himself was adjutant of the D (Ballingeary) Company, 8th Battalion, no.1 Brigade.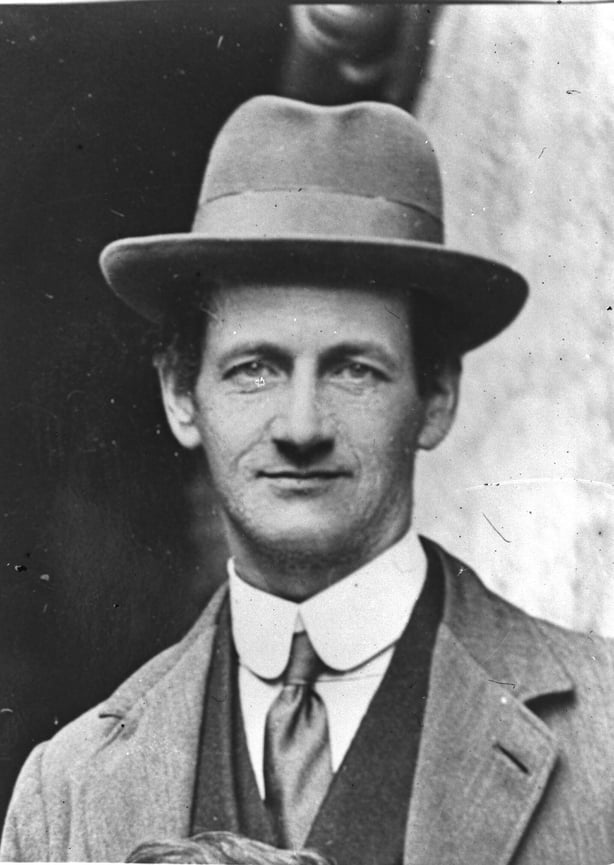 With five other local members of the Irish Volunteers they ambushed members of the RIC on July 7 1918, and taken their arms, on a mountain pass road known locally as the "Mouth of the Glen", several months before the Soloheadbeg ambush in Tipperary.
Lizzie's ambitions
Lizzie was understandably keen to be appointed to the position of Sub-Postmistress. Her mother had been in receipt of a salary of thirty-four pounds eleven shillings, with a further eight pounds eleven shillings for dealing with pensions, and a temporary "war bonus", added to offset the severe price inflation which followed the great war amounting to thirty-eight pounds and sixteen shillings.
She wrote to the Postmaster J D McDowell in Cork: "I have been my mother's assistant since I was sixteen years and have always been in charge of the office in her absence". The fact that she was a resident of the village was to prove a big advantage.
Lizzie submitted her application for the position on Dec 30th, her referees were Father O'Leary, Parish Priest of Inchigeelagh and Father O'Donaghue, Parish Priest of Ballingeary.
In the first week of January 1920, McDowell prepared record forms on both Mary Scriven as the retiring incumbent and her daughter Lizzie as the applicant. He had received two other applications. Annie O'Leary, aged 24, and as yet unmarried, applied by post from the Albert Hotel in Belfast on Dec 25th 1919. She gave her date of birth as "About May 1985". She had worked as an assistant to her father in the Inchigeelagh Post Office for five years and in Godalming, Surrey, England for two years.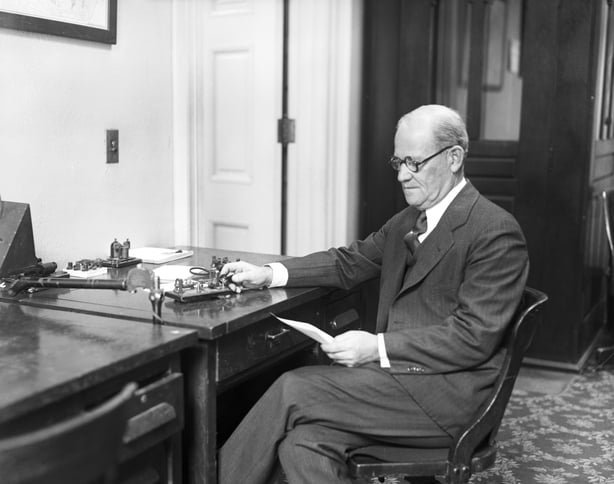 She said she was familiar with the use of a "sounder", an electro-mechnical device used to render the Morse code used in telegraphy into a series of "clicks" and "clacks" which could be translated into a message (telephones were not to arrive in Ballingeary until much later). Annie was hopeful of finding accommodation in Ballingeary for both herself and the sub-post office business.
McDowell wrote to Annie on 29th Dec, asking "(do) you intend becoming a tenant of the premises in question"? Annie responded that she was "having a house built in the village about 9 yards from the old post office."
Looking for ex-servicemen
McDowell had written to the Ministry of Labour in Cork on December 10th seeking an ex-serviceman who would wish to apply for the position: presumably such an individual would be loyal to the Crown. On the 24th December he received a reply, enclosing details of an ex-serviceman Sergeant Luke Leech, then living in nearby Macroom and 58 years of age. He was born in Galway, married to Julia, with four children under 10 years of age living in Castleisland, Co Kerry, and an "Acting RIC Sergeant". His 1919 British Army discharge papers stated his military character to be "Very Good".
On January 5th, the manager of the Cork Office of the Ministry of Labour furnished a completed application form on behalf of Luke Leech "providing he can get a house in the village". Sergeant Leech had already written to McDowell on January 3rd, withdrawing his application because, he said "there is no house or portion of a premises available in the village or adjacent thereto.".
On January 8th, not yet knowing that Sergeant Leech had withdrawn, McDowell prepared his report on candidates in order of recommendation: Lizzie, Annie, Leech. On the following day, McDowell writes to the Under Secretary at Dublin Castle, asking for RIC reports on Annie and Lizzie and perhaps more importantly Lizzie's husband Tadhg:
"and I shall be glad to be informed whether her husband Timothy Twomey is still regarded as a person whose loyalty is not free from suspicion and whether any other circumstances are known to the Royal Irish Constabulary which would render her appointment undesirable"
Annie withdrew her application on January 16th: "At present it is impossible I find to get a house in Ballingeary".
"An active Sinn Féiner"
On January 22nd, McDowell wrote to the Secretary "I am communication with the police regarding the suitability of the candidates – the husband of one of them is suspected of being an active Sinn Feiner…"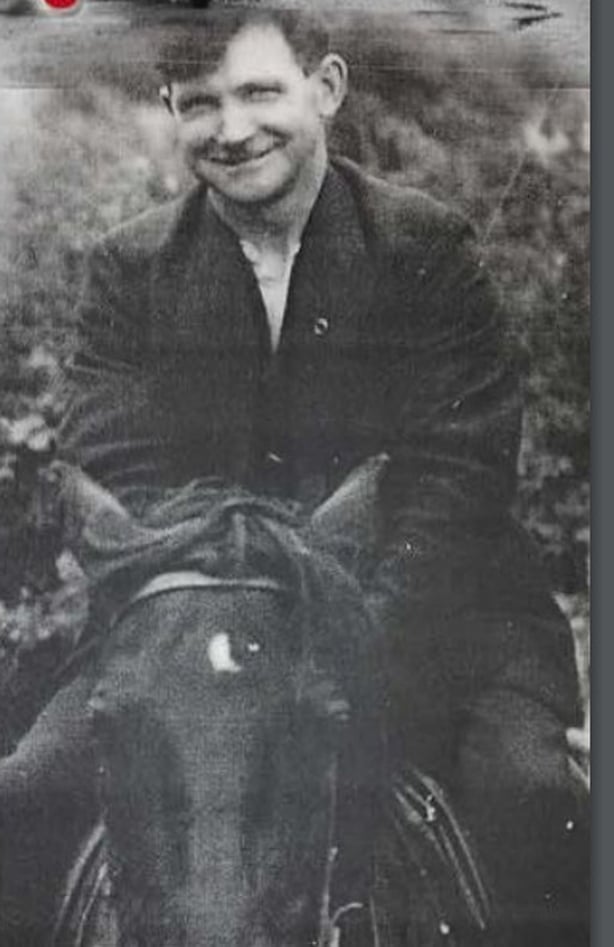 On February 5th, the Under Secretary from Dublin Castle responded formally to McDowell:
SECRET

"I am directed by the Lords Justices to inform you that it appears from a report received from the local Police that Timothy Twomey (husband of Mrs Twomey the only candidate for the appointment) is known to be a member of the Irish Volunteer Organization and is secretary of the local Sinn Fein Club. He is stated to be very energetic and is thoroughly disloyal."
On Feb 10th The Under Secretary asked McDowell "What do you now suggest?"
McDowell responded that
"there is nothing to be done but appoint Mrs Twomey, despite the objections for Dublin Castle. There is no other candidate who can provide premises. ..the risk in appointing Mrs Twomey is not a serious one. The appointment would not make any material difference as the conduct of the office during the past years has really been in her hands as assistant to her mother…. It can be made clear to Mrs Twomey that her husband must not be permitted to assist in the work of the office."
On 28th February McDowell responds
"Mrs Twomey was installed on the 27th Inst under the conditions stated and a written understanding from her is attached…" sic"I hereby undertake to provide the necessary assistance for the working of this office and the necessary accommodation for the post office business. I understand that it is a condition of my appointment that my husband must not be permitted to assist in the work of this office. Signed L Twomey"
After Lizzie was appointed to the position, the Post Office was relocated to the shop in the centre of the village.
By 1921, Tadhg had become Intelligence Officer in No2 section of D Company 8th Battalion IRA. His access to his wife's place of work no doubt helped in the quality of information reaching him.
Lizzie continued as postmistress for the next 24 years. She ran the Ballingeary Post Office throughout the War of Independence, through raids by the "Black and Tans", through the truce, and then through the Civil War. Lizzie herself died in December 1943 aged 63. Their third son, Seamus was appointed as Post Master on March 17th 1944. Tadhg died in 1948. Ireland finally became officially a republic the following year.
Do you have a story to tell about your own family's experience of significant historical events? Find out how to contribute it here.
---
The views expressed here are those of the author and do not represent or reflect the views of RTÉ