He was the privileged tennis player who went all the way to the Wimbledon finals and ended his days in a French penal colony. In this extract from the Dictionary of Irish Biography's new book Irish Sporting Lives, Tom Higgins tells the story of Vere Goold
Vere Thomas St Leger Goold was born 2 October 1853 in Waterford, sixth son among seven children of George Ignatius Goold, justice of the peace and resident magistrate of Waterford, and his wife Clara, daughter of Major-General James Webber-Smith. He was born into a wealthy, long-eminent Catholic family.
Waterford was one of the earliest regions to hold competitive lawn tennis events. Goold took to the game and was often known as 'Vere St Leger' when playing incognito. In 1878 he travelled to Limerick to play in the open lawn tennis championships. He duly won the singles title. St Leger also won the first Irish Open. In those inaugural Irish championships, held in 1879 at his home club, Fitzwilliam Lawn Tennis Club in Dublin, he beat C. D. Barry (also Irish) 8–6, 8–6 in the final of the men's singles. The first prize was valued at £20, a considerable amount at the time. A total of fifteen players had entered in the singles.
Goold was known to have a splendid backhand and was expected to win the Wimbledon championships a few weeks later. In his first and last appearance at 'The Championship', he reached the final, beating F. Durant (6–1, 6–2, 6–3), J. D. Vans Agnew (6–2, 6–3, 6–1), A. J. Mulholland (6–4, 2–6, 6–1, 6–4), and G. E. Tabor (6–2, 6–5, 5–6, 6–3). But he seems to have been nursing a bad hangover in the final and was beaten by the Reverend John Thorneycroft Hartley, 6–4, 6–2, 6–2.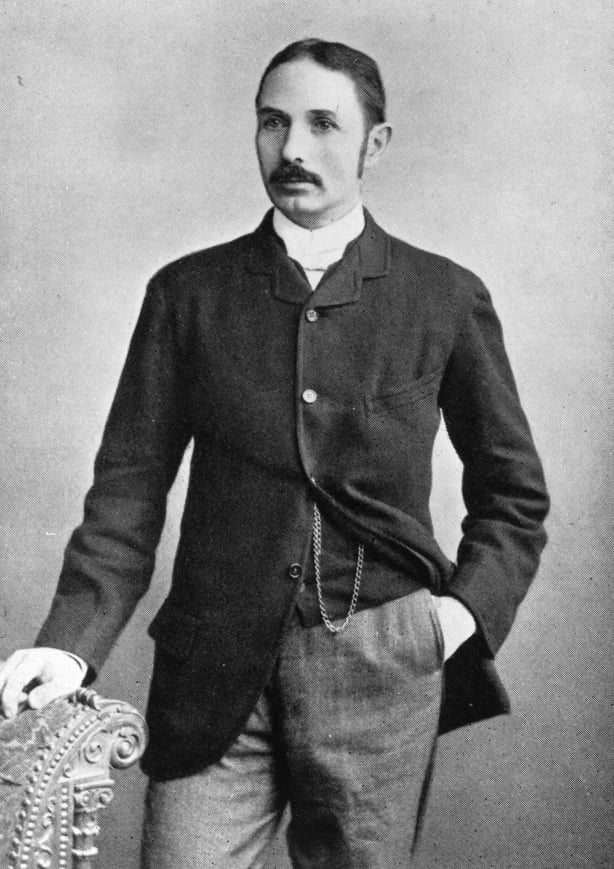 Hartley wrote about his opponent:
'He was then a cheery wild Irishman, Irish champion, and a very pretty player. I think he volleyed more than most of us that year; but there were some weaknesses I suppose in his play, as being fit and well after a night's rest I won three sets straight off' (50 years of Wimbledon, 15).
Hartley had returned to Yorkshire after his semi-final to give his church sermon. On Monday 15 July, after a train journey and a rushed horse-and-carriage ride, he arrived just in time for the final. About 1,100 spectators watched this match. St Leger did win the play-off for second prize, beating C. F. Parr 4–6, 6–2, 5–6, 6–4, 6–4.
The 'bright spark' of the tennis club
Back in Dublin, Goold was a prominent member of the Fitzwilliam club and was involved in handicapping as well as in the purchasing of equipment. The club colours had been chocolate and blue, but in deference to Goold's play and that of Ernest de Sylly Hami Browne, the new colours of chocolate and maize became affectionately known as 'Browne and Goold'. The wearing of cap, tie and waist scarf in the club was at first compulsory.
Goold acted on the committee that ran the championships in 1879 and 1880. According to O'Connor, 'He was the bright spark of Fitzwilliam in this period. In the minutes his name constantly comes up. "Mr Goold was selected to handicap." "Mr Goold reported that he had ordered four nets from Messrs Caylers at £1 each and they had promised to present one net to the club"' (Fitzwilliam story, 5).
In his early days Goold was in the public service in Dublin as secretary of the municipal boundaries commission. This gave him plenty of time to play tennis. In October 1879 he returned to England to play in an open tournament at the Imperial Winter Gardens, Cheltenham. Play took place on outdoor asphalt and on a covered court.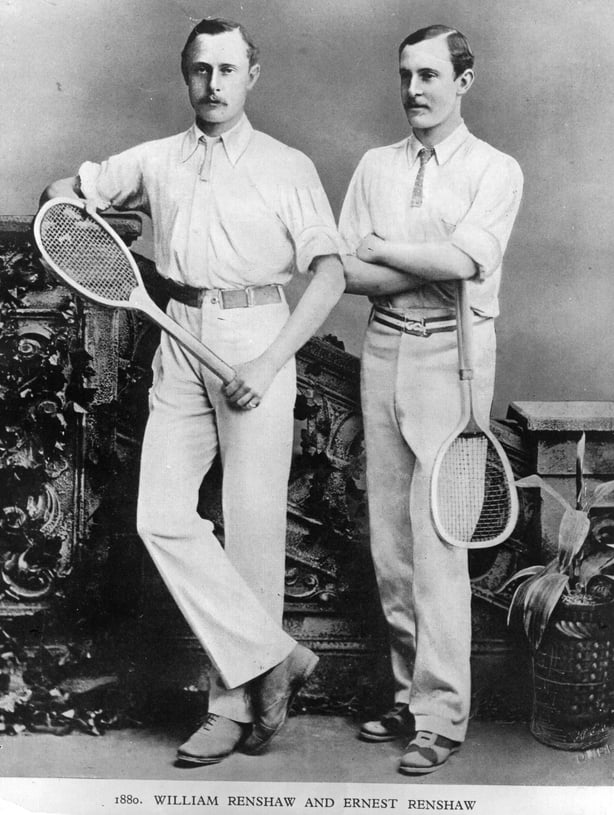 William Renshaw came back from 4–1 down in the fifth set to beat Goold in the final, 6–4, 6–3, 5–6, 5–6, 6–4. Goold played at Fitzwilliam Lawn Tennis Club the following year, but illness prevented practice and he lost his Irish title to the same William Renshaw in three easy sets (6–1, 6–4, 6–3) in the challenge round. Renshaw later won three Irish singles titles and seven Wimbledon singles titles between 1880 and 1889.
Goold continued to play till about 1883. His only noteworthy tennis win was in 1881 when he and W. H. Darby defeated the highly rated English pair, H. F. Lawford and A. J. Mulholland, in an unofficial Irish–English international, the first match between two countries in the sport of lawn tennis. Ireland beat England two matches to one, all doubles. Lawford was in six Wimbledon finals, beating Ernest Renshaw in 1887, and won the Irish Open three times (1884, 1885, 1886).
We need your consent to load this rte-player contentWe use rte-player to manage extra content that can set cookies on your device and collect data about your activity. Please review their details and accept them to load the content.Manage Preferences

Goold later moved to London, where he met a Frenchwoman, Marie Violet (née Girodin). By the time she met him in 1886 she had already been widowed twice, had sold her jewellery and was a court dressmaker. Both aged thirty-eight, they married (22 August 1891) at St Mary of the Angels, Paddington; they had no children. They emigrated to Canada for a few years and then returned to London in 1903.
Murder!
After losing money in a laundry business, they moved to Monte Carlo to try their luck on the gaming tables. On Tuesday 6 August 1907 the 5.38 a.m. train from Monte Carlo arrived at Marseilles. A porter noticed an unusual smell coming from a trunk and large handbag, deposited by the Goolds with instructions to be forwarded to London. When a dismembered body of a lady was found, both were arrested.
The trial commenced on 2 December and lasted for three days. Among the thirty witnesses was Isobella Girodin, a niece of Mrs Goold, who indicated that Goold often drank and quarrelled with his wife. The murdered woman, Emma Liven, a Dane, had been visiting the Goold's flat to reclaim a loan, when she was struck during a furious argument.
Goold was sent to Devil's Island, French Guiana, on 19 July 1908 and died there on 8 September 1909. His wife was imprisoned in Montpellier and died in 1914. Vere Thomas St Leger Goold might be remembered as the first winner of the Irish Open at the age of twenty-five, but thirty years later he was to die ignominiously. He is remembered as the only Wimbledon finalist convicted of murder – so far.
Irish Sporting Lives brings to life sixty figures who in their individual ways illustrate the drama and diversity of Irish sporting history. Spanning 200 years, the biographical essays in Irish Sporting Lives incluide trailblazing women as well as serial winners and glorious losers, heroes and villains, role models and rogues, enduring legends and forgotten or overlooked greats.
Irish Sporting Lives is available now from all good bookshops and can be ordered here at www.ria.ie/isl
The sixty lives included in Irish Sporting Lives are drawn from Ireland's national biographical dictionary, the Dictionary of Irish Biography. Find out more at www.dib.ie
Sources: John Burke, A general and heraldic history of the peerage and baronetage (1912), 840; A. Wallis Myers, Fifty years of Wimbledon (1926), 15; J. J. Treacy, Fitzwilliam's first fifty: half a century of Irish lawn tennis ([1927]); Ulick O'Connor, The Fitzwilliam story (1979), 4–6 (with group photo); Alan Little, St Leger Goold: a tale of two courts (1984); 'The Irish murderer of Monte Carlo', www.independent.ie/lifestyle/the-irish-murderer-of-monte-carlo-26806963.html (internet material accessed November 2021)