The Civil War was marked by conventional battles and guerrilla warfare - but there were other forms of violence in the clonflict too, including house burnings and sexual violence, as Gemma Clark explains
A 'civil war' is defined as an armed combat, within the borders of a recognised nation state, which results in at least one thousand battle-related deaths in a specific calendar year. The brutal conflict over the Anglo-Irish Treaty, between the army of the Irish Free State and the anti-Treaty faction of the Irish Republican Army (IRA), fits the definition.
However, casualty thresholds, used by academics and policymakers, do not adequately measure the costs of internal conflict for ordinary men and women. By examining 'everyday violence' that occurred in many local Irish communities during 1922–23, we understand better the motivations for fighting on all sides, as well as the wider human, social and environmental impacts of Ireland's war.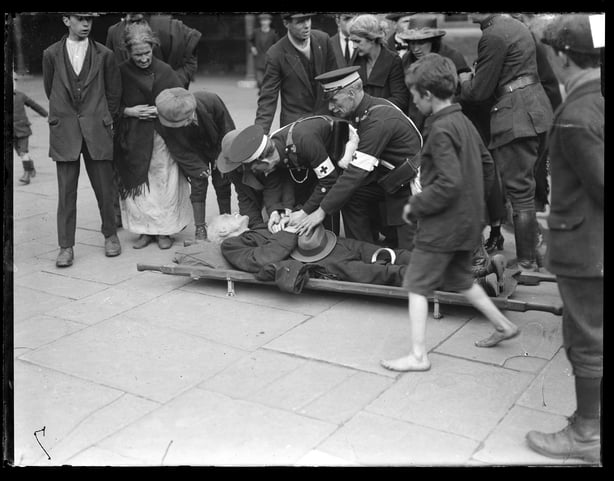 Around 1,600 people died as a consequence of the Civil War. As pro- and anti-Treaty forces clashed in street battles and rural ambushes, soldiers and civilians were shot dead deliberately, and accidentally. Others were assaulted or killed in a grislier fashion – and out of public view. New research by Mary McAuliffe, Linda Connolly, Susan Byrne, and others reveals the disproportionate impact of civil warfare on women, as guerrillas brought the fight into the domestic sphere during raids for arms and gendered punishments of females on the 'wrong' side.
During this centenary year, we can – indeed we ought to – remember lives lost, and indelibly marked by the uniquely harmful act of sexual violence, while also acknowledging that the most common object of destruction, during the Irish Civil War, was property not people.
Burning big houses
The burning of hundreds of 'big houses', the Anglo-Irish mansions that had dominated rural skylines since the Plantations, is one obvious way in which the built environment came under attack during the Civil War. This 'Campaign of Fire' served some military logic: private homes often functioned as barracks and big houses might plausibly have served as loyalist strongholds in the event of a British reinvasion.
However, the escalation of big house burning in the Civil War as compared with the earlier War of Independence (199 compared with 76) suggests that a further and symbolic routing of British influence was needed, in the eyes of the anti-Treaty IRA, because of the inadequate terms of the Treaty, which maintained the imperial connection via the oath of fidelity to the Crown demanded of members of the Free State parliament.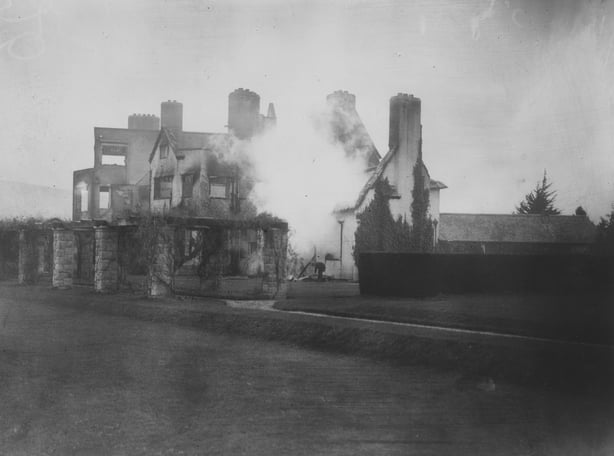 Settling ancient scores
Alongside immediate strategic and political goals, combatants also used violence to settle more ancient scores. By 1922, the large estates of the Anglo-Irish elite were breaking up and most tenants had become owners via British land-purchase laws; big-house burning thus administered the final and dramatic push to these great 'tombstones of a departed ascendancy'. The gradual opening of Land Commission records will help historians to answer complicated and still controversial questions about what happened to the land that was left behind.
The records that are accessible, including claims submitted by self-declared 'loyalists' to British compensation bodies, notably the Irish Grants Committee (IGC), certainly point to land hunger as a driver for 'everyday violence' – not only in the burning of lavish hunting lodges (Tullamaine, County Tipperary) and large castles (Glanduff, County Limerick) – but also via thousands of smaller – but nonetheless financially devastating – acts of violence and intimidation against more modest landholders.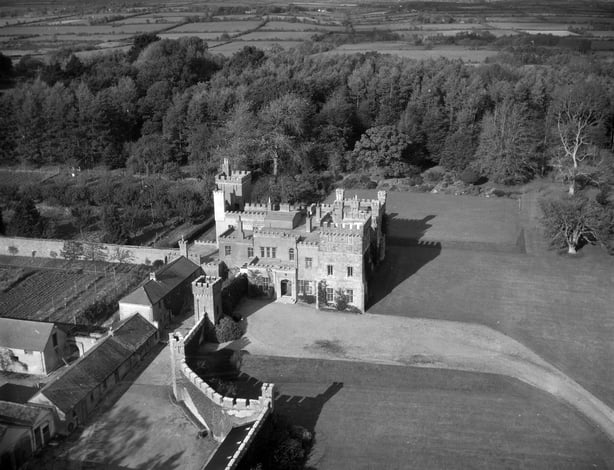 Evidently legal mechanisms for redistribution, strengthened by the Free State's own Land Act, 1923, did not resolve all rural conflicts. Middle-class graziers who kept large pastures for cattle, and farmers who had recently or, as it was perceived, unfairly acquired their holdings, were forced off their land by cattle driving, animal maiming, and crop- and outhouse-burning (which was prevalent in the Munster counties I have studied, accounting for 45% of arson attacks in Waterford, 41% in Limerick, and 28% in Tipperary).
Beyond politics
By examining acts of violence that took place alongside and away from the war's short-lived conventional military encounters, we understand better the various ideological, social, cultural and local conflicts being fought under pro- and anti-Treaty banners. The truism that Ireland's Revolution was a purely political transformation, for example, has been challenged by research (by this author, Gavin Foster, Pat McCarthy, and others) that brings to light labour disputes and violent campaigns for land redistribution.
The radical redrawing of constitutional boundaries within and between Ireland and the United Kingdom also brought real challenges – and change – for some social groups. Partition created two new states, north and south, home to two increasingly embattled religious and political minorities – Catholics (usually Irish nationalists) in UK-controlled Northern Ireland and Protestants (historically 'loyal' to Britain) in the Irish Free State.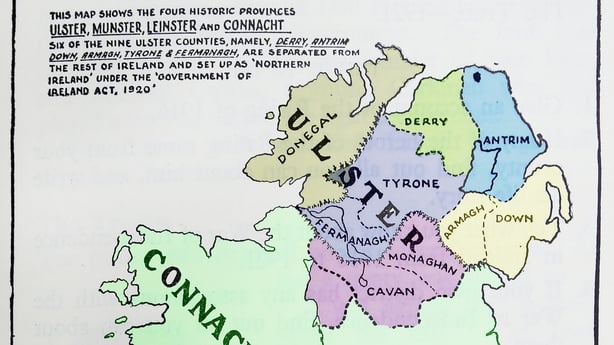 My micro-study of three counties in what became the Free State shows that former business and social links with British police and armed forces, defiance of IRA authority and demands for money, and even innocuous displays of loyalty to the Provisional Government endorsed by Britain (such as singing a song in favour of the Treaty), could be punished with physical violence, boycotts, threats, and property damage that was often, but not always, the result of arson.
How sectarian was the Irish revolution?
On the divisive question of demographic change and Protestant depopulation, that is, how sectarian was the Irish Revolution, the data I have assembled (see the map at the bottom of this page) speaks to the disproportionate targeting, with 'everyday violence', of minority communities in Munster.
In that county, 19% of arson attacks were attributable to the claimant's 'allegiance to the United Kingdom', and 25% of buildings burned were 'big houses'. Of course, 'loyalty' is not always synonymous with Protestantism, even though the words were often used interchangeably at the time. Ex-court clerk and 'British Spy' John Holmes of Galbally, County Limerick, told the IGC:
'I am a member of the Church of Ireland, and it was because of [this] and of being loyal to the British Government that I was boycotted'.
Still, if we look just at religion, it is significant that 19% of arson attacks targeted a group that comprised a smaller (and shrinking) proportion of the population (around 5% of the population in Limerick, Tipperary, and Waterford).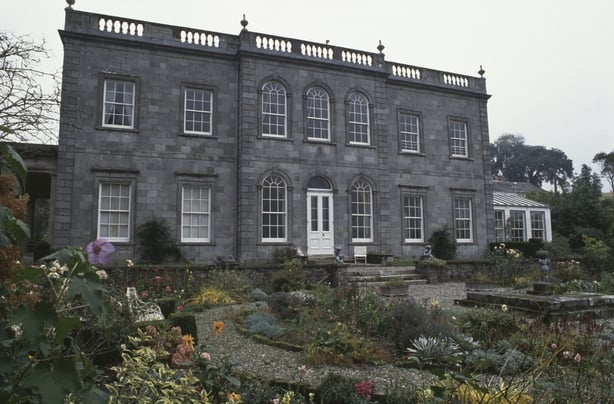 No sectarian cleansing
In contrast to state/semi-state violence in Northern Ireland (murders, workplace expulsions, and burnings of whole Catholic streets by the security forces of James Craig's new government), southern Protestants were not 'cleansed' systematically from their communities.
Nonetheless, terms such as 'massacre', 'extermination', 'crusade' and 'pogrom' recur in contemporary news reports, pamphlets, and fundraising materials for 'suffering loyalists' and victims of 'sectarian strife in the north', resonating strongly with people at the time who saw violence against them as a part of a wider persecution on the grounds of religion.
The customers of Clonmel draper William Sweetnam, for example, were 'warned not to buy from us but to support their own people' and evidently one's 'people' were chosen according to one's denomination: 'we were Protestants and not in sympathy' with the actions of the IRA.
The Civil War did not kill Sweetnam; it forced him out of business. His testimony of non-lethal, 'everyday' violence is one of thousands I have analysed to conclude that alongside, and intersecting with, the armed combat over the Treaty, many local communities used the war to punish those 'loyal' to the old British regime and seize land for the benefit of the people of an independent Irish state.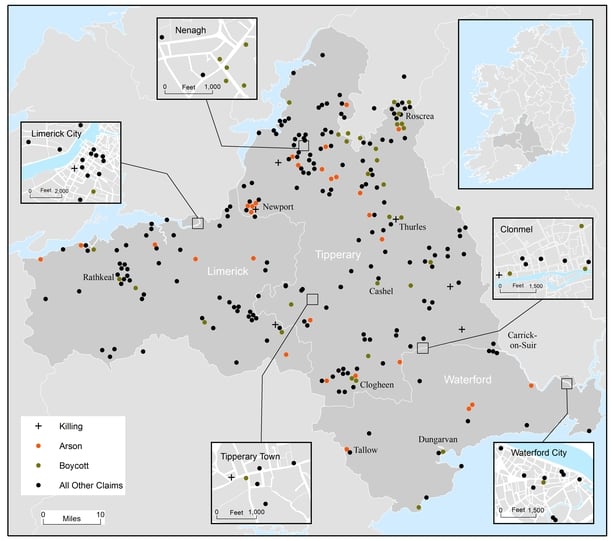 These maps show Irish Grants Committee compensation claims awarded for deaths, arson attacks boycotts and 'all other claims' in Counties Limerick, Tipperary, and Waterford. The last miscellaneous category encompasses losses from injuries intimidation, arms seizures, forced property sales, lost employment, cattle driving, billeting in households by armed forces and assorted property damage.

IRA guerrilla fighters largely supported themselves by commandeering goods from the civilian population, and occasionally levying taxes on households. Claims for such seizures were common in areas with active IRA columns in the Truce period and Civil War, such as County Tipperary and West Limerick. Republicans maintained boycotts against businesses that traded with the Crown forces during the War of Independence, as seen in claims in 'garrison towns' like Nenagh and Clonmel.

Not all damage claims were directly related to the military campaign. During a long period when governance largely disappeared from rural Ireland, social conflict sometimes erupted over issues of employment, land ownership, and other forms of communal competition. Throughout the revolutionary period, County Tipperary experienced land agitation which was often apolitical and deployed agrarian intimidation tactics common in the same locales during the previous century.

Class conflict from the intense Cleeves Creamery strike in 1921-22 can also account for some claims in southeast Limerick (near Bruff) and other parts of Limerick and Tipperary. Overall, political loyalty remained embedded within religious identity throughout this period, and the Irish Grants Committee claims illuminate the attacks and harassments endured by largely Protestant loyalists.
This article is part of the Civil War project coordinated by UCC and based on The Atlas of the Irish Revolution edited by John Crowley, Donal Ó Drisceoil, Mike Murphy and John Borgonovo. Its contents do not represent or reflect the views of RTÉ.
Sources:
Gemma Clark, "'Sectarianism' as an interpretative framework: Placing the Bandon Valley Massacre in historical and historiographical perspective", West Cork History Festival, 7 August 2022. Watch it here.
Gemma Clark, Everyday Violence in the Irish Civil War (Cambridge: Cambridge University Press, 2014)
Terence Dooley and Christopher Ridgway (eds), The Irish country house: its past, present, and future (Dublin; Portland, Oregon: Four Courts Press, 2015: ebook)