As part of RTÉ's ongoing Decade of Centenaries coverage, Miriam O'Callaghan has authored a new documentary on the lives of some of those caught up in an extraordinary century since the foundation of Northern Ireland.
I've reported on and from Northern Ireland for many years and, of course, I'm married to a man from Belfast. It's a part of Ireland I know and love. Others have already waded through the complexities of one hundred years of political history since the partition of Ireland in 1921 but I wanted to focus on some of the people who have lived through it.
I understand how The Troubles, bitter political divisions and, of course, Brexit can dominate the stories coming out of Northern Ireland, but for this documentary I was keen to discover some of the stories of survival and endurance ... of people getting up every morning, feeding their families, and just trying to get by. And of two very different worlds on one shared island.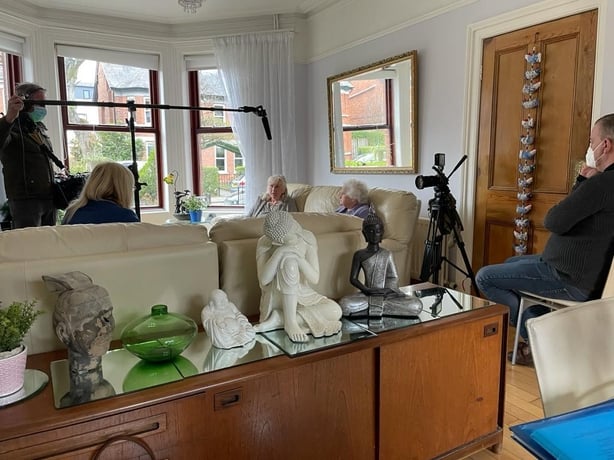 In Belfast, I met Maureen O'Kane and Joan MacCabe, two sisters who survived the Belfast Blitz during WWII, which killed almost 900 people. They had vivid memories of a city ablaze, and of their policeman father putting on his uniform and hat and heading out the door. He returned, filthy and dishevelled, two days later. Maureen and Joan clearly remember how he closed the door to the kitchen so the children wouldn't hear what he told his wife he had witnessed.
"Her head in the Free State, and her backside in the North"
We all know that the borders between every county in Ireland are a bit random – a river here, a parish line there – but that becomes even more noticeable when those county borders became international ones. Author Darach MacDonald took me on a tour around his homeland of Clones, in Monaghan. His granny's house was split by the border, so she went to bed "with her head in the Free State, and her backside in the North".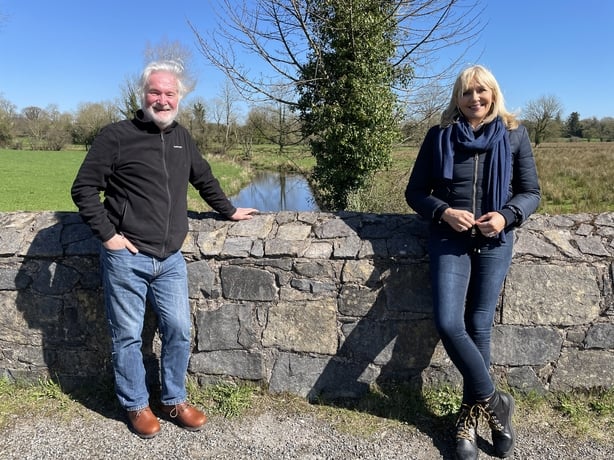 Also in Monaghan, I met Angela Graham: a proud Ulster Protestant who explained how Partition [and the failed Boundary Commission] abandoned certain communities on both sides of the border and was, in several ways, responsible for many Protestant families packing their bags and emigrating. She described this passionately to me as "a sense of righteous loss, being left out, and just forgotten about".
I was aware, of course, of the plight of Jewish refugees before and during WWII, but I had no idea just how much the Jewish community in Ireland came to their aid [while, shamefully, our own government did relatively little]. I met Billy Kohner in Millisle, just east of Belfast.
He wouldn't have been born if not for the kindness and generosity of others. His parents and two sisters fled the former Czechoslovakia and were given refuge on a farm leased by the Irish Jewish Community. He told me his mother was giving a talk at the local school in Millisle, and a child asked "How do you like living in Northern Ireland?" She replied "I just like living".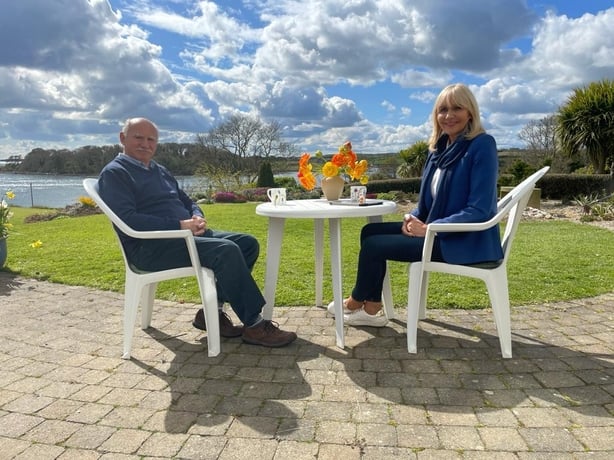 I met Horslips legend Barry Devlin in Bray Co. Wicklow, of all places. It was where he spent his summer holidays as a kid. His father owned a pub in Ardboe, on the banks of Lough Neagh. The nearby RAF airbase helped to keep the pub in business, and Barry himself was one of the earliest beneficiaries of free secondary education – which wouldn't arrive in the South for another 20 years.
In the old Rosemount factory in Derry, I met Mary, Irene and Clare, who had all worked in the city's shirt factories, starting when they were as young as 15. In contrast, perhaps, to many women in the South, they were primary bread-winners at a time when there was little or no work for men.
They proudly handed over their unopened pay packets each week to their mothers. All from large families, they piled into communal beds and slept head to toe. As Irene said, "when one wet the bed, the others were soaked!"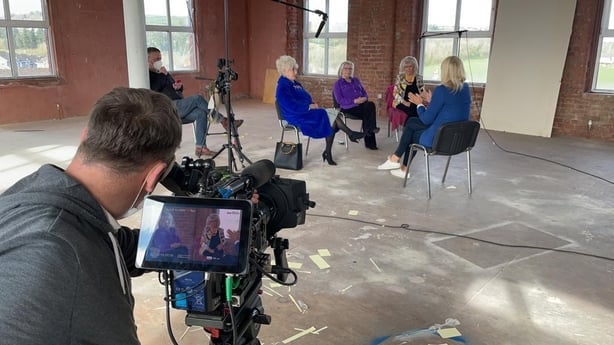 Under the strictest of pandemic conditions, I had tea with two retired nurses, Kathleen & Ursula. They both worked at Altnagelvin Hospital in Derry, the very first NHS hospital built in the United Kingdom. They marvelled at the new practices and procedures that made their jobs better, if not easier. They also recalled the bedlam of Bloody Sunday as victims arrived in through the hospital doors.
We filmed this documentary as a small team under strict COVID regulations, which made us all the more grateful that people agreed to participate. Most of it was filmed outdoors, and, in general, the Irish weather helped us out. The pressures of making a programme under such restrictions are challenging, but I feel it was a challenge worth tackling; these are stories that need to be told and heard.
I am so glad I was there to hear them: thank you to all the participants.
Border Lives airs on Monday, June 21st, on RTE 1 at 9.35. Read about how the border was drawn up here on RTE History.