He was a theatre-loving writer and Irish-language activist who became a 1916 rebel and one of the first TDs. In this entry from the Royal Irish Academy's Dictionary of Irish Biography,  Patrick Maume tells the story of Piaras Béaslaí. 
Piaras Béaslaí (1881–1965), writer, revolutionary, politician, language revivalist, and journalist, was born Percy (later Pierce, Piaras) Beazley on 15 February 1881 in Liverpool, England, second of three sons of Patrick Langford Beazley, editor of the Catholic Times from 1884 until his death in the early 1920s, and Nancy Beazley (née Hickie), from Newcastle West, Co. Limerick.
P. L. Beazley was born near Killarney, Co. Kerry, son of a tenant who had been evicted from the Lansdowne estate. The Beazleys were an old family in Kerry, of English origin. P. L. Beazley studied for the Catholic priesthood at the Irish College in Paris and developed a lifelong interest in languages; Piaras was brought up as a polyglot and bibliophile.
Nancy Beazley was a novelist and contributed to the papers of A. M. Sullivan, the Nation and Young Ireland, as 'Nannie H. H.' She often spoke to her sons about the Irish rural society of her childhood and her admiration for the Young Irelanders, particularly John Mitchel.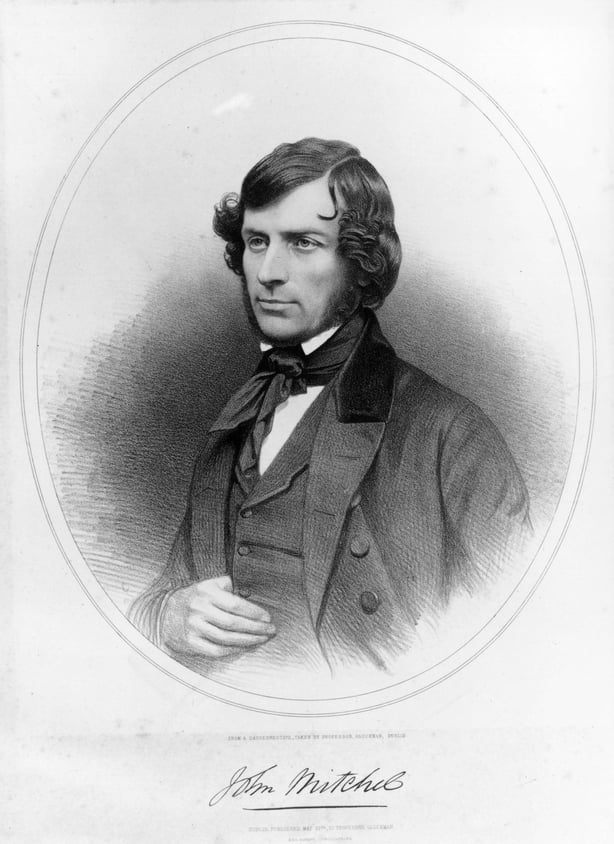 Béaslaí's interest in Ireland was further encouraged by Irish and Irish-American papers, which his father, as editor, received on an exchange basis; some contained Irish-language columns. He was educated by the Jesuits at Francis Xavier College, Liverpool. During his boyhood Béaslaí spent several summers with his paternal uncle Fr James Beazley, parish priest of Tuosist (near Kenmare, Co. Kerry), where he mixed with native speakers. By age 17 his Irish was excellent.
Early journalism 
After practising journalism in London and Liverpool (he was prominent in the Liverpool Gaelic League from its foundation in 1896), Béaslaí moved to Dublin in 1906. After a period as a freelance he was employed by the Evening Telegraph (stable companion of the Freeman's Journal) holding various positions including Irish-language columnist – he also wrote the Freeman's Irish column – reporter, leader-writer, and drama critic. Béaslaí was sacked in 1914 because of his separatist activities but continued to contribute to the Freeman papers (and the Weekly Independent) as a freelance.
When reviewing the Abbey premiere (1909) of The Showing-up of Blanco Posnet by George Bernard Shaw, Béaslaí met James Joyce. Béaslaí subsequently met Joyce several times at the Telegraph office and believed these visits inspired the 'Aeolus' chapter in Ulysses.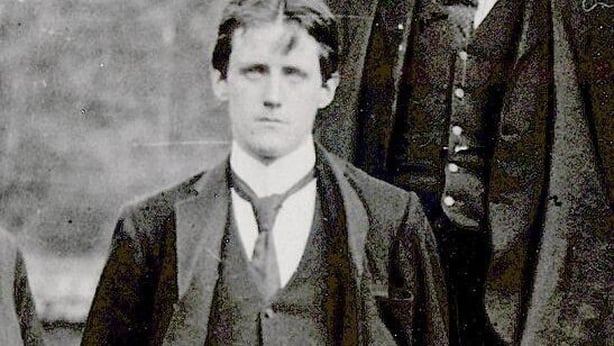 Interviewed by Richard Ellmann for his Joyce biography, Béaslaí remembered Joyce as quiet, courteous, and unlike Stephen Dedalus. Throughout his life Béaslaí regarded W. B. Yeats as a humbug and never desired to make his acquaintance.
Béaslaí took part in the 1907 protests against The Playboy of the Western World by J. M. Synge, and was prosecuted for doing so. In 1957 he claimed the protest was principally inspired by political outrage at the Abbey management's calling in the police to deal with hecklers; this may represent retrospective projection of Béaslaí's disquiet with aspects of post-independence censorship.
Before coming to Dublin, Béaslaí developed considerable sympathy with the Keating branch of the Gaelic League through its publications. This branch, associated with Munster people living in Dublin, promoted Munster-dialect Irish against proponents of Connacht Irish such as Patrick Pearse and Eoin MacNeill. Béaslaí always maintained that historians took the leadership's criticisms of the Keatingites too much at face value; these disputes may have contributed to his mildly sceptical view of Pearse's reputation. 
Initially deterred by the discovery that the Keating branch was preoccupied with a dispute over the expulsion of a member for playing soccer, Béaslaí was persuaded to join by 'Torna' (Tadhg Ó Donnchadha), who encouraged him to attempt Irish poetry.
Béaslai and the stage
Béaslaí rapidly became involved in staging Irish-language amateur drama at the Oireachtas annual music festival (he first attended in 1901) because he had some experience of acting and producing. He began to write plays, some original, others adaptations from foreign languages; these achieved considerable popularity with amateur groups. He also translated German works into Irish, such as Eachtra Pheadair Schlemiel (1909).
In 1912 Béaslaí became producer of na h-Aisteoirí, a company of Gaelic amateur actors founded by Edward Martyn. The actors – including Gearóid O'Sullivan, Fionán Lynch, and Diarmuid O'Hegarty – were mostly Keating branch members; by 1914 the male members of the troupe all belonged to the Teeling circle of the IRB, chaired by Bulmer Hobson.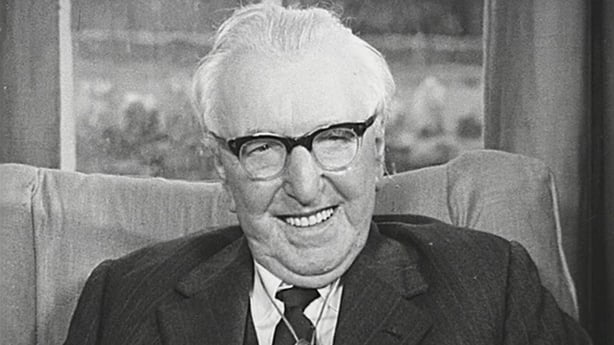 Béaslaí himself was initiated by his friend and fellow-Keatingite Cathal Brugha, and was a close friend of Seán Mac Diarmada. Béaslaí was later involved in Irish Republican Brotherhood (IRB) efforts to take over the League (or, as he saw it, to prevent the 'clique' of cultural revivalists around Douglas Hyde from purging the separatists) and was elected to the League executive in the final coup of 1915 which caused Hyde's resignation as president.
Despite these differences Béaslaí revered Hyde as 'one of the greatest Irishmen and most unselfish patriots of his generation' and the greatest translator of Irish bardic verse.
In February 1916 Béaslaí founded the Fáinne, inspired by articles he had contributed to the Leader of D. P. Moran on the need for a league whose members would indicate willingness to speak Irish by wearing a badge; though he drifted away when the organisation came to be dominated by learners rather than speakers of the language.
Politics and rebellion 
Béaslaí joined the Irish Volunteers on their foundation late in 1913 and was a steadfast member of the faction on the Volunteer executive opposing John Redmond, and of the separatist Volunteer faction which disowned Redmond's endorsement of the British war effort.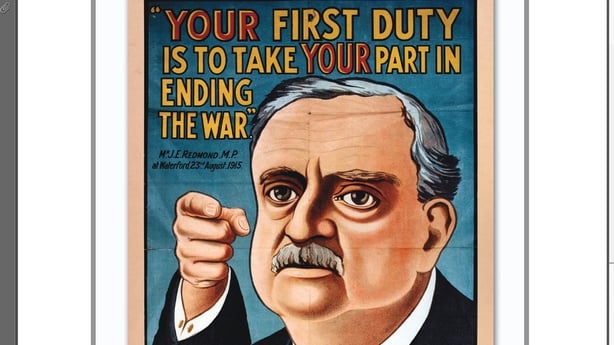 On visits to his parents he smuggled guns to Ireland and brought messages from the Volunteer leadership to Merseyside sympathisers who arranged for sailors on transatlantic ships to carry them to John Devoy in America. Béaslaí was deputy commanding officer of the 1st Dublin Battalion under Edward ('Ned') Daly; during the Easter rising of 1916, he fought in the North King St./Four Courts area.
He was court-martialled and sentenced to five years' penal servitude; under stringent restrictions in Portland prison he wrote and memorised poems about his captivity. He was transferred to milder conditions in Lewes prison, released in June 1917, and promptly elected to the central committee of Sinn Féin.
The War of Independence years
Béaslaí was elected TD for Kerry East at the 1918 general election, and took an important part in organising the first meeting of the first Dáil in January 1919. Arrested in March 1919, he escaped from prison, was promptly recaptured, and was imprisoned briefly in Birmingham and Strangeways in Manchester, but escaped again.
He became publicity officer for the Dáil government and was editor of the army (IRA) newspaper An tÓglach. In this capacity he was a close personal associate of Michael Collins and part of his intelligence network, for which he recruited his cousin Lily Mernin, a typist in Dublin Castle.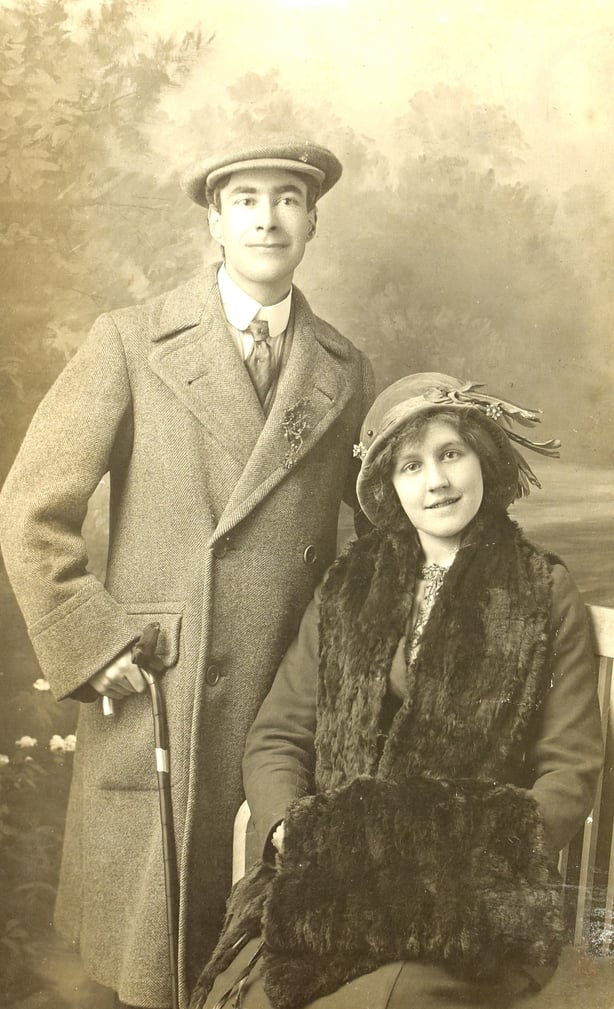 Béaslaí also edited the League's paper Fáinne an Lae (later Misneach) from 1917 to 1920, attending its office regularly even when 'on the run' for IRA activities. He caused some controversy by advocating the replacement of Gaelic by Roman type in printed Irish, complaining that his opponents preferred to look at Irish rather than read it, and promoting simplified Irish spelling developed by Shan Ó Cuiv.
For the rest of his life Béaslaí advocated phonetic spelling in Irish and English. At this time he composed his only novel, the Irish-language Astronar (serialised in the Freeman; book publication 1928), narrated by a middle-European nationalist exile who describes the planning of an uprising against his people's oppressors in the capital city of his nation.
The rising is a fiasco and Astronar must come to terms with the defeat of all his hopes. The novel has always had admirers and was republished in 1991.
The apprehensions indicated in the novel help to explain why Béaslaí took the pro-treaty side in 1922. After the dáil vote he was sent to America by Collins to publicise the pro-treaty case; he returned to Dublin shortly before the civil war and was chief press censor during the conflict.
Béaslaí was TD for Kerry East (1918–22) and Kerry–Limerick West (1922–3) and resigned from the Irish army in 1924 as major-general, after being demoted in a reorganisation after the army mutiny.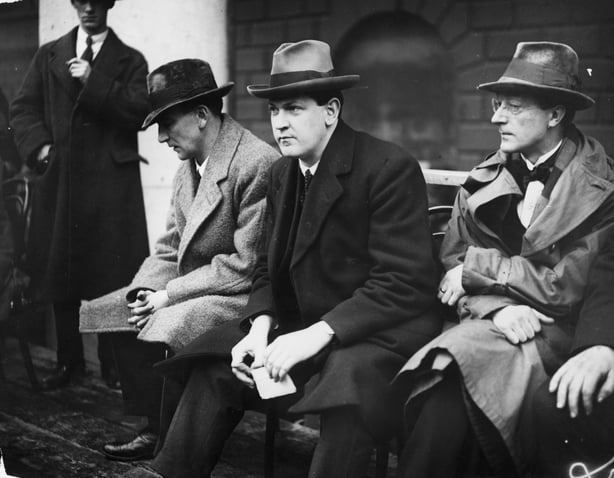 Biographer of Michael Collins 
He then concentrated on the official biography of Michael Collins. He had been chosen for this role late in 1922 by the Collins family, overcoming considerable reluctance within the government and army leadership; his old acquaintances Gearóid O'Sullivan and Diarmuid O'Hegarty complained he was a literary major-general, incapable of appreciating the magnitude of Collins's virtues and vices.
The book appeared in 1926 as Michael Collins and the Making of a New Ireland (2 vols, Dublin). It is now regarded as hagiographical (it notoriously describes Collins as having little interest in women) and was criticised for numerous inaccuracies.
In retirement Richard Mulcahy prepared a commentary – in the UCD archives – longer than the book itself; his principal complaint was that Béaslaí knew little of the overall workings of GHQ and failed to interview many Collins associates.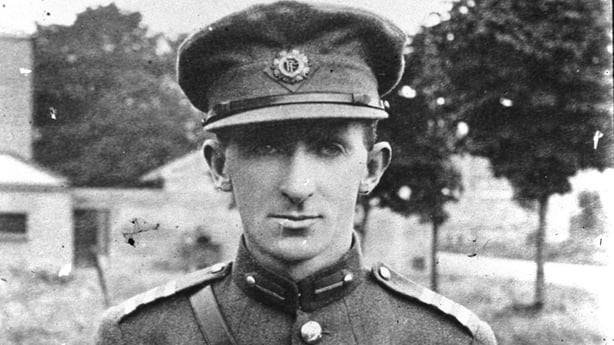 Béaslaí's negligent and destructive treatment of official papers reinforced a civil-service hostility to outside researchers that persisted for decades. Nonetheless the book is of value for its use of oral evidence and as a statement of the pro-treaty view; some of Collins's more robust features (such as youthful anti-clericalism and fondness for 'expletives') are indicated but not emphasised, and its omissions reflect the supervision of the Collins family – who received most of the royalties – as well as Béaslaí's own sensibilities.
A second edition appeared in America (1930), and in 1937 Béaslaí prepared a revised and abridged version, Michael Collins: soldier and statesman, containing an extensive critique of the account by Frank Pakenham  of the treaty negotiations; the two-volume version was reprinted in New York in 1983.
Later writing and journalism 
Béaslaí never married; he lived with his elderly mother in Sandycove, south Dublin, after his father's death (c.1923/4), his two brothers having predeceased him; in later life he was 'a friend and companion of Kerry Blue terriers'.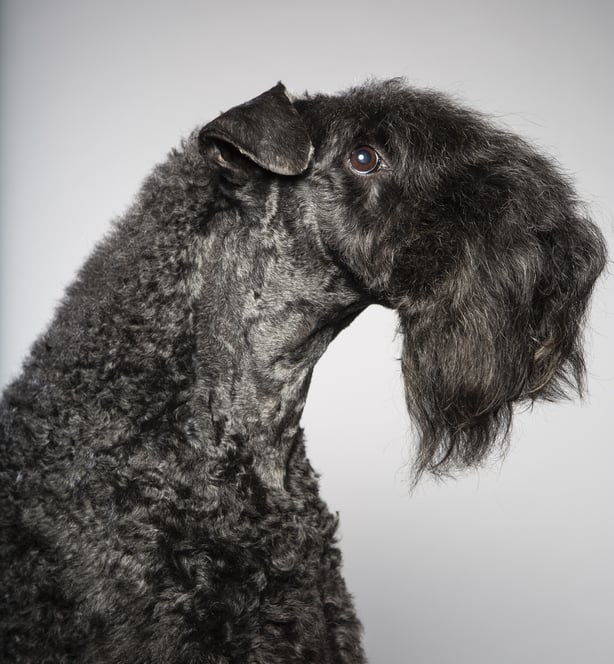 He wrote poetry (Bealtaine 1916 agus dánta eile (1920)) and short stories in Irish – a selection from 1912–20 were published (1946) as Earc agus Aine agus scéalta eile. He also wrote twenty plays between 1913 and 1939, most notably 'An Sgaothaire agus cúig drámaí eile' (1929) and 'An Danar' (1929); in 1929 he won a gold medal for best Irish play at the Tailteann games.
He was a board member of An Comhar Dramaideachta, later absorbed by the Abbey. A reviewer and literary critic, he published an ambitious review of Irish Gaelic literature, dealing with the period 1600–1850 in two volumes, Éigse Nua-Ghaedhilge (1933–4) which was recognised as a significant contribution to the development of Irish-language criticism.
Later years
In later years Béaslaí's social life revolved around the Irish-language movement (he frequently adjudicated at feiseanna and drama festivals) and IRA veterans' groups; for many years until his death he was president of the Association of Old Dublin Brigade IRA and the 1916–21 Club, whom he frequently lectured on the independence struggle.
He wrote on similar topics for newspapers, including the catholic weekly Standard and the Kerryman; however, his most sustained contributions were to the Irish Independent, which published 'A veteran remembers' five days a week, except Saturdays, from 16 May to 10 June 1957, and 'Moods and memories' (a weekly causerie on literary and historical matters) on Wednesdays from 24 May 1961 to 16 June 1965.
Béaslaí's reminiscences were drawn on by historians writing in the 1960s, but were later neglected because they failed to appear in more lasting form. He also lectured on Irish radio and television; some recordings survive in the RTÉ archives.
We need your consent to load this rte-player contentWe use rte-player to manage extra content that can set cookies on your device and collect data about your activity. Please review their details and accept them to load the content.Manage Preferences
Piaras Béaslaí describes some of the fiercest fighting that took place during Easter Week 1916 in the Church Street area of Dublin.
Edward Daly was commandant of Dublin's 1st battalion and occupied the Four Courts during Easter Week 1916. Piaras Béaslaí was Daly's second in command and here in this archive recording he gives his account of how the battalion occupied a wide area on the north side of the city. Béaslaí describes the taking of a number of buildings and setting up barricades, the fierce fighting at Reilly's Fort at the intersection of Church Street and North King Street and his own personal exhaustion after days of fighting before the final surrender.
Death and legacy
Béaslaí collapsed on 18 June 1965 at a function in the headquarters of the Dublin IRA veterans' association in Parnell Square; he died in the Mater private nursing home 22 June 1965 and was buried in Glasnevin close to Collins's grave.
Although not in the first rank culturally or politically, and sharing many of the limitations of his generation, Béaslaí was a cultured man who played a significant role in developing the Irish language as a literary medium, and who shows the Keating branch version of cultural revivalism to have been more complex than the bigoted xenophobia of J. J. O'Kelly ('Sceilg') to which it is often reduced by commentators.
His papers (which include a diary kept for most of his life) are in the National Library of Ireland. In 2004 a memorial plaque was erected at the site of his birthplace (now the Strawberry Tavern, Breckfield Road South, Liverpool). In 2007 a definitive Irish-language biography by Pádraig Ó Siadhail was published by Coiscéim, Dublin.
The Dictionary of Irish Biography is Ireland's national biographical dictionary. Devised, researched, written and edited under the auspices of the Royal Irish Academy, its online edition covers nearly 11,000 lives. Read more about Dictionary of Irish Biography
Sources: Ir. Press, 23, 24, 25 June 1965; Ir. Independent, 23, 24, 25 June; Ir. Times 23 June 1965; Piaras Béaslaí, Michael Collins and the making of a new Ireland (1983 ed.); Beathaisnéis, i (1986), 16–18; Tom Garvin, Nationalist revolutionaries in Ireland (1987); Tim Pat Coogan, Michael Collins (1991); Philip O'Leary, The prose literature of the Gaelic revival 1881–1921: ideology and innovation (1994); Deirdre McMahon, '"A worthy monument to a great man"; Piaras Béaslaí's life of Michael Collins', Bullán: an Irish Studies Journal, ii, no. 2 (winter 1966), 55–65; Philip O'Leary, Gaelic prose in the Irish Free State 1922–1939 (2004); Pádraig Ó Siadhail, An Béaslaíoch: beatha agus saothar Piaras Béaslaí 1881–1965) (2007); www.pgil-eirdata.org/html/pgil; www.beo.ie/index (internet material accessed 17 Sept. 2008)