Labhair bainisteoir nua-cheaptha ar fhoireann Chiarraí, Jack O' Connor le Dara Ó Cinnéide ar An Saol Ó Dheas ar RTÉ Raidió na Gaeltachta faoin dúshlán nua atá roimhe.
Is é seo an tríú babhta do Jack O' Connor a bheith ag tabhairt faoin ról mar bhainisteoir ar Chiarraí. Deir sé go bhfuil cuid mhór athraithe sa chluiche agus go bhfuil sé féin athraithe mar dhuine agus mar bhainisteoir le tamaill de bhlianta anuas.
Luaigh sé an ról atá ag teicneolaíocht agus eolaíocht i gcluiche an lae inniu agus go bhfuil 'gach rud tomhaiste', ó mheánluas reatha na n-imreoirí agus na sonraí uilig a bhaineann le teacht aniar ó chluiche crua peile.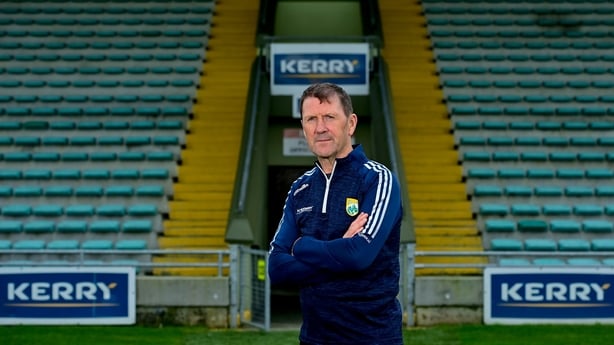 Nuair a thug sé faoi ról an bhainisteora don chéad uair sa bhliain 2003, d'admhaigh O' Connor go raibh sé 'faoi bhrú mór' mar go raibh sé ag teacht i gcomharbhacht ar Pháidí Ó Sé, an uair sin. 'Bhí buataisí móra le líonadh agam', a dúirt sé.
Talking about his first season as manager in 2003, O' Connor says he felt under huge pressure as he was taking on the position after GAA giant, Páidí Ó Sé had retired. 'Those were some big boots to fill', he says.
Cé go bhfuil cuid mhór athraithe sa chluiche, tá an brú céanna ag baint le foireann Chiarraí a thabhairt chomh fada le Páirc an Chrócaigh agus an cluiche ceannais a bhaint. Ní hamháin sin, ach deir Jack go bhfuil lucht leanúna Chiarraí ag súil le stíl faoi leith freisin, 'caithfidh tú buachaint agus caithfidh tú buachaint le stíl'.
O' Connor says much has changed in the game since 2003, many things have remained the same. Nothing will satisfy Kerry fans except bringing home the Sam Maguire and not only that, but to bring it home in style.
Ag féachaint chun cinn, deir Jack go mbeidh Tír Eoghain ann i gcónaí, agus foirne eile gan iad ach go bhfuil sé ag súil lena bhfuil roimhe, mar bhainisteoir.
Éist leis An Saol Ó Dheas ar RTÉ Raidió na Gaeltachta ón Luan go hAoine idir 12.08-1.00