Labhair clann Sheán Uí Riada agus a bhean, Ruth faoi na cuimhní cinn atá acu ar a n-óige chomh maith leis an oidhreacht a d'fhág Seán ina dhiaidh ar An Saol Ó Dheas inniu.
Bhí gach uile duine ó chlann Uí Riada don eagrán speisialta beo as an séipéal i gCúil Aodha; Peadar, Sorcha, Ally, Cathal, Eoghan, Rachel & Liadh.
Anocht ar Nationwide, craolfar clár speisialta uair a chloig faoin Riadach ar RTÉ One óna 7.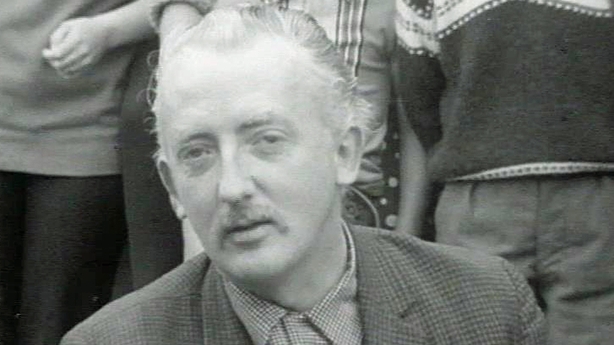 Amárach ar a 10.30am ar RTÉ Raidió na Gaeltachta, craolfar eagrán speisialta den Chúinne Dána. Beidh Seán Ó Sé, dlúthchara le Seán ag caint le Tristan Rosenstock faoin Riadach agus cloisfear samplaí dá cheol ceannródaíoch.
Cailleadh an cumadóir Seán Ó Riada leathchéad bliain ó shin, agus déanfar a shaol agus a shaothar a chomóradh agus a cheiliúradh san eagrán ómóis seo den chlár An Cúinne Dána.Roinneann Seán Ó Sé agus Michael Tubridy a gcuid cuimhní cinn linn le portráid a thabhairt dúinn den bhfear óg tréitheach sin a bhain an oiread sin amach sa dá scór bliain a chaith sé ar an saol, agus gheobhaimid blaiseadh den éagsúlacht ceoil a tháinig ó shamhlaíocht thorthúil dhuine de mhórchumadóirí na haoise seo caite.Is é Tristan Rosenstock a chuirfidh an clár i láthair.
50 years after his passing on October 3rd 1971, Tristan Rosenstock and guests celebrate the life and legacy of Seán Ó Riada. Joining Tristan are legendary singer and Ó Riada collaborator Seán Ó Sé, as well as Michael Tubridy, who played alongside Ó Riada with Ceoltóirí Chualann.We hear about Ó Riada's extraordinary output and ground-breaking approach to traditional Irish music, as well as thoughts and reflections on the genius himself who contributed so much to Irish cultural life right up until his untimely death aged 40.
We need your consent to load this rte-player contentWe use rte-player to manage extra content that can set cookies on your device and collect data about your activity. Please review their details and accept them to load the content.Manage Preferences
Aifreann an Domhnaigh
Craolfar aifreann an Domhnaigh ó Shéipéal Ghobnatan i gCúil Aodha, Co. Chorcaí Dé Domhnaigh, 3 Deireadh Fómhair .Cothrom an lae inniu leathchéad bliain ó shoin a cailleadh an cumadóir Seán Ó Riada.D'fhág sé rian nach beag ar phobal Chúil Aodha agus ar cheol na heaglaise.Beidh a mhac Peadar i mbun stiúir inniu ar Chór Cúil Aodha ag aifreann ar leith a thabharfaidh oidhreacht uasal Sheáin Uí Riada chun cuimhne.
Mass on Sunday, the 3rd of October will be broadcast live from Séipéal Ghobnatan in Cúil Aodha, Co. Cork.Seán Ó Riada died on this day fifty years ago.He left his mark on the community of Cúil Aodha, where he lived, and on the cannon of liturgical music.Today, this special commemorative mass will honour his legacy, with music from the wonderful Cóir Chúil Aodha choir, under the direction of Seán's son Peadar Ó Riada.
RTÉ Raidió na Gaeltachta, Dé Domhnaigh 3 D Fómhair / Sun 3 Oct 11 am