The 1,500 anniversary of the birth of Saint Colm Cille and the role of doctors in Ireland's revolutionary period are the themes of two Irish-language events taking place as part of Dublin Festival of History.
Dublin Festival of History — brought to you by Dublin City Council and organised by Dublin City Libraries in partnership with Dublin City Council Culture Company — now in its ninth year, is playing host to a European, UK and domestic line-up of speakers and panels. Among the main topics being covered are women in history, the journey to Irish independence, Germany and the World Wars, Northern Ireland, as well as medieval Dublin.
Colm Cille @ 1500
This Irish-language event, taking place online on 22nd September, 8.00-9.00pm, explores the life and legacy of Colm Cille 1,500 years after his birth. As one of our patron saints, he played a crucial role in spreading Christianity to Scotland.
Joining broadcaster Tristan Rosenstock to discuss Colm Cille's rich legacy are Dr Brian Lacey, a historian and archaeologist specialising mainly in the early medieval period in Cos Donegal and Derry, Dr Ann Buckley from the Medieval History Research Centre in the Department of History at Trinity College Dublin, and Dr Art Hughes a Reader in Irish.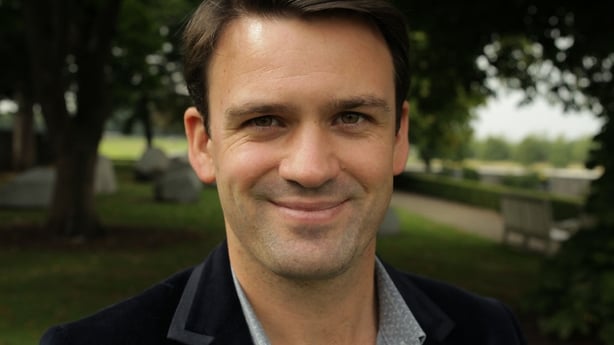 Dochtúirí agus Tréimhse na Réabhlóide II
This free in-person event features four talks – hosted by Acadamh na Lianna, and all in Irish – exploring various aspects of the Revolutionary Period. As Acadamh na Lianna is an Irish-speaking association for doctors, the emphasis will be on the variety of parts played by doctors in every phase of the Revolutionary Period, from gun-running in 1914 and subsequent armed combat, to the First Dáil and later peace initiatives. It is happening on 9th October, 10.00am-1.00pm, in The Ireland Institute at The Pearse Centre, Dublin 2.
1921: Bliain na Cinniúna | 1921: Year of Reckoning
1921 was a crucial year in Ireland's history. The country was divided in two, and Northern Ireland established. The war of independence grew more intense, but a truce was worked out in the summer. After talks in London, an agreement was reached to establish the Irish Free State. Many were dissatisfied with it, and the Republican movement soon split, a split which would worsen as time went on. A hundred years on, the consequences of that year can still be felt in Ireland, as debate takes place on the country's future. In this Irish-language session, presented by Dublin City Library & Archive, the events of 1921 will be discussed by Síobhra Aiken, Fearghal Mac Bhloscaidh and Aindrias Ó Cathasaigh, historians who have examined this turbulent period in the country's history. This event is taking place on 29th September, 7.00-8.00pm.
Dublin Festival of History takes place from 20th September to 10th October. All events are free, but booking is required. For the full programme of events, and to book, please visit: www.dublinfestivalofhistory.ie.