Aedín Ní Thiarnaigh has upped sticks and moved to Inis Meáin in search of what remains of the folklore surrounding St. Brigid.
Ar an 29ú Éanair sa bhliain 2019, thugas faoi thuras thar farraige a rachadh go mór i bhfeidhm orm.
I didn't know then, that my day on Inis Meáin would be the first of many, but I did know that I would be unlikely to forget my time spent by the fire, i dteannta Mháirín Uí Chonghaile.
"Cá bhfuil do theach a Mháirín?", d'fhiafraigh mé di ar an bhfón an lá roimh mo thuras chuig an oileán.
"Ó ná bí buartha faoi sin. Abair leo ag an aerfort go bhfuil tú do mo chuartú agus tógfaidh siad síos tú".
She wasn't wrong.
Minutes after I sheepishly approached one of the locals working at the airport, to ask how I might get to Máirín Uí Chonghaile's house, I found myself bundled into the back of a car; me, my bags, my tripod, and a very friendly dog called 'Misty' with one brown eye and one blue.
Is bean í Máirín a bhfuil an-eolas aici ar thraidisiúin na nGael agus traidisiúin Inis Meáin ach go háirithe. Mar sin, agus mé sa tóir ar scéalta faoin mbrídeog chun físeán a dhéanamh do Molscéal TG4, dúradh liom nach mbeadh a sárú ann.
Is féidir leat éisteacht le hAedín ag caint faoina togra anseo, ar Iris Aniar.
We need your consent to load this rte-player contentWe use rte-player to manage extra content that can set cookies on your device and collect data about your activity. Please review their details and accept them to load the content.Manage Preferences

The making of the brídeog is a custom which existed in many places around Ireland, especially in the West, but has mostly died out. On Inis Meáin however, maireann an traidisiún fós.
Ar Oíche Fhéile Bhríde, January 31st, téann cailíní óga ar an oileán ó theach go teach, spreading the good wishes of the festival, accompanied by a homemade miniature of the saint; an bhrídeog.
The brídeog is made with a dornán tuí; a sheaf of straw brought in by the man of the house. The mother of the house then covers the dornán with some white cloth and puts a stick through the straw for arms, creating a doll-like figure. The doll is then dressed in a gúna, decorated with ríbíní, slabhraí, and other brightly coloured things.
Nuair a thiocfaidh na cailíní óga ar ais ón scoil tráthnóna, bheadh an bhrídeog ag fanacht orthu, resplendent and ready to be shown off at every house on the island.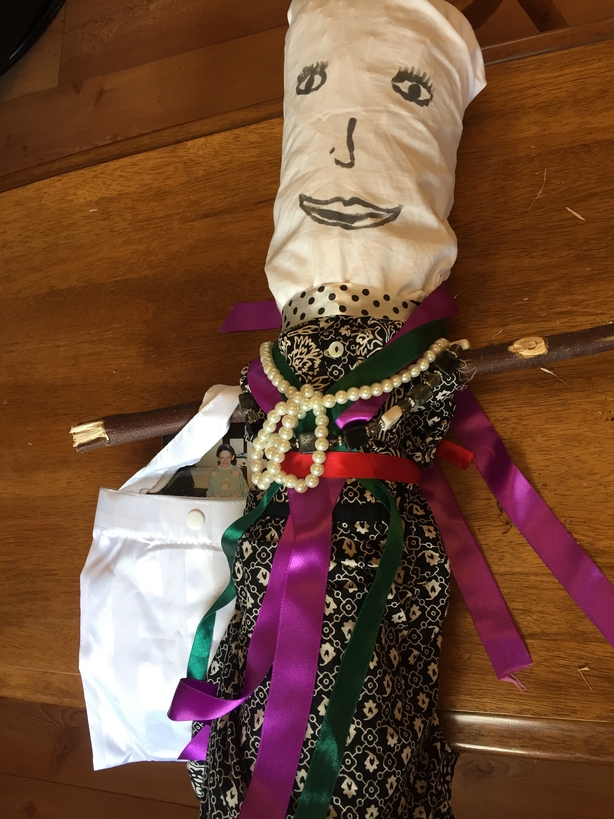 Bhailigh mé go leor scéalta eile ó Mháirín, an lá ar thug mé cuairt uirthi, nach raibh mé in ann iad a chur san fhíseán ag an deireadh, ach choinnigh mé iad fós ar thiomántán crua.
Thuig mé go raibh na scéalta luachmhar, ach níor thuig mé go díreach a luachmhaire is a bhíodar go dtí gur fhill mé ar ais ag an ollscoil blianta ina dhiaidh, chun máistreacht a dhéanamh sa Bhéaloideas.
After one particular lecture on St Brigid's Day, my classmates and our lecturer were discussing some of the traditions associated with the festival, including the brídeog. I told them some of the stories that Máirín had shared with me and they were enchanted, just as I had been when I heard them first.
It became clear to me then that the traditions on Inis Meáin were unique, and not only that, bhí siad fós beo, neamhchosúil le roinnt de na traidisiúin ar phléigh muid.
When it came to the time to choose a research topic for my thesis, it seemed a natural fit to return to the island. I had learned so much there from one woman and her memories, I imagined how much there might still be to learn, ó dhaoine eile ar an oileán.
Mar sin, táim ar ais ag an oileán an athuair, ar feadh míosa an uair seo.
Instead of my tripod and camera I come bearing a Zoom mic, hoping to record as many stories as possible, faoin mbrídeog agus faoi na traidisiúin ar fad eile a bhaineann leis an mban-naomh, of which there are many.
My work is kindly being supported by the National Folklore Collection at UCD, where my recordings once completed, will be conserved in the archives.
Níl m'aistear ach ina thús ach táim chomh buíoch as muintir an oileáin cheana féin, a chur fáilte is fiche romham. Beidh sé ina phribhléid dom a gcuid scéalta a chloisteáil agus a chaomhnú.
Ar aghaidh liom de léim, isteach i dtobar an dúchais!
Beidh Aedín Ní Thiarnaigh i mbun taighde ar Inis Méain go dtí an 14ú Meitheamh 2021. Más mian leat do chuid scéalta faoi na traidisiúin a bhaineann le Naomh Bríd a roinnt, féadfaidh tú teagmháil a dhéanamh léi ag aedin.nithiarnaigh@ucdconnect.ie