Beekeepers north and south of the border in Ireland have expressed fears that a new phenomenon of importing bees through Northern Ireland for export to England, permitted under the Northern Ireland Protocol, could have disastrous implications for the native bee in Ireland.
Tá an-imní léirithe ag cumainn bheachairí i bPoblacht na hÉireann agus sna Sé Chontae i gcor nua atá tagtha i scéal an Bhreatimeachta agus é tagtha chun solais gur féidir beacha a iompórtáil go Sasana tríd Thuaisceart Éireann, agus go bhfuil sé i gceist ag fear amháin é sin a dhéanamh le 15 milliún beach an tseachtain seo chugainn. Ag labhairt ar RTÉ Raidió na Gaeltachta, dúirt beachairí go bhféadfadh sé seo obair na mblianta chun pór na mbeach dúchasach in Éirinn a chur ó mhaith.
Tá sé i gceist ag Patrick Murfet, beachadóir as Sasana, 15 milliún beach, i 1500 pacáiste, a thabhairt tríd Phoblacht na hÉireann go hIúr Chinn Trá an tseachtain seo chugainn chun iad a easpórtáil go Sasana as sin, rud atá ceadaithe faoi Phrótacal an Tuaiscirt.
Chuir cumainn bheachairí ó ar fud an oileáin litir chuig na hairí talmhaíochta sa dá dhlínse ar an oileán ag léiriú a n-imní faoi seo mar go bhféadfadh na beacha galair a thabhairt isteach leo. Labhair Gearóid Ó Fathaigh ó Chumann Beachairí na Gaillimhe, faoin gcás ar Adhmhaidin Déardaoin.
"An tAire ó thuaidh deir sé, mar gheall ar Prótacal Thuaisceart Éireann go bhfuil na rialacháin fós i bhfeidhm maidir le hiompórtáil na mbeacha ón Iodáil agus gur faoi na húdaráis san Iodáil an tástáil a dhéanamh ar shláinte na bpacáistí atá ag teacht isteach agus nach mbaineann sé leo ag an gcéim sin, ach go ndéanfaidh siad cigireacht ar na pacáistí freisin nuair a thiocfaidh siad isteach go Tuaisceart Éireann."
"An freagra a fuair na cumainn ó dheas ón Aire Talmhaíochta, dúirt sé nach mbaineann sé le Poblacht na hÉireann in aon chor."
Deir an litir: 'Honeybees imported from the EU to Northern Ireland and then moved to Great Britain is an internal UK matter.'
Dúirt sé go gcaithfí anois aird an phobail a dhíriú ar an gcás.
Chomh maith leis an imní faoi ghalair, tá beachairí na tíre buartha faoi na himpleachtaí do phór na mbeach sa tír. Tá mianach agus nádúr faoi leith sa bheach dhúchasach atá in oiriúint don tír agus don aimsir anseo, agus má mheasctar iad le pór eile déanfaidh sé dochar. Dúirt Mícheál Mac Giolla Coda, iar-Uachtarán ar Chónaidhm Chumainn Bheachairí na hÉireann:
"Ba mhaith linn an tír ar fad a dhéanamh mar áit chaomhnaithe i gcóir na beacha dúchasacha agus cosc a chur ar iompórtáil aon bheach eile sa tír. Tá seod againn anseo, nach bhfuil in aon tír eile ar domhan ... Déanfaidh sé mórchuid dochair dos na fíor-bheacha atá againn."
"Beidh (na beacha ón Iodáil) siad ag éalú... beidh na ladrainn ag eitilt mórthimpeall ... An obair atá á dhéanamh againn leis na blianta fada cuirfidh sé ar neamhní é b'fhéidir ."
"Tá 1,500 pacáiste anois an uair seo, agus tiocfaidh alán eile ina dhiaidh sin, ní bheidh aon chosc in aon chor.Sin an fáth go bhfuil muid ag iarraidh ar an Oireachtas dlí a dhéanamh chun cosc a chur ar iompórtáil beacha d'aon saghas.Tá beacha go leor againn in Éirinn, an saghas ceart."
Craoladh na hagallaimh seo ar Adhmhaidin ar RTÉ Raidió na Gaeltachta maidin Déardaoin.
It recently came to light that English beekeeper Patrick Murfet intends to import 15 m bees, in 1500 packets, through the Republic to Newry for export to the UK, and this is due to happen next week.
Beekeepers associations north and south of the border wrote a letter to the Ministers of Agriculture in both jurisdictions to express their concern that the bees might bring disease with them.They recently received replies to these letters and Gearóid Ó Fathaigh from the Galway Beekeepers Association spoke about the matter on Adhmhaidin on Thursday.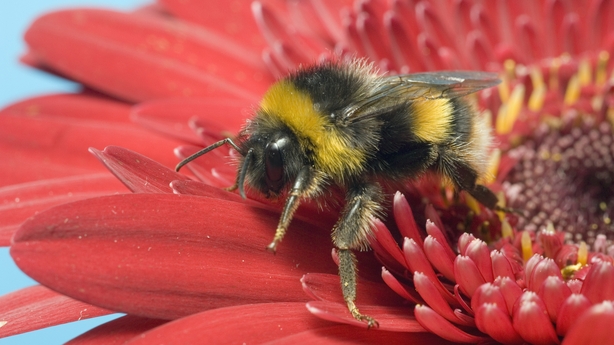 "The Minister in the North said that because of the Northern Ireland Protocol that the rules meant that the Italian authorities must check the health of the (bee) packages coming in, and that it doesn't fall to them at that stage, but that they will be inspecting the packages when they come to Northern Ireland."
"The answer we got from the Minister for Agriculture in the Republic was that it wasn't a matter of concern for the Republic at all." The letter stated : 'Honeybees imported from the EU to Northern Ireland and then moved to Great Britain is an internal UK matter.'
He said that the public must be made aware of the situation.
As well as the fears of importing diseases, beekeepers are especially concerned about the implications for the breed of the native Irish bees.The native bees have a particular temperament and nature and they are suited to the weather here.If they mix with another species, that will be very damaging.
Mícheál Mac Giolla Coda, former president of the Federation of Irish Beekeepers Associations, said:"We'd like for the whole country to be protected for the native bees, and to ban the import of any other type of bees at all.We have a gem here, not in any other country in the world ... They could do a lot of damage to our true bees here."
"The (Italian) drones will be escaping ... they'll be flying around ... and the work we've done for many years to cultivate and protect the native bee could be destroyed."
"There are 1500 packages this time, but many more will follow, there'll be no stopping them at all.That's why we want the government to ban the import of any type of bees.We've enough bees here in Ireland, the right type."