'Iarnród Enda' is a six-part series set to air on Monday 5th April at 8.30pm on RTÉ One. A celebration of people, landscape and belonging, this new series showcases Enda Kenny's search for pointers to the future among the echoes of the past as he sets out in search of the long-abandoned railway routes of Ireland.
Is ceiliúradh ar dhaoine, ar an tírdhreach agus ar na dúichí anama is dual dúinn 'Iarnród Enda', sraith nua sé pháirt d'RTÉ a dtugann ardán do Enda Kenny d'fhonn eochar an todhchaí a aimsiú i measc iarsmaí an ama atá thart – ar misean chun conar sheanbhealaí thréigthe iarnróid na hÉireann a chur de ar a rothar.
Cuardaíonn Enda córas taisteal a bhí réabhlóideach ina thionnchur ar shaol na ndaoine san am. Taistealaíonn sé ar iarsmaí na mbealaí iarnróid a d'fhág a rian ar an tírdhreach agus a raibh tionnchur ar shaol uilig an oileáin acu. D'athraigh an t-iarnród an chaoi ina dhearcamar orainn féin sa tsaol, agus bhí tionnchur as cuimse aige ar an stair, ar chúrsaí sóisialta agus ar an pholaitíocht féin.
Is iomaí saibhreas, daonna agus cultúrtha, a shoillsítear dó ar an mbealach. Ábhar iontais freisin iad na comharthaí nua fáis atá le h-aithint san áit a ndeintear athchóiriú ar shean-líne traenach, beart a thugann románs ré órga na gaile chun beathaigh athuair.
Fásann bealaí iarnróid eile as an tírdhreach le spleodar nua – ath-shamhlaithe ina nGlasbhealaí a mheallann siúlóirí agus lucht an dá roth araon ó chuile chearn. Tá forás ag teacht ar thionscal turasóireachta atá sláintiúil, tionscal a leagann coischéim éadrom ar an timpeallacht, tionscal a chuireann síos fréamhacha a thénn go domhain san áit ina mbíodh dreo agus tréigean sa treis go dtí le déanaí.
Má cheap tú nach raibh aon rud nua le léamh agat in Enda Kenny i bhfianaise an dá scór go leith bliain a chaith sé i nDáil Éireann, seans go mbainfear preab asat. Fear é atá compordach ar a rothar, ar a shuaimhneas ann féin agus éasca i gcomhluadar iad siúd a gcuireann aithne air ar an ród. Is éisteoir maith é, agus níl aon rud is fearr a thugann ardú dó ná bualadh isteach ar dhaoine, ag cabaireacht, nó ag cur an saol ina cheart, nó chun súp agus sásamh a bhaint as tiún nó amhrán.
Episode one brings us from Waterford to Dungarvan.
The Waterford Greenway in the 'Sunny South East' has brought a new lease of life to this beautiful region, yet before the railway line closed it helped encourage a vibrant commercial and farming environment, as well as making a strong contribution at the end of the 19 Century. to growth and development of the newly formed GAA. This programme has contributions from historian Donnchadh O'Ceallacháin, Tom Hartery, Mary Crowley, PJ Maher – the last station master before the line closed, and renowned chef Paul Flynn up a barbecue for Enda.
Enda explores the story of a once modern transport system, the railway routes that became engraved into the countryside, transformed the landscape and shaped the evolution of the entire island. Railway expanded the way we saw ourselves in the world, influencing the course of subsequent historical, social and political events.
Discovering riches along the way, human and cultural, Enda marvels at the shoots of new growth emerging as sections of old lines regenerate as small, narrow-gauge tourist trains bring the magic and romance of steam to life.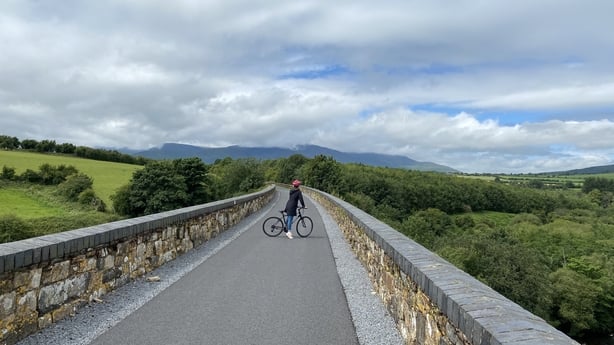 Other routes, re-imagined, emerge from the landscape with a fresh vigour re-purposed into greenways attracting walkers and cyclists from home and abroad as a new, health-oriented tourist industry puts down roots where naught but dereliction and abandonment previously held sway.
If you thought you knew all there was to know about Enda Kenny after his 45 years in Dáil Éireann – be prepared to be surprised. This iteration reveals a man happy on his bike, relaxed in himself and comfortable in the company of those he encounters along the way. A good listener, he's at his happiest meeting new people or old friends and is never slow to call in for a chat or a story, a tune or a song.
'Iarnród Enda' makes for a thoughtfully entertaining diversion from the rigours of lockdown, beginning on RTÉ One at 8.30 on Easter Monday , April 5th.Clár a hAon: Port Láirge go Dún Garbhán – Tá sonc ar aghaidh ceart tugtha ag Glasbhealach Phortláirge do limistéar álainn na nDéise ar Chósta Grianmhar an Oirdheiscirt. Sular dúnadh é d'fhreastal an bealach iarnróid ar thimpeallacht rathúil tráchtála agus feirmeoireachta. Bhí lámh nár bheag ag an t-iarnród freisin i bhforbairt fhás agus leathanú an Chumann Lúthchleas Gael in eirbeall na Naoiú hAoise Déag. Tugann Donnchadh Ó Ceallacháin, Tom Hartley, Mary Crowley, PJ Maher – an Máistir Stáisiúin a chuir an glas deiridh ar an mbealach fada siar -barrchríoch ar an gclár. Agus cá bhfaighfeá éinne ionchurtha leis an chef Paul Flynn chun beárbaiciú gasta a chaitheamh le chéile do Enda cois trá.
Is tonaic ceart é 'Iarnród Enda', athtreorú tráthúil ó dhéine an Chuibhrithe. Craolfar an tsraith ag 8.30pm gach Luan ar RTÉ1 ag tosú an 5 Aibreán 2021.