As part of Seachtain na Gaeilge le Energia, we spoke to designer, Helen James whose line of homeware in Dunnes, Considered by Helen James, often feature snippets of Gaeilge.
How would you describe your line in Dunnes?
The motto for considered for me has always been function x beauty. I started out with a mission to create everyday items for your home that were both useful and beautiful I also try to use artisan techniques, positive messaging and humour where I can, something we can all use at the moment
Did you always want to feature an Irish language element or did that come later?
That came later. It started with NOLLAIG and the customer responded to it immediately it made me think how lovely would it be to add little elements of Irish in to our everyday items. I am conscious that the range is accessible to all and so the slogans I use are familiar to everyone who has been through our school system or maybe phrases used in common vernacular.
We need your consent to load this Instagram contentWe use Instagram to manage extra content that can set cookies on your device and collect data about your activity. Please review their details and accept them to load the content.Manage Preferences
Have you been surprised by the interest in your work as Gaeilge?
Yes I have. But I love it. I hope it has also introduced some people who are not familiar with Irish to the language. Anything that incorporates the language a little bit more into our everyday lives is a positive, I believe.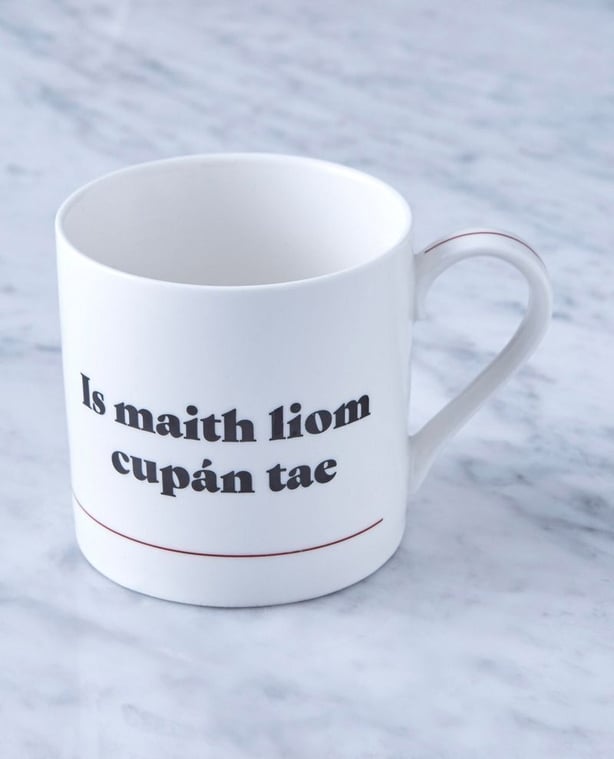 An labhrann tú féin aon Ghaeilge?
My Irish is pretty limited to be honest. But I don't let that stop me loving it. Both of my parents are English but I was born here. So, Irish was not something that was in my home, but it is now, on my doormats, mugs and cushions.
What's been your favourite product, to date?
Hmmm that is difficult because like most creative people my favourite product is always the next one …… but I do love the simplicity of the €4 slogan mug.I also like the slogans that incorporate a bit of humour or slang like, Cad é an sceal?