Tv producer, Ceoladh Sheahan writes about a very special gig The Dubliners played in one of Dublin's most iconic buildings and how the recording very nearly never made it to television but will have its debut Christmas Night on TG4 at 9.55pm
As a Television Producer there are certain moments in your career that you know need to be captured on film and no matter what obstacles or challenges you are faced with, you will find a way for the story to be told.
It was January 2012 and The Dubliners were setting out on their 50th Anniversary world tour. After 50 years on the road, Barney McKenna and John Sheahan, the last surviving members of the original line up, decided to embark on one last adventure. The Dubliners, which now included Sean Cannon, Eamonn Campbell and Patsy Watchorn were beginning a year-long 50th anniversary celebration and they were launching this voyage from within the grandeur of one of Dublin's most iconic buildings, Christ Church Cathedral.
The Dubliners are the legendary folk group that have captured the mood of the nation for 50 years, blessed with the iconic voices of Ronnie Drew and Luke Kelly and gifted with the musicality of Barney McKenna, Ciaran Burke and John Sheahan.
But to me John is just my Dad and the others were the fun uncles who were always good craic at a party.
Sometimes when you are too close to an event it's hard to fully comprehend its importance, however as I stood in Christ Church Cathedral days before the concert every inch of my body was shouting. 'WE NEED TO FILM THIS!'
The splendour of the location, the line up of the guests and significance of the milestone.
I would say my Dad's public persona is an accurate reflection of his true self - very laid back, humble and so focused on the music that the suggestion of filming this concert a few days out seemed unnecessary to him and so my path to persuasion began. I said 'Dad, sure let's just see if we can pull it off with so little lead in time and if I can get the right people on board let's go for it!' and so he somewhat reluctantly agreed.
I was immediately on the phone securing the right film crew and this is what I love about our industry, within a few hours with the right people on board you can overcome every obstacle and so we had the green light.
As I had predicted, the show was unique. There were goose bump moments as they opened with 'The Auld Triangle' from the alter, with The Dublin Gospel Choir. The irony of that moment alone was worthy of filming.
Serendipity also played its part as it turned out to be the last ever recording of "Banjo" Barney McKenna, who unexpectedly died just two months later. We now had captured this musical genius in his home town just months before he passed away.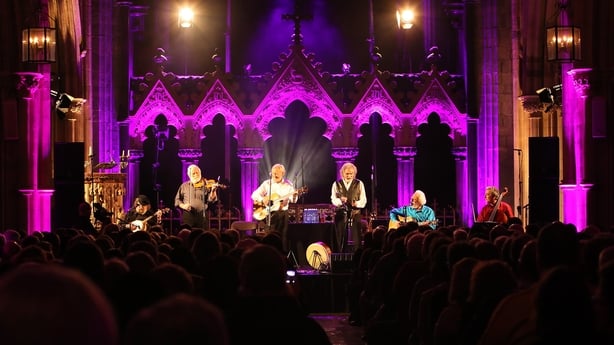 The Dubliners' story has many twists and it turned out this final chapter was to be no different. When Dad and I sat down to edit the show a few years later the audio recordings were missing. It was like another death. The rollercoaster search began but after a few months of searching audio drives, warehouses and sound studios we had no luck. Eventually we began to accept The Dubliners fans would never see this historical concert.
Late last year I received a random call from a sound engineer who I didn't know directly. He rang to say he had accidently come across some sound files on a hard drive and they seemed to be of The Dubliners. I couldn't believe it. It was the sound from that unique night. It was like a miracle, a message from Barney demanding his last encore.
So this Christmas night after what has been the most unusual year it is such a pleasure to finally release this concert out into the world to celebrate the life, music and legacy of one of Ireland's most iconic bands.
The Dubliners sound is augmented by The Dublin Gospel Choir on "Molly Malone" and for a very special rendition of Barney singing "I wish I had someone to love me". You will sing along to Dubliner's classics including "Dirty Old Town", "Whiskey in the Jar" and "The Irish Rover" and enjoy the rich vocals of Declan O'Rourke singing Luke's "School Days Over" as well as his own masterpiece, "Galileo". Close your eyes and listen to Dad playing the timeless "Marino Waltz" and re-open them to the wonders of Christ Church Cathedral as he performs previously unheard arrangements of "The Marino Casino" and "Christ Church Cathedral" with special guests Máire Breathnach, Neil Martin and Seán Keane of the Chieftains.
This show, saved from the snares of time was almost lost forever, it now promises to live long in the memory.
The Dubliners - The Parting Glass | Lá Nollag 21:55 | TG4 |