Scannal looks back at the various twists and turns in the case of Philip Cairns whose disappearance has still been unsolved to this very day.
1986 marked many important events that that affected the lives of Irish people. It was the year Jack Charlton came, musician Phil Lynott died, Knock Airport was officially opened and Hurricane Charley battered the nation In October of that year one event more than any other struck a frightening and yet poignant chord with the Irish nation, a young 13-year-old schoolboy, Philip Cairns disappeared without trace, while walking back to his school in Rathfarnham after having his lunch at home.
The high-profile case of the disappearance of Philip Cairns has for the past thirty four years never been far from the media headlines. Despite an intense garda investigation, extensive searches, numerous media appeals and rewards being offered, hopes of a breakthrough being raised and then cruelly dashed, nobody has ever been arrested. The question of what happened to Philip Cairns on that ordinary October, day still remains shrouded in mystery.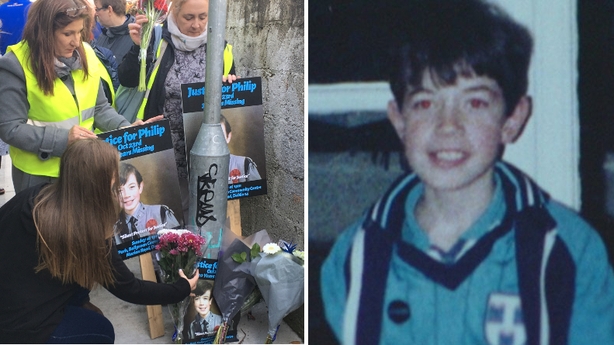 Behind the headlines there is a family who have had to endure the trauma of not knowing what happened to their son and sibling, whom they described as "a kind and thoughtful child who got on with everyone". They have also had to endure malicious and hurtful speculation and rumour, talk of paedophile rings and religious sects and cults. In recent years social media campaigns have increased that distress claiming that some people online have given a "callous portrayal" of Philip and one that bears no resemblance to the boy they knew.
"I would feel that he is dead, and I mean your life moves forwards in some aspects… but then there is just this part of our life that has stood still."
Philip's sister, Mary Cairns says: "I would feel that he is dead, and I mean your life moves forwards in some aspects… but then there is just this part of our life that has stood still."
"My dad especially was a particularly private person, and I think for him it was very very difficult to have to give interviews."
"We knew about Eamonn Cooke a long time before it came out…but ultimately the timeline didn't match."
"We would really like to be able to bring Phillip home, give him a burial, …somewhere for my mother to go where she knows where he is."
Scannal looks back at the various twists and turns in the case of Philip Cairns has taken over the last 34 years, the extensive Garda investigation, the media coverage, and the rumours and speculation that surrounded the case. We talk to Philip's eldest sister Mary who reflects on the pain and anguish her family has suffered over Philip's disappearance. A quiet suburban family catapulted into media that they were unprepared for, the distress that social media has caused them and the never-ending question that remains unanswered, what happened to Philip? But most of all an emotional heartfelt appeal that Philip's body can be brought home and that they can grieve for him as a family.
Key interviews include:
Mary Cairns – Philip Cairns' eldest sister
Brenda Power – Columnist Sunday Times and Daily Mail Journalist
Caoimhe Ní Laighin – Iriseoir Nuacht RTÉ / TG4
Dermot Browne – Spokesperson National Missing Persons helpline (missingpersons.ie)
Evelyn O' Rourke – Broadcaster RTÉ
I rith 1986 deárnadh ceiliúradh ar go leor imeachtaí tábhachtacha a chuaigh i bhfeidhm ar phobal na hÉireann. B'shin í an bhliain a tháinig Jack Charlton chugainn, d'éag an ceoltóir Phil Lynott, osclaíodh Aerfort Chnoc Mhuire go hoifigiúil agus shroich radaíocht ó Chernobyl sinn. I mí Dheireadh Fómhair na bliana sin, áfach, bhris scéal a chuir scanradh ar mhuintir na tíre, scéal a mhaireann i gcuimhne na ndaoine fiú go dtí an lá atá inniu ann, sin scéal Philip Cairns. Chuaigh Philip Cairns, leaid óg trí bliana déag d'aois, ar iarraidh gan tásc gan tuairisc agus é ag siúl ar ais chuig na scoile i Ráth Fearnáin tar éis a lón a ithe.
Ní raibh cás imeacht ar iarraidh Philip Cairns riamh i bhfad ó na ceannlínte le tríocha bliain anuas. In ainneoin dian-fhiosrucháin na gardai, cuardach fairsing agus aird na meáin, níor gabhadh aon duine riamh. Tá an cheist faoi cad a tharla do Philip Cairns ar an lá cinniúnach sin i mí Dheireadh Fómhair 1986 fós ina mistéir.
Caitheann Scannal súil siar ar na cora agus castaí éagsúla i scéal Philip Cairns le 34 bliain anuas, chomh maith le fiosrucháin fairsing an Gharda Síochána, clúdach na meáin, agus na ráflaí agus an tuairimíocht a bhain leis an gcás. Labhraímid freisin leis an deirfiúr is sine sa chlann, Mary Cairns, a dhéanann machnamh siar ar an bpian agus ar an anró a d'fhulaing a teaghlach mar gheall ar imeacht Philip. Caitheadh gnáth-theaghlach faoi spotsholas na meáin gan mórán ullmhúcháin. Don teaghlach, tá ceist amháin nár freagraíodh go fóíll, cad a tharla do Philip?
Scannal - The Boy Who Never Came Home airs Tuesday 15th September at 7PM on RTÉ One.