Evanne Ní Chuilinn tells the story of her adoption and investigates the progress being made, if any, by speaking to others who have been adopted on the struggle to find information on their identities.
Ag caint le hEvanne faoin gclár, faoina scéal féin agus faoi scéalta na ndaoine eile a labhair léi sa chlár, ba léir go raibh sí imní uirthi ach go raibh sí ag tnúth leis an gcraoladh freisin. Bhí 'an-chuid' oibre i gceist leis an gclár a chur le chéile ach síleann sí gurb é seo an t-am ceart lena dhéanamh toisc go raibh reachtaíocht a bhaineann le huchtú ag dul tríd an Seanad 'go mall'. Deir sí go bhfuil an bille atá ann faoi láthair 'lochtach' i gcoinne daoine uchtaithe agus nach mbeidh cead ag daoine uchtaithe ar a gcuid eolais.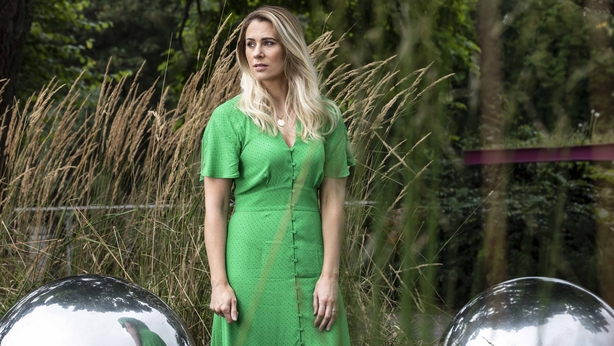 Evanne acknowledges this is a very emotive topic for those who were brave enough to tell their stories in 'Uchtú' and says the emotions ranged from anger, to sadness to happiness when the stories were told. She sees the show as cathartic for those involved. Evanne says women have been mistreated for a long time in this country and adoption is part of this story.
Cé gur duine uchtaithe í Evanne féin, deir sí nach é a scéal féin amháin atá á insint aici ar chor ar bith, ach go bhfuil sise ann mar iriseoir ach go gceapann sí gur chabhraigh a scéal le daoine eile mar go raibh 'tuiscint' aici ar an gcóras, mar atá.
Uchtaíodh í Evanne go luath sna hochtóidí ó cheann dena hárais míchlúiteacha máithreacha is leanaí. @EvanneNiC embarks on a very personal mission to find out where she was for the first four months of her life before she arrived at her parents' home in the arms of a social worker pic.twitter.com/JbDjWiactN

— TG4 (@TG4TV) November 6, 2019
Evanne says she doesn't like to use the term 'given up for adoption' because it doesn't include those who weren't 'given up', by choice but who were taken, something which happened regularly in Ireland, she says.
Tharla uchtuithe mar seo in Éirinn faoi rún agus deir sí go bhfuil na húdaráis fós ag iarraidh eolas a cheilt ar na daoine seo agus dá réir go bhfuiltear ag séanadh a gcearta daonna.
Deir Ní Chuilinn nach sroicheann an clár seo an sprioc ach go mbeidh daoine sásta a bheith ag obair agus ag stocaireacht ar son na ndaoine seo mar thoradh air.