Director and Producer, Cathal Ó Cuaig writes for Culture about Slán leis an gCeol, an intimate and revealing film documenting the life of Tony MacMahon, one of Ireland's most remarkable traditional musicians and broadcasters.
I've known of Tony MacMahon since a young age, listening to him on the radio and watching him on both television and radio. He always impressed me as an articulate, strong-willed man, who was not afraid to stand up for what he believed in. Especially when it came to his views on traditional Irish music and how we need to treat it with respect.
Tony gave a national platform to traditional musicians, singers, and dancers from all over Ireland, something that inspired generations of young musicians to preserve in the traditional arts. This was very evident where I grew up in Connemara, as to see your local musical greats on national TV, engendered a feeling of pride in the whole community. Of course, Tony's own playing is something that has captivated audiences all over the world. I have been a fan of his music for as long as I can remember, as it was something played regularly in our home during my childhood.
It was therefore with great regret that I discovered Tony had been diagnosed with Parkinson's. Then three years ago I heard Tony being interviewed by Máirtín Tom Sheáinín on RTÉ Raidió na Gaeltachta. He startled me with his news. It was a misdiagnosis, and more importantly, he was hoping to get his music back. That was the start of this project. I asked Tony if he would allow me to document this stage in his life, essentially a master musician trying to get his music back. However, as time passed, the story of the documentary became not just about his battle with Parkinson's but also his decades-long battle with depression.
We need your consent to load this rte-player contentWe use rte-player to manage extra content that can set cookies on your device and collect data about your activity. Please review their details and accept them to load the content.Manage Preferences

The more Tony shared with me, the more I realised how fascinating a story it was. A story of a life lived on the edge, the edge or social norms, the edge of reality at times. A life addicted to the drug of music and destroyed by it. Although I greatly respect and admire the work Tony has done in his life, I didn't want the film to be a hagiography. Instead, I wanted it to be an unapologetic exploration of the tortured mind of an artist from the inside.
Audiences will gain, I hope, a valuable inside into the paradoxical relationship between the creative mind and the destructive soul. Tony dedicated a large part of his life to his work as a musician, a producer and advocate for traditional Irish music. In this, he was successful and many up and coming new Irish musicians have told me how inspirational Tony was for them. However, the downside to being on the road, of trying to care for a piece of music he loves, of being admired publicly, is that he neglected his duties as a father and a husband. He was away when he should have been at home. And when he was at home, without the 'high' of music, his depression would overcome him. As a filmmaker and a father, this struck a chord with me personally. It is true that working in the creative arts can be exciting, challenging and rewarding to one's ego. So for me, Tony's story is something of a moral lesson. A warning not to get carried away with one's work.
Watch Slán leis an gCeol on the RTÉ Player here
Tá aithne agam ar Tony MacMahon ó bhí mé an-óg, ag éisteacht leis ar an raidió agus é ag breathnú air ar an teilifís agus ar an stáitse. Bhfacthas dom i gcónaí gur fear sainráite, láidir a bhí ann nach raibh eagla air seasamh suas do na rudaí inár chreid sé.
Thug sé ardán náisiúnta do cheoltóirí traidisiúnta, amhránaithe agus damhsóirí ó gach áit in Éirinn, rud spreag glúinte ceoltóirí óga sna healaíona traidisiúnta. Bhí sé seo an-soiléir domsa agus mé ag fás aníos i gConamara. Chonaic muid ealaíontóirí traidisiúnta sin againn féin agus iad ar an teilifís náisiúnta. B'iontach an chúis bróid é sin ag an am.
Is deacair duine eile a shamhlú a bhfuil an méid céanna déanta acu mar chraoltóir agus mar cheoltóir don cheol thraidisiúnta agus atá ag Tony. Tá a shaol caite go diongbháilte aige ar mhaithe le caomhnú an cheol thraidisiúnta, féith ionannais, dar leis atá i lár ar nÉireannachais. Tharraing a mheon achrann agus é ina chraoltóir.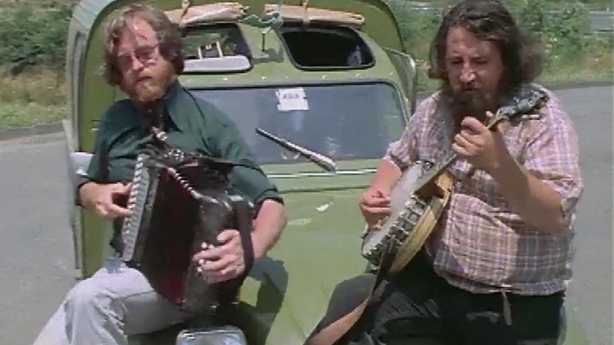 Cé gur iomaí duine nach n-aontódh le na thuairimí garg-ghlóracha, callánacha, is beag duine gur féidir leo locht a fháil ar a chuid ceoil. Ceol mealltach, trasfhoirmithe, a tharraingíonn croí an tslua a thagann ó Tony. Tá an brón agus an sonas atá ina cheol mar mhacalla ar na gnéithe sin ina shaol féin.
Ba uafásach an buille a bhí ann mar sin nuair a chuala mé roinnt blianta ó shin go raibh an galar Parkinson's ar Tony. Shíl mé féin agus leor eile, go raibh deireadh lena chuid ceoil. Ansin trí bliana ó shin, chuala mé Tony lá, á chur faoi agallamh ag Máirtín Tom Sheáinín ar RTÉ Raidió na Gaeltachta. Bhí mí-dhiagnóis déanta air, agus níos tábhachtaí fós, bhí súil aige a chuid ceoil a fháil ar ais. Ba é sin tús an tionscadail seo. D'iarr mé ar Tony an ligfeadh sé dom an próiseas seo a dhoiciméadú, go bunúsach scéal máistir ceoltóir ag iarraidh a ábaltacht ceoil a fháil ar ais, agus d'aontaigh sé tabhairt faoi.
Ansin agus mé ag forbairt an togra, tháinig scéal eile go barr uisce. Scéal faoi choimhlint fada, go minic rúnda, i gcoinne an tinneas dépholach. Coimhlint ina ndearna Tony iarracht a chuid ealaíne féin a úsáid chun an dorchadas a cheannsú. Chaith sé a shaol le ceol, agus rinne sé dearmad ar a bheith ina athair, ina fhear céile. Anois agus a cheol á chailleadh aige, tá sé in ísle brí.
Mar sin is éard atá sa scannán seo ná portráid liriciúil ar ealaíontóir ardéirimiúil, ildánach, fealsúnach le croí cráite ag deireadh a shaoil. Nochtaítear na trioblóidí doimhne agus na coimpléascachtaí atá á mheá síos agus é ag teannadh le ceithre scór bliain d'aois. Cuirtear faoi chaibidil téamaí conspóideacha atá lárnach i scéal Tony; meabhairghalar, féinmharú cuidithe agus néar-aimheathlúchán an choirp. Pléitear na hábhair seo ar mhodh díocasach pearsanta, tríd cuimhní cinn ceoltóir virtuoso a bhfuil a shaol múnlaithe acu. Tá súil agam go bhfaigheadh lucht féachana léargas luachmhar ar an gcaidreamh paradacsúil idir an intinn chruthaitheach agus anam millteach.
Féach ar Slán leis an gCeol ar an RTÉ Player anseo.