On this day in 1873, Peig Sayers was christened. Before Peig became a textbook, a character upon which those who failed to learn Irish could pin their disappointment, she was a renowned storyteller. Let's have another look at this woman and her legacy.
Peig was one of 13 children born to Tomás and Peig Sayers. Of the 13 children born, Peig was only one of 4 who survived. She was born on the mainland and was married into the island by an arranged marriage. She was 18 and her husband was 12 years her senior.
Of the 10 children Peig gave birth to, only 5 survived. Three died in infancy, her daughter Siobhán died of the measles at the age of eight, and her son Tomás was killed in 1920 when he fell off a cliff while gathering heather. Her husband died soon after.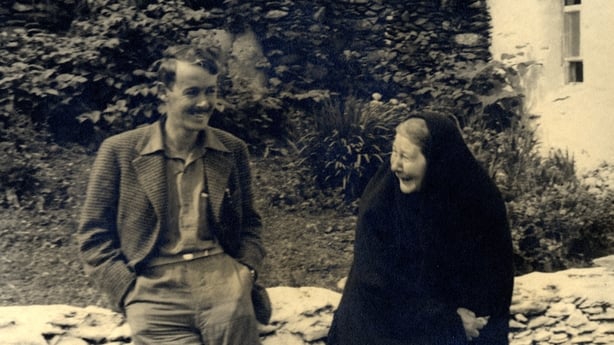 Because Peig was educated in English, she wasn't literate in her native Irish, her son, Maidhc is thought to have transcribed her book. Whilst the book itself, Peig, A Scéal Féin isn't exactly the most uplifting of texts, it's a realistic depiction of a woman who lived a hard life and wasn't afraid to say how tough it was.
The photos featured here from Dúchas.ie show Peig laughing with Kenneth Jackson, one of the many scholars who came to listen to her stories.
It is now widely acknowledged that the Irish literary canon has neglected womens' voices. The absence of rural, poor womens' voices, however is even more blatant.
Maybe you didn't like reading the book for your Leaving Cert but isn't it about time we let her off the hook for something she had no control over and respected her importance and literary legacy?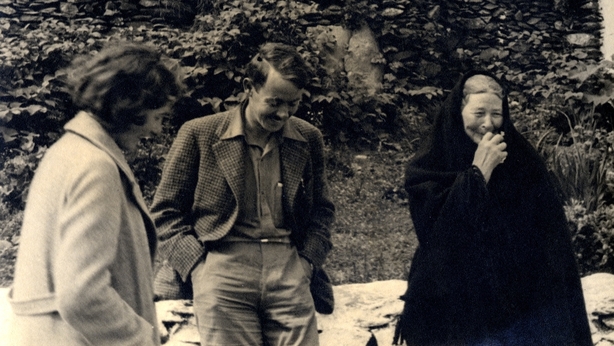 You can find out more about Peig in the RTÉ Archives.