Snapchat, often spoken about like a product from another planet, is nothing new. It's a platform with storytelling at its core, widely adopted by young people as their primary method of communication. Since its inception it has been 'othered' by older generations who deem it 'silly' but do so at their peril as traditional media loses ground to its new competition, day after day.
A panel at MoJocon entitled 'Snapchat Storytelling- Reaching the Millennials' discussed the merits, risks and future of the social media platform du jour. Guest speakers from Germany, Norway, Turkey and Ireland noted the same challenges in attracting the millenial audience to news noted Snapchat's innate intimacy as a hugely beneficial in authentically engaging with their audiences.
Ag brath ar an té a labhrann tú leo, is cuma sa tsioc leo faoi Snapchat nó caitheann siad a saol air. Tá claonadh ag daoine níos sine gan aird ar bith a thabhairt ar nósanna dhaoine óga i go leor réimsí den saol, ní hamháin an saol ar líne ach tá an domhan athraithe ag na daoine céanna seo agus mura n-athraíonn an domhan leo, méadófar an bhearna idir an dá ghrúpa.
Tá fréamhacha an aip is mó tóir ag daoine óga in Éirinn sa scéalaíocht, ní haon ionadh mar sin go bhfuil an líon is mó daoine ag baint úsáide as an aip anseo ná in aon tír eile san Eoraip. Deir na figiúirí is déanaí go bhfuil cuntas Snapchat ag 83% de dhaoine idir 16-19 bliain d'aois in Éirinn. Tá cáil go fóill ar an tír seo ar thraidisiún láidir na scéalaíochta agus is léir go bhfuil an traidisiún céanna á iompar ag an gcéad ghlúin eile sa ré dhigiteach seo.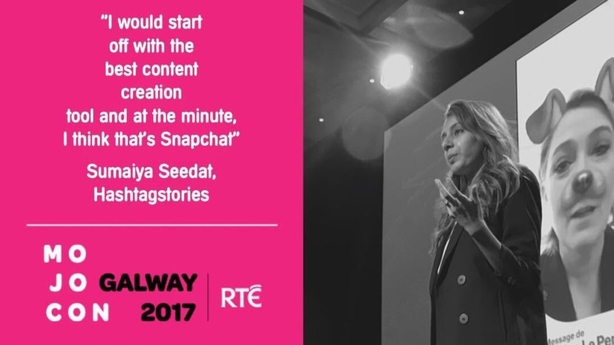 Nusaiba Mubarak, Engagement Producer at TRT World used the platform to reveal the personal side of the Syrian refugee crisis in Turkey, showing the vulnerable faces of orphan babies and children to those who may not have paid attention to the story in traditional media discourse. She believes 'people need journalists more than ever before, because people need the truth'.
Dár ndóigh, tá díospóireacht eile ann maidir leis an bhfírinne siúd; cé leis í agus cén chaoi a ndearbhaítear í ach go dtí go ndéanfar sin, tá spás scéalaíochta ann dóibh siúd a thapaíonn an deis ar Snapchat i láthair na huaire. In Éirinn, úsáidtear an aip mar bhealach cumarsáide don chuid is mó ach léirigh an painéal cainteoirí ag MoJocon go bhfuil bealach aimsithe acu siúd dul i bhfeidhm ar na daoine nach bhféachfadh ar nuacht ar an teilifís ach a chaithfidh uaireanta a chloig ar fhóin phóca.
Multimedia journalist, Kristin Granbo of Norway's NRK spoke about how their reporters intentionally reveal much more of their personality on Snapchat than on linear media whilst remaining cognisant of their responsibility as professional journalists. They seek to form a rapport with their target audience of 8-12 year olds, many of whom watch their stories, many of whom do so from bed. NRK ask for feedback, opinions and questions from those who consume their content adding, 'in all news, we strive to add voices from our target audiences'.
The ears and eyes consuming news at the moment are the same eyes and ears who will decide the fate of journalism in the coming years, dismissing Snapchat and its users would be a remiss, no matter how much you hate the puppy dog filters. Bímís leo!