Matt Damon unleashed an unhinged, belligerent impersonation of Brett Kavanaugh on the season premiere of Saturday Night Live.
The show returned for its 44th season at the weekend, opening with a sketch satirizing the embattled Republican Supreme Court nominee's senate committee hearing into allegations of sexual assault from professor Christine Blasey Ford.
Damon brought a raw energy to the performance, strolling on set sniffing furiously and just screaming "What?!" as he sat down in his chair.
When asked if he was ready to begin, he shoots back "Oh hell yeah", before launching on a furious tirade.
We need your consent to load this YouTube contentWe use YouTube to manage extra content that can set cookies on your device and collect data about your activity. Please review their details and accept them to load the content.Manage Preferences
"Let me tell you this," he said. "I'm going to start at an 11. I'm going to take it to about a 15 real quick. First of all I showed this speech to almost no one - not my family, not my friends… This is my speech. There are others like it, but this is mine. I wrote it myself last night while screaming into an empty bag of Doritos."
Damon's Kavanaugh called the allegations against him a "political con job, orchestrated by the Clintons and George Soros and Kathy Griffin and Mr. Ronan Sinatra," referring to the theory that Frank Sinatra is Ronan Farrow's actual father.
He continued: "Now I am usually an optimist. I'm a 'keg is half full' kind of guy. But what I've seen from the monsters on this committee makes me wanna puke and not from beer. Dr. Ford has no evidence. None. Meanwhile I've got these. I've got these calendars. These beautiful, creepy calendars. About lifting weights with P.J. and Squee and Donkey Dong Doug."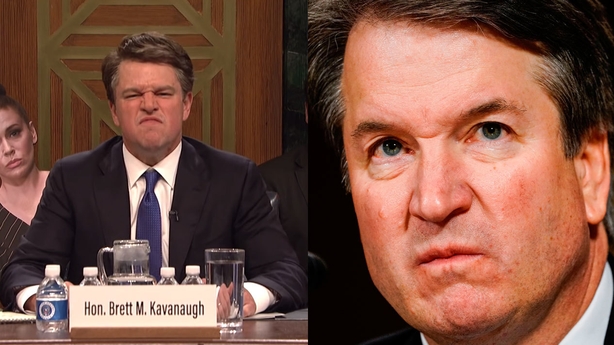 Later in the sketch, Rachel Dratch's Senator Amy Klobuchar asked him about being a "frequent drinker" in school and whether or not he "ever drank too many beers."
"You mean was I cool? Yeah," he responded.
Meanwhile, Kate McKinnon donned prosthetics for her impersonation of Senator Lindsey Graham.
"I know I'm supposed to shut up, because I'm a single white male," she said. "But I will not shut up because this is a bunch of C-R-A-P crap! This ain't no trial. This ain't no due process. You know what this is Judge Kavanaugh? Do you know what this is? This is hell."
The sketch was widely praised on Twitter, with commentators saying Damon "crushed it".
Matt Damon is killing it as Kavanaugh. #snl

— Jonathan Capehart (@CapehartJ) September 30, 2018
"I'm gonna start at an 11... I'm gonna take it to about a 15 real quick." Matt Damon made a perfect Brett Kavanaugh on SNL pic.twitter.com/NWsKpgikqI

— Adam Best (@adamcbest) September 30, 2018
Matt Damon just crushed it on SNL. That was hilarious.

— Chris Evans (@ChrisEvans) September 30, 2018
This is single handedly the greatest Saturday Night Live open of the last 5 years. Matt Damon, I love you. SNL, I've missed you. #SNLPremiere pic.twitter.com/99hTOtJdc3

— Meg Jones (@ItsMegNotMegan) September 30, 2018
Saturday Night Live picked the right week to come back.

We all needed a laugh and Matt Damon as Brett Kavanaugh delivered.#SaturdayNightLive #SNL #SNLPremiere #SaturdayNight pic.twitter.com/WYEdSsXM9G

— Red T Raccoon (@RedTRaccoon) September 30, 2018
"Do you really think you have the right demeanor to be a Supreme Court Justice?"

Matt Damon "I lifted weights every day . . . am I angry? You're damn right! But if you think I'm angry now you just wait until I get on that Supreme Court and then you're all going to pay!" #SNL pic.twitter.com/AsVW6IcQWE

— Natasha Rinehart (@TashRinehart) September 30, 2018
Saturday Night Live is no stranger to featuring A-list stars as political figures. Alec Baldwin is famed for his Donald Trump impersonation, Melissa McCarthy has made livewire appearances as former White House press secretary Sean Spicer, and Tina Fey portrayed Republican Vice-Presidential candidate Sarah Palin in 2008.