With The Constant Wife currently running at the Gate Theatre, director Alan Stanford talks dalliances, departures and discoveries with Harry Guerin
Alan Stanford is having none of it when he's told that our previous encounter a few weeks earlier involved seeing him from the top deck of the 40 bus as he bounded up Parnell Square, ironically enough, towards the Gate Theatre. "Bounding is not what I do," he says with a bluntness that comes as a surprise when you've grown up watching him as lovable toff windbag George in Glenroe.
But when it's put to the stage and screen veteran that he was moving at a faster pace towards the Gate than he's willing to give himself credit for, the guard comes down - and stays down. "I was probably late," he laughs.
At 68 and 50 years in the business, Stanford is still doing plenty of running around. He's in the process of finalising the new season of his PICT Theatre Company in his adopted home of Pittsburgh and he's back on his old Dublin stomping ground directing W Somerset Maugham's 1926 play The Constant Wife for the second time at the Gate. It's the story of how doctor's wife Constance Middleton turns her husband's infidelities to her advantage, or as Stanford more eloquently puts it, "a brilliant comedy depicting the infinite ingenuity by which women control their world".
"It's the most beautifully composed script," he continues. "It's like a piece of music and yet it never sounds that way. Maugham was a genius novelist and a genius user of language. He also understood theatre very brilliantly, in that he manages to set up all the information you need to know without letting you know that he's just filling your mind with facts. It's all done with beautiful dialogue; it's all done with wonderful characters."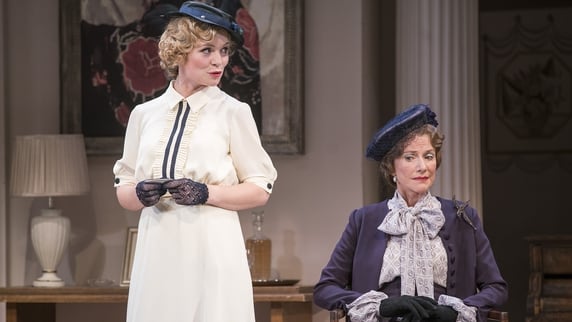 Tara Egan-Langley and Belinda Lang in The Constant Wife
Stanford first hooked up with The Constant Wife back in The Gate's 2006 season when, he recalls, it ran for 15 weeks with "barely an empty seat". Gate boss Michael Colgan had suggested he direct it a few years previously but it took Sanford awhile to say 'yes' - for the most practical of reasons.
"The majority of the characters are women and you've got several sequences in the play when you've got women talking to women," he explains. "That's always a tricky task for a male director because you've got to think like a woman, and I've never been able to do that in the course of my 50-year career. My life is a testimony to how bad I understand the way women talk! So that was the task and that's why I took time to think about it. I was delighted for the chance to take another look at it."
Stanford reckons he's worked on around 100 plays at the Gate, and his involvement with the theatre predates Colgan's 33-year stewardship. With Colgan bowing out at the Gate early next year, the two men had been looking back through the programmes at all the things they've done, and conversation turned to The Constant Wife.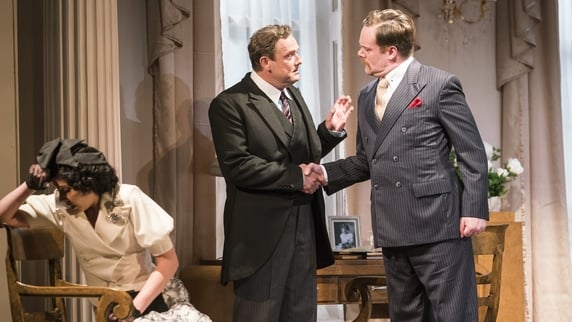 Caoimhe O'Malley, Simon O'Gorman and Peter Gaynor in The Constant Wife
"We've revived so many of my productions at this point that I was dozing off in rehearsals! We decided 'let's do this one' because we had such a hit with it. It was such a joy to do last time and with an entirely new cast such a joy to do this time. And I love the play even more."
Given the success of Downton Abbey and Mr Selfridge, and the swelling in the ranks of period drama devotees since The Constant Wife was last staged at the Gate, reviving it in 2016 makes the best of business sense. That said, Stanford believes the play is wearing its age well.
"People think these plays are old-fashioned but they're absolutely spot-up-to-date modern. I always have this one simple principle: nothing changes except fashion and technology. People are people are people. People go through the same problems and the same manipulations, restrictions, anxieties, joys and loves. People don't change."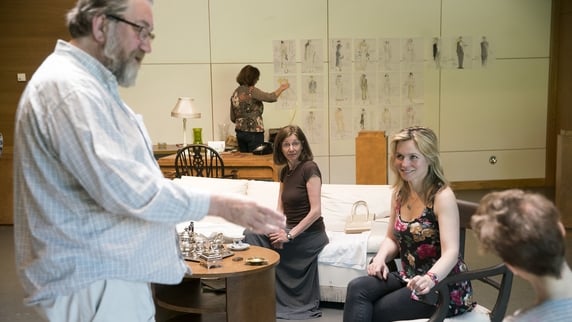 Rehearsals for The Constant Wife
A change of personnel is, however on the cards at the Gate, and Stanford is equally in awe of the duration of Colgan's tenure as he is the task that awaits his successor.
"I don't think anyone in the city, other than his board of directors, knows the weight he carried for 33 years," he says. "To be the person responsible for the maintaining of the building, the ethos, the company and the productions for 33 years without a break is mind-boggling. I've no idea how he did it. To do that continually and to be the custodian of one of the most beautiful theatres I've ever been in in my life... Ask any actor who's worked there, and whether they are local actors or imported, they will tell you there's nowhere quite like the Gate."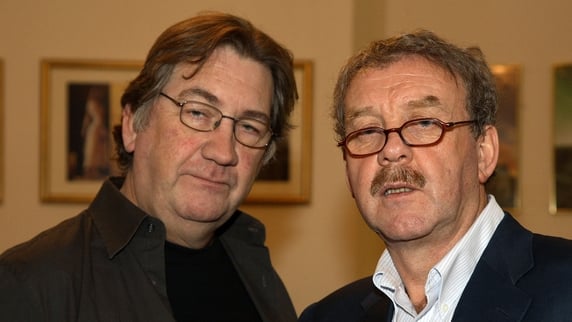 Alan Stanford and Michael Colgan
So does he think it's dawned on Colgan himself that he's retiring?
"I don't know," he sighs. "I've worked with him for 40 years and I've never worked out the inner workings of his mind, though I will say the shock will be considerable and the relief overwhelming!"
Stanford had his own life-changing shock in his sixties when he found out that rather than being an only child, he had been adopted and had six half-siblings living in the UK - a story told movingly on TV3's Adoption Stories. In an uncanny case of life imitating art, his half-brother's name is - you've guessed it - George.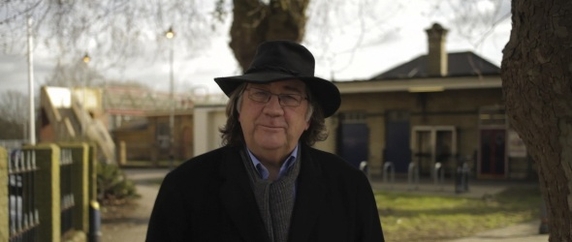 On the family trail in TV3's Adoption Stories
"I discovered them at the age of 62, so all of them were over the age of 40 - it's not like discovering a whole batch of kids that you have to put up with! But it was fascinating to discover the similarities between us. The strangest one was my brother George, who I absolutely adore. He looks like the kind of person you don't want to meet down a dark alleyway and [yet] he's the most gentle, loving husband and father you could ever wish to meet. I remember sitting talking to him with much wine taken and him saying, 'We don't have anything in common; you're an actor and you've been all over the world'. And I said, 'No, no - there are so many similarities between us. One is pride and one is determination that people don't see who you really are because you don't want to show weakness. All sorts of little tiny things'. As I started talking to him he's just nodding and nodding and he suddenly realised, 'This guy is your brother'."
Listening to the enthusiasm in Stanford's voice, it's obvious that this discovery, as much as the move to the US, has given him a new lease of life - so much for that classic quote about there being no second acts. "There are third acts and fourth acts!" he enthuses. "Life is not a single line."
So is that another principle? There's more...
"The headmaster of my school was a great guy," he says. "As everybody was leaving he'd have a little talk with each person. I walked in and he said, 'I haven't a clue what to say to you. You want to be in the theatre; you want to be an actor. I've never known anybody who would actually want to do that. But I will say this: life is not an uphill struggle but a series of plateaus. You can be on a plateau and be perfectly happy and then one day wandering around that you're going to find a wall. You can choose to climb that wall, or not. If you climb it, you'll find another plateau at a higher level and you can be perfectly happy there until one day you bump into another wall...'
"It was the truest piece of advice ever given to me and I've always remembered it: when you see the wall, climb it."
The Constant Wife is currently running at the Gate Theatre