EastEnders' Denise Fox may have given up her baby for adoption but as these new images from the BBC show, she may be having second thoughts.
After giving birth to Phil Mitchell's (Steve McFadden) baby a couple of weeks ago, Denise Fox (Diane Parish) gave her baby up for adoption.
Her son was conceived following a drunken one night-stand, and at the age of 50, she felt he would be better-off without her.
However, these dramatic new pictures from the BBC, see the Walford resident hovering over the adoption papers, suggesting she may be having second thoughts.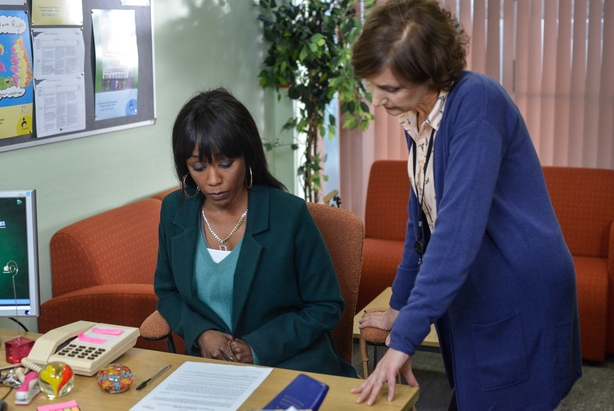 Last month, viewers were shocked when Denise's sister Kim called her a 'cold-hearted b***h' after learning she was giving up the newborn.

However, a devastated Denise was determined, explaining her reasons to her son when she held him for the first time.
She said: "This couple will be looking after you because I can't. I've had two little girls and bringing them up took everything I had.
"I can't do that to you – raise you on a wing and a prayer. You deserve so much more. I want you to have a good life because you deserve the world."
Denise!! 😱 😱 #EastEnders pic.twitter.com/3nEP31Uggf

— BBC EastEnders (@bbceastenders) February 21, 2017
Earlier this month, Diane Parrish, who plays Denise, told BBC1's Saturday Kitchen how thrilled she was when she first learned about the baby storyline.
"When they said, 'You're going to sleep with Phil Mitchell,' that was the first scream," she recalled.
"And then, 'You're going to get pregnant,' I ran around the executive producer's office, I ran around screaming and laid down on the floor."
"I thought, 'Who's going to see that coming?'"

The episode will be broadcast on BBC One and RTÉ 2 at 7.30pm on March 2.