Patrick Stewart found himself a little bit red in the face after he revealed more than was necessary while recording this week's episode of The Graham Norton Show.
The former Star Trek actor told Norton how he mistakenly thought he was circumcised for much of his life, until a doctor told him otherwise.
He revealed that he had long believed he had undergone the procedure as a youngster, but only discovered the truth after a chance discussion with his wife.
"One night with my wife, as you do, we were talking about stuff and I mentioned my circumcision and she said: 'You're not circumcised.'
I said, 'What do you mean? That's ridiculous, I should know. All my life my mother has told me it was fashionable at the time."'
He added: "I happened to be seeing my doctor the next day for a check-up so while he was down there I said, 'By the way, my wife and I have had a little disagreement, I am circumcised, aren't I?'
He took a closer look and said: 'Not! I am Jewish, and definitely know the difference!"'
Though as soon as he made his candid admission on national television the actor regretted opening his mouth telling Norton "Oh no, my grandchildren will be watching this!"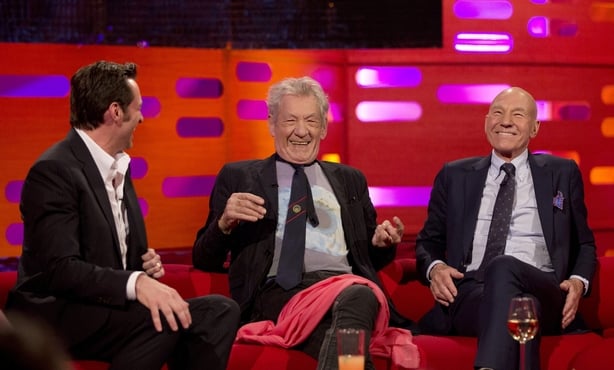 The actor was joined on the programme by his X-Men co-stars Hugh Jackman and Ian McKellen and confirmed that his last appearance in the franchise is the latest film Logan which goes on release here next week.
We need your consent to load this Facebook contentWe use Facebook to manage extra content that can set cookies on your device and collect data about your activity. Please review their details and accept them to load the content.Manage Preferences
Stewart, who plays Professor X in the film series, said: "Last week we were at a screening in Berlin sitting next to each other and when it got to the very emotional ending and I noticed Hugh wipe away a tear, then I did the same and during the credits he held my hand and I was done, I was weeping and sobbing.
"While the credits were rolling I realised that if it was the end, there was no more perfect and beautiful way to say, 'au revoir, goodbye, adios." So I think it is the end for me, too. Why would I want to have another go of it after what we have done in this movie?"
We need your consent to load this YouTube contentWe use YouTube to manage extra content that can set cookies on your device and collect data about your activity. Please review their details and accept them to load the content.Manage Preferences