John Byrne's essential telly for the coming week includes Brendan O'Connor's return to TV, 24 Hours in A&E and new US comedy Lady Dynamite
Saturday May 14
#Eurovision
Eurovision Song Contest Final, 8pm, RTÉ One
The Marty party gets into full swing after Tuesday and Wednesday's semi-finals, and despite the lack of a certain Nicky Byrne.
Marty Whelan is on commentary duty once more as the final of this year's Eurovision takes place at the Globe arena in Stockholm. With Ireland out, the closest thing is the Czech entry, which was co-written by Limerick man Aidan O'Connor.
The Big five of Spain, the UK, France, Italy and Germany as well as hosts Sweden face stiff competition from the 20 countries who battled it out to make it through the semi-finals.
Here's the Irish, I mean Czech, entry: Czech-faidh ár lá!!!
Monday May 16
#Reality
24 Hours in A&E, 9pm, Channel 4
The award-winning documentary series returns. Barrie, who's 78, is rushed to St George's Hospital in London with breathing difficulties. Tests reveal that he has fluid on his lungs and faces serious medical treatment.
Meanwhile David, who's not much younger than Barrie at 75, is also in A&E at St George's. He gets rushed to hospital after falling down a flight of stairs.
Tuesday May 17
#Reality
The Guards, 9.55pm, RTÉ One
As the title indicates, this new series is about the Gardaí and promises an unprecedented, behind-the-scenes look at frontline policing in Dublin's city centre.
In this first episode the Gardaí are tackling the drugs trade in the north inner city, as well as ancillary issues such as the burglaries, thefts and assaults that arise from drug addiction, and the unintended consequences for other parts of the capital.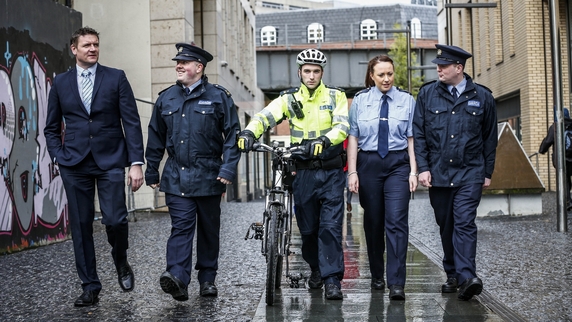 #Drama
Locked Up, 10pm, Channel 4
Walter Presents - which showcases drama series from around the non-English-speaking world - continues with this Spanish thriller.
Set up by her lover to take the blame for corporate fraud, a naive young woman finds herself locked up in a high-security women's prison surrounded by tough, ruthless criminals.
After the premiere of episode one, the full series will be immediately available for viewing on All 4.
Wednesday May 18
#Entertainment
Brendan O'Connor's Cutting Edge, 10.10pm RTÉ One
Brendan O'Connor returns to TV Land and in this new series he'll be joined by three regular panellists as they cut a path through the week's news from Ireland and around the world.
O'Connor says: "It's the most intense experience I have ever had on camera. This is a show with grown-up conversation, insight, laughter, intensity, conflict and reality."
#Reality
Lose Weight for Love, 8.00pm, BBC One
This new series follows couples who are separated by a clinical team in order to end a cycle of over-eating that threatens not only their health, but their relationship.
The opening episode features Becky and her partner Phil who are locked in a cycle of over-consumption. Knocking back three litres of fizzy drinks a day, Phil's weight has yo-yoed from 15 to 30 stone, while Becky caves in to any takeaway temptation.
If they do a sequel they could call it Love at First Diet.
Thursday May 19
#Comedy
Going Forward, 10.00pm, BBC Four
The Beeb are very upbeat about this new comedy from Jo Brand, but not brave enough to put it on BBC One or Two.
Brand stars as mother Kim, who has burnt her nurse uniform. Dad Dave (Omid Djalili) meanwhile can't understand the wage slip from his driving job, and son Max is missing school again to look after his daughter Poppy.
With Dave pondering a career move to Iraq, no money left in the money-jar and an unfinished house extension, it's left to Kim's sister, Jackie, to suggest a simple plan to sort things out.
Friday May 20
#Comedy
Lady Dynamite, Netflix
This looks very promising. A 12-episode half-hour comedy from Mitch Hurwitz (the genius behind Arrested Development) and Pam Brady (a writer on South Park), it stars comedian-actress Maria Bamford, who played DeBrie Bardeaux in Arrested Development.
A semi-autobiographical, semi-surreal mockumentary about Bamford's life as an actor on the rise, it covers her hospitalization for bipolar disorder as well as her present life in LA, where she's 'reached a middle ground' and even found love.
The impressive guest star list includes Sarah Silverman, Mira Sorvino, Jon Cryer and Patton Oswalt.
#Drama
Love Nina, 9.30pm BBC One
Nick Hornby's first foray into TV is this fictionalised dramedy adaptation of Nina Stibbe's best-selling book, Love, Nina.
20-years-old and from Leicester, Nina (Faye Marsay) moves to North London in 1982, to care for the two young boys of a working single mother, George (Helena Bonham Carter), the editor of a London literary review.
#Drama
Banshee, 10.00pm, Sky Atlantic
The entire brand new season of the sadistic thriller from Alan Ball, the creator of American Beauty and True Blood, becomes available from Friday through Sky Box Sets as well as being delivered in weekly doses on Sky Atlantic.
An ex-con (played by Antony Starr), who assumed the identity of Lucas Hood, the murdered sheriff in a small Pennsylvania town, is set to collide with a new set of formidable enemies in this fourth run.