This week, John Byrne's essential telly includes a drama about Padraig Pearse, the return of US comedy Veep and Cillian Murphy's Peaky Blinders.
Saturday April 30
#Drama
Trial of the Century, 9.15pm, TV3
This is a three-part drama series that explores what might have happened if Padraig Pearse, one of the Easter Rising's leading lights, had been given a full trial.
Tom Vaughan-Lawlor, who will forever be known for playing Nidge in Love/Hate, heads the cast as the Commander in Chief of the Rising, but the members of the jury make this drama even more interesting. Well, certainly in terms of its denouement.
They're made up of well-known figures as well as "ordinary" folk, made up to represent all shades of public opinion. Each juror will vote in a secret ballot to determine Pearse's fate.
Sunday May 1
#Factual
Ireland's Treasures, 6.30pm, RTÉ One
No, this isn't a documentary about Ireland's half a dozen celebrities. What you get here is Ella McSweeney and Dr Gavin Hughes challenging the myth and mystery behind Ireland's most iconic national treasures resting in the National Museum.
With full access, they get their hands on various artefacts, and show how even the most ancient still tell something about modern Ireland.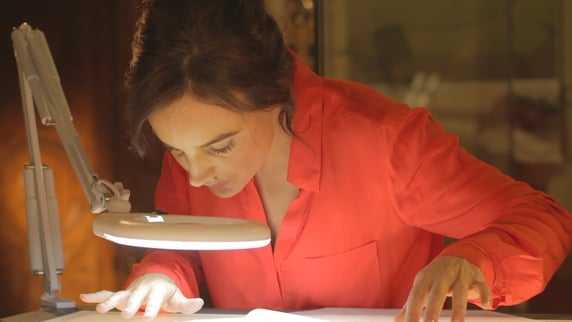 Monday May 2
#Reality
The Island with Bear Grylls, 9.00pm, Channel 4
I see this bug-munching geezer's playing a gig in Dublin's 3Arena. How weird is that?
Anyway, on with the finale of this show. Despite being marooned for a month, the men and women on the Island are barely managing to survive. In desperation, the women make one last push to look for food and Simon leads a hunt into the jungle.
Just in case you could be bothered, the post-series special Surviving the Island with Bear Grylls airs on Tuesday, also on Channel 4.
#Comedy
Veep, 10.00pm, Sky Atlantic
Now here's something that should put a smile on even the most miserable of faces as the wonderful Julia Louis-Dreyfuss returns as US politico Selina Meyer.
We're up to season five and, after a highly unexpected twist in Selina's presidential campaign, she and her staff have been left with their futures hanging in the balance.
While Veep lacks the vicious satire of Armando Ianucci's BBC series The Thick of It, this US version of that show is great fun, a comic confederacy of dunces.
#Drama
Empire, 10.00pm, E4
Huge in the USA, this hip-hop soap opera hasn't been screened so far on Irish TV and only gets a UK release on Channel 4's digital sidekick and so is likely seen by very few people. Pity, 'cos it's great fun, with Taraji P Henson outstanding as mouthy matriarch Cookie Lyon.
This week, the unshakeable Lucious Lyon releases his new music video as he seeks to manipulate and sabotage those around him to regain his position as CEO of Empire.
Meanwhile, Andre learns more about his grandmother's mental health issues in order to understand his own experiences with bipolar disorder, Anika reveals a big secret to the family, and Hakeem leads an important shareholders' meeting.
Tuesday May 3
#Drama
Penny Dreadful, 10.00pm, Sky Atlantic
This supernatural horror-drama bored me to tears and I gave up after a couple of episodes, but it does have a very devoted fanbase.
Back for a third season, veteran actors Brian Cox (Troy, The Bourne trilogy) and Wes Studi (Heat, The Last of the Mohicans) join regulars Eva Green, Josh Hartnett and Timothy Dalton, along with a cast of mysterious and monstrous beings, all drawn from dark Victorian literature.
#Factual
Pixie's Sex Clinic, 9.55pm, RTÉ2
In the final episode, six new people join Dr Pixie McKenna in her workshops to explore sex and technology, which sounds like a poorly-named new cocktail.
The bould doc shocks the participants when she reveals their social media footprint, while they also discuss revenge porn and divulge their most personal sexting secrets.
Wednesday May 4
#Lifestyle
What Are You Eating? 8.30pm, RTÉ One
It's the final foodie find-out with Philip Boucher-Hayes and we're in a bit of a global jocker. The world's staple foodstuffs have mostly reached peak production and are beginning to plateau, so how can the projected population of 11 billion citizens in 2050 get fed?
It may need a total rethink on how we use land and water and, most of all, how we eat. A bug burger may be the future of protein, while two Irish scientists explain how their work will revolutionise the way people think about food.
Thursday May 5
#Drama
Peaky Blinders, BBC Two
Season three of this period gangster drama starring Cillian Murphy starts off on a light note, as Murphy's gang boss Thomas Shelby's wedding day has arrived.
But while his guests enjoy the celebrations he has important business to attend to, as a mysterious stranger makes their presence known. For months Tommy has developed interests with a new business partner and, to his fury, today is the day they've decided to show their hand.
Friday May 6
#Comedy
The Windsors, Channel 4
A double bill launches this brand new comedy soap opera, from the writers of Star Stories, that re-imagines the British royal family. I know. Doesn't sound too promising, does it?
Prince Charles (played by Harry Enfield) tries to keep his family in order, but Wills (Hugh Skinner) wants to mingle with 'the people'. Meanwhile, Kate (Louise Ford) volunteers to help Harry with his fancy dress charity ball at Buckingham Palace.