This week's essential telly includes the return of the venerated and mega-hyped Game of Thrones, a new black comedy starring Olivia Colman, and the second season of the superb American Crime.
Saturday April 23
#ENTERTAINMENT
Arnie Schwarzenegger's 50 Greatest Ever Stunts, Channel 4, 8pm
Slightly misleading title, as it's not specifically Arnholdt's greatest, but the film world in general. Still, the Austrian action man is your guide through some of cinema's most cunning stunts.
Using clips, in addition to commentary from fans, comedians and stunt coordinators, this show takes a behind-the-scenes look at some of the jaw-dropping moments ever caught on celluloid.
You may see Tom Cruise scuttin' on a plane. Just like this:
Sunday April 24
#ENTERTAINMENT
Voice of Ireland, RTÉ One, 6.30pm
Well, here we are: another year, another final of The Voice of Ireland, with four acts hoping that they'll emerge as this year's winner. It's straight back to shelf-stacking for the rest.
Live from the Mahoney Hall in Dublin's Helix Theatre, Kathryn Thomas and Eoghan McDermott host events as Nigel Connell, Kelesa Mulcahy, Michael Lawson and Laura O'Connor battle it out for the title.
Monday April 25
#FANTASY
Game of Thrones, Sky Atlantic, 2am/9pm
The relentless hype can finally diminish as the HBO fantasy drama based on George RR Martin's epic book series returns for another ten-episode run of rape, mayhem, murder and the odd muddy field. As usual, Sky Atlantic are offering a simulcast at 2am so you can see it at the same time as USA viewers.
Whaddya mean your boss didn't give you Monday morning off?
The most tweeted-about show on television returns with cast and crew alike having kept a code of silence as to what can be expected in season six - including whether Jon Snow is dead or not.
Just think: in nine weeks' time the planet can start holding its collective breath for season seven.
#COMEDY
Flowers, Channel 4, 10pm
Spread over five nights, this promisingly dark comedy stars the wonderful Olivia Colman, which should be enough to get even the most discerning viewer interested.
The Flowers are an eccentric and struggling dysfunctional family. Author Maurice and his music teacher wife Deborah are adrift as a couple, living in a crumbling old house with Maurice's ailing mother and their maladjusted 25-year-old twins.
As Maurice fights inner demons, Deborah tries to keep the family together.
Tuesday April 26
#LIFESTYLE
Super Garden, RTÉ One, 8.30pm
Yep, it's that time of year again (part 354), as five emerging garden designers compete for the right to showcase their outdoor design talent at this year's 2016 Bloom Festival in Dublin's Phoenix Park.
This eighth season kicks-off in Westport, Galway - the other destinations are Mullingar, Tyrellstown, Rush and Glasnevin - with designer Hazel Morahan making over a garden with 'privacy concerns'.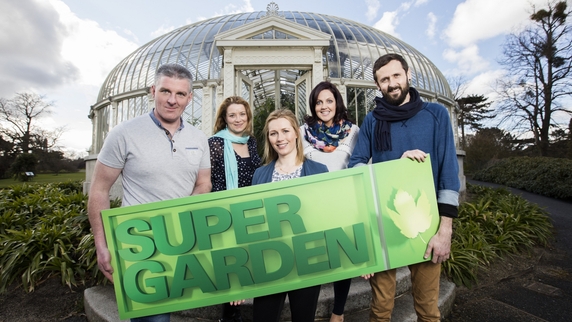 Thursday April 28
#DRAMA
Line of Duty, BBC Two, 9pm
As delightfully claustrophobic and paranoid as last year's stunning second season, the third run of this engaging BBC drama about cops seeking out corruption in their ranks comes to a close with everybody and everything shrouded in doubt or death.
Legal counsel Gill Biggeloe puts pressure on Superintendent Ted Hastings, but new evidence turns the enquiry on its head. An AC-12 officer faces mounting suspicion that they are responsible for the shocking events in last week's episode, and the net closes in on 'The Caddy', the corrupt officer at the heart of the unit.
#DRAMA
American Crime, RTÉ2, 11.30pm
The first season of this raw and emotional drama was utterly gripping, with former Desperate Housewives' star Felicity Huffman in tremendous form as the empathy-free, racist mother of a murder victim.
This time around, Huffman's back as Leslie Graham, the manipulative principal of a private school where a working class student accuses several members of the school's championship basketball team of sexually assaulting him and posting photos of the incident online.
#COMEDY
Angie Tribeca, E4, 9.30pm
This will either be great fun or painfully unwatchable, as it's a US parody of police procedural shows. And American TV isn't noted for the quality of its satirical content.
Rashida Jones (Ann Perkins on Parks and Recreation) stars as the titular LAPD detective whose squad must investigate the most serious of crimes. In the first episode, the mayor is being blackmailed and the lieutenant is not best pleased.
#LIFESTYLE
Home of the Year, RTÉ One, 8.30pm
The seven finalists come together for the first time in Balyna House in County Kildare, where the judges will deliberate and ultimately crown the winning Home of the Year.
Given the range of gaffs – from a terraced house in Dublin's city centre, to a former carpenter's workshop in Galway, a lakeside cabin in Westmeath to a detached des res in SoCoDu - the judges' task isn't easy.
Friday April 29
#DRAMA
The Secret, UTV Ireland, 9.00pm
That James Nesbitt fella's hardly ever off the telly, and here he leads the cast in a drama based on the bizarre and murderous happenings in Coleraine in 1991 when a Sunday school teacher and a dentist embarked on an affair.
Hazel Buchanan and Colin Howell meet at their local Baptist Church and their unholy trysts result in an elaborate and rather unchristian plot to kill both of their partners and make it look like a suicide pact.