"It's educational. It's very emotional at times. It'll definitely get people talking." Pixie McKenna is no doubt that her latest TV show will have Irish tongues wagging. Well, we are talking sex here. Or more specifically: Pixie's Sex Clinic.
This new three-part series started on Tuesday night on RTÉ2, and the Cork-born doctor and TV presenter - probably best known for Channel 4 's Embarrassing Bodies - is keen to get to the truth about the sexual habits of young Irish adults.
"It's a whistle-stop tour of sex in Ireland, focusing on young people," she explains. "Generally speaking, it's 17-to-18 years up to about 25. The aim is not encourage people to rush out and start having sex with each other, it's very much about learning."
Pixie's Sex Clinic is the first Irish TV series dedicated to education in sex, sexual health and behaviour. With a team of experts in medicine, psychology and sexual well-being, she aims to create a comfortable space for young people to talk openly about physical and emotional sexual worries. It's especially important to have this discussion, McKenna reckons, given what's on tap these days.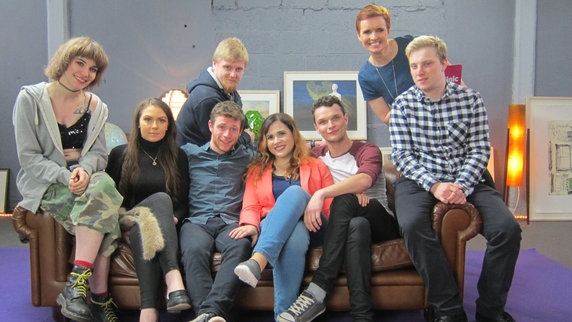 Pixie McKenna with a workshop group
"They're the generation that has everything at their fingertips. When you were growing up homosexuality was illegal, you couldn't watch porn... but these days everyone has everything. Everyone has internet access, there's instant gratification..." But that doesn't mean that they know what they're doing or, more importantly, what the pitfalls might be.
"I can see that the knowledge has caught up, but it hasn't caught up to the extent that, you think these kids are really streetwise, but they haven't got a clue about a lot of stuff," says McKenna, who points out some of the flawed thinking she encountered.
"An awful lot of people who were in our workshop don't like using condoms, and didn't know how to use condoms, which was quite incredible. So we had a demo of plastic penises, one of which was green. Very 1916! It was quite hilarious.
"Most of them were very much: 'We don't like condoms', 'Have never had a sexually transmitted infection', then that was followed by the question, 'Have you ever had a test?' 'No.' 'So how do you know that you never had an infection?' That was shocking, that they're actually prepared to have unsafe sex and not even bothering to find out the consequences."
In the first episode, Pixie's Sex Clinic explores the mistakes, misconceptions and taboos that 17-25-year-olds are faced with when it comes to their sex lives: from the type of sex they're having, to contraception choices and sexually transmitted infections.?
Through a series of workshops, McKenna gets people to play a game of STI Bingo (ooh - no one wants to win a prize in that), find out how to take an STI test, and also tackle the tricky subject of consent.?And with Ireland being Ireland, alcohol plays a part in our sex lives.
"A huge part," McKenna confirms. "And we did a workshop on consent, and obviously alcohol and sex go hand-in-hand in Ireland, as in an awful lot of countries around the world. Consent and alcohol is a very confusing agenda.
"There were these streetwise university students debating consent. At one point one of them said: 'What's the age of consent?' to which another one replied: 'Eh, I don't know. But it's different for boys and girls.'
"So they're out there, they're sexually active, and they don't even know the age of consent."
John Byrne
Pixie's Sex Clinic is available to stream on the RTÉ Player