This week's essential telly includes Dragon's Den, the Girls season five finale, First Dates Ireland and Pixie's Sex Clinic.
Saturday April 16
#ENTERTAINMENT
The Wine Show, UTV Ireland, 4.55pm
Matthew Goode and a bearded Matthew Rhys star in this new and apparently charming show where the Downton Abbey and The Americans actors go on a 'joyful romp' around Italy, while wine experts bring back stories and wines from twelve other wine-producing countries.
Based in a villa in the Italian countryside, Goode and Rhys, who are self-confessed 'enthusiastic novices', will look at everyday wines as well as the fancy stuff. This is basically Top Gear for tipplers and Italophiles.
#ENTERTAINMENT
Michael McIntyre's Big Show, BBC One, 7.00pm
The latest Michael McIntyre vehicle, this new entertainment show is recorded in front of a live audience at London's Theatre Royal, Drury Lane.
This opener includes a musical performance from Tinie Tempah, stand-up from McIntyre, and what's promised to be a jaw-dropping performance from the acrobatic Peres Brothers.
Sunday April 17
#REALITY
Dragon's Den, RTÉ One, 9.30pm
Two brand new Dragons are unveiled as Alison Cowzer and Eleanor McEvoy join Gavin Duffy, Barry O'Sullivan and Eamonn Quinn in the Den for 2016.
This eight-part series will see a variety of original and unique ideas pitched to the Dragons for investment, ranging from food to fashion, beauty to fitness, education to journalism. Journalism?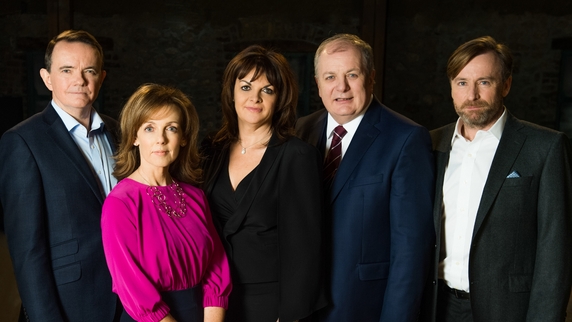 Monday April 18
#COMEDY
I Want My Wife Back, BBC One, 9.30pm
This new, six-part romantic comedy stars BBC perennial Ben Miller as Murray, a man whose life is turned upside when he finds out that his beloved wife Bex (Caroline Katz) is leaving him.
Murray hears the news while arranging a surprise 40th birthday party for his departing missus. As guests arrive and the party goes ahead, Murray and Bex are gradually left shell-shocked by the day's events.
Hmmm. Doesn't sound very romantic or comical.
#COMEDY
Peter Kay's Comedy Shuffle, BBC One, 9.00pm
After the huge success of the Christmas special, Peter Kay: 20 Years of Funny, this new series will be an opportunity to celebrate and rediscover the award-winning comedian, actor, writer and director's funniest and finest work.
From the creation of popular TV classics such as Phoenix Nights, Britain's Got the Pop Factor, to films of his sold-out and critically acclaimed stand-up tours, the series will also feature highlights from his numerous TV and chat show appearances.
Must never get home, him.
#COMEDY
Girls, Sky Atlantic, 10.45pm
Girls' stellar fifth season ends with a double bill, beginning with an episode directed by Alex Karpovsky, who plays the gloriously grumpy Ray. Hannah has a run-in with her old nemesis Tally, while Elijah tries to convince Dill that they should be 'exclusive'.
In the season finale, Elijah and Loreen help Hannah prepare for the Moth Story Slam, Marnie prepares to go on tour with Desi, while Shoshanna's plan for Ray's 'anti-hipster' coffee stop takes off.
By the way: Vinyl also ends this Monday night on Sky Atlantic. Disappointing, wasn't it?
Tuesday April 19
#FACTUAL
Pixie's Sex Clinic, RTÉ2, 9.55pm
Being a pretty shy bunch by and about nature, the Irish tend not to talk a lot about sex, but this new show presented by Dr Pixie McKenna is determined to change all that.
With a team of experts in medicine, psychology and sexual well-being, McKenna aims to create a comfortable space for young people to talk openly about physical and emotional sexual worries.
No request for information will be considered too stupid or embarrassing and no subject is off limits. So a ride isn't out of the question.
Thursday April 21
#REALITY
First Dates Ireland, RTÉ2, 9.30pm
As is the norm these days, yet another TV franchise hits Ireland, this time in the shape of First Dates, where complete strangers meet at a restaurant and afterwards talk about the experience.
The location is Coda Eatery in Dublin's Gibson Hotel, where Mateo Saina is the maître d', and the three opening couples include South African model Federica and Donegal accountant Lee.
#DRAMA
How to Get Away with Murder, RTÉ2, 11.30pm
This show is worth watching just to see the wonderful Viola Davis in action as Annalise Keating, a high-profile defence attorney and corpse magnet. Oh, and to be completely bamboozled by a wilfully confusing plot.
In the season two finale, chaos is surrounding Annalise and she needs to escape. Meanwhile, Frank has to come to terms with what he's done, while Wes gets closer to finding out about his past. Typically, the OMG factor's delightfully high.
#DRAMA
CSI: Cyber, RTÉ2, 10.30pm
Season two of this procedural spin-off sees Ted Danson joining Patricia Arquette and co from the original CSI show as DB Russell, the new Director of Next Generation Forensics, who transfers to Washington, DC from Las Vegas.
Avery Ryan (Arquette) welcomes Russell to the team as they investigate a burglary/homicide committed by someone who remotely hacked the security system at the victim's home.
John Byrne