John Byrne's TV choices for the week ahead (Dates covered: Saturday Feb 6-Friday 12)
It's welcome back to Happy Valley, Room to Improve and The Restaurant, while the likes of War and Peace, Young Maltalbano and Getaways enter TV's departure lounge.
Pick of the week
Happy Valley, Tuesday, BBC One
Sarah Lancashire is back in this hugely entertaining 'grim up north' drama about Catherine Cawood, a police sergeant coping with her daughter's suicide while dealing daily with the flotsam in the Yorkshire town where she lives and works.
As season two opens, Cawood discovers a decomposed body hidden in a garage on a local estate. Raped and murdered, the victim is someone close to home. Suddenly, Cawood finds herself in the middle of a murder investigation.
Meanwhile her sister Claire (Siobhan Finneran) bumps into an old friend Neil Ackroyd, who has recently moved to Hebden Bridge and works in the local corner shop. Other relationships are thrown into turmoil as Cawood takes in son Daniel after he is thrown out of his house, while Detective Sergeant John Wadsworth faces a tough decision when his girlfriend unexpectedly turns up at the house he shares with his wife and children.
When another dead body is found the police begin to suspect a serial killer is behind the murders, and Detective Superintendent Andy Shepherd and Detective Inspector Jodie Shackleton are called in to head up the case.
Star of the week
Dermot Bannon
Room to Improve, Sunday, RTÉ One
Architect Dermot Bannon returns with a brand new run of the show featuring various design projects in homes across Ireland. In the first episode he travels to the village of Puckaun in north Tipperary, to meet teachers Darragh Egan, his partner Sarah Lovett and their infant son Donagh.
Architect Dermot Bannon's challenge is to split the house into two private, self-contained wings – one for Mary, the other for Darragh and Sarah. But it's easier said than done.
Quantity surveyor Patricia Power returns as Dermot's budget-wrangling project manager and financial advisor: reigning in the designer's more ambitious plans, cutting deals and adding a layer of sober fiscal practicality to the proceedings.
Starting this week
The Restaurant, Wednesday, TV3
Marco Pierre White's Courtyard Restaurant in Dublin's Donnybrook is the new location for this run of the popular show. First up is Mrs Brown's Boys star Rory Cowan, and he'll be followed by Pippa O'Connor and Kevin Kilbane.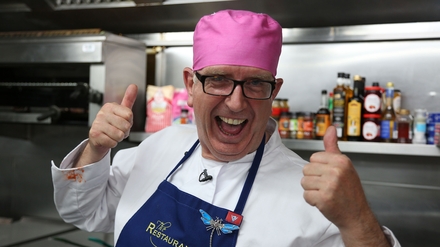 Undercover Benefits Cheat, Thursday, TV3
Reporter Paul Connolly goes undercover to feign sickness in order to expose those who scam the system. Meanwhile, I'm still waiting to see a show about rich people dodging tax.
Nature's Miracle Orphans, Sunday, BBC One
This four-part series, presented by zoologist Lucy Cooke and biologist Patrick Aryee, will show viewers the plight of many of the planets most beloved and endangered animals.
Greece with Simon Reeve, Sunday, BBC Two
In this two-parter, the travel-tastic Simon Reeve travels to one of the most beautiful, troubled, and extreme countries in Europe. Travelling from the Islands of the Aegean to the rugged and mountainous north, he gets behind the picture-postcard image to learn more about Greece and the Greeks - and why the country has faced a seemingly endless economic crisis.
The Last Leg, Friday, Channel 4
Adam Hills hosts alongside co-hosts Josh Widdicombe and Alex Brooker, who tear into the weird and wonderful talking points of the week.
Spin, Friday, More4
The second season of the tense French political thriller begins one year after the election, as President Alain Marjorie is facing a personal and political crisis. His wife Elisabeth has a secret lover who is killed in a car crash while she is driving.
Ending this Week
War and Peace, Sunday, BBC One
The Tolstoy tale concludes. As the French army marches into Moscow, chaos descends on the city. The Rostovs are forced to flee. Natasha is shocked by an unexpected fellow traveller while Sonya is asked to make a huge sacrifice for her family. Traumatised by his experience of battle, Pierre resolves to stay behind and stop Napoleon himself. In the process, he meets a stranger who changes his outlook on life.
The Young Montalbano, Saturday, BBC Four
Should be an interesting finale to this run as our younger Inspector prepares to move to Genoa – which won't be an easy task for someone as devoutly Sicilian as this guy.
Great Canal Journeys, Saturday, Channel 4
Timothy West and Prunella Scales head to Ireland to trace the story of the canal that links the south to the north: the Shannon Erne Waterway, also known as the Peace Canal.
James May's Cars of the People, Sunday, BBC Two
The former Top Gear presenter finishes of this solo venture with a look at what happened to promised autos of the future, from steam cars to jet turbines.
The Real Marigold Hotel, Tuesday, BBC Two
In the final week of this experimental travel series, we see members of the group join Laughing Yoga, while others find their cultural fix in the heart of Jaipur's largest slum, home for centuries to acrobats, magicians and puppeteers.
Getaways, Thursday, RTÉ One
This week the main focus is Nantes, one of France's quirkiest destinations. This week's short Getaway is in County Clare, for a visit to the magnificent Cliffs of Moher.
Drama of the week
Nashville, Thursday, TG4
Aerosmith singer Steven Tyler guest stars as himself to sing a duet of Patsy Cline's Crazy with Juliette Barnes (Hayden Panettiere) as the fourth season of this superior country music soap begins.
With Juliette's starring role in the Patsy Cline bio-pic, she is at an all-time career high, but the troubled singer's also hitting a personal low. Meanwhile Avery, separated from Juliette, tends to baby Cadence (Cadence! Stop with the daft names, folks!) at his parents' home in Texas. Rayna, along with her family and friends, grapple with the chilling aftermath of Deacon's liver transplant.
Comedy of the week
Siblings, Monday, BBC Three
The second season of the BBC Three hit, starring Charlotte Ritchie and Tom Stourton as siblings Hannah and Dan, comes to a close. It's the wedding day of Dan's best friend Jack (Joshua McGuire) and Hannah has joined him as his plus one.
Dan's incredibly excited - he loves weddings, and this one is going to be pretty spectacular, as Jack is marrying the extremely wealthy Ophelia (Lucy Briggs Owen) at their country mansion. Hannah can't wait to get snooping and see what life is really like for these Downton wannabes.
As the day proceeds, Hannah and Dan find themselves at the centre of events. It may not end well . . .
Documentary of the week
1916, Wednesday, RTÉ One
Yep, the Easter Rising commemorations continue with what's promised to be a landmark documentary giving a comprehensive overview of the events of 1916, looking at the enormous impact it had both here and abroad, and the crucial role played by Irish America in the lead up to the rebellion.
Narrated by Liam Neeson, this series places the Irish Rising in its European and global contexts as anti-colonialism found its voice in the wake of the horrific First World War.
"1916 is a significant documentary series," says Liam Neeson. "As an Irishman, it is, of course, part of my history. The series puts the Easter Rising in a broader, more international context than has ever been done, and shows how it inspired similar movements around the world.
"What attracted me most was that the series also focuses on the personal stories of those involved.  These stories are very human and powerful."
On Demand
Bates Motel, Netflix
As this was shown on this side of the Atlantic on satellite channel Universal, I doubt if too many people got to enjoy this seriously wacky show, a prequel to the events in Psycho.
Netflix has the first two seasons on tap, and Vera Farmiga is phenomenal as Norma Bates, while Freddie Highmore's almost as good her soon-to-be demented son Norman.
Film of the Week
A Streetcar Named Desire, Thursday, Sky Movies Select
A sizzling screen adaptation of Tennessee Williams's Pulitzer Prize-winning 1947 play of the same name, and one of the greatest films, not just of the 1950s, but in Hollywood history.
Vivien Leigh, Marlon Brando, and Kim Hunter are all superb as the three central characters: Leigh as Blanche DuBois, the damaged southern belle visiting her big-hearted sister Stella (Hunter), and boorish brother-in-law Stanley Kowalski.
It's a simmering study of inner turmoil in cramped and clammy conditions, with a fine supporting cast that includes a wonderful Karl Malden, who won an Oscar, as did Leigh and Hunter.
Brando lost out to Humphrey Bogart for the Best Actor award, but this is arguably his finest film performance.
John Byrne