Terry Wogan returned to the land of his fathers in a new series for the BBC back in 2011. TEN raided our archives to bring you Alan Corr's interview with the late broadcaster during which he talked about how much his homeland had changed
In 1974, Terry Wogan had been working for the BBC for five years when he decided to take one of his fairly frequent visits back to Dublin. In a mood to look up some old friends, he swung by his old workplace, The Royal Bank of Ireland in Phibsboro.
"I went in and they all said 'Oh howiya'", Wogan recalls. "Then they said, do you remember Mick Murphy who joined the bank at the same time as you? Well, he's a manager now in the Kiltimagh branch. You left at the wrong time."
Wogan chortles genially. It's an old story he's clearly told many times but one he still recalls with the smooth patter of a born master of the anecdote. Terry may be on the phone from his home in Windsor but I can almost see his eyes twinkle with mirth. The hoary cliché 'bluff old cove' might have been coined for Terry Wogan.
The Phibsboro branch of The Royal Bank of Ireland is now a kebab shop and we're not sure what happened to 'Mick Murphy', late of Kiltmagh, but Sir Terry Wogan has become a national treasure in his adopted UK. Since joining the BBC in 1969, he has arguably become the best known Irishman in the UK over the past 30 years. His gentle humour and artful self effacement has always been backed up with razor-sharp smarts and his morning show on BBC Radio made him the most listened to broadcaster in Europe.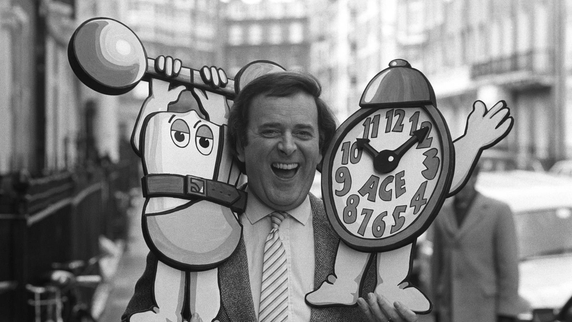 When he retired from that lofty perch in late 2009, 72-year-old Wogan was still pulling in eight million listeners and along with that extraordinary success on radio, he also managed to turn his TV chat show, which ran from 1982 to 1993,  into something more than a banal circuit of book/movie/album plugging. His lampooning commentary even made the Eurovision Song Contest bearable.
But this week, Sir Terry brings it all back home with Terry Wogan's Ireland, a two-part series in which he returns to the land of his fathers to check the pulse of the country he left for good in 1969 as a 30-year-old boy broadcaster.
Terry hasn't lost his Irish accent, but Ireland has changed utterly in those 40 years. As well as being a godsend to Fáilte Ireland, Terry Wogan's Ireland is a chance for him to reflect on those massive changes.
"I suppose some people would say it's a strange time to do a programme like this, in view of the problems that Ireland is going through but it's an interesting time to do it too", Terry says. "Obviously we did it during the summer. The sun shone when it wasn't raining and things weren't as terrible economically as they subsequently became."
In fact, by the time the IMF came calling in late 2010, Terry was feeling quite jittery about Terry Wogan's Ireland. The last thing he wanted was to have a whitewash of gimlet-eyed locals and dancing colleens broadcast with his name attached to it. "The BBC didn't really want to touch too much on the economic woes but to be quite frank, not wanting to be accused of whitewashing everything, I insisted that we had to make a few little changes which were only made this week," he says. "I don't want to ruin the character of the piece but I felt the changes had to be made."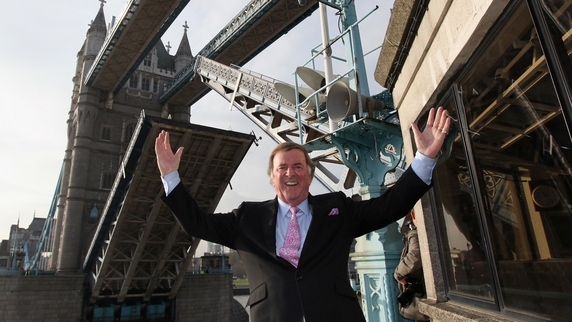 Not that he was ever going to present a shamrock-tinted view of the old sod. "No, No, well I hope not", he says. "I wished they'd given us another hour because it would have allowed me to do a more comprehensive look. You can't touch on everything but Fr Brian Darcy spoke fairly forcibly about the church and how it has disappointed its people in Ireland.
"Gerry Anderson, who I've always admired, walked the walls of Derry in the rain with me and spoke freely about the way things were. We went to Belfast and had a look at the Titanic thing they're doing there and the new building and I think the paradox about that is that most of the money for this new building comes from the Republic and Mike Murphy is on the board!"
When I suggest, tongue only slightly in cheek, that Terry Wogan's Ireland was the project of a lifetime for Wogan, he chortles once again. "Well no, not really. You see I've always refused to do Who Do You Think You Are? So I think this is a bit of backhanded BBC treachery to get me to do it because there's a lot of me in this series, probably a lot more than anybody would want."
Terry Wogan was born in Limerick in 1938 into an enterprising family of shopkeepers. The Wogans lived in Elm Park off the Ennis Road and Terry attended Crescent College in the city. He visits his home town in the first episode of Terry Wogan's Ireland with his younger brother Brian but sadly doesn't use his status as a Freeman of Limerick to herd a flock of sheep across Sarsfield Bridge. "I travel down to Limerick, it rained on me", says Terry. "I met some of my old schoolmates from Crescent College."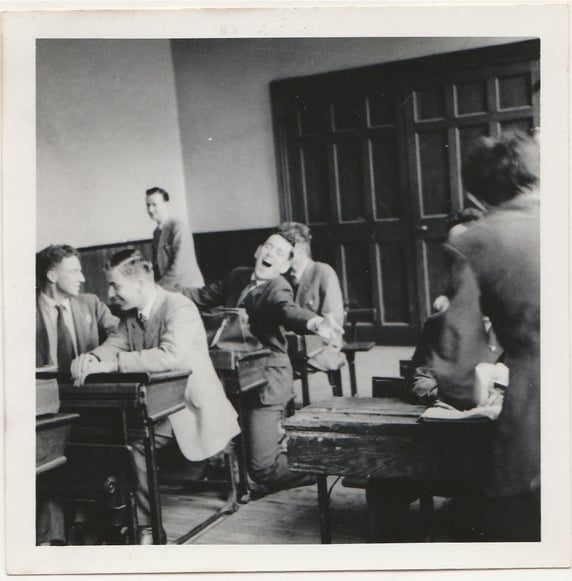 Terry as a pupil and 'ever the entertainer'. Photo: courtesy of Belvedere College
The Wogans moved to Dublin when he was 15 and young Terence did well on the playing fields of Belvedere College as well as the stage of the local amateur dramatic societies. That job in The Royal Bank of Ireland was spiked when he auditioned for RTÉ in the early '60s and he began work as an announcer, as well as writing a column for the RTÉ Guide and presenting the quiz show Jackpot.
Wogan left Ireland in 1969 when work began drying up for him in RTÉ and an opportunity arose at the BBC. He has always remained proud of his Irish connection and when I suggest he may have an ambivalent attitude toward his native land, he seems genuinely put out.
"No I don't think so. I don't think I've been negative. I hope I helped when times were really bad, an Irish voice on the radio when innocent English people were being killed in pubs in Birmingham and in 'our name'. As far as Ireland's economic problems are concerned, I'm no expert but it's roughly the same as here in England. The only difference being is that England didn't make the mistake of going into the Euro.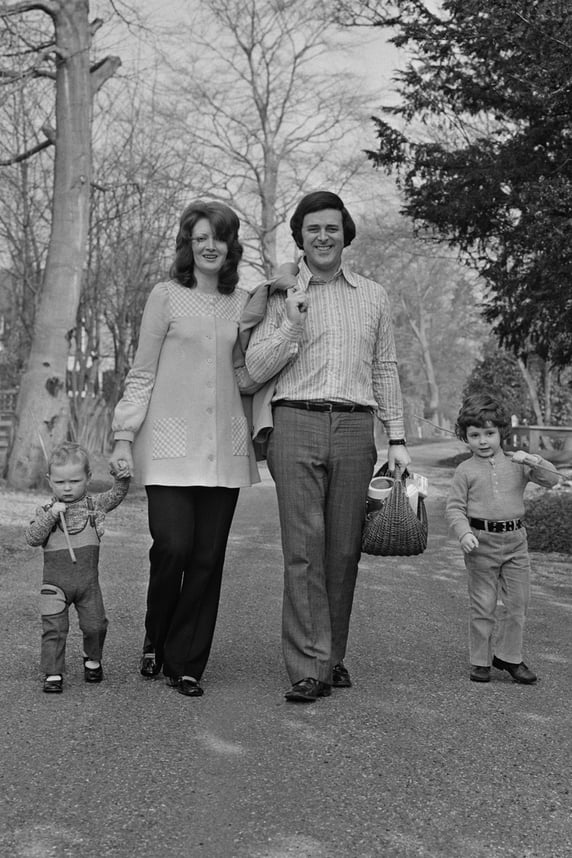 Wogan with wife, Helen Joyce, and their children Alan and Mark, in 1972
"In Ireland, I think the problems were caused by greed, lax government and incorrect control of the banking system. Ireland went from having an inferiority complex to having an extraordinary superiority complex. People would come across to me and say 'what's the matter with them in England at all? Why don't they join the Euro? Who do they think they are?'
"In the time I've been in Britain, we've had three booms and three busts, nothing as serious as the last bust. Every boom is followed by a slight depression but you couldn't tell anybody in Ireland that because, and you can understand that, Jesus, 800 years of oppression, poverty and starvation and you get your first boom and naturally you're going to ride it. The attitude I take in all this is, Ireland's had 800 years of oppression, starvation, colonisation and emigration and this current crisis is not going to absorb the country. The people are intelligent and resilient enough. Give it five years. I hope."
In Terry Wogan's Ireland, Terry speaks to David Norris, a man he refers to as 'our next President'. "I said to an influential Irish person here in London recently, I don't think it would be a bad thing for Ireland if David Norris became President because it would mean the rest of the world would look upon Ireland in a completely different way. They'd look upon Ireland as entirely liberal and getting away from its extraordinary Catholic rule."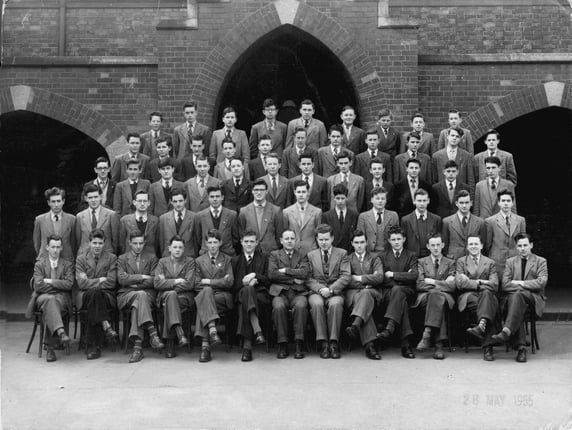 Terry is 3rd row from the bottom, seventh in from the left, 1955. Photos courtesy of Belvedere College 
Norris is the only politician who features in the series. "We never got within a roar of Brian Cowen and we didn't want to really", Terry says. "Norris is the extrovert, he's the one who's going to say something, not necessarily sensational, but I'm afraid Cowen and the rest of them would only trot out the clichés."
But this is show about the ordinary people of Ireland. Terry talks to a woman who emigrated from Kerry in the '50s and returned recently and he even speaks Irish to the boatman who took him out into Roaringwater Bay. "That was interesting. I hadn't spoken Irish in an awful long time."
Despite his protestations, there are elements of Who Do You Think You Are? but no skeletons in the Wogan family closet are revealed. "No, since we come from a very noble line", Terry says. "A lot of my side came across with the Normans and there's a Chevalier Wogan and a Baron Wogan in France. What I find hard to believe is how my great grandfather ended up a bootmaker in Enniskerry. Where did we go wrong? How did I lose my castles?"
Wogan still lives in Windsor in sight of the Queen's pile ("Yes, she often waves across and sometimes I wave back.") with Helen, his wife of 45 years. Their children, Alan (43), Mark (40) and Katherine (38) have all started their own families and you get the feeling that Terry is a classic doting grandfather to his four grandkids.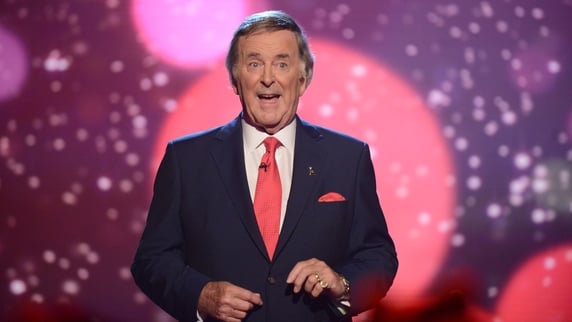 "Even as we speak I have two of my grandchildren with me", he says. "I have them locked away of course so they can't interfere with our chat. The latest arrival is from my eldest son Alan who had Charley, they all end in Y: there's Freddy, there's Charley, there's Harry and there's my granddaughter Iris and she shows every sign of growing up to be Lucretia Borgia."
It's over a year since Terry retired from his BBC morning show but he says he's busier than ever. He now presents Weekend with Wogan on Sundays, finally fulfilling a long held ambition to host his own live music show. He says he knew he had to leave his wildly popular daily morning slot when he did.
"I thought it was time to go. I think it's always important anyway when you're dealing with any big organisation that you dictate your coming and your going. You don't wait for them to tell you it's time to pack it in."
It seems Terry Wogan has always known when to come, and when to go.
Alan Corr