Red Rock detective Rory Walsh is about to turn from a charmer into something a lot less appealing. Chris Newman, who plays Walsh, tells TEN's John Byrne about his life at the TV3 soap.
"I'm fairly flat out on Red Rock, but enjoying it." Chris Newman is on the blower from Swords in Dublin, and he's in great form. And why wouldn't he be feeling good? The 27-year-old plays Detective Rory Walsh in TV3's hit soap Red Rock. Yeah, he's the good-looking one.
Newman's previous work includes roles in Love/Hate, TV film Ferocious Planet and Stardust, but more recently he's settled in to the role of ladies' man Walsh. He comes across as quite the charmer, but apparently there's a dark side to the Red Rock cop.
In this week's episode (January 27) he picks up a young Polish woman on suspicion of prostitution. Determined to get a confession, he won't back down, but she insists on her innocence, turning the tables on the detective with an accusation that she could quickly live to regret. As far as Walsh is concerned, he's worked too hard to get where he is for some unhinged prostitute to try and blacken his name.
It's obviously an exciting time for Newman as his character takes centre stage, but he's not going to get carried away any time soon. He knows the drill with the acting game.
John Byrne You enjoying yourself these days?
Chris Newman I'm fairly flat out on Red Rock, but enjoying it. I've been acting for 15 years so I know all about what an actor's life is really like. Out of work so often and all that; just auditioning and waiting around for the next gig, to be working all the time is just amazing. It's great for confidence, and feeling that you're getting better every day. Trying new things. It's great.
Have you been surprised by Red Rock's success?
I have and I haven't. The scripts are all really strong and the actors are fantastic, so all the makings are there for a great show. It's hard with Irish TV - sometimes it doesn't go down too well, even though on paper it should.
A lot of people are comparing it to a drama, they don't really see it as a soap. It doesn't look like a soap, and it's not shot like a soap. We can be out on location a good bit as well, it's not all in-studio, although some of it is.
The only downside to that is people begin comparing it to dramas. They start comparing it to the likes of Love/Hate, and we're not on that kind of budget. It's shot very quickly, we shoot so much every day. We're doing our best and it seems to be going down well, so we're delighted.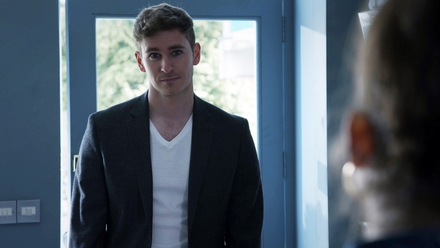 Interesting times ahead for your character, Detective Rory Walsh. Can you tell us about that?
Things are about to change. When he first came into the station, he was a bit of a ladies' man, a hopeless romantic. So it seems on the outside but he's a got a bit more to him, as you're going to see very soon. He's quite ruthless.
He became a detective at quite a young age, he's very determined, and the line between good and bad may become slightly blurred as he's getting ahead. He's willing to step over people.
Have any members of the Gardaí reacted to how the force is portrayed in Red Rock?
I haven't had any. I haven't had much reaction anyway. I'm on set all the time and when I get out I keep the head down. A few people have had a little double-take or whatever, but nothing too much.
I've been out with some of the other guys, who've been on the show since the start, and they get a great reaction. And I know that they have been approached by guards in the past, so I'm sure it's all coming!
What's your attitude to being finger-pointed in public?
I'd be a little awkward about it. I mean, it's lovely. People always have nice things to say and it's great when people have nice things to say about you or the show, but I wouldn't be too comfortable with it. I'd be like: 'Okay, right, thanks' and then scurry off.
Have you anything else in the pipeline?
It is full-time with Red Rock. The last thing I did was a film called A Date for Mad Mary, that's an Element film as well. I've only a small part in it, I worked with the director Darren Thornton on his first TV series, Love is the Drug, about ten years ago. He just offered me a lovely little part at the start, it's his first film and it's great to be involved. There are some great actors in it and the script's great too. Denise McCormack's in it - she plays Bridget Kiely in Red Rock. It's due sometime this year.
Red Rock, TV3, Wednesdays and Thursdays