John Byrne's TV choices for the week ahead (Dates covered: Saturday Nov 29 – Friday Dec 5)
Bressie's starting a band, Neil Delamere is back on the box, as is Rachel Allen – and there's a documentary about the legendary Brendan Behan.
Pick of the week
Brendan Behan – The Roaring Boy, Monday, RTÉ One
Actor Adrian Dunbar, long an admirer of Brendan Behan's work and someone who has played him on stage in New York, sets out on a journey to recover the man from the myth. Over the course of the documentary, Dunbar travels to the other cities in which Brendan lived and where his reputation and output is still highly regarded, and meets with a number of high profile people including Irish film director Jim Sheridan, writer JP Dunleavy and actress Kathy Burke, all of whom had a personal connection to the author.
Trailer Time:
Star of the week
Bressie
Bressie's Teenage Kicks, Tuesday, RTÉ 2
Niall Breslin, aka Bressie, (The Voice of Ireland coach) has set himself the challenge of making a teenage band. He knows how to spot and nurture talent but this time he wants to do it in a very different way in a place that's special to him: Limerick. A city with a troubled past, parts of Limerick have been scarred by unemployment and violent feuds, but now Bressie wants to shift the focus. In Bressie's Teenage Kicks he wants to find a way for teenagers from different communities across the city to come together in a band and express themselves through music.
To make the band Bressie needs to find the talent, so in this opening episode he holds auditions for young singers and musicians who think they've got what it takes. To help, Bressie is joined by one of Ireland's most exciting performers, May Kay, who fronts new age punk band Fight Like Apes. He also brings along his mate and drummer Ronan Nolan.
Trailer Time:
Starting this week
Holding Out For a Hero, Monday, RTÉ 2
Following the award-winning success of his previous historical TV shows There's Something about Patrick and The Only Viking in the Village, Neil Delamere is back with more hilarious tales from Irish history. In this brand new four-part series he takes on some of Ireland's heroes. From the legendary warrior Cúchulainn to the pirate queen Gráinne Mhaol, Neil wants to get inside their skin and see if he has what it takes to become one himself. Spoiler alert: He doesn't.
For openers he will retrace the steps of legendary warrior Cú Chulainn, learning the ancient battle feats he was famed for and improving his hurling prowess under the guidance of Kilkenny hurler, DJ Carey.
Trailer Time:
A Simply Delicious Christmas, Wednesday, RTÉ One
Twenty five years after Simply Delicious first hit Irish TV screens, Darina Allen is back with her brother, Rory O'Connell, to present the first of this year's RTÉ Christmas food specials. The menu includes oysters, artichoke soup, spiced beef, chocolate biscuits and a meringue Christmas tree.
Ending this week
Dancing Cheek To Cheek: An Intimate History of Dance, Monday, BBC Four
In the final episode of this fascinating series (no, seriously - it's great fun) exploring the history of British dancing, Len Goodman and Lucy Worsley discover how the first few decades of the 20th Century witnessed the most rapid and revolutionary change on the dance floor. The bold new sound of Ragtime music arrived from America and paved the way for wave after wave of new dances that would take the dance floor by storm.
Trailer Time:
The Mekong River with Sue Perkins, Sunday, BBC Two
In the final episode, Sue Perkins reaches her final destination, China, home to the source of this mighty river. Here, China's economic miracle is transforming even the remotest regions. She follows the river through the country's wildest and most spectacular valleys, meeting its colourful indigenous peoples, such as the Dai, whose traditional homes and water splashing festival have become a 'Disneyfied' attraction park for tourists.
Walking Through History, Saturday, Channel 4
Tony Robinson hikes up from Lyme Regis on Dorset's Jurassic Coast to the Somerset Levels in the footsteps of a ragtag rebel army led by the dashing young Duke of Monmouth, the illegitimate son of Charles II, who sailed in from Holland round Lyme's famous Cobb with a handful of soldiers.
Drama of the week
The Fall, Sunday, RTÉ One
This second season is proving to be just as gripping as the first. This week Gibson (Gillian Anderson) reports to Burns (John Lynch) that their confrontation in her hotel room may have been witnessed by serial killer Paul Spector (Jamie Dornan). Gibson is further shocked to discover that Spector has been paying visits to one of his surviving victims in hospital. Seizing on the opportunity, Gibson finally locates Spector and puts him under surveillance. Then when a body matching the missing Rose Stagg (Valene Kane) is discovered, Gibson's success is short-lived as she is forced to face her worst fears.
Comedy of the week
Jimmy Carr: Laughing & Joking, Sunday, Channel 4
Touring to over 1.5 million people and hosting shows like 8 Out of 10 Cats and The Big Fat Quiz of the Year means that Jimmy Carr knows a thing or two about making people laugh. This show is promising to be packed with one-liners, stories and jokes, some clever, some rude and a few totally unacceptable. The usual from Jimmy Carr, then, eh?
Here's Jimmy on things that annoy him: WARNING - contains strong language
On Demand
Brothers and Sisters, Sky, From December 1
This much-loved family drama was a bit of a cult classic on this side of the Atlantic, but it was a major hit Stateside. The cast is spectacular, and includes Sally Field, Rachel Griffiths, Calista Flockhart, Rob Lowe, Matthew Rhys and Emily VanCamp. As the title suggests, it's a family affair as the show tells the stories around the lives and problems of the wealthy Walker family in the wake of the death of family patriarch William Walker (Tom Skerritt), the founder of the family business Ojai Foods. All five seasons are available.
Here's a season two trailer:
Documentary of the week
Imagine . . . Colm Toibin: His Mother's Son, Tuesday, BBC One
In the latest of this always-illuminating documentary series, Imagine . . . talks to Colm Toibin about the origin of his widely acclaimed novels. Loud, affable and funny in person, Toibin writes sombre stories of grief and quiet heartbreak, repeatedly returning to the dark narrative triggered by his own childhood and to the complex relationship between mothers and sons. In the year that his bestselling novel Brooklyn is being turned into a major feature film and his play The Testament Of Mary continues to provoke controversy, Toibin is also publishing a new book. Fiona Shaw, Anne Enright and Nick Hornby are among the other interviewees.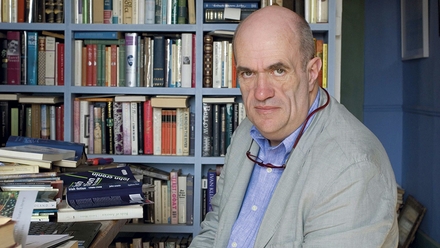 Film of the Week
The Monuments Men, Friday, Sky Movies Premiere
George Clooney directs and stars in this uplifting WWII ensemble drama, which is based on a true story. It's 1943 and the Allies might be on their way to winning the war, but Lieutenant Frank Stokes (Clooney) is preoccupied with one particular battle. In combat, countless pieces of priceless artwork are being stolen or destroyed and in an effort to retrieve them, Stokes sets up a unit known as the Monuments Men - a group, including museum curators and art experts, tasked with stopping masterpieces from the likes of Michelangelo falling into enemy hands.
Trailer time: