A.J. Cook tells RTÉ TEN's Sinéad Brennan about her character's evolution, her brief departure from the show and how she's now a little bit more suspicious of strangers...
Spoiler alert for viewers who are not up-to-date on Criminal Minds season 9!
Criminal Minds is one of those long-running shows that you can rely on to give you a season finale that will leave you perched on the edge of your seat every year without fail, and the season nine closer was no different as the tension and constant sense of foreboding left it clear that this was going to be the last we would see of at least one member of the BAU. Luckily, it wasn't one of the core group bidding their farewell, with relative newbie Jeanne Tripplehorn and her character Alex Blake, bowing out.
When the season finale script is sent around, Cook, who plays J.J. on the show, revealed that she always skips to the final pages to see what's going to happen, "It's funny, as soon as I get the season finale I just flip to the end to see who makes it out alive."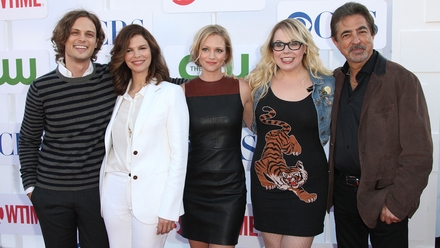 Criminal Minds stars Matthew Gray Gubler, Jeanne Tripplehorn, A.J. Cook, Kirsten Vangsness and Joe Mantegna.
Season nine was a big one for J.J., with the 200th episode answering a lot of questions that had been brewing. It was a season that really highlighted her evolution from young and naive to kick-ass Special Agent.
"I've had a lot of fun; I definitely have not been bored playing J.J.," said Cook. "She's constantly evolving and growing up and learning from her experiences. To me, it's life, that's how I am, that's how everyone I know is: you're constantly evolving and changing. When I started the show I was so young and wide-eyed and naive, as J.J. was, very affected and young. You can only be in such a dark industry for so long and be positive. You just can't stay like that forever: you see too much and it changes you and you have scar tissue after a while, you know.
"She's changed a lot but I feel that J.J. is always going to be that heart and the nurturer. She's always going to care for everyone else more than she cares for herself and that's her core and who she'll always be. It's nice that those values are always going to be there."
While Cook isn't out catching serial killers like her on-screen persona, I wondered if being involved in that kind of show, and playing that character for so long, has made her a little bit more suspicious of people in her day-to-day life.
"Oh yes, definitely. I've learned a lot of things I didn't really want to know in making the show, but it's for the better. Of course it's made me more paranoid, and maybe I look at people a little differently at times. But yeah, I think it's all been for the better, because I was very naive and I would trust anyone - which I don't think is a horrible quality, either - but people don't always have the best intentions."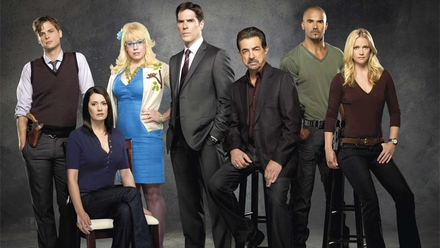 Back in season six, Cook was let go from the show, leaving fans outraged. Once the petitions started it wasn't long before she was back in action.
"I think the only thing more shocking than being let go was the response about it. Never in a million years would I have expected that response, so I am indebted to the fans who spoke up and made their voices heard.
"I don't necessarily think it was a J.J. thing of 'we love J.J., we can't live without her'; I think it was a team thing. Our show is such a team and for some reason the core group of us work really well together and if you lose one of us it's like we're missing a limb - it just doesn't seem right.
"So yeah, I was incredibly humbled by the whole experience and every day I go to work since I came back, I'm doing it for the fans and making sure I'm giving it my 100% - I don't wanna let anyone down, you know."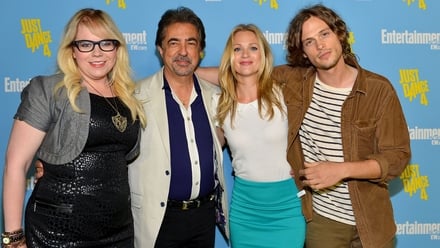 Cook's co-stars Matthew Gray Gubler, Joe Mantegna and Thomas Gibson have all tried their hand at directing various episodes of Criminal Minds over the years – something Cook could see herself doing in the future?
"I've always had aspirations to direct, even from a young age. But yeah, I don't know: a lot of the guys have done it but my style is pretty different to this show. So I don't know if I'm necessarily right to direct an episode of Criminal Minds. But at the same time, experience is experience. I'm more along the lines of Sofia Coppola's style of directing, telling that kind of a story. But who knows, maybe season 20!"
And finally, what could she tell us about season 10? Unfortunately not a lot...
"The first thing I'm going to do when I get home is get our showrunner [Erica Messer] on the phone and ask what's happening, what are we doing. Because I really don't know anything about what's happening in season 10. But I know we're all thinking something might happen, but we don't know yet. So I don't know, we'll see. But I'm definitely going to get Erica on the phone, because it's season 10. It's such a milestone, so you know it's going to be big, and I completely put my trust in our writers and our showrunner. And I know it's going to be amazing and it'll be interesting to see what journey our characters go on this season. I'm sure it'll be a rollercoaster ride of excitement."