John Byrne's TV choices for the week ahead (Dates covered: Sat May 03 - Fri 09)
It's welcome back to The Savage Eye and 24, Billy Connolly grapples with death in a new series, while it's last orders at Masterchef, The Trip to Italy and Secrets & Lies. And then there's the return of the Eurovision...
Pick of the week
The Savage Eye, Monday, RTÉ Two
While he may not be everyone's favourite mix of arsenic and olés, there's no denying that David McSavage can pack a punch while making you laugh - no mean feat, that. Back for another run of satire, the formula remains the same as each show explores one aspect of Irish life as seen through, well, The Savage Eye. So fans can look forward to seeing the return of familiar characters such as foul-mouthed, homophobic publican Mick 'The Bull' Daly, Ireland's President for Life, her Housebound 'It', Cavan Men and the Garda trainees. Laugh? I almost rang Liveline...
Here's a scene called How to be an Irish cop:
Star of the week
Billy Connolly
Billy Connolly's Big Send Off, Wednesday, UTV
Veteran Scottish comedian Billy Connolly fronts this two-part series on death - a subject of some interest to the 71-year-old. Visiting his home town of Glasgow as well as different parts of the USA, he aims to get an insight into the rich variety of attitudes, belief systems, rituals and customs relating to death that are woven into different cultures and communities. Connolly also examines the death industry, and shares his own thoughts on death, what he hopes will happen at his own funeral and how he would like to be remembered. He also talks about being diagnosed with both prostate cancer and Parkinson's disease on the same day. Beat that, eh?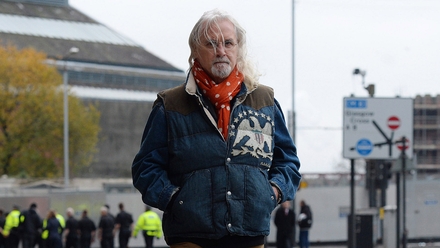 Starting this week
24: Live Another Day, Wednesday, Sky 1
Kiefer Sutherland reprises his role as action man Jack Bauer, who's back for 12 more episodes in a tale that sees him take a trip across the Atlantic. Resetting the clock and relocating the action to London, the latest outing plunges the former CTU agent into another do-or-die-trying situation as he tries to defuse a potentially devastating plot with global ramifications. A death threat against US President James Heller (William Devane) - who's in to see Prime Minister Alastair Davies (Stephen Fry) - gets the ball rolling. Expect dead bodies from the start.
See and hear the cast ahead of the show's return:
Also starting this week:
The Island with Bear Grylls, Monday, Channel 4
13 men are abandoned – by choice, it must be said - on an otherwise uninhabited and remote Pacific island and have to rediscover their, eh, manliness. Wonder who'll do the washing-up?
Here's what Bear Grylls has to say about it:
The Eurovision Song Contest, Tuesday and Thursday, RTÉ Two
It's Marty time! This year's jingle jamboree is in Copenhagen and begins on Tuesday while Ireland, if you're interested, take part in Thursday's second semi.
In the Flesh, Sunday, BBC Three
Back for a second, six-episode run on the back of last year's successful three-parter, this smart tale about rehabilitated British zombies is well worth a look-see.
Trailer Time:
The Meaning of Life, Sunday, RTÉ Two
Veteran broadcaster Gay Byrne returns for another run of discussions about faith, starting with Daniel O'Donnell's wife, Majella.
Ending this week
Masterchef Ireland, Tuesday, RTÉ One
In a show where you actually hope contestants make a meal of it, the three finalists Diana Dodog, Niamh Mannion and Edel Lynch enter the MasterChef kitchen for one last time with the task of cooking a three-course meal. Before you've time to order coffee or tea it's time for Dylan McGrath and Nick Munier to announce which one of them will be crowned MasterChef Ireland 2014.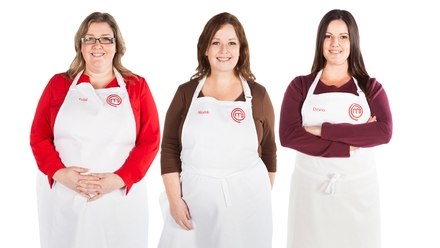 Also ending this week:
The Trip to Italy, Friday, BBC Two
Rob Brydon and Steve Coogan head to the Amalfi Coast, Capri and the truly stunning Ravello in the final leg of their Grand Tour of Italy. Oh, the life! I just watched the trailer again and I hate these guys:
Secrets & Lies, Sunday, RTÉ Two
As good as the much-hyped Broadchurch, this excellent Australian whodunit reaches its climax as Tom Murnane's killer is finally caught.
Other Voices, Sunday, RTÉ Two
The final musical line-up includes Mogwai, Walking on Cars, Lulu James, David Arnold, Willis Earl Beal, Sive and Spies.
Drama of the week
Hannibal, Tuesday, Sky Living
This visually stunning and subtly unsettling drama - it's on a par with The Returned - is back for a second season. Bryan Fuller's reworking of the Hannibal Lecter legend promises to delve deeper into the dark recesses of a very dangerous mind - exquisitely played by Mads Mikkelsen, here's one sophisticated serial killer who would walk away with Masterchef. Season one (of Hannibal, not Masterchef) ended in a cliffhanger as the cannibal psychiatrist framed mentally fragile FBI profiler Will Graham, and a role reversal is in process as the show re-enters Hannibal's discerning-but-warped world. For carnivorous eyes only . . .
Trailer Time:
Comedy of the week
Brooklyn Nine-Nine, Monday, RTÉ Two
It's no Seinfeld or Arrested Development (buh-bum), but this ensemble cop comedy is very funny and superbly paced. This week, Peralta tries to keep Charles from going 'Full Boyle' on his new girlfriend, Holt faces competition for the presidency of a police organisation he founded, and Diaz and Santiago are reluctant to help a local, caped crusader.
Here's the introduction to Charles Boyle from episode 1:
Documentary of the week
More than This: The Story of Roxy Music, Friday, Sky Arts 1
Featuring interviews with Bryan Ferry and former band members, as well as Duran Duran's John Taylor, Siouxsie Sioux and former Sex Pistol Steve Jones, this intriguing and apparently frank and honest Bryan Ferry Night documentary reveals the story and influence of Roxy Music, the relationships between the band's members and how they handled a return to the stage and studio.
Here's their debut performance on Top of the Pops:
Film of the Week
True Grit, Monday, RTÉ One
This is the 2010 adaptation of Charles Portis' 1968 novel of the same name, which was previously filmed in 1969. Directed, written, produced and edited by the Coen brothers, this version stars Jeff Bridges as Rooster Cockburn - the role made famous by the late John Wayne - a tough US Marshal who helps a stubborn young woman track down her father's murderer.
Trailer Time: