John Byrne's look back at the last seven days' TV includes a trip to Rome with Steve Coogan and Rob Brydon, lots of office and personal unpleasantness on Mad Men, and a journey through imaginary lava with the cast of Community.
Reviewed: Trip to Italy (Friday, BBC Two); Mad Men (Wednesday, Sky Atlantic); Community (Thursday, Sony)
The BBC's love affair with Italy simply knows no bounds. Which is fine by me, as it's a place I've been to many times, particularly its magnificent capital city, Rome. So when it was announced that the follow-up to Michael Winterbottom's largely improvised 2010 TV series, The Trip, was to be The Trip to Italy, I bookmarked immediately.
The original series had comedians Steve Coogan and Rob Brydon - who worked under Winterbottom's direction in the 2005 film, A Cock and Bull Story - play semi-fictionalized versions of themselves as they went on a restaurant tour around Northern England. This time, the ante was upped to include antipasti as the lads slipped on some shades, climbed into a Mini convertible and headed down the western Italian coast. Nice work and all that.
I wanted to like The Trip to Italy (Friday, BBC Two). I really did. But this kind-of recreation of the Romantic poets' grand tour has been a bit hit-and-miss for me. Sure, the lads are very funny at times but it gets a bit predictable after a while and you'd wonder if spending all this time together is healthy for Brydon and Coogan. For a half-hour show it can drag, and these lads are together pretty much every waking moment.
Last Friday's episode saw the dine-amic duo head for the delights of the Eternal City. Just off Piazza del Popolo in the centre of Rome, The four star Locarno Hotel is where they meet Steve's assistant Emma and the photographer Yolanda. After some
moaning they headed to the nearby Spanish Steps, where lots of Keats & Shelley delights await them, as well as some drinks at Il Palazzetto, a hotel-cum-rooftop bar that offers a panoramic view of the Steps and its human beehive. Later it's out to the Cimitero acattolico to hang out at Keats' grave.
As well as talking endlessly about themselves while also impersonating a variety of characters, every edition of The Trip to Italy revolves around lunch, and this week's one is (I'm pretty sure) the most expensive so far.
With Emma and Yolanda in tow, they enjoy lunch at Ristorante Oliver Glowig, an impossibly posh place just above the Villa Borghese. So far I've kept tabs on places I might be able to afford (one – Trattoria Albana in Mazzolla, aka the middle of nowhere in Tuscany), but I didn't bother making notes about this place. Even the cutlery and napkins were out of my league.
As usual, Rob offers Steve a choice of three possible prices for the cost of lunch, and the bill for the four of them comes to just under €600. No one even blinked and I threw my remote control at the telly in an act of blind jealousy.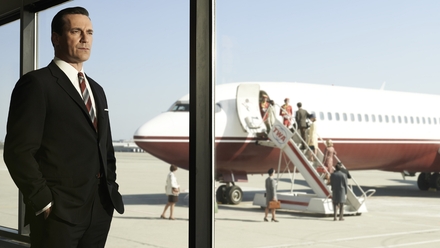 Which is why we should move on with the minimum of effort to Mad Men (Wednesday, Sky Atlantic), the greatest show on television that almost no one watches. Although it's always winning awards and stuff, Mad Men never got the kind of whirlwind hype and viewing figures that other cool shows – The Wire, Breaking Bad, Game of Thrones all spring to mind – enjoyed in recent years. I have a theory about that.
The shows that tend to get the most hype are, almost without exception, on the gritty side. There's the downbeat hopelessness of The Wire, the Breaking Bad descent of Walter White from a good, meek man into a vicious drug baron, right up to the graphic sex and violence of the fantasy drama Game of Thrones. Mad Men is far less visceral, and much more cerebral, and has about as much pace as a Fellini or Bergman film. The nearest thing to action is the constant bottle-opening by its well-oiled principals.
Now in its seventh and final season, there's an almost deathly feel to the show as the ad folks whose lives were lit up by the 1960s are now fading as the Seventies take shape. Things don't look good for Don Draper (played, as ever, with much moody melancholy by Jon Hamm). Don's still on Gardening Leave (and in denial), so when daughter Sally calls to the office to find someone else where Dad used to be, she ends up on a minor road trip with him that's haunted by the ghosts of his endless acts of deceit in the past.
This episode of Mad Men said so much about the negative side of the human condition it gave me a headache. As well as the hornet's nest that is Don Draper's life, the mental bullying, power-tripping and outright racism at work in the offices of Sterling Cooper & Partners showed some of the nasty edges that are still prevalent, and just as relevant in today's workplace. People, eh?
Christina Hendricks' Joan played a central role, as she had to deal with various acts of management bullying and racism, with even Peggy Olson (Elisabeth Moss) joining in as she reacted negatively and with aggression to a combination of flowers and St Valentine's Day. It worked out better in the end for Joan, as she gets offered an office upstairs and another step up the corporate ladder. Good for her.
No such luck for Pete Campbell (played as brilliantly as ever by Vincent Kartheiser), whose frustration at working out West with Ted saw him whinge to his latest flame, an estate agent whose dreams are firmly based in reality. She brushes away his demands for some daytime sex, explaining that she's more interested in earning a living than brightening up his day. Pete's libido was unceremoniously binned – as Gwen Guthrie once sang, Ain't Nothin' Goin' on But the Rent.
The episode ended on a relative high, as Sally wished dad Don a happy Valentine's and told him she loved him. But I think redemption may be beyond Don at this stage. Too many bridges have burned.
The true greatness of Mad Men is that it captures the untidy reality of life and the endless attempts to try to make it all more a box of chocolates than a pile of crap. And there's nothing sexy or cool about that. It's just the way it is. Most of us are lucky to merely cope with life's slow-crush mosaic of failure, frustration and what might have been. And that's just what didn't happen today...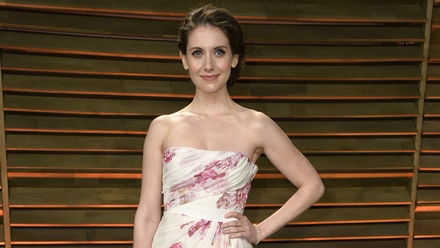 A face you don't see around Mad Men these days is the one belonging to Alison Brie. We haven't seen much of her lately playing Trudy, the much-cheated upon wife of Pete Campbell, but she's still very much part of the furniture on Community (Thursday, Sony), the almost-ultimate cult US comedy that's been shuffled around channels on this side of the Atlantic.
Now up to season five - and without Chevy Chase on board - series creator Dan Harmon is back, and it shows. Jonathan Banks was cast as Buzz Hickey, a criminology professor, and is fitting in very nicely as the new old grump in town.
So far, season five's been a hoot, but Sony are showing the run in double-episodes – what's the rush, man? - and last Thursday's fifth and sixth episodes offered quite a contrast, but I'm taking with the fifth. It was great.
In Geothermal Escapism Troy Barnes (Donald Glover) is preparing to enjoy his last day at Greendale before setting out on a sailing trip around the world. While the rest of the study group wishes Troy their best, Abed Nadir (Danny Pudi) announces over the school's PA that the school is now participating in a campus-wide game where every bit of floor space is lava.
It's all about Abed trying to bury his feelings about the departure of his best friend, and it was ultimately a very touching episode about friendship and coping with loss.
Geek comedy is the essence of Community (or should that be the other way around?) and a substantial portion of the kookiest folk have a voice on this show. Long may it prosper.
John Byrne