John Byrne on the season finales of Girls, new arrivals Secrets & Lies and About a Boy, and Joanna Lumley's visit to Will.i.am's LA home.
Reviewed: Joanna Lumley Meets Will.i.am (Friday, BBC One); Secrets & Lies (Sunday, RTÉ Two); About a Boy (Monday, Sky 1); Girls (Monday, Sky Atlantic)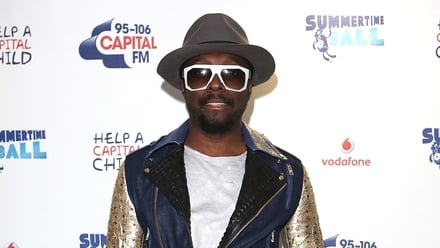 Ah, the lives and lavish interiors of the rich and famous. Figuring that it would either be a cringe-fest or an informative look at the real life lived by a very famous person, I took in Joanna Lumley Meets Will.i.am (Friday, BBC One) with a large container of salt and some airsickness bags by my side. Neither were required.
Although this documentary generated some really snotty reviews in the UK media, I thought it was great fun. Sure, Joanna Lumley seemed surprisingly starstruck by the whole Will-at-home-in-Hollywood Hills thing, but she also bonded quite well with the guy, who came across as something other than the egomaniacal AH some people would assume him to be.
After all, this is a guy who infamously tweets while carrying the Olympic torch, and when acting as a mentor (or whatever the judges on The Voice are called – oh yeah, it's 'coaches') when on the UK Voice on BBC One. He sure may be in love with himself, but Will's a likeable guy. And his background wasn't as impoverished as was implied, but we'll let that one go.
Fun and fluffy, this documentary offered a little insight into the life of a man who simply cannot relax. Will.i.am claimed at one stage that he had no choice but to become a star, but from where I was sitting it just seemed to be the obvious thing to do with all that energy. He's like a big kid mainlining an endless supply of M&Ms.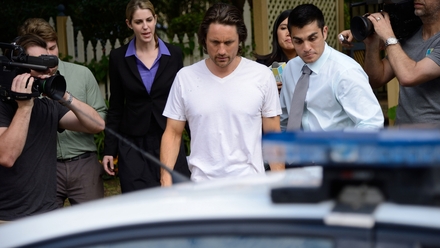 This week's TV trek became even more global on Sunday, when the focus switched from Los Angeles to Brisbane, which is the setting for a new Australian drama on RTÉ Two called Secrets & Lies. And while it didn't arrive on the back of any great hype, it does have the US TV seal of approval given that ABC has already commissioned an American version of the show, starring Juliette Lewis and Ryan Phillippe.
As pilots go, this one was one of the best I've seen in a while and, literally, hit the ground running when it opened with a man on a morning dash through a park discovered the body of a four-year-old boy, Thom Murnane.
Martin Henderson, the New Zealand actor who starred opposite Naomi Watts in the US version of The Ring and also featured in Aussie soap Home & Away, leads the cast here as painter-decorator and family man Ben Gundelach, the guy who made the gruesome discovery. He lives across the road from the boy's mother, knows the family very well, and finds himself increasingly the focus of the police investigation.
As the pilot unfolds, it's clear that Gundelach is being perceived as a guilty child-killer, loses work, gets badly treated by now former friends and judgmental neighbours, and sees his life begin to crumble. A pretty uncomplicated character who saw Happy Mondays in 1989 and got a haircut for life, at first he's oblivious to the implications, but as the pilot came to a close it's pretty obvious to him that everything has changed.
Not unlike recent ITV drama Broadchurch, Secrets & Lies is a whodunit that opens with great potential. If you missed the pilot, catch it on the RTÉ Player before Sunday's second episode and, like me, you'll be glued to the sofa come 9pm.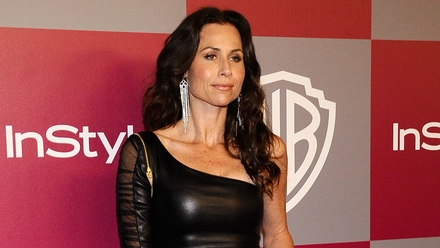 And so this TV global express moves on to California and another show that started in recent days. About a Boy (Monday, Sky 1) is a US TV adaptation of the Hugh Grant film, which originally surfaced as a novel by British author Nick Hornby. Usually, by the time a story gets around to its third spin, it's rarely a good thing.
The great exception to the rule was Neil Simon's play, The Odd Couple, which spawned an excellent film and a hugely enjoyable sitcom of the same name. I can't see the same result here.
It's not that About a Boy is rubbish, it's just that its story has become quite diluted at this stage. If it was instead called, I don't know, 'Dad Next Door' or 'Growing Up Backwards' it mightn't have the baggage of the book and film, especially as London's replaced by San Francisco and the link seems pretty tenuous. Counter-productive, even.
David Walton plays Will Freeman, a songwriter and man child who 'adopts' a single mother's boy, Marcus, in order to bed another single mother. Minnie Driver is fun as Fiona, the neurotic veggie, new neighbour and mother to Marcus. Benjamin Stockham does a fine job as Marcus, but despite the pilot being cute rather than cloying, I wonder how they'll manage to make an entire season - never mind a decent one - out of such a flimsy premise. It is better than New Girl or The Mindy Project, but that's hardly praise.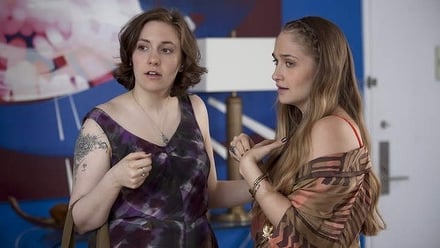 My curiosity about the long-term future of About a Boy quickly and depressingly dissipated as I watched the season 3 final of Girls (Monday, Sky Atlantic). A happy ending was certainly not on the cards as Lena Dunham's show has closed its first two seasons in a downbeat matter, but this time around it almost felt fatal.
Season three has been excruciating fun, and the finale was no different on that front. Hannah talked herself out of her soul-destroying job as an advertorial writer, before learning that she'd gotten a place at prestigious graduate school in Iowa.
She then spoils actor boyfriend Adam's opening night by informing him of her offer just before he goes on stage, adding that they can maintain a long-distance relationship (which is usually code for 'Cheerio, loser - I'm off').
As for the other girls, well Marnie continued to wreak havoc with her sexuality, telling Shoshanna she slept more than once with her ex, Ray, and then provoked an amorous response from her musical partner Desi, which resulted in him having a barney with his girlfriend. Meanwhile, Shoshanna cracks up, what with her failure to graduate and Ray's unwillingness to revisit their relationship.
Jessa made the mistake of engaging positively with another human being and found herself in a euthanasia situation as her new boss, an ageing and debilitated photographer called Bedella, only took her on so she could access drugs and commit suicide. Ultimately, Bedella decides she wants to live and tells Jessa to call 911. There could be repercussions...
Ultimately, we were left with the image of Hannah alone, clearly delighted with herself that she got a place in Iowa. But if the lead character of Girls, the glue of the show and these four, self-absorbed and brittle BFFs, is heading about a thousand miles away, how is season four going to work? Will the change of dynamic jump-shark the show?
It'll be after Christmas before fans of Girls find out, and that's what is ultimately depressing.
Now, where did I put that Seinfeld box set...
John Byrne