John Byrne looks back on the season finales of Line of Duty and Mr Selfridge, as well as the latest from Elementary and Parenthood.
Reviewed: Line of Duty (Wednesday, BBC Two); Mr Selfridge (Sunday, UTV); Elementary (Thursday, Sky Living); Parenthood (Thursday, RTÉ Two)
A superb second season of Line of Duty (Wednesday, BBC Two) came to a rather bewildering climax as the sixth and final episode crammed so much in I needed a lie down afterwards to try and figure it all out. In essence, what this drama taught viewers was: Keeley Hawes is a superb actress, it doesn't take much to turn a well-intentioned copper into a life-serving criminal, and Broadchurch isn't as good as we all thought.
Considering the acting chops she was up against here - Martin Compston, Adrian Dunbar and Craig Parkinson were all excellent throughout - Hawes has to be in contention for every award going for her near-perfect portrayal as DI Denton, the copper who seems to be framed but ultimately found herself the only one imprisoned after all that murder and mayhem. The knock-on effect on Denton's life shows the mosaic-like existence we all lead, given that our lives and deeds constantly intertwine with others. Sometimes, the real bad guys get all the luck.
There seemed to be a lot of loose ends by the time this breathless hour of TV drama was done, but that's how real life often is: very little gets wrapped up in a bow. Best of luck to anyone who thinks they can rationalise what happens on this spinning pebble we call Earth.
On the plus side, surely the really villainous Detective Cottan (Craig Parkinson), AKA The Caddy, who lived to blight another day, will surely get his just reward in season three? Please?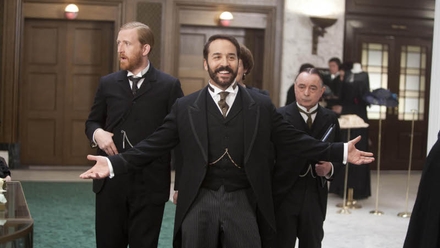 And although Line of Duty is pure fiction, it seems much more realistic than Mr Selfridge (Sunday, UTV), a drama based on a whole raft of people who existed in situations that actually happened. But that's the difference between Sunday and most other nights' viewing: who wants to watch something that's (say) gritty and realistic just before going to bed and facing another week of work? Nah. You want something a bit more escapist, something entertaining, heart-warming, even. Mr Selfridge delivers that sunny Sunday night feeling with plenty to spare.
The cast is unerringly strong, led by the jaunty Jeremy Piven as the eponymous Harry Selfridge, the American behind London's ground-breaking Selfridges department store. And while this second season was overshadowed by World War I, it still proved its worth as a source for Sunday night comfort.
The season curtain came down with mixed results, as the fiendish Loxley was unmasked as a bounder beyond reproach; Miss Mardle took her former lover's advice and threw herself into the arms of her young admirer and tenant, Florian; Victor proved his love for Agnes when he broke his own heart by telling his fiancé to leave him for her true love, fellow window-dresser Henri ; but the most pivotal moment in this second season closer came when Rose Selfridge told Harry that she was terminally ill.
This is obviously a key moment in the show's development. In real life, things went steadily downhill for Harry Gordon Selfridge from this point on, so don't be surprised if next year's third season is also the show's last. And not too chirpy, either.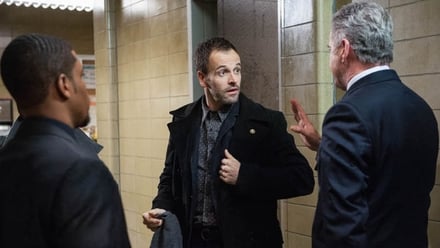 After a sluggish start Elementary (Sky Living, Tuesday) became a hugely enjoyable show, with Jonny Lee Miler's increasingly idiosyncratic portrayal of the modern Holmes something of a comic delight.
But in recent weeks it's all gone rapidly and inexplicably downhill - since Detective Bell was shot while protecting Holmes, and blamed him for it rather than the nut-job who dispensed the weapon. Four episodes later and it feels like the show is suddenly running on empty, and there's been such a rapid decline in quality that a debate is ongoing in our house as to whether or not we'll keep watching. Shame, shame, shame.
This episode centred on a dinosaur-related murder and the problems Holmes faces being an AA sponsor, and felt more like a CSI-by-numbers' tale that just happened to have Sherlock Holmes floating around the periphery. Now there's an hour of my life I'll never get back.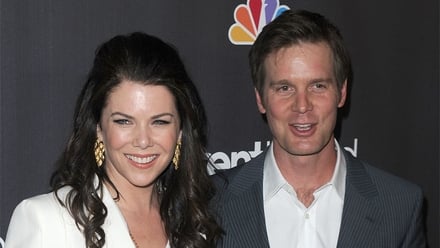 Last – and certainly nor least – Parenthood (Thursday, RTÉ Two). This superb show is, if anything, getting even better. The current fourth season has been a tough one for most of the Braverman clan, what with Kristina developing cancer, Adam and Crosbie having neighbour problems at the Luncheonette, Sarah hitting bumps in her relationship with Mark, Julia and Joel struggling with their adopted son – and that's just the top-line stuff.
This episode also had an added interest for an Irish audience, as Oscar winner and Frames' front man Glen Hansard made a guest appearance as himself, recording some songs at the Lucheonette studio. He also had his car towed away as a result of the spat Adam and Crosbie are having with their narky new neighbour Marlyse, played with typical chutzpah by the feisty Pamela Adlon, whose CV includes Californication and voicing Bobby in King of the Hill.
The way season four is going, this show is damn near unmissable with standout story lines and some quality acting. From Monica Potter's great scene where a stoned Kristina advises Julia (Erika Christensen) to use sweets to bribe Victor into doing his homework, to the emotional triangle that sees Sarah (Lauren Graham) slowly swing away from hubby-to-be Kevin (Jason Ritter) to her boss Hank (Ray Romano), to the corny moment when half of Haight-Ashbury came out to defend the Luncheonette after Marlyse had gone to court to try and close down the studio. Another cracking episode.
The only problem is that just five of this season's shows are left.
John Byrne