It's comedy all the way as John Byrne takes in the 100th episode of Modern Family, the return of Stewart Lee, and a couple of US cable comedies.
Reviewed: Modern Family (Monday, Sky 1); Girls (Monday, Sky Atlantic); Stewart Lee's Comedy Vehicle (Saturday, BBC Two); Nurse Jackie (Tuesday, RTÉ Two)
Comedy's a tough one as it's more personal than music or even politics. For some, Mrs Brown's Boys is the funniest thing ever to hit the telly world, while others can't stand it. Ditto Monty Python, and I am personally flummoxed when anyone says they don't 'get' Seinfeld. How can you find the greatest sitcom in TV history anything less than hilariously funny?
So this week's review is focusing solely on comedy, ranging from the cuddly Modern Family to the much-hyped Girls, a show that's as unwatched as Mad Men and gets just as much exposure in the media - so that's lots.
Modern Family (Monday, Sky 1) had its 100th episode shown this week and that in itself is a sign of the show's durability. When it first came along it was regarded as ground-breaking, as it used the mockumentary style of The Office and had a gay couple at the centre of things.
Five seasons later the cast have all become stars, and it's been particularly gratifying to see the excellent Ty Burrell finally land a show and an audience that his talent deserves. He was hilarious on the otherwise pedestrian Back to You, but that show's creators and executive producers Christopher Lloyd and Steven Levitan knew they had someone special and cast him as the well-meaning but utterly clueless Phil 'cool dad' Dunphy in Modern Family.
In the 100th episode, Phil played a central role, as usual, although the storyline was centred on the arrival of Cam's sister Pam, and the news that both were heading down the aisle. All goes well until Cam discovers that his sister's marrying a guy he had a crush on in adolescence.
Meanwhile, Phil and Claire get themselves into their usual knots when they agree to skip one of son Luke's football games as he plays so little. Of course, this time he plays a full game and has a blinder. The punchline being that Claire, who rushed through the duties she had allotted herself, duly went behind Phil's back to see Luke play the game of his life. Poor Phil had the misfortune to wipe out a bird family when cleaning the gutters at home.
Another cast member who's particularly funny is Sofia Vergara. Here, she's clearly suffering from diminished eyesight but stubbornly refuses to acknowledge it, even when hubby Jay pretends to be fatally poisoned.
I don't know if I'll watch re-runs in ten years' time, but Modern Family is what a mainstream sitcom should be: very entertaining and really great fun. Here's to episode 200.
Much further away from the prime time mainstream are US cable shows such as HBO's Girls (Monday, Sky Atlantic) and Showtime's Nurse Jackie (Tuesday, RTÉ Two). Now in its third season, Lena Dunham's Girls has settled down after the kind of relentless hype that would give the most grounded people a massively swollen head, and result in a second-season cancellation.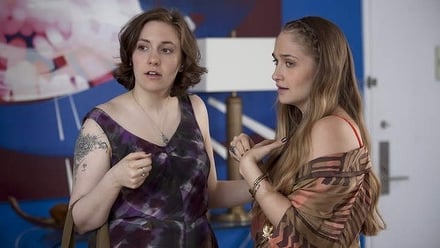 Instead, Lena Dunham's stayed focussed, and last Monday's episode, the eighth of season three, was as good as the previous one where the girls went out to Long Island to bond and ended-up ripping strips off each other.
Despite initial reservations about where her life wasn't going, Hannah's moving along nicely in her advertorial role at GQ magazine, and gets gigs reviewing the posh Gramercy Park Hotel and interviewing Broadway star Patti LuPone to plug some osteoporosis medication.
Hannah's boyfriend Adam lands himself a part in a Broadway show, and she gets the news during her interview with LuPone, who proceeds to burst Hannah's happiness bubble by claiming he'll rapidly turn into 'an asshole' now that he's got a break.
No such luck for Marnie, who's on a downer yet again after being dumped by Ray. She tries to tough it out, but she's as brittle as ever and relies on an old crutch: singing. This episode offered a so-so Shoshanna who, after her spectacular, damning and hilarious outburst in the previous episode, resorts to her tried and trusted eyebrows-on-speed approach and talked incessantly about pretty much nothing.
Not unpredictably, Jessa fell spectacularly off the wagon when Richard E Grant's Jasper found her working in Manhattan and they end up inhaling half of a Colombian hill together.
What Girls does best is feed off Millennial self-obsession and its mirror-image, insecurity. Plenty of opportunities left to be explored here, folks.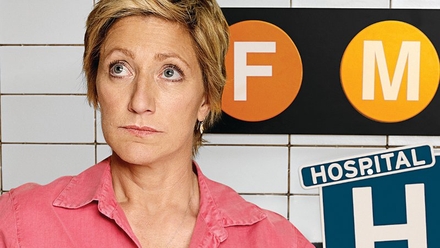 Of course, you don't have to be in your 20s to be a junkie. That's one of the things you learn while watching Nurse Jackie (Tuesday, RTÉ Two), which has been surprisingly enjoyable in a Walt Disney kind-of way since the start of its fifth season.
After a superb fourth season and the loss of the show's creative team, the signs weren't good. The departure of the magnificent Eve Best was another great loss, and I wondered where Edie Falco's middle-aged nurse Jackie Peyton could go after four seasons of drugs, rehab, infidelity and marriage break-up.
The show seems to be getting into a new groove as Jackie sort-of comes to terms with life without drugs and husband Kevin, and last week's episode saw her accidentally crash into her ex's car after they'd finally signed their divorce papers.
As fortune (or scriptwriting) would have it, the cop that interviews Jackie in the wake of the crash happens to fancy her, and after a false start the two of them seem to be really hitting it off. Could this be the dawn of a new, less frenetic and non-dangerous life for Jackie, the former patron saint of pill-popping edge-livers?
Chances are it won't, but it's good to see that Nurse Jackie isn't resting on its laurels. Besides, anything with Edie Falco in it has got to be worth watching, right?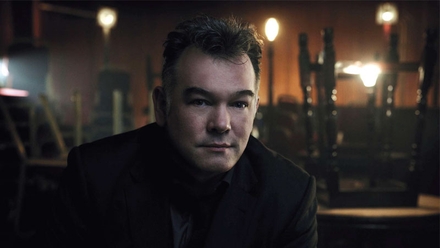 Finally: Stewart Lee's Comedy Vehicle (Saturday, BBC Two). I'd grown tired of stand-up comedy in recent years as it all seemed terribly dreary - it was like the equivalent of those painfully dull and workmanlike stadium rock bands that play in front of huge, adoring audiences. I didn't even know who Stewart Lee was, so great was my apathy, and only tuned in when I heard that the great Chris Morris was going to appear as Lee's guest, of sorts.
While I was initially put off by his haircut - it looked like one of those bird's nest jobs that try to disguise a receding hairline, and it was quite distracting - but the show was funny. Unlike Lee Mack, I'll be back.
John Byrne