John Byrne checks out three brand new American imports as well the return of soapy US drama Revenge and BBC travel show Italy Unpacked.
Reviewed: Brooklyn Nine-Nine (Monday, RTÉ Two); Hostages (Saturday, Channel 4); The Tomorrow People (Wednesday, E4); Italy Unpacked (Friday, BBC Two); Revenge (Tuesday, RTÉ Two)
I've said it before: comedy is without doubt the most subjective strand of TV. We've all watched dramas and documentaries, variety show and reality shows, quizzes and all kinds of formatted programming that can only be described as okay – but comedy seems to have no middle ground. You either like and watch, or hate and ignore.
When I saw the trailers for Brooklyn Nine-Nine (Monday, RTÉ Two), I winced. Despite hearing good things about the show (it was being favourably compared to Parks and Recreation, which is a bit misleading), this looked like a very poor vehicle for Andy Samberg, the latest in a ridiculously long line of comic stars who cut their telly teeth on that US TV institution, Saturday Night Live. The jokes looked stupid and the set-up very lame. I turned it on, expecting to maybe get through ten minutes before looking elsewhere for entertainment. Silly me, it was great fun.
A lot of the comedy is slapstick in style, and revolves around Samberg's character, Detective Jake Peralta, an otherwise infantile cop who's got the best arrest record in the precinct. In the finest comedy tradition, there's a great ensemble cast of already well-drawn characters, and by the end of the second episode I felt like I'd known these guys for years. That's what sharp writing does for a show.
Best of the bunch is Andre Braugher, who plays the new precinct captain who immediately sets himself against Peralta, whose free-wheeling attitude is an anathema to his 'by-the-book' boss. Braugher's previous includes a run of astonishing performances in two great US dramas, as self-righteous Detective Frank Pembleton in Homicide: Life on the Streets, and a more subtle (but equally impressive) role in Men of a Certain Age, but here he gets to show his straight-man comedy chops. Brooklyn Nine-Nine is the first big surprise of 2014 and long may they continue.
Ironically, last week's double-episode opener on RTÉ Two was followed this Monday by a highlights package from the Golden Globe Awards, but it'll be back next week. I say 'ironically', because - despite stiff competition from a variety of shows and actors - Brooklyn Nine-Nine won the Best Comedy award, while star Andy Samberg was named the Best Actor in a comedy show. No mean feat for a series that's only a few weeks old to win as many Golden Globes as Breaking Bad did in five years. *Jaw drops*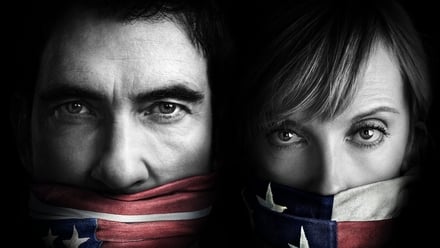 Hostages (Saturday, Channel 4) was one new show that left me with high expectations after seeing the trailer. And anything with Dylan McDermott (American Horror Story) and Toni Collette (United States of Tara) should be worth watching, right?
Well, the obvious flaw in this show is its premise: on the eve of performing surgery on the US President, a surgeon (Collette) finds herself and her family under siege as a rogue FBI agent (McDermott) takes them hostage. She's told that, if she wants her family alive, she's to kill the president. This Jerry Bruckheimer-produced conspiracy thriller is based on an Israeli drama, but how they can drag this out for even one season is beyond me. But the trailer sucked me in and I wanted to be pleasantly surprised. This was Brooklyn Nine-Nine in reverse.
The pilot was fun enough once you just bought into the far-fetched situation, with the kidnappers showing they know more about the family (drug-dealing son, pregnant daughter, cheating husband) than the pressurised mammy. But the air went out of the balloon at the end when the operation was suspended by Colette's character, who then stared out from a TV interview, as if to say to her family's captors, 'We ain't done yet.' Oh dear.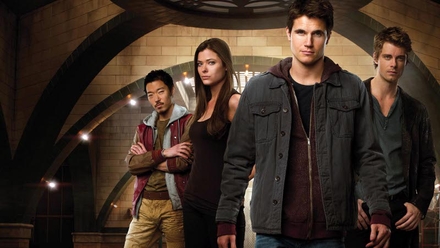 And while the roots of Hostages only go back as far as Homeland and 24, The Tomorrow People (Wednesday, E4) has a lineage that stretches across 40 years and the Atlantic.
An American reboot of the hugely popular UK children's show that was a staple on ITV back in the 1970s, the superpowers on show will seem very tame to a modern audience brought up on the likes of Heroes, Misfits and the Marvel movies – but given that The Tomorrow People is produced by CW, an American network that's teen-centric, the focus of future episodes may be more on the familiar teen agonies of growing-up 'different' than fighting bad guys.
But while the pilot was pretty derivative (young people with new powers are sought by the establishment), it did offer enough to suggest that it could be worth keeping an eye on. Not for long, though.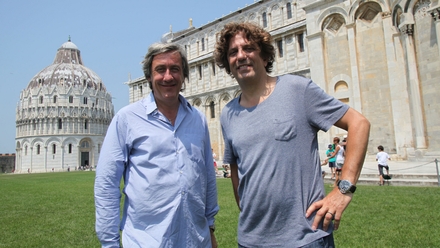 Nobody does posh travel shows like the BBC, especially when it comes to Italy. And while Two Greedy Italians (starring argumentative chefs Gennaro Contaldo and Antonio Carluccio travelling around Italy to see how society and food has evolved over the years) was great fun in a flinty way, Italy Unpacked (Friday, BBC Two) is better still, as it adds art to the mix and there's a serious bromance going on between the two co-presenters.
Following on from their Sicily Unpacked in 2012, art critic Andrew Graham-Dixon and cook Giorgio Locatelli took to the Italian mainland with last year's Italy Unpacked. Both shows were marvellous, and I couldn't wait to see them third time around.
What the lads do is bring their knowledge of art and food, combine it with their love of Italy (and obvious regard for each other), and largely avoid the obvious while giving viewers an insight into this most remarkable of countries.
This year the search for great grub and art began in the mountainous area of Liguria, a green and spectacular scenic land that inspired English Romantic poets, particularly Shelley and Byron. Cinque Terre is a UNESCO World Heritage Site, comprising of five mountainous towns that are relatively inaccessible, making them hopelessly cool to the discerning tourist. We even got to see the lads going for a swim in the Ligurian Sea. Byron would have approved.
The pair also passed through Genoa, with its Baroque architecture, narrow-streeted historical centre, incredible art history and spectacular facades – eventually finding a beautiful palazzo in the heart of the working-class inner city back streets, while Georgio then makes a classic (and simple) pesto alla Genovese that has Andrew in raptures.
More of the same follows as they travel to Pisa, Livorno, and finally Pistoia, to learn about the Renaissance art of that region, where images of Jesus reflected the change in art during that glorious period. The food's pretty impressive, too. I'll be back next time for seconds, and can't wait for them to hit Naples in week three.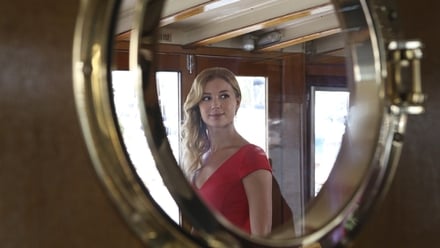 Another show that returned last week was Revenge (Tuesday, RTÉ Two), a fun US drama that had served up a rambling and disjointed second season on the back of a highly entertaining first run.
It's early days, but if the opening two episodes are anything to go by, Revenge is back on track and just as soapy as ever, with Madeline Stowe continuing to shatter scenery as Victoria Grayson, the cold-hearted ham of the Hamptons.
The show's cast as well as its plot lines have been thinned a little ahead of season three, and it's all the better for the trimming. Besides, given all the crap that goes on in real life, it's therapeutic to occasionally immerse yourself in a sudsy fantasy world and watch self-obsessed rich people tear each other to shreds.
Go get 'em, Emily!
John Byrne