John Byrne looks back on some of the TV highlights of Christmas 2013.
Reviewed: Doctor Who (Christmas Day, BBC One); Not Going Out Christmas Special (Christmas Eve, BBC One); The Joy of Abba (BBC Four, December 27); Toy Story 3 (Christmas Day, BBC One)
Between one thing and another – family commitments and stormy weather conditions that played havoc with the TV reception – I didn't get to see as much telly over the Christmas as I had anticipated. Besides, I struggled to mark-off more than a handful of highlights as I took a blue biro to the RTÉ Guide Christmas issue. It wasn't a Yule to remember, telly-wise.
The show I was most looking forward to was the festive edition of Doctor Who (Christmas Day, BBC One). As well as being a vital annual event in our house, this time there was the added attraction of Matt Smith's departure and the arrival of his successor, Peter Capaldi. But, like many of the episodes televised during 2013, I was left feeling a tinge of disappointment when it was all over.
The hyperactive delivery that has become a hallmark of the show in recent years still remains, as both Smith and co-star Jenna-Louise Coleman, who plays the Doctor's companion Clara Oswald, are compulsive yakkers and the writers have utilised that with often breathless amounts of dialogue. Add in a complicated story, like this one, and it's all a bit too much, really. At times it was like an intergalactic children's party after too many sweets and fizzy drinks. It did look brilliant, though.
The Christmas special saw the Doctor in a town called Christmas, a place where he took up residence for 300 years to defend it from a dizzying assortment of classic Who villains. With Clara on-and-off by his side – well, when she wasn't trying to get Christmas dinner together back home on Earth – the enemy was eventually repelled, but the cost of a long war of attrition was the Doctor, who aged to the point where regeneration became essential.
The show – which hit a spectacular high during David Tennant's stint as the Timelord - seems to have lost a lot of its vitality, and certainly since the departure of Karen Gillan's Amy Pond it's gradually become a bit jaded. It was time for a change.
Fingers crossed that the dynamic Peter Capaldi, who's been a fan of the show for more than 40 years, will help to shake things up as Doctor Who heads into its sixth decade. Certainly, the thought of Malcolm Tucker – the character Capaldi played with great vigour in The Thick of It – taking on the Daleks is a very tantalising prospect.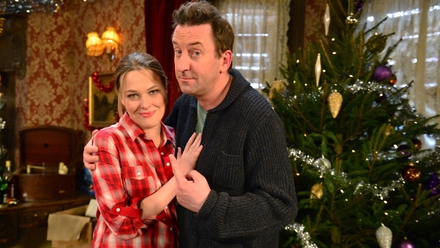 I've often referred to the show as being 'not very good, but very funny' and the Christmas Special of Not Going Out (Christmas Eve, BBC One) was a typical edition of Lee Mack's amiable sitcom: thin on plot but full of cheeky fun. Not Going Out is like an older sibling who leads a pretty dull life but remains chirpy and highly entertaining, as plots and storylines are mere conveniences for an assortment of jokes and one-liners. Each show has at least a dozen crackers.
This time around, the gang were away from the flat that Lee shares with Lucy (Sally Bretton), and spending Christmas in an apparently haunted house in the middle of nowhere. The plot was as slight and predictable as ever, but once again the gags were flying around like plates at a poltergeist's dinner party.
It's such a pity Tim Vine, who played Lee's pal and Lucy's brother, last year decided to quit the show, as his character was central to the story, given his pivotal position in between the will-they-won't-they couple played by Mack and Bretton. He's left a gaping hole.
Still, Not Going Out remains a laugh-out-loud BBC comedy: that in itself is a staggering achievement. And is there a more endearingly dim TV character than Katy Wix's Daisy? I doubt it. Roll on the show's seventh and final season. I'm getting nostalgic already.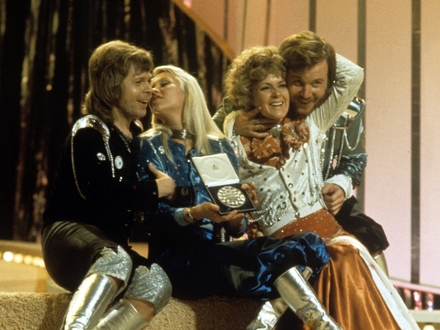 Christmas is, of course, all about nostalgia and tradition, so it's the ideal time to switch on BB Four for some musical memory-jogging. Pick of the bunch this year was The Joy of Abba (BBC Four, December 27), yet another documentary about the Swedish quartet who stormed the pop world during the 1970s and early 1980s.
Despised by the muso and hippie types and deemed hopelessly uncool by their Swedish peers, ABBA have undergone a critical renaissance in recent years and are no longer regarded as pop pap. Indeed, judging by some weighty contributors in this documentary, their place as musical greats is guaranteed.
The story's a familiar one: successful Swedish pop stars fall in love and form a super group, win the Eurovision and then take over the planet, before divorce and the inevitable musical separation.
Never officially disbanded, ABBA have gradually risen in status since their last sighting, in 1982, to a level of greatness where they're favourably compared to The Beatles.
Okay, Fernando and Thank You for the Music are examples of their terribly twee side, but any group that can produce songs of the quality of SOS, Waterloo, Mamma Mia, Dancing Queen, Take a Chance on Me and The Winner Takes it All (and that's just for starters), has to be considered one of the greats. And that's even before contemplating the marvellous vocal chemistry that existed between Anni-Frid Lyngstad and Agnetha Fältskog.
With some rare footage and recent interviews with Björn Ulvaeus and Benny Andersson, the group's two blonds, as well as a passionately reverential Pete Waterman and a self-deprecating Lasse Hallström (who directed several ABBA videos), this made for a glorious hour celebrating some of the most uplifting-yet-bittersweet songs of the last century.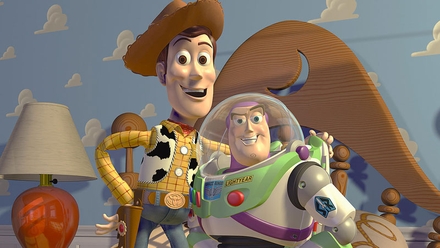 Finally, here's a nod to one of the greatest trilogies in cinema history, and the best film that was on TV over the festive season. Toy Story 3 (Christmas Day, BBC One) had everyone in our house glued to the screen, and I'm pretty sure even our dog Wendy – watching from the comfort of her fireside doggie basket – was touched by a film that celebrates friendship, loyalty and, most of all, the joy of childhood toy-playing and the wondrous world of innocent imagination. Pixar, take a bow. And please, please, please do not make Toy Story 4.
John Byrne